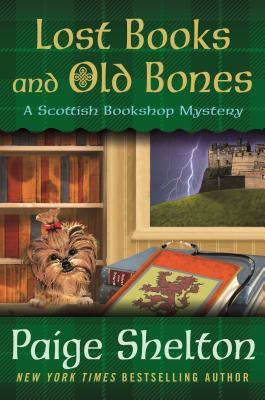 A delightful new mystery featuring bookseller and amateur sleuth Delaney Nichols, set in Edinburgh, Scotland.Delaney Nichols, originally of Kansas but settling happily into her new life as a bookseller in Edinburgh, works at The Cracked Spine in the heart of town. She's recently befriended a few medical school students after they came into the shop to sell some antique medical tomes. But when one of the students' friends is found murdered out...
---
Details Lost Books and Old Bones (Scottish Bookshop Mystery, #3)
Title
Lost Books and Old Bones (Scottish Bookshop Mystery, #3)
ISBN

9781250127792

Author

Paige Shelton

Release Date
Apr 3rd, 2018
Publisher

Minotaur Books

Language

English

Genre

Mystery

,

Cozy Mystery

,

Fiction

Rating
Reviews Lost Books and Old Bones (Scottish Bookshop Mystery, #3)
Delaney Nichols works in a specialty bookstore in Edinburgh. She has happily settled in Scotland after leaving her home in Kansas but trouble seems to follow her wherever she goes. A medical student who she recently met has been found dead just outside the bookshop where she works, and Delaney has decided to investigate who murdered her.This is the third book in the series Scottish Bookshop Mystery but you don't need to read the previous books t...

Lost Books and Old Bones is the third book in Paige Shelton's Scottish Bookshop cozy mystery series. When this book showed up in my galley list for review, I didn't remember requesting it. But I do have this series on my cozy TBR list....so I was excited to get to read it, whether I remembered asking for it specifically or not. It was a happy surprise! This is the first book in the series that I have read, but I was easily able to jump in mid-str...

Since feisty Delaney Nichols moved from Kansas to Scotland, her life has been filled with old books and bookish treasures; intrigue and danger. She's found true love with pub owner Tom, and made great friends with her landlords, Elias and Aggie, and her co-workers, Rosie and Hamlet. Delaney is still carefully feeling her way around her mysterious and wealthy employer, Edwin MacAlister.The morning after Delaney has drinks with some new friends w...

Dollycas ThoughtsDelaney Nichols is feeling more at home in Edinburgh. She has fallen in love, made new friends and is feeling confident about her job at The Cracked Spine. Her friends are all in medical school and recently brought a box of medical books into the shop hoping to sell them quickly. The owner of The Cracked Spine, Edwin MacAlister, buys them thinking they very rare.Delaney and her friends have an unusual night out in a pub where Del...

A cozy mystery to curl up by the fire with and lose yourself for a while. I enjoyed the characters and the plot. Delaney, from Kansas, has moved to Scotland and is working in the bookshop The Cracked Spine. She befriends some medical students from the local university and, after a night out with them at a bar, a friend of the students who was as the bar with them is murdered behind The Cracked Spine. Delaney is full of questions and sets out on h...

Delaney moved to Scotland from the US to work for a bookseller. She has been in Scotland for about a year, and has recently been friendly with a couple of the local medical students. One night, Delaney goes out with the medical students and meets some of their friends. The next morning, one of the women Delaney had met the night before is found murdered just outside the bookshop. Delaney is curious as to why the woman was outside the bookshop, an...

I love books and bookstores, so if I find a story about a bookshop, I'm a happy camper. Delaney Nichols moved from Kansas to work at The Cracked Spine Bookshop in Edinburgh, Scotland. Delaney's new friends, students at Edinburgh Medical School, bring in a set of old medical books to sell to the bookshop. After a night out with her new friends, one of them is murdered. Delaney must figure out how the present day murder is linked to the books, ...

Oh this was so good! I have book hangover. I loved Lost Books and Old Bones by Paige Shelton. This is a great read. This cozy mystery is Scotland based and a great mystery with lots of twists, history and fun artifacts await you inside!A dream job, friends and family made up of the people you surround yourself with. Local lore and legend and a whole lot of mystery and fun await you. Book three is one you are going to want to read. Actually the se...

3.5 stars This book has some great things going for it. It's set in the lovely town of Edinburgh. The heroine, Delaney Nichols, works in a dream job, an antique bookstore. She has come from Kansas for this opportunity and in this third book of the series is in a serious relationship with local pub owner, Tom. This story revolves around the famed Scottish scandal where people were murdered so their corpses could be sold to the Edinburgh Medical Sc...

For me, this one was just...okay. There was virtually no context to introduce the new characters and I just didn't connect with them. It was an great plot, lots of twists and turns and the very creepy Dr Eben. I enjoyed the history (The Burke & Hare story is always fascinating) and of course, the little bookshop and its treasures, both human and inanimate, are a big draw for me but I found it was difficult to hold my interest and I struggled to f...

4 Stars!Ah another cozy mystery. Yup, I just described this as a cozy mystery. What does that mean? It means it's a book that keeps your attention (mystery) but is also something that makes you feel good and cozy when reading. It could possibly make you cozy up on the couch as well.This read was a similar one for me from the last one I read (Date with Malice, see previous review). It was the kind of book that kept you engaged but also wasn't so d...

Series: Scottish Bookshop Mystery #3Publication Date: 4/3/18Oh! My! I've definitely found a new series to start reading. This is my first book by this author but it definitely will not be my last! The mystery is well plotted, the story is wonderfully written and the characters are both relatable and likable. The setting is perfect (Edinburgh) and the author's descriptions make you feel as if you are right there with the characters. This autho...

When I first received Paige Shelton's Lost Books and Old Bones, I wasn't aware that it's the third book in the Scottish Bookshop Mystery series. I think I might have enjoyed it more if I had read the first two books beforehand. While I had no problem following the plot, it was when it came to the characters and their relationships with one another that I felt like I was missing out on something. The main character, Delaney Nichols, often ta...

Delaney is at it again! In Paige Shelton's Lost Books and Old Bones (A Scottish Bookshop Mystery #3), Delaney meets a few female medical students who are attending The University of Edinburgh's Medical School, and they are all out celebrating the fact that exams are over! Delaney has only known two of the students for about three months, and she meets another female medical student the night at the pub. Delaney also meets one of the professor...

3,5/5Toujours aussi cosy, avec une ambiance parfaitement écossaise. Comme d'habitude dans cette série la résolution du mystère est tirée par les cheveux, mais j'ai apprécié suivre l'intrigue !

Eh, 2.5 stars. This was one of my first "cozy bookshop mysteries" and the genre sounded right up my alley but I think I've polluted my mind with too much Karin Slaughter/Tana French, etc. to find this truly enjoyable. I kept telling myself it was supposed to be fluffy and light but the characters, how they speak to each other and much of the writing just didn't click with me. It also didn't help that I chose to read the third book in a series- al...

Delaney Nichols of Kansas in America has been in Scotland for about a year now working at the quirky bookshop The Cracked Spine. She loves her job and is fiercely protective of her boss, Edwin's, secret warehouse full of historic treasures. Delaney isn't above burning the midnight oil but to balance that she'll also spend a night at the pub every now and again with her new friends. It helps that she's dating hunky bar owner Tom. Delaney and her n...

http://openbooksociety.com/article/lo...Lost Books and Old BonesScottish Bookshop Mystery #3By Paige SheltonISBN: 9781250127792paigeshelton.comBrought to you by OBS Reviewer JeanieSynopsis: A delightful new mystery featuring bookseller and amateur sleuth Delaney Nichols, set in Edinburgh, Scotland.Delaney Nichols, originally of Kansas but settling happily into her new life as a bookseller in Edinburgh, works at The Cracked Spine in the heart of t...

4.5 STARS Full disclosure….I read this one simply because I liked the title and cover. Yes I was lured in by a pretty cover with the word 'books' in the title and I loved the sweet dog. I can never resist a book with a cute dog on the cover. I'm terrible. I didn't care if it was the third book in a series, or if it an over the top cozy. I just saw the cover and title and I just had to read it!From what I gather, this series is a popular...

This is the first book in the series of three that I have read, but I was able to follow the story line with no problem. It does mention some past events, but the story can be read as a stand alone without reading the prior two books. After reading this one, I will go back and read the first two. I absolutely loved the history and setting in the book. After visiting Scotland last fall, I was able to revisit the sites I had seen and learn more abo...

This was my first foray into this series, although I have read other books by this author and let me tell you it was a delightful read. Delaney is out with some friends from the local medical school and is having a blast but one of the girls is acting weird and she doesn't know what to make of it. When the evening comes to an end Delaney and Rena head out, Rena says something cryptic that worries Delaney but there isn't much she can do if the gir...

This was a very good read - I am so glad that there was an audiobook of this so I was able to experience it. I really enjoy Delaney and all of her friends and co-workers. I love the setting and how settled into Scotland she has gotten. And I love how she gets involved with mysteries, even when she isn't trying to [much was the case here]. Murder and mayhem reigns here and the story is very interesting as they Incorporated the true life story of ...

Lost Books and Old Bones is the 3rd book in this series by Paige Shelton.I haven't read the first two, they are on my kindle TBR list.When I began this book, I had it in my head that I might not understand the dynamics at first, since I hadn't read the previous two. I was proven wrong right away. The story flowed smoothly and I was able to connect quickly with the characters.Delaney Nichols is a feisty character and her personality added a fun di...

Lost Books and Old Bones by Paige Shelton was a pure delight to read. Ms. Shelton never fails to intrigue me with her research of Scotland's rich heritage. This time it involves the University of Edinburgh's medical college and it was fascinating.Delaney has settled into her new life and may have found the love of her life in Tom. Delaney and Tom's relationship is so open and supportive as Delaney tries to help solve the mysteries that seem to fi...

I will never understand how books like this one ever get published. It should have never left the editors desk it's that bad. I am glad I got it from the library and didn't pay for it but am sad they had to, what a waste of money. Rant and observations first, plot shuch as it is last.This book seems like a first draft by a half rate author and needed a massive amount of editing. Also it's a book set in Scotland written by an American who I doubt ...

**I voluntarily read this ARC**This is probably a series best read in order. I didn't fully connect with the characters because I missed the initial character building. The setting was beautiful. It had a slightly slower pace than I am used to, but it really helped build the story. I really enjoyed the history that was tied in with the plot. I actually ended up reading up on it after I finished the book. The reveal was a shock and very well writt...

"Two half-truths don't make a truth. In fact, even three don't"Delaney Nichols, from Kansas happily living as an ex-pat in Edinburgh, Scotland and working as a bookseller at The Crooked Spine finds herself in the middle of a mystery that stretches back into the history of the medical school, however could be as current as #metoo. When confronted with the situation at hand, her new friends could become her demise unless she finds the conne...

Lost Books and Old Bones is the third book in Paige Shelton's Scottish Bookshop Mystery series. This is a well-plotted murder mystery with well-developed characters. This book is an interesting read and the author did a wonderful job creating authenticity in the characters with Scottish dialog. Ms. Shelton's descriptive writing makes me feel like I'm right there with the wonderful cast of characters. The identity of the murderer was a myste...

Why did I pick up this book? I had never heard of the author and this is the first book I have read by her. I liked the title and the cover picture. That was all, pure and simple. I walked into the library and saw another title by an author that I wanted to read and there was this book. I picked it up and read a little here and there until today, today I worked hard to finish the story. Delaney is an American from Kansas, who is living and workin...

Ultimate Reading Challenge 2018. A book set in a library or bookstore.Delaney Nichols is enjoying life in Scotland and making new friends. She spends one evening at a pub with two of her friends from the medical school and meets a third plus one of their professors. A question comes up about the rumored treasure room at the bookstore where she works. After she leaves the pub, she meets her boyfriend Tom in front of the bookstore to investigate so...