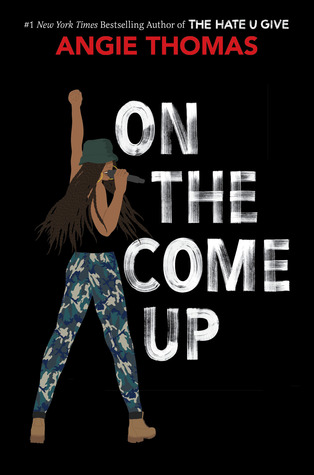 Sixteen-year-old Bri wants to be one of the greatest rappers of all time. Or at least make it out of her neighborhood one day. As the daughter of an underground rap legend who died before he hit big, Bri's got big shoes to fill. But now that her mom has unexpectedly lost her job, food banks and shutoff notices are as much a part of Bri's life as beats and rhymes. With bills piling up and homelessness staring her family down, Bri no longer jus...
---
Reviews On the Come Up
It's Angie Thomas' world and she's just allowing us to live in it.You know when you finish reading a book and there's a moment that feels so remarkable it carves out a space in time and whirls there while the world rushes on around it? In that gap where your real storyline seems very abstract and you're left with such a warm and happy feeling that you're glowing just by being around the book's energy?That was me upon finishing this book. I'...

Aunt Pooh said I only get one chance to let everybody and their momma know who I am. So I take it. How do you follow a book like The Hate U Give? Reading THUG, I got the impression that I was experiencing something momentous. It was breathtaking. Important. I was witnessing a person using their art to say loud and clear "ENOUGH." On the Come Up looks at some of the same things, but it is a different kind of book. I think, however, it is a boo...

"You'll never silence me and you'll never kill my dream,Just recognize when you say brilliant that you're also saying Bri."First of all, HAPPY BOOK BIRTHDAY and second of all THIS BOOK IS GONNA BE A FILM YOU GUYS. What a birthday present, am I right?Spoiler free!This is the 2019 release I was most scared to read. THUG was such a major, ground-breaking, and emotional book for me that the stakes for Angie's second books were mile-high. Now I can ...

[4.5🌟]This book was pretty fuckin phenomenal. I wasn't sure how THUG could be topped, but Angie Thomas did that!I fell in love with this story, with Brianna, her friends and family and her love for music. All those aspects were pretty much nailed and I couldn't get enough once I started reading. I'm really liking how Angie Thomas incorporates themes regarding social justice in her stories in order for us to get to know how some black communiti...

Oh my, oh my, oh my. This was INTENSE. I have no doubt a movie will be produced. Otherwise, BIG MISTAKE because this is something the world needs and I just really want to see a teen movie with a rap battle + romance + family drama + diverse characters + fierce social involvement. Because YES.

While I didn't enjoy the plot of this one quite as much as I enjoyed the plot of the Hate U Give, this book was still soOoOoOoOo GOOD. Angie Thomas' writing perfectly fits the YA genre and we are truly blessed to be living in the same lifetime as her. SO DAMN GOOD.TW: racism, drug dealing, gun violence

This was everything. I loved it completely. RTC!

Going to keep this review short because everyone and their rap-loving aunt is going to read and review this book. And, cutting right to the chase, because everyone wants to know how On the Come Up measures up to The Hate U Give, so let me be straight: They're different books. THUG is about a girl, a victim, being shuffled along by something much bigger than her - a socio-political movement hundreds of years in the making. Starr Carter is a quiet ...

I ACTUALLY CANNOT DEAL WITH HOW GOOD THIS WAS.

DISCLAIMERI get that some people might not see some of my words with good eyes, but these are the things that this book made me think about. So please, respect my opinion. It's against no one, but if you have a different opinion than mine, or you totally disagree with my thoughts, feel free to say your opinion. I will respect it, no matter what.When I found out about this book, I think it was a couple of months ago or something like that. Obvious...

I'm going to be bold about this and say that I loved this more than THUG. Angie Thomas had a hard act to follow, but this was spot on in every possible way.

Well we all knew the Queen of YA would gift us with another incredible story...so brb, just feeling so many things about this one. I also really love Angie Thomas' style, her voice, and her passion and love that you can absolutely feel in every single page of the book. This one is about rapping and being poor and figuring out who you are, no matter what the world is saying or where it's telling you that you fit. It's not quite as dark as The Hate...

This review and other non-spoilery reviews can be found @The Book Prescription"There's only so much you can take being described as somebody you're not." 🌟 If Angie Thomas taught me something is that I should use my voice if I have one and I am going to do exactly that. If you think you will be offended by this review or by this not being my favorite book of the year then don't continue this review!🌟 A thing I have noticed lately ...

Instagram || Twitter || Facebook || Amazon || PinterestSo apparently giving supporting details about your arguments = spoilers. I thought I was pretty vague, apart from mentioning a few potentially triggering situations, but just in case: I talk about the book in this review of the book(!), please consider yourself warned. I've been looking forward to ON THE COME UP ever since I heard that Angie Thomas was writing a new book. THE HATE U GIVE was ...

3.5 stars! Angie Thomas' debut novel 'The Hate You Give' blew me away. I hate to compare it to this, because they are totally different stories, but I couldn't help myself. For me, this was good, but not near as good as THUG. Angie Thomas is an amazing writer and there was lots I loved about this book, but there were also things that missed the mark a bit. Bri is a teenager and an aspiring rapper. She wants to make it big not only because she is ...

Damn, I loved this book! The Hate U Give was one of my favorite reads in 2017 and it looks like On the Come Up is going to make my 2019 list. Angie Thomas absolutely nails "voice" and "characterization " in her storytelling and in 16 year old Brianna, an aspiring rapper, she creates a protagonist that I was cheering for from page one. That's what we call our goal, the come up. It's when we finally make it with this rap stuff. I'm talking get-o...

Angie Thomas can do no wrong. That much has been made obvious in this book.I loved Bri and her personality and watching her overcome her struggles, and just the whole book in general.I don't know how Angie Thomas can put so much personality into her characters. Even the side characters have so much to them. They are so real, so interesting to read about. Each character is so well defined in their background and personality. What's even better is ...

Angie is the best! I loved this book.

Angie Thomas didn't just live up to the expectations I had after reading and loving The Hate U Give, she went to an entirely new level with On The Come Up. As a school librarian and reviewer of a great deal of young adult literature, I can tend to feel a bit of "been there, read that" with many stories. This isn't a knock on YA, it's simply a result of being an adult reading a lot of YA. However, with On the Come Up, Angie Thomas brings a fresh...

So good! I had Bri's songs stuck in my head the whole time I was reading this. Loved how this unpacks the "angry Black woman" stereotype through Bri's school experience and music. Audiobook review: Narration is great. It's the same voice actor who did Children of Blood and Bone for reference. There is some yelling, which is always a pet peeve of mine for volume control, but I'd still recommend the audio!tw: racial profiling, gangs/gang wars, drug...

I started reading On the Come Up on 3/16/2019 and finished it on 3/28/2019 at 12:30am. This book is an excellent read! I love that it takes place in the same neighborhood as the author's first book and the bits and pieces of the first book were mentioned on here. I can't recall if Bri's dad was mentioned in The Hate U Give since I read it awhile ago. The characters are likeable. I like Bri's older brother, Trey. He's such a caring broth...

This was really good! I wasn't as big of a fan of this book as I was of The Hate U Give, but this book contains the same amazing writing and calling people out on their white privilege. The main character Bri lives in the same neighborhood as Starr from The Hate U Give (which is pretty cool). Bri wants to become the next best rap artist, and this is a story of her rise to fame, but it's also a drama about her family and all the hardships they hav...

Urbandictionary.com shows the definition for on the come up as "something that's not quite happening yet, but on the verge of blowing up or making some serious noise." This phrase definitely applies to Angie Thomas' newest heroine Bri in her goal of becoming a rapper... and in her life in general. If only she didn't have so much weighing her down. Hip-hop is where she finds her solace. Creating deeply felt lyrics allows her to cope and co...

I just really, really love the way that Angie Thomas writes. Also, the Spotify playlist that goes along with this is 💯Watch my full review: https://youtu.be/5pmavs4Vt4s

After the phenomenal success of The Hate U Give, it would be easy to sit back and compare the two novels. However, On the Come Up is a utterly brilliant book in its own right and very much stands on its own two feet. It was superb.I adore the way Angie Thomas' writing pulls you in from the get go. Her ability to write complexly, whilst at the same time, making reading the raw and heart pounding stories she creates easy, is awe inspiring. The ch...