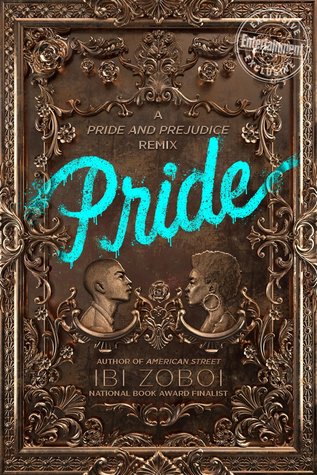 Zuri Benitez has pride. Brooklyn pride, family pride, and pride in her Afro-Latino roots. But pride might not be enough to save her rapidly gentrifying neighborhood from becoming unrecognizable. When the wealthy Darcy family moves in across the street, Zuri wants nothing to do with their two teenage sons, even as her older sister, Janae, starts to fall for the charming Ainsley. She especially can't stand the judgmental and arrogant Darius. Yet...
---
Reviews Pride
So here's the thing. I was so so excited about PRIDE. I loved the idea of this modernized retelling (I love the idea of any retelling, really, they just so rarely live up to the hype), I loved that this was an #ownvoices story, and also hello look at that amazing cover, I loved that, too. It's stunning, gorgeous, so so great. And so much of the story itself worked for me.. while so much of it didn't.Straight out of the gate I have to say that I t...

"It's a truth universally acknowledged that when rich people move into the hood, where it's a little bit broken and a little bit forgotten, the first thing they want to do is clean it up." Pride is one of those books that I've hyped myself up for anf was a nervous wreck before reading because I so desperately wanted to love it. I can happily say that I was hooked from the first sentence and I did not want to put this book down. We follow...

'This is the most I can do right now without calling him everything but a child of God, as Mama would say.'*A retelling of Pride and Prejudice that I can finally get behind. Howwww? I don't even like Jane Austen since I think she's overrated because all she did was write about characters whose biggest problems were falling in love and family drama. Ehh. Pride, however changed that for me because it not only maintained the essence of P&P, it also ...

3 1/2 starsIt is a truth universally acknowledged that when someone adapts Pride and Prejudice, I will read the crap out of it…no matter how bad it is. Thankfully, this is pretty good, and what's more – it even occasionally transcends the original.Zuri is proud to live with her messy, loud, vibrant Haitian-Dominican family in Bushwick, a close-knit, lower-income Brooklyn neighborhood. When the abandoned building across the street is bought by...

ReviewYou can also read it on my blog!Expected Pub Date: September 18th 2018 I received a copy from Edelweiss in exchange for an honest review.Five Stars!! Before I finally write this review of this wonderful book before it comes out ( while juggling my memory since it's been four months since I read it while being sick)I have a confession to make. Confession : I have never read Pride and Prejudice. I have been meaning too cause I have like th...

LOOK AROUND LOOK AROUND AT HOW LUCKY WE ARE TO BE ALIVE RIGHT NOW.this book. is so freaking good.

I liked seeing familiar elements from the original P&P story serving as the framework for this modern, multicultural YA tale, and that's definitely the charming part of this tale to me — the author's fresh take on the characters, in particular. But I wasn't quite as invested in this story as I would've liked to be.

I so wanted to like this but...man. The writing here simply doesn't work. I would have loved for this to be a cool take on class, culture, and prejudice, but the quality of the writing distracted a lot from the themes.Here, take a look: "No they're not! Those boys look like they're from One Direction or something," Layla says. "Look at how they're dressed. I know a baller when I see one. And no rapper will be wearing them kinda shoe...

I received an e-ARC from Edelweiss in exchange for an honest review.Pride and Prejudice meet Brooklyn, Afro-Latino families, lots of comedy, romance and family in this modern retelling of the classic. I loved how multicultural the characters in Zoboi's book were, how Zuri was so headstrong in everything and the romance which developed through the story.It's a refreshing retelling which I enjoyed very much.

I must confess, I have never read Pride and Prejudice, but I have now read so many retellings, I feel quite familiar with the story, and I really enjoyed the way Zoboi took on Austen.I lived in East Flatbush, Brooklyn until I was almost 14, so I LOVE books set in my place of birth. It was fun visiting some of the many pockets of the borough with Zuri, and remembering why I loved Brooklyn so much. Sitting on the stoop, yelling out the window, play...

I have always thought of Bushwick as home, but in that moment, I realize that home is where the people I love are, wherever that is. ✰✰✰✰ (more like 4.5)Rep: black cast of characters, mc and her sisters are haitian-dominican; mc comes from a poor background.TW: racism and poberty are talked about (in case that's something that could tw you), death, leaked nude photos.One of the goals I had this year was to read Pride and Prejudice for for...

More reviews up on my blog Inside My Library Mind As a retelling... I loved that this was a diverse retelling of Pride and Prejudice. And in my opinion, Zoboi picked the perfect setting to retell this story. The Bennets become the Benitezes, who host block parties and have a lovely little community, while Darcy and Bingley become the rich brothers Darcy, who are threatening to completely change the landscape of Zuri's hood. I loved how Zoboi ...

I initially went four stars, but after writing the review I can't see any reason to withhold the fifth star. A pleasant book and a story that will transport you back to your teen years. She has really captured the authentic feel of those teenage worries, the angst around boys, the family dynamics, the anxiety about the future. This is billed as a remix of Pride and Prejudice and I can't comment on how faithful this one is to that original bec...

random thoughts until I finish my review"The world could fall apart around me, but we are still a family. It doesn't matter where we go. Bushwick will come with us. Don't let your pride get in the way of your heart, mija." I'm stuck between giving this book 3.5 stars or 4 stars.Pride was one of my most anticipated releases and when I finally managed to get my hands on a copy I couldn't wait to start it. It was an enjoyable read but so...

4.5 stars. This was such an incredible book! One of the best retellings I've ever read- it was easy to see the source material inspiration but it wasn't derivative or heavy handed. It was perfectly done. Zuri's experience is about as far from mine as it can get but I can tell how much love went into crafting her story. Bushwick was a living, breathing character of its own, which is the best sort of setting in my opinion. I loved all of the cultur...

Actual rating: 4-4.5 Family, community, love. Black girl magic. Poetry. All of these together and you get this wonderful novel. Ibi Zoboi's writing and voice is so lovely and also contemporary/realistic at the same time. This might just be my fave Pride and Prejudice retelling.

I have a deep and abiding love for Pride and Prejudice and all things Darcy. This is a known fact about me. I can meet a new person and within 5 minutes they know "brown-haired bespectacled girl is a nerdy librarian and has an almost disturbing level of affection for P&P." So when the uber-talented Ibi Zoboi wanted to take on my favorite book and make it relevant to the modern day, I couldn't have been more excited, but I was also super nervous b...

CUTE. Definitely be excited for this one!

I received a copy via Edelweiss in exchange for an honest review.I am so disappointed. I was so excited to read an adaptation of one of my favourite classics--especially one with Latinx characters because I'm Latina. Though my particular culture was not represented food-wise, I did see that Zoboi used the religion that is practiced in Cuba (aside from Catholicism). A religion that my family is heavily involved with and that I am also a part of.Be...

I wasn't sure if I would like this book, but I thought it sounded interesting enough to try. I don't really read Jane Austen, but I knew enough about Pride and Prejudice. I ended up really loving this book!Bushwick has been changing and Zuri was not happy about it. She loves how it is now. The block parties, the noise, everyone looking out for everyone. It's the only thing she's ever known. The Benitez family lives in a small apartment wh...

Retold classic. Not my thing, unfortunately, but YMMV.