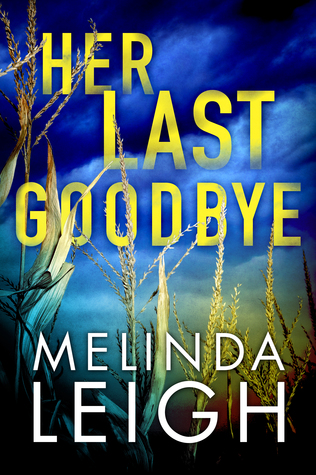 Wall Street Journal bestselling author Melinda Leigh's Morgan Dane series continues as the fearless attorney and her partner, investigator Lance Kruger, take on a disturbing disappearance…Young mother Chelsea Clark leaves the house for a girls' night out…and vanishes. Her family knows she would never voluntarily leave her two small children. Her desperate husband—also the prime suspect—hires Morgan to find his wife and prove his innoc...
---
Details Her Last Goodbye (Morgan Dane, #2)
Reviews Her Last Goodbye (Morgan Dane, #2)
EXCERPT: "And pay attention. Memorizing the rules might earn you some food."At the mention of food (her) stomach clenched painfully. She strained to listen. "One, you belong to me. You will do what I say without question. You are my property. Two, when in my presence, you will keep your eyes on the floor. Three, no speaking without permission. Four, disobedience is punishable in any way I see fit. Can you repeat those back to me?"THE BLURB: Wall ...

Good captivating story.Author is good story teller, but she must separate her romance novels from mystery/thrillers. Don't like to read detailed sex scenes in my thrillers. Many authors knows this and just leave the reader to fill the details.Mental illness, sexual predators needs help, not be protected by the family members.

Chelsea Clark was a loving young mother to two beautiful children that were her entire world so when Chelsea went missing it was obvious something was terribly wrong. The police were focusing their investigation on Chelsea's husband leaving him to worry that whoever was truly responsible was going to get away with it and every second that passed was another with Chelsea in danger so her husband decided to hire his own help to investigate the case...

Check out all of my reviews at: http://www.avonnalovesgenres.comHER LAST GOODBYE (Morgan Dane #2) by Melinda Leigh has me very excited for this series! I loved this book even more than the first in this new series and I gave Book #1 a five star review. I love when I think I have figured out the ending and the author still has another twist in store for me that surprises me once again.Morgan Dane and Lance Kruger are on the case of a young mother ...

Advanced Reader Copy (ARC) provided by the Author and Publisher via NetGalley in exchange for an fair and honest review.I read and enjoyed the first Morgan Dane book and this one is every bit as good. In fact, this is definitely one of the better romantic-suspense books I've read in a long time. I was hoping that widowed Morgan would realize that Lance Kruger would be everything she needed as a partner. Things are definitely heating up on the per...

4.5 Stars!Her Last Goodbye was an outstanding continuation of the Morgan Dane series with wonderful characters and a thrilling plot that never lets up.When Chelsea Clark leaves her house to meet a friend for a drink, she never arrives and appears to have simply vanished. Her husband is adamant Chelsea would never leave their two small children and hires Morgan Dane to find his wife. Morgan believes something terrible must have happened to Chelsea...

After reading the 1st book in the series, Say You're Sorry, I just knew that I was going to love this series. Her Last Goodbye is an excellent "next book" in the series. Although it can be read as a stand-alone, readers can better appreciate the nuances of the characters if they've read the first book.0ne of my favorite aspects of this series is the recurring characters. I really like Morgan Dane and Lance Kruger (both individually and as a coupl...

The Last Goodbye is book two of the Morgan Dane series by Melinda Leigh. Morgan Dane started her law practice renting an office in the Sharp Investigations duplex. A young woman Chelsea Clark mother of two went missing, and her husband Tim Clark was not happy with the sheriff investigation asked Morgan Dane for help. Morgan Dane started to investigate with the help of Sharp Investigations leading investigator Lance Kruger. However, as Morgan Dane...

Though I didn't pick the bad guy, I did pick the killer. Also, I knew based on other books there would be two seemingly interlocked cases. All in all, a solid read. No real complaints. I wonder if the siblings weren't brought in for future spinoffs. Or maybe they already are as I didn't connect Stella to this series at first. Nothing really more to say. It's a lighter mystery with light romance, some sizzle and steamy but not overly descr...

Sometimes it seems as though I've been waiting for Melinda Leigh's sequel to 'Say You're Sorry' for too long. But Lance Kruger and Morgan Dane have not strayed too far from my thoughts so it's relatively easy to slip back into their world where they are more than friends but not quite lovers, working together against crime just as they iron out the kinks in their own relationship. Leigh left them in a very hopeful position when the fi...

This is the second book in the Morgan Dane series (my first book review is here), but it can be read as a standalone, though there are references to the first book.This was a great, solid mystery, with plenty of suspense, romance and a doozy of an ending. I will certainly be continuing reading this series. The story takes place a month after the events of Say You're Sorry. The Sharp Investigations crew - now with Morgan as a legal consultant - ...

When a young mother disappears Morgan Dane is drawn into the case when the husband asks for her help. He has asked for Morgan to help prove his innocence so the real culprit can be caught. Morgan quickly ropes in Lance Kruger her almost boyfriend and private investigator to help track down the missing woman. However, when a killer realises she is on the trail things soon start to become dangerous not just for Morgan, but for her family as well.Th...

Again, Melinda Leigh writes a wonderful serial killer book but this time there were 2 sets of killers, and they were horrible.What the one killer/kidnapper did to Chelsea was truly terrible, as were his thoughts. And the other killers were nothing but that: killers. No souls whatsoever in either of the killers. They were some kind of horrendous human beings.The one thing I didn't like about this story is how many times Morgan's dead husband w...

I received a copy of this book from Netgalley in exchange for my honest review. I was very excited to receive a copy of this second book in what has started out as an excellent series. I love the characters and the fast-paced, intense, and highly suspenseful manner in which this story was written. Highly recommend! Can't wait until the next book in this great series!

3.5 stars. OK this was a bit better than the first book, it was slightly less cheesy. I don't like romance but I can handle romantic suspense or thrillers as long as the romance takes a back seat. This book may have been borderline but it did hold my interest until the end.A young mother of two disappears. The husband did it, right? The husband doesn't trust the police to investigate other suspects thoroughly so he seeks help from Morgan Dane. I'...

***ARC proved by Author for an honest review *** Holy Smokes!! Yet another heart stopping read in the Morgan Dane series by Melinda Leigh. Her Last Goodbye is the second book of this thrilling series and it had me gripping my device so tight that my fingers cramped up.... I couldn't put this book down!!  Then on top of it, I dreamed about it!!  I'm stuck with a book hangover like no other!!!    The opening scene is one to send goosebumps u...

Another great suspense by one of my favorite authors. If you have a chance you should read the deleted scene Melinda Leigh shares on her website. It is from Tim's POV (Chelsea's husband). http://melindaleigh.com/her-last-good...

3.75 stars. Good series. This second installment finds Morgan Dane, lawyer/unofficial PI, working with real PI's at Sharp Investigations. She is a military widow and mother of 3 young girls. When a young mother, still breast-feeding her second child goes missing, the husband hires Sharp Investigations to find her. He is unsatisfied with law enforcement's investigation as they are looking at him as the primary suspect and getting nowhere looki...

Leigh has written another engaging and heart-pounding thriller in HER LAST GOODBYE. Morgan Dane is establishing herself as an independent lawyer with an office in Sharp Investigations who employs former police officer Lance Kruger. Morgan is still adjusting to her new life. She is finally able to see past the grief that consumed her with the death of her husband two years earlier when he was deployed. She is busy taking care of her three young da...

O. M. G.! Melinda Leigh has done it again. This second book in the Morgan Dane series was all I anticipated and more. I received an ARC in return for my honest review, and I was so excited to read it. I couldn't put it down.Only a few months past her harrowing ordeal at the hands of a killer, Morgan Dane is working to build her newly established criminal defense firm. She, along with her friend and partner Lance Kruger and his mentor Sharp, are c...

An entertaining "pop corn" read... One of those books that you read for fun with nothing really substantial about it.

Pressing onward through the Morgan Dane series after pausing to go back for the earlier Scarlet Falls trilogy to have the stories the Morgan Dane series was based on, I was ready for competent lawyer and widowed mom, Morgan, to solve another heinous crime to help defend her new client. Naturally, I appreciated having the ready and able former cop, Lance Kruger at her side as they fight evil.Her Last Goodbye is book two in the Morgan Dane series a...

Chelsea Clark, a loving young mother to two young children, disappears. When the police focus on her husband Tim, he hires Morgan Dane, an attorney. Morgan, a widow with three children, teams up with Lance Kurger, a retired cop and P.I. to investigate. As they uncover things, and poke into the wrong anthills, Morgan finds herself becoming a target of a stalker and possible kidnapper. Will they find Chelsea before she ends up dead?Her Last Goodbye...

Her Last Goodbye is book two of Morgan Dane Series. It can be read as a standalone but if you ask me to get a better grasp of Morgan Dane and Lance Kruger story you should read the books in order. I became fan of Leigh's books last year and I don't see this ending any time soon. It's the way Leigh gives you both the inside though of the heroes and villain in her books. The best part, you are inside the minds of the killer without you actual...

Great read!It kept me guessing the whole way through. Perfect for those that love suspense novels. Highly recommend! Would love to read more from this author.

Thank you to Netgalley, the publisher and the author for the opportunity to read this book in return for my honest opinion.This was a good romantic thriller. I have not read any of Melinda Leigh's books before, but will be checking them out for sure. I really liked the character, Morgan Dane, she is a great memorable character and her interaction with Lance, the P.I. she teams up with to help solve the case of a missing woman is fantastic as well...

When a young mother disappears Morgan Dane is drawn into the case when the husband asks for her help. He has asked for Morgan to help prove his innocence so the real culprit can be caught. Morgan quickly ropes in Lance Kruger her almost boyfriend and private investigator to help track down the missing woman. However, when a killer realises she is on the trail things soon start to become dangerous not just for Morgan, but for her family as well.Th...

Non-thrilling romanceI thought the first book was disappointing so it was no surprise it's sequel revealed itself to be the same overall. The general plot is good with moments of suspense that are chilling. However, the characterisation of the main protagonists is poor. Firstly there is the hunky former police officer hero whose "muscles aren't just for show" that punches his open palm as a display of frustration. How many times do you have to...

Another good one in the series! The mystery in this one is really good!

Loved this book and the series.As Morgan is starting fresh in the private sector she realizes it might not be as easy as she thought it would be. But this next case will have her finding out which lines she is willing to cross and which once she isn't.Lance ad Sharp are in the kitchen with her when they get their next client and he hires both the PI business and her as a lawyer. He is a young father who's wife has gone missing and he isn't happy ...