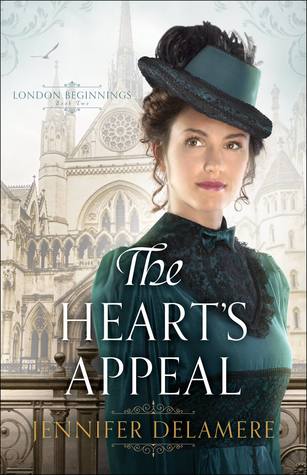 Julia Bernay has come to London to become a doctor--a glorious new opportunity for women during the reign of Victoria. When she witnesses a serious accident, her quick actions save the life of barrister Michael Stephenson. He rose above his family's stigma, but can he rise to the challenge of the fiercely independent woman who has swept into his life?
---
Details The Heart's Appeal (London Beginnings #2)
Reviews The Heart's Appeal (London Beginnings #2)
I received this book for free from the Bethany House Blogger Review Program in exchange for an honest review. Full disclaimer, I did not read the first book in this series, which is about Julia's sister but this did not affect my comprehension of this book. You could read this book as a standalone if you wanted to and still be able to enjoy it. I always love historical fiction novels about women forging their own paths, so naturally I liked thi...

Enjoyable story that was very easy to read. Minus one star for expecting me to believe that a girl raised on strong faith and going to be a missionary wouldn't have more of an issue falling in love with a man who's unsaved. Otherwise well written and good characters. Full review later.

"She'd had an air of confidence and independence . . .Her unadorned clothing had only accentuated, rather than minimized how attractive she was." A first impression of the woman who had ended up saving Michael Stephenson's life following an unfortunate accident on the Metropolitan Underground Railway. Her quick thinking and calm demeanor would leave him with merely a scar; and a distinct feeling that he would enjoy seeing this woman again, if onl...

A Heart's Appeal by Jennifer Delamere is book two in the series London Beginnings, but can be read as a stand-alone. While some characters from book one revisit this story, it is not necessary to read it to understand the plot. A train wreck in London! Julia Bernay, a medical student, saves the life of Barrister, Michael Stephenson. Will this be the start of a beautiful friendship? Or will they find themselves on opposite sides of a controversi...

I loved how this book started out with a bang! I was instantly enthralled and invested in Julia and Michael. They are both strong and intense characters so it was interesting to get to know them as their deeper layers were revealed and they grew closer together. They had good chemistry, but the romance felt like it happened suddenly and I missed some of the development. The pace of the book slowed a few times and I could feel my interest begin to...

The Heart's Appeal by Jennifer DelamereGenre: Historical FictionFormat: KindleTimeframe: 1881Location: LondonMain Characters: Julia Bernay: Main CharacterMichael Stephenson: Attorney whose life she savedCorinna and David: Michael's sister and brother-in-lawCara: Julia's sisterEdith Morton: Julia's friend and daughter of an EarlWhen Julia's first encounter with David was assisting him after their train derailed. Because of her nurse's trai...

Continuing to enjoy this series about three sisters that grew up in an orphanage. In The Heart's Appeal, the main character is Julia. Julia has been trained as a nurse and wants to purse her education further to become a doctor. She wants to be a doctor in Africa.

If you're looking to be inspired by a strong heroine who is ahead of her time, this is the perfect book for you! I really enjoyed this second book in the "London Beginnings" series by Jennifer Delamere. I have read the first one, but this could easily be read as a standalone.As I stated above, Ms. Delamere writes a strong female heroine that women will love! Julia Bernay is a woman trying to become a doctor in Victorian England. Julia cares...

The Heart's Appeal is another vivid historical from Jennifer Delamere, focusing on the contrast in society's classes as well as the pull for women's rights in Victorian England.Into this setting comes practical and driven Julia, who for all her strength and determination still very much has a heart that can be broken. She also loves God deeply and has a heart for those who don't know Him. This passion motivates her desire to go to medical...

This is the second book in the London Beginnings series, and I liked it even more than the first one. The series focuses on the three daughters of a lost sea captain, Rosalyn, Julia, and Cara Bernay, who were placed in an English Orphanage after their mother died. The first book focused on Rosalyn, the eldest, and now we are looking at Julia. Julia is a nurse who wants to become a doctor, but it is the 1880's and medical schools are just beginnin...

Reviewed at The Power of Words: https://bit.ly/2pEPimpThe Heart's Appeal by Jennifer Delamere is a highly entertaining story that I enjoyed very much. The previous book, The Captain's Daughter, was a strong beginning to this series and I loved this one even more because the storyline was so appealing. The series is set during the Victorian Era, an exciting, fast-changing time of new opportunities, especially for women. The writing is smooth a...

This is the second book in this series that I have read and enjoyed, and there is a third sister, so there is hope of another book.Again, the author has set this read in 1870's England, definitely a man's world, and there are those that will do all they can to keep it as such.Our heroine is a woman, Julia, who heart's desire is to be a doctor, and she uses her skills to save the life of the man that is destined to help her, Michael.There ar...

What a delightful and intriguing read! Entirely unpredictable and packed to the brim with such a variety of people and character, that despite it being one of the lengthier novels I've read in a while - I finish it feeling quite satisfied. I never quite know when these kind of stories are written, to what extent the author will draw on modern day attitudes and try to throw them into a historical setting. It can utterly ruin the accuracy of a peri...

I fell in love with the Bernay sisters in The Captain's Daughter (the first book in the London Beginnings series) so I was thrilled to my toes when The Heart's Appeal made it's way into my TBR pile -- though not for long since I gobbled it up right away! Delamere has a talent for creating vivid images that make a reader feel like she's living the book rather than merely reading it. I also love the way she weaves real facts into her fiction. We ge...

History lovers are in for another treat with this second novel in the London Beginnings series from Jennifer Delamere. I love the way that history often surprises us when we dig past the layers of generalizations, by revealing characters who were very forward-thinking for their time. Such is the case with Dr. Elizabeth Garrett Anderson and her husband James Anderson, both of whom are actual historical persons and secondary characters in this nove...

I appreciate the strong spiritual themes in this book, the clear gospel presentation, and the Biblical principles that play out in the various characters' lives. But too much of the plot felt contrived, and not authentic to the time period.I did appreciate how subjects that are still at the forefront of social conversation were handled with a balanced Biblical approach, including women's rights, the role of women in the home, and medicine.Overall...

A delightful read! I loved this story from start to finish. Ms. Delamere hooked me instantly and kept me turning the pages long into the night. The Heart's Appeal is a story that will make you smile, make you think, make you want more of this fabulous author's work. Julia and Michael are complex and wonderfully chiseled. The interactions between the two were beautifully done, and the story line was rich in historicaly detail. The way that Ms. Del...

This is second book in the series. It's as good as the first one! I loved it! I hope the third one is ready soon!

This second book in a series about three sisters who grew up in an orphanage was every bit as good as the first book. I was looking forward to Julia's story and it did not disappoint. It is very well written with heartwarming romance, historically forward thinking men & women, bits of exciting history, and a background theme of inspiring faith. *Thanks to Celebrate Lit for a complimentary copy of this book. I was not paid nor required to write a ...

I loved the author's note at the end! I always look forward to reading those because it tells me about the research that was being done for this book! She's done a fabulous job with that.I also loved the cover for this book( I'm a sucker for beautiful book covers)! It was what drew me to the book. I have learned a lot from this book.Julia especially amazes me!! I love her personality and love for helping others in their time of need.How hard it m...

The Heart's Appeal is the second book from Jennifer Delamere's London Beginnings series. I really enjoyed the first book of the series, but loved, loved, loved this one! I was hooked as soon as I was introduced to Julia Bernay. What a strong, determined, and independent woman for her time in history. She was not going to let anyone take her down. What a fabulous way to introduce her to the other main character, Michael Stephenson. She is his ...

Remember 'The Captain's Daughter' that I reviewed last summer, June to be exact? Yes, it's been more than a minute. I knew when I chose to read this book that it was a continuation of that series but it didn't really sink in all the months later when I read the book. Suffice it to say, this book reads really well as a standalone but I strongly urge you to read the first book in the series. And then, like me, wait with baited breath for ...

Readers, get ready to be transported back to 1881 London. Delamere paints a lovely portrait for you in this historic read where you can easily see the setting before you. The characters will grab your attention right away, and you will find yourself not only reading a love story, a story about differing parts of society, a story about secrets; but a story about God's love and the mission to share His love with others.Julia Bernay is the epitome o...

As much as I enjoyed "The Captain's Daughter", "The Heart's Appeal" really struck a chord with me. Being book two, it can be a standalone, although Rosalyn's story does make an appearance as a potential spoiler for book one's ending. "The Heart's Appeal" touches on many of my interests from the get-go: women's life in the nineteenth century, the practice of medicine, and educational studies. Julia Bernay makes a captivatin...

What a welcome treat it was to step back into London with author Delamere. In her second London Beginnings, we are given the story of Julia Bernay, the second sister of three who grew up in George Mueller's orphanage. I love the story of George Mueller and his orphans and how he had complete faith and trust in God to see to their every need. This is a unique series in which we get the stories of three such orphans who grew up there. What really...

In 1874, Dr. Anderson co-founded the London School of Medicine for Women and "The Heart's Appeal " by Jennifer Delamere is based on this historical fact. It is the second book in the (London Beginnings) series. A reader could enjoy this book as a standalone.Julia Bernay wants to be a doctor and a missionary in Africa in 1881, She has a big problem because she is a woman. This is a love story about a man and a woman from different sides of the t...

I love that though Julia is a forward-thinking women taking up a man's profession (for that time), she doesn't spend time griping about lack of women's rights or how unfair the world is to women. She's thankful for the opportunity afforded her, and she doesn't take anything for granted. As such, I found her a lot more likable than similarly strong-willed heroines from other stories, who too often reflect the stereotypical pushy, man-hater feminis...

This book was a true joy to read. I now have a new author who ranks with Tamara Alexander, Jocelyn Green, Michael Phillips and more! Jennifer Delamere not only wove an interesting tale displaying each player's character, but added the sparks of honest love with sacrifice. I loved the medical and legal side of the story that showed how people thought about women's roles at that time. Her writing was easy to read, although creative. Julia Bernay ha...

While this is book 2 in a series, it can be read as a stand-alone. You read some characters that were introduced in book 1 however the plot makes perfect sense without having read book 1, although i suggest reading it, as it is a true delight. This book is so beautiful and vivid in a sense of historical detail. This book has a truly beautiful moral to it that i don't want to spoil here, so you will have to read it for itself. I was rooting for ...