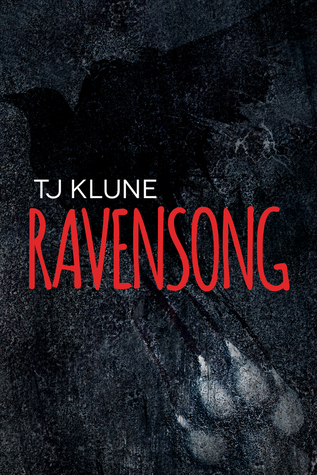 Gordo Livingstone never forgot the lessons carved into his skin. Hardened by the betrayal of a pack who left him behind, he sought solace in the garage in his tiny mountain town, vowing never again to involve himself in the affairs of wolves.It should have been enough.And it was, until the wolves came back, and with them, Mark Bennett. In the end, they faced the beast together as a pack… and won.Now, a year later, Gordo has found himself once a...
---
Details Ravensong (Green Creek, #2)
Reviews Ravensong (Green Creek, #2)
***Spoiler-Free review, baby!*** *4.5 stars*It would be hard for me to spoil Ravensong, even if I wanted to, because it rushed by me so quickly that I feel that horrible book let down, that feeling of loss when a great book is over. I'm brushing off the dust thinking, What the hell just happened?Ravensong pushes forward at such a continuous, pulsing pace that it feels like leaning over the edge of a cliff the entire time. You won't want to stop r...

In english: 4.5 stars. I loved it. Gordo deserves all the love in the world.REVIEW EN ESPAÑOL. Tal vez lo traduzca a inglés un día. (Recibí una copia avanzada por parte del autor a cambio de una reseña honesta).En realidad no sé si la puntuación de este libro sea de 4.5 estrellas o 4 estrellas. Debo comenzar diciendo que me gustó muchísimo, pero que no me gustó tanto como Wolfsong. O SEA, es maravilloso, pero la vibra fue mucho más mel...

Okay folks, I'll just say it up front. I could NOT put this book down. Not that I wanted to. :- PThis was a tale of a love that should have been, mates that should have been, before fate and cruel circumstances stepped in, causing deep feelings of abandonment and betrayal. Gordo Livingstone hadn't been the witch of the Bennett pack for a very long time when the Bennett's finally returned home to Green Creek. Then, when they finally did, he wanted...

I love TJ Klune, I think he really does write magic "Wolfsong" was my nr. 1 book for 2016 and I am sure that "Ravensong" will end up being my best read of 2018. It was raw, emotional, heartbreaking and funny. In short it was wonderful...Now TJ always asks to keep reviews spoiler-free, and since I worship the ground he walks on...you won't be getting a whole lot of info from me ...sorryThis book should not be read as a stand alone, you need to re...

packpackpackPain is a lesson. It teaches you the ways of the world. We must hurt the ones we love in order to make them stronger. To make them better. One day you'll understand.War has come at the Bennett pack's doorstep. After Wolfsong, another amazing experience. If you consider Wolfsong a book about two men who -belong together, -have grown up together, -have mature and realised their capabilities and potentials and-have fallen in love in t...

this book was one of my most awaited book for this year. I started reading as soon as i got my hands on this and I just loved it so much. As the blurb says this book is about Gordo and Mark but it was so much more. While these two were at the middle of everything, this story tells us about the little boy whose mother told him how bad wolves were, whose father told him how strong he was and how the wolves depend on him. This story tells us about t...

4.5 stars!! This Green Creek series… I love these books and this pack so much! After reading Wolfsong last year, I could not wait for this book. The moment it went on audio, I made time to listen. It was a long book, but once again, the story hooked me and it didn't feel long at all. Honestly, I didn't want it to end. Gordo and Mark's story spans 25-30ish years. It starts out when they're just boys, and goes to the present from when th...

4 "Dirt and Leaves and Rain" Stars"PackWitchBrotherLove"I'm not really into shifter stories but I can't get enough of this series! And you should know before this series I read one of the author's books and I disliked the writing (I'm not a big fan of his writing style) but yet again I couldn't put this one down! So good! So many feelings, all the emotions and you can feel them! It will make you exhausted emotionally but in a good w...

4.5 stars! SPOILER FREE REVIEW!! "The funny thing about hate is the razor-thin line that separates it from something else entirely." This is the story of Gordo and Mark, characters we met and fell in love with in Wolfsong (the book before this one and yes, you need to read them in order). Gordo and Mark loved each other, but something happened and Gordo sent Mark away. Now years later, Gordo is again the witch of the wolf pack Mark is in,...

~4.5 stars~A highly anticipated sequel that didn't leave me disappointed. "I don't believe your promises anymore." Gordo doesn't believe in much. His magic. Ox. His friends who help him run the garage. Anything else just hurts too much. When you've been burned over and over, who could blame him?His heartbreak was palpable, and I admit my eyes leaked a bit while learning the real history of Gordo and Mark......and Gordo and Thomas......and Gordo...

4.75 stars rounded up. "Life is...it's about the choices we make. Not the choices made for us. You have the right to set your own path. To be who you want yourself to be. No one should decide that for you." OH. MY. GOD.I'll start off by saying that this is the second book in the series, and it features a different couple but I recommend you reading Wolfsong beforehand to get the whole story. Now the book....IT WAS SIMPLY AMAZING. Gordo and Mar...

I can't tell you how much I loved Wolfsong, so I was nervous I wouldn't like Ravensong as much. There was no need for me to worry, I adored Ravensong and the poetic writing sucked me into the story from the very beginning. Ravensong is the story about Gordo and Mark. Don't worry though, there is plenty of Joe and Ox as well as the rest of the Bennett clan. Of course there are a few changes within the clan, including Team Human, but their fi...

Kill me. Take all my stars and just fucking kill me.

I didn't think it was possible for TJ Klune to top Wolfsong but he did. I'm in awe of this man's talent cause damn can he write. Ravensong was everything and so much more. I was entertained thoroughly. I felt the story and its characters. I was singing and howling along with them. Pack Love Mate. Ravensong is not just Gordo and Mark's story. This is the story of the Bennett Pack and this pack encompasses it all. Strength, loyalty, courage...

4.5 StarsNOTE: Ravensong does not stand alone. Definitely read Wolfsong first, and if it has been awhile, I'd suggest doing a reread.~~~~~~~~~~~~~~~~~~~~~~~~~~~~~~ "Pain is a lesson" Gordo Livingston is bitter and angry. To truly understand the depth of his anger, you first have to understand his fears and his past. Gordo felt betrayed, abandoned, alone. By his parents, by his pack, by his mate, and he's determined to never let it happen again....

Three facts about the Green Creek wolf pack, brought to you by the letter D:1) Daddy issues galore.2) Dumber than a box of rocks.3) Drama queens extraordinaire.And D1 + D2 + D3 = DNFLet them all die, I don't care! So glad to be done with this book. DNF @ 62%, and I think I need a drink.4) Drove me to drink.(Thanks, Linda 😉)____Update: I actually went back to this a couple days later and finished it. That was a mistake; I think I'm permanently ...

I think this one was better than the first in the series. The second-chance plotline was on point, it was nerve wracking and it was FUN! I'm so happy that we had more humour in this one, compared to Wolfsong, since this was quite dark and long, and I needed those breaks from the heartache and the seriousness.I totally understand why Mr. Klune is becoming 'hot shit' in major publishing houses, and I am really REALLY excited for the next book in th...

After reading, and before finding the time to write a real review : I'm so happy, okay? SO happy I gave Ravensong a chance. It was, really, the book I didn't know I needed, but oh hell, how I did. 4.5 stars, RTC.Prereview : About this time last year I read Wolfsong and it triggered a strong reaction in me, which is not unheard of, but, you know, isn't what I'd call usual either. The more I read, the hardest it is to really piss me off, to break m...

May our songs always be heard... To say it in Gordo's words: fuckin' werewolves. Loved it as much as Wolfsong, if not more so. TJ is brilliant and Kirt Graves's narration was too. I think that says it all. :) ***Josy, thank you so much for this impromptu kinda... sorta... buddy listen! What would I have done without you?  ❤*** May our songs always be heard... To say it in Gordo's words: fuckin' werewolves. Loved it as much...

5 BIG stars! I absolutely loved the audio!!! "I'm not scared of much. But I think I'm scared of this. What it could mean. What I could become. Who I could forget." Before diving into this one I felt the need to re-read Wolfsong. I loved that one just as much as I did the first time, but then I got afraid no one can compete with Ox and Joe. Well now let me tell you how hard I fell for Gordo and Mark. To be honest, I think there's no need to re-...

"Once, there was a boy. Once, there was a wolf. He had sat with his back against a tree. His bare feet were in the grass. The boy leaned forward and kissed the wolf. And knew then that nothing would ever be the same." Green Creek Series - Recommended for: i GUESS ANYONE WHO ENJOYS HYPERVENTILATING aND SCREAMING At ALL TIMES AND DROWNING IN UTTER LONGING AND DESPAIR I knew this would happen. I did. I'd read Ravensong KNOWING TJ was going to r...

3.5 starsI took me a long time to read this book. I kept putting it down and coming back to it. I did finally finish but my thoughts and feelings about it are a big jumbled mess. There were things I didn't like about it. There were things I loved about it. It made me laugh, it made me cry. It made me happy, sad and angry. Unfortunately, it also made me bored in a few places. So, maybe I'll come back and write a coherent review if things gel in my...

Once there was a book.An extraordinary book.And as I laid in my couch I started it, feeling like it will be amazing because the first part was perfect.The beginning was hard because it explained so much. The hardest parts of the first book. The pain, the hurt, the anger and above all, this LOVE. Once there was this witch. Broken so young that he never knew how to fix it. Nobody taught him. Nobody understood him. But many people loved him. He didn...

I think I love this book even more than Wolfsong... So much was taken from Gordo and at so young an age. Getting to finally see him heal and be with Mark was just awesome. I could once again gush about TJ's incredible writing, but I would just be repeating myself. The author is beyond talented and although reading his books is an emotional roller coaster it is one I will be glad to ride again and again!

Overall book rating: 5Audio Book: N/A Book Cover: 4.5A Witch, closed off, lonely, wanting to be chosen...A Wolf, sad,rejected,loyal, braveA history than runs deep. A Pack, a Territory, a Town to protect. Lots and lots of walls to break down. Enemies and plot twists. Choices to be made.Heartache Happyness Laughterand blue... so much BLUE...Crazy ass Love-able HumansMother, and Brother, and Mate, and Pack and Witch and Uncle and..... Yeah. Let me s...

It was good...It's my fault. See, I read Wolfsong but I listened to Ravensong. I'm not saying that Ravensong was bad it's just that I didn't feel as sucked in as I was with Wolfsong. At first, this was because I was struggling to keep pace with the pack. There's time-jumping, trying to remember who was who and what was what. Then, once I gained my bearings, I was a bit discombobulated that a character I loved in Wolfsong made me want to scream in...

All the stars in the sky ... and then some ! This is a heart book, emotions at its finest. Love, loyalty, pain and pack. Beautifully written, so much so that I was consumed, left my life for the day, closed the doors and followed the pack to Green Creek. Absolutely no spoilers here as people deserve to find their own way through this story. TJ, a brilliant, masterpiece... so much love ❤ All the stars in the sky ... and then some ! This is a ...