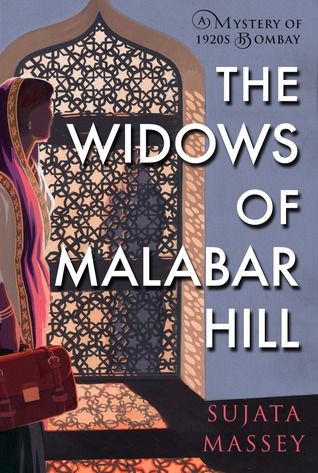 Bombay, 1921: Perveen Mistry, the daughter of a respected Zoroastrian family, has just joined her father's law firm, becoming one of the first female lawyers in India. Armed with a legal education from Oxford, Perveen also has a tragic personal history that makes her especially devoted to championing and protecting women's rights. Mistry Law is handling the will of Mr. Omar Farid, a wealthy Muslim mill owner who has left three widows behind. But ...
---
Details The Widows of Malabar Hill (Perveen Mistry, #1)
Reviews The Widows of Malabar Hill (Perveen Mistry, #1)
Loved this book! What a pleasant surprise and new writer for me, Sujata Massey, talented. I read this book during December and just finished in the days off from work. A great view on India in the 1920s, an interesting and rather grim view on the position of women then and there and a great heroine, the first female lawyer Preveen Mistry in India, handling a sensitive case and trying to solve the murders included. 4.7+ so the first five star this...

This is a very well done old-fashioned historical novel and my first experience with Massey. Perveen is the only female practicing lawyer in 1921 Bombay. She is unable to argue cases in court due to the strictures of the time and instead works as a solicitor for her father's practice. At its heart, this is a murder mystery and a good one. There is a bit of a dual timeline but it doesn't occur every other chapter so the novel flows more smooth...

Five big fat stars for this book that I just LOVED! A whodunnit situated in India in the 1920's with a female lawyer as main character. It's fast paced and has lots of interesting information. I hope #2 will be published very soon!

"As the only female lawyer in Bombay, you hold a power that nobody else has," a British government official tells Perveen Mistry in this first of a refreshingly original mystery series – and he's right. It's 1921, and Perveen is a solicitor in her father's law firm. Even though she can't appear in court, her position and gender mean she's the only individual with the means to look into a potential instance of deception and fraud.A...

Having been a fan of Sujata Massey's award-winning Rei Shimura mystery series, I was thrilled to hear about this first Perveen Mistry mystery set in 1920s Bombay, India. There are two interwoven timelines in The Widows of Malabar Hill. One is present-day Bombay in 1921 which shows us Perveen working hard to become an integral part of her father's law firm. The second timeline takes us back to 1916 so we can learn what happened to Perveen to make ...

I can see how many people would enjoy this series. It fell a bit flat for me. It read like a Nancy Drew mystery to me. I've upgraded my rating from two to three stars. I started thinking about it more, and I realized that because I listened to this book, I was influenced by the narrator's voice for the characters. As I said, it felt like a Nancy Drew mystery to me. I think that was due to the narrator. If I had read it, I think that the story of ...

Perveen Mistry is a solicitor, preparing herself for the day when women would be allowed to the Bar. Working with her father, she comes across a mysterious case in which three Muslim women, widows of the same man, want to donate away their inheritance to a wakf (Islamic trust). Curious about the case and worried about the women, who lived behind the purdah and had no contact with the outside world, Perveen decides to explore the case deeply. This...

Sujata Massey was a new author for me. I enjoyed The Widows of Malabar Hill very much. The location is Bombay, India in 1921 to flashbacks to Calcutta 1916-1917. Perveen Mistry is the first female lawyer in India. She was educated in Oxford but can not represent clients in court. She works in her father law office.Her father is representing the estate of Omar Farid who is a wealthy Muslim mill owner. He has left three widows who are living in pur...

I loved the setting and time period- 1920's Bombay. The main character was a strong, smart, complicated female and the first female lawyer to boot. The mystery kept me guessing as well. Perhaps what I appreciated most was the education I received about Indian culture and laws during this time period. Was this a knock-my-socks off book? No. But it sure was an escape! And it would make for great conversation.

This is a difficult review/ reaction to compose. Because I wanted to give this one more than a 3 star. Perveen Mistry is a terrific character. She's multi faceted and interesting in both a self-identity and expressive style sense. She's logical, and very smart. And up against severe and diverse restriction, tradition, culture, tribal based and religious finely drawn strictures. All of those.And it also taught me quite a bit within this length of ...

3.5 stars (round up) ... Even though I appreciate the setting of 1920s Bombay and learning about another culture, the story develops slowly. Although it's categorized as a mystery, the mystery is not revealed until about the 50% mark. There are many storylines and the mystery is just one of them. The main reason I persisted with this is because it is one of Modern Mrs Darcey's top summer picks. The story picks up the pace at about 75%. It's...

Amazing book. Perveen Mistry is the first female solicitor in 1921 Bombay. While she cannot plead cases before the bar, she aids clients of her family's law firm. Assisting her father in an inheritance case, she discovers a murdered man at the house of the three widows. As the women follow the tradition of purdah--not having contact with men, Perveen's gender becomes an asset in unravelling the mystery. The cultural details educate and inform the...

A few minutes ago (it's 11:20 AM EST as I write this), I had the satisfaction of finishing reading "THE WIDOWS OF MALABAR HILL." It's centered around India's first woman lawyer, Perveen Mistry, who had received her legal training at Oxford. The time is February 1921 and she has returned to her home in Bombay, where she has a job working in her father's law firm. Perveen has been given the responsibility of executing the will of Omar Farid, a weal...

This was an exceptionally good period mystery that I would recommend to virtually any kind of mystery fan. With this novel superlative author Sujata Massey begins what I hope will be a very long series featuring the adventures of India's first female lawyer Perveen Mistry (who is based on India's real first female lawyer). It is 1921 in Bombay and Perveen works in practice with her father, a well known and respected lawyer. Though the law prevent...

3.5 starsI wavered between 3 and 4 stars throughout the story. I enjoyed that it took place in Bombay, India, in the early part of the 20th century. It was fascinating to learn about Indian culture and laws during this period of time. The protagonist, Perveen, was also a likeable character who represented women's rights and the suffragette movement that was taking place around the world. I was captivated during the chapters that focused on Pervee...

Fantastic blend of historical fiction and murder mystery, featuring a headstrong Parsi protagonist who's on her way to becoming the first woman lawyer to practice in Bombay. Highly recommended!

4.5 starsThis book took me completely by surprise, so much so that I read it in a single day. What a pleasure.The book follows Perveen Mistry, a woman in her early twenties who happens to be the first female lawyer in 1920s India. She works together with her father at his law firm and in this book takes on the settling of his estate after a client's death. He had three wives, who oddly enough have all agreed to donate their inheritance to charity...

Perveen Mistry is the first practicing female lawyer in Bombay in the early 1920s. In assisting her father with the administration of an estate, she notices something odd about a letter they received from the widows of the decedent: the widows claim they all want to donate their inheritances to the family charity. The custodian of the estate is pushy and demands the funds be made available for charitable purposes, but Perveen wants to meet with t...

3.5 stars for the first in s new series by the author. I really liked the mystery, the setting(1921 Bombay), our heroine--just about everything in the main storyline. Young lawyer Perveen is a delight; I enjoyed watching her deal with her wily fox of a father. I am happy to see her good friend Alice again (introduced in the prequel novella 'Outnumbered at Oxford'). The mystery was clever--process of elimination gave me the killer, but not the 'wh...

I'm SO happy I finally read this one! I bought it right after publication and finally moved it to the top of my TBR this week. Just the smart/#ownvoices/feminist/historical mystery I needed! I absolutely adored the deep cultural and religious education that I received through reading and was fascinated by various aspects of 1920s Bombay that I had never read about prior to this book. I will certainly not at all claim to be an expert after reading...

Indian girl with strong will and loving parents gets sidelined early on with crises hard to overcome. It's 1920 and earlier, between Bengal and Calcutta and Oxford we learn of the victories and defeats. Perveen is a brave female protagonist, the only girl reading law and thus taunted by the male students until they win first round. Her father is successful lawyer and is admirable champion in her struggles both professionally and personally. There...

Several years ago, when I read The Sleeping Dictionary by Sujata Massey, I discovered an India of beauty, historical importance, depth, tragedy, redemption, and diversity. That book, set over a period of seventeen years, 1930 to 1947 mostly in Calcutta, stunned me with its impact on my reading life, as India became a source of interest and intrigue to me. It's quite difficult for me to choose just one favorite book or even ten favorite books, b...

This is the first in a new historical series set in Bombay, beginning in 1920, following Perveen Mistry, the first woman solicitor in India. When the household agent for a recently deceased man who left 3 widows makes a request to Perveen's father, the decedent's solicitor, to change the distribution of assets, Perveen realizes that only another woman can probe what the widows, who live in seclusion, really understand and want. She takes over the...

Perveen is India's first female attorney. To get around all the restrictions against women lawyers, she studied at Oxford and works in her father's law firm. Her family are Parsi's, members of the Zoroastrian religion. This book foregrounds the religious differences between Islam and Zoroastrainism as Perveen goes to work on behalf of three Muslim widows who live in purdah. The setting is 1920's Bombay. There is a backstory that begins in 1916, w...

Il bello dei piani di lettura è mandarli al diavolo con determinazione.Piacevole romanzo giallo, mi è piaciuto, basato su due donne reali che hanno aperto la strada per le donne alla professione forense in India e hanno contribuito a rendere le leggi religiose di alcune comunità più corrette nei confronti del genere femminile.Il quadro di Bombay qui ricostruito è piacevole e molto complesso, con i vari gruppi etnici e religiosi, le diverse p...

The Widows of Malabar Hill by Sujata Massey was nominated in the mystery category in the earliest phase of this year's Goodreads Choice Awards. Since I had a copy from the F2F mystery group that I attend, I decided to prioritize it. I am reviewing it on Thanksgiving because I am thankful for this book.Protagonist Perveen had some horrifying experiences that many readers will find very troubling. I feel that I have a duty to warn that some readers...

Having not realized that this was a mystery, the title at first made me think that this was going to be chick lit, which is not my genre, so I was pleasantly surprised. This is quite a good book, and I liked it, but I didn't love it. The writing held my interest and was even thrilling in some parts. The details about India and the different cultures and customs were fascinating. Purveen is interesting but sometimes frustrating and eventually he...