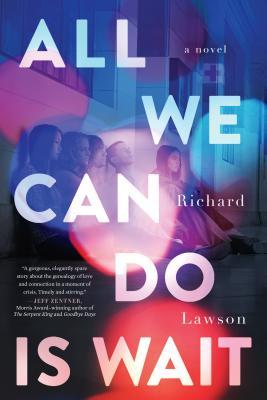 In the hours after a bridge collapse rocks their city, a group of Boston teenagers meet in the waiting room of Massachusetts General Hospital: Siblings Jason and Alexa have already experienced enough grief for a lifetime, so in this moment of confusion and despair, Alexa hopes that she can look to her brother for support. But a secret Jason has been keeping from his sister threatens to tear the siblings apart…right when they need each other mos...
---
Details All We Can Do Is Wait
Reviews All We Can Do Is Wait
3.5 stars here.It seemed like just another day in Boston. And then, without warning, the Tobin Bridge collapses, with about 100 cars on its span at the time. These were people just going about their business—students, parents, families, people racing to work or school or home or to some other obligation or exciting occasion. "It was hard to say who was less lucky, the ones who fell into the water or the ones who fell onto Charlestown, debris tu...

this was a very well-written book but, unfortunately, there wasnt really any plot. i think the lack of story was why i failed to feel any sort of connection, which is a shame considering the emotional content. 3 stars

Thanks to NetGalley for an advanced ebook in exchange for an honest review. Beautiful cover, heartfelt premise, good writing and teen angst that director John Hughes would have lapped up like a cat with cream. But I felt a whole lot of nothing because as exciting as the premise sounded, there was way too much backstory and I was a bit worn out by it all. I usually devour YA novels and I am sure that some of my students would love the story. I do ...

This was like super super super well-written? Like, if this is how debuts are going to be for 2018, I might be finally able to break my rating slump because this was super good. It was raw and real and just exactly all the heartbreak and emotion that I thought it was going to be. To explain the book, you have to think of it not as a linear format. I like to think of it as a collection of moments in these people's lives brought together in a bridg...

3.8-4 stars.Ouff.So this was quite a heavy book, but also quite lovely in its way. I really liked the characters (my favourite point of views was definitely Alexa and Jason though), and as I got to know them I started dreading but also really wanting to know exactly what had happened to their loved ones. There was character growth and I even feel like I've learned some things about myself and my own family now that I've finished this. It feels wr...

Such a disappointment. Didn't enjoy his writing style at all - kind of pretentious and feels the need to over-explain the narrative to the reader. Would have been better in more capable hands.

4.5 stars. review to come

All We Can Do Is Wait is a novel that focuses on a group of teenagers who are waiting in a hospital to find out the fate of their loved ones after a tragic bridge collapse. It is not a fast-paced adventure or survival story, but rather a character study of how different people react to tragedy. Most of the story is takes place before the bridge collapse and you learn who these characters are and what has happened in their past leading up to them ...

SUCH A GOOD YA NOVEL Its been a long time since I cried this much because of a book but HERE WE HAVE A GREAT FUCKING REASON TO BAWL YOUR EYES OUT very diverse characters with important side stories OH GOD I LOVED IT

2 stars from me. Why? Because I have no idea what the actual plot of the story was. Was this supposed to be about 5 "strangers" that come together in a hospital waiting room to find out the fate of their loved ones, only to realize they are all actually linked together? There was so little about the actual event that brought them to the hospital and a metric ton of backstory that is slowly pieced together to give a lack-luster reveal. The charact...

For All We Can Do Is Wait being Richard Lawson's debut novel, I was blown away. Lawson tackles a horrific story full of so much relatable pain and turns it into a beautiful, heart-wrenching story line.Synopsis: In the hours after a bridge collapse rocks their city, a group of Boston teenagers meet in the waiting room of Massachusetts General Hospital: Siblings Jason and Alexa have already experienced enough grief for a lifetime, so in this moment...

Stories about disparate people coming together and telling their stories from multiple perspectives are my favorite kind of stories, which is why I was so intrigued by and exited for this book. And I'm happy to say it didn't disappoint. The characters are each so interesting in their own way and their stories are well fleshed out. Their backstories are parceled out in a way that compels you to keep reading, which is why I read it in two sittings ...

Overall, this was a good story of strangers being forced to sit with each other and bond over a bridge collapse while they wait to hear the fates of their family and friends. It ends suddenly, and a little predictable, but I would use it as a way to teach empathy in classrooms or schools.

This book was really heartbreaking, I loved the way the author put so much emotion into each and every characters story. It also really changed my perspective on how I view the world, it really made me realize that your life truly could change for better or for completely worse at any moment. I highly suggest reading it!

This book is told from multiple POVs which I like from time to time, as it gives you an insight to more emotions and stories that hopefully weave together a bit in the end. And while the stories do start to make sense in this book, I found the narratives of each to be a little dry. There were definitely bits of each chapter that I was interested in, but the majority of this book is in a telling vs showing narrative that didn't keep my attention m...

I fell in love with the idea behind this book, the raw, aching moments of waiting to find out bad news. It seemed like hit! There were a lot of things I liked, the use of backstory, the multiple points of view, the fact that the author didn't shy away from things like abuse, drug use, and sex. What fell flat for me was the follow through. The ending, while technically "full circle," left me unfulfilled. Though we see all the character complete th...

An interesting concept that would have worked better as a short story. If you're going to have a novel that is 80% backstory, then those backstories had better be solid as hell. I think Jason's backstory fit that bill, but the rest of them were underwhelming and underdeveloped while simultaneously slowing down the story with too much frivolous detail. I felt like every chapter just rehashed the same information over and over. Scott's story didn't...

Lawson: I have an idea for a book about teens waiting in a hospital room after a devastating disaster.Publisher: Wow, that sounds like there'll be exciting confrontations, emotional confessions and maybe even some dynamic set pieces!Lawson: There won't be!

Review TK, but this is an incredibly moving and poignant story about interconnectedness and learning to face the world.

Sometimes a book just comes along at the right time. Perhaps on another occasion I'd have been irritated by the pacing of this or the endings for some of the strands, but at this point it felt like a rather cathartic experience.Five teenagers end up in hospital in Boston after a major disaster. Nobody can do anything but wait. And as they wait, they talk and share stories about their lives. Each is caught up in their own story - with their own ...

This book blew me away. I adore stories about strangers meeting and and a story based around that. I thought this book not only had a cool concept but also such a cool narrative and way of telling the story. I loved how past and present was used to to tell these five characters stories. I was equally invested in all the various POV and raced through it. It was a more emotional read and def tugged on my heart strings. I really enjoyed it and would...

More like 2.5 stars, but I'm feeling generous.I feel like this book was trying to be all capital-I Impactful, but it didn't really work. It was melodramatic. I didn't care about Alexa's rich-girl struggles and tbh, even though I felt like I should have empathized with Jason, I just didn't. I kind of liked Scott, but then ... THAT was revealed, and I was just like, dude. What? Why? I never fully understood Morgan as much as I feel like the book wa...

This was a very powerful book about grief and loss, and in its own quiet way, it will stay with me for a long time. That being said, I hate ambiguous endings, so I deducted a star for not knowing what happened. I liked the style, going back and forth between perspectives, as well as between the past and present in each characters lives. It was a cool way to get backstory, and there were more than a few twists to go around. Definitely recommend.

This is quite solid and affecting. I sat down to skim a few pages and ended up reading a third of it without thinking. Even though I saw a lot of the twists it's got really good writing. I'm not in love with the backstories being misty watercolored memories while the characters sit in a hospital waiting room but it's the structure - whadaya gonna do. [side note - unrelated to the story, can I just say I hate almost all the names of the characters...

I know the reviews have been very positive for this book, and perhaps my hangup, is with the pace of the audiobook, but I found this so slow. I kept having to turn back and remind myself who the characters were each chapter, because I just wasn't invested. Bummer.

3.5 🌟 This book was so cute and adorable I loved it. My only comment is that I do wish that there was more of a plot but that's just the type of book it is. I think the fact that they had 4 main characters and would go into the passed really got you hooked!

My son mentioned that he followed this guy's movie reviews, and that he knew that he had a debut YA coming out. 3 1/2 stars, and I'm rounding up. Emotional. Interesting concept. May nominate for Cap Choices if I go a few months and still like it better than several of the other Capitol Choices books that I've read so far.

The plot to this book was amazing. Just like you read in all the headlines. Loved the story within a story.Great book.