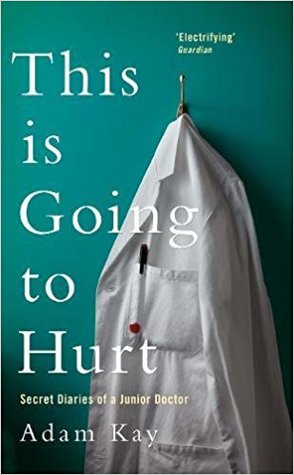 Adam Kay was a junior doctor from 2004 until 2010, before a devastating experience on a ward caused him to reconsider his future. He kept a diary throughout his training, and This Is Going to Hurt intersperses tales from the front line of the NHS with reflections on the current crisis. The result is a first-hand account of life as a junior doctor in all its joy, pain, sacrifice and maddening bureaucracy, and a love letter to those who might at an...
---
Details This Is Going to Hurt
Reviews This Is Going to Hurt
I finished the book. It was a mostly irreverent look at the early years of being a junior doctor, then an obstetrician, until something catastrophic happens to a patient and the author turned from medicine to writing comedy. It was an excellent read, one good anecdote after another and rather than a review I'd like to summarise two. One concerns herbal medicine and the other the very serious topic of spousal abuse and how the hospital dealt with ...

A genuinely funny collection of stories from a former doctor; some so horrifying, surprising, or amusing that I had those hard-to-breathe-while-laughing moments, immediately making Audible clips and sending them to all my friends. It's not for the squeamish, be prepared for lots of blood, births, bad language, and assorted 'implements' stuck in places they really shouldn't be. Rarely have I been so impressed (if that's the right word) by the wi...

I loved this. In part funny and heartwarming, yet also utterly heartbreaking and disillusioned. I think this strikes a particular cord with me at the moment as the author was an obs & gynae doctor, and I've recently spent time myself as an inpatient on such a ward. This is the first book in a while where I've read passages out to my husband while laughing out loud one minute and then had to hold back tears the next. It's a full on rollercoa...

A petition for Jeremy Hunt (and every other politician and individual wanting cuts to the NHS) to read this book immediately. As brilliantly funny as it was emotional, distressing and heart-wrenching. We don't look after our health services enough, and I hope this book helps more people understand why that needs to change.

I am going to be in so much trouble when my sister finds out I gave this book to my niece as this is probably not a very appropriate book for a 17-year-old. But she is determined to become a doctor and she needs to know it's not just about rockstar surgeries and making buckets of money. It is the most insane working hours, thankless work with crap pay.The diary entries follow Adam's ascend through the ranks, from a junior doctor to becoming a...

This is a non-fiction read all about the NHS and the way that the system works. It's told in a diary format from the years when Adam Kay was a junior doctor and was part of the system. We see how the NHS has been struggling as time goes on to keep up the standards and staff levels, and we see the strain it can take on a doctor. We also get to see the way that Adam Kay dealt with many of the tests on his own time and relationships.However, at the ...

'This is Going to Hurt' (2017) is essentially Adam Kay's account of his time as a junior doctor in the UK's National Health Service. 'This is Going to Hurt' is by turns, funny, moving, revealing, heartening and shocking. Kay has given us a very human account of life in the NHS in the role of a junior doctor and brings into sharp focus the absurdly long shifts and the super-human demands that are imposed and expected of doctors and man...

Excellent!Breezed through this one. The sense of humour worked well, balanced with the horrors of Kay's job.An Xmas present from my sis. She said, "You won't regret quitting medicine after reading this."She knows I don't, really, though reading this I wondered if I would.I think people assume I regret quitting medicine more than I do, which is, not at all. It had "not for me" all over it, and I've never experienced such an immense relief since le...

Kay practiced medicine for six years before leaving to write comedy for TV. These occasional diary entries spanning 2004 to 2010 are very funny indeed. He specialized in obstetrics and gynecology ("brats and twats"), and some of the humor is rather puerile but stays just the right side of tasteful. Although he plays his experience for laughs, he can be serious, too, showing how overworked and underappreciated young doctors can be – especial...

I think this is the first nonfiction book I've ever given a full five stars to. Usually the highest they get is 4.5 which is usually rounded down to 4 as I save the 5 star ratings for truly incredible books or ones that really had a profound effect on me. This book deserves every single star. Hilarious and heartbreaking all at once, it highlights the importance of the NHS which we should all be fighting to protect and make better. Can not recomme...

The Best MedicineWell, you may not die laughing, but I was certainly in stitches and convulsed with hysterics, not to mention emotionally distraught, reading this diary of a junior doctor's training in the NHS. Apart from the side-splitting humour, it is an excoriating account of the manifold administration deficiencies throughout the National Health Service, once the jewel in the crown of Britain's welfare society. The author decided to spec...

Interview with author that brought the book to my attention: https://www.youtube.com/watch?time_co...For years I have been watching news comedy shows from the U.K., mostly Mock the Week and Russell Howard's Good News, and in every series the panel has to dispel the opinions of some member of the conservative government about how the NHS is a cancer and the portrayal of Junior Doctors as money-grabbing and undeserving people who only seek their ...

Not being in the UK, I can't pass comment on the NHS or any of that, but I had seen plenty of chat about Adam's book so I loaned it from the library to see what it was like. I am a fan of medical memoirs, so it was right up my street.Adam writes with wit and humour, and even in the worst of situations this levity really makes a difference to the narrative. Doctors see people on the worst days of their lives, but we also see them on the worst ...

Thanks to two longish train journeys I started and finished this book today. You can believe the blurb, it is hilarious. Properly laugh out loud funny. It's also poignant and a timely reminder of what a resource the NHS is and how it has been eaten away by politicians. You really should read this book, you'll love it. Unless you are squeamish or pregnant. If you are pregnant, wait till your baby is born then read it. If you are squeamish, read it...

A funny, excoriating memoir about a "junior" ob/gyn physician who, like the characters in M*A*S*H, is "nervous in the service" -- but in this case the service is not the U.S. Army during the Korean conflict, but Britain's National Health Service during recent years of budget retrenchment (2004 to 2010, though from all appearances the cuts are getting worse). Like the conscripted medics in M*A*S*H, Adam Kay and his colleagues had to deal with weir...

Have you ever read a book where you are laughing out loud every single page with a big smile on your face throughout and then choke up on the ending page? I do not know of any book where I have dropped so far down in so little time. Maybe a few Breaking Bad episodes but no book that I can recall. That is the beauty of (Dr.?) Adam Kay mic drop. I ended up googling junior doctor crises, reading up on how NHS is faring so bad after setting health ca...

What an amazing book. It's genuinely hilarious but utterly and completely devastating and heart-breaking. It has changed my perception of the NHS and junior doctors. If you are ever likely to be ill, you should read this. If you are ever likely to conceive, you should read this. If you are a woman and likely to give birth, you should read this. If you are a man and likely to spawn kids, you should read this. If you think you are ever likely to di...

Horrifying, hilarious and illuminating in equal measure.

This is the second book I read this year that I wish I had written (and, had I kept a diary, I probably could have - except the horrific penis-related injury I treated was not a de-gloving, but a fracture).I'm a *junior* doctor, and his stories of life, death and everything in between just sound so reassuringly familiar. It's kinda nice to know that somebody else has been there, done that, got the T-shirt and got it stained by blood almost immedi...

*Unpopular opinion*This was a DNF for me. I went into this book not really knowing what to expect so it probably shouldn't come as a complete surprise then that I didn't finish it. I think this book sums up why I never went into Medicine and in order to survive in the medical world, you need to detach yourself from some pretty horrific things.Kay describes mortality in a very glib way which I suppose is accurate coming from a Doctor who deals wit...

This is Going to Hurt is one of my favourite books of the year. If you're all over book industry news, you'll know that it just won the Non-Fiction Award and Readers Choice Award in the Books Are My Bag Readers Awards, and I'm sure they are the first of many accolades! I know that I've been recommending it to everyone I know, young and old. Continue reading this review over on Pretty Books.

3.5 StarsAlternative title suggestions: Going for Guts and Glory in Gynecology Mother's Little Helper (Hospital Edition)Things *Not* to Put in Your Naughty PlacesOver a period of six years, Adam documents the hilarious, horrifying, poignant, banal, and heartbreaking experiences from his training as a young physician in the NHS. The book was not particularly political on the contentious issue of healthcare, despite the author's clear preferenc...

Insightful and hilarious. I enjoyed his footnotes and am very happy that they were added as I was able to quickly pick up on the medical terminology used instead of having to look it up or having to miss the point. Sometimes his sarcasm irked me but overall I found it funny considering the topic. I always find medical books of this sort very fascinating and I think this is growing to become a genre of it's own that I look forward to delving into.

The first thing that comes to mind about this book was: Hilarious and hard-hitting. I tend to get bored by non-fiction books especially memoirs, but I had such a great reading experience, I had so much fun reading this book.The author, Adam Kay, is now a comedian and a comedy writer but he also has a track record as an obstetrician and worked for NHS before he changed his occupation.This book is basically composed of his diary entries when he was...

Hi friends, welcome back to my latest review! This time I review the true story of a junior doctor on the front line during the NHS crisis.Adam Kay decided to go to medical school after school and thus began years of training and placements in NHS hospitals around the country. Adam started as a House Officer after many years he works his way up the ladder.This is going to hurt is the dairy entry's of Adams time with the NHS. This book will make y...

The one thing I didn't like about this was the humour, it didn't work for me, there were like bad dad jokes. I mean, there were a couple of times I laughed a little but usually the humour fell flat, I would have preferred there'd been no attempt at humour at all, as it felt too forced and cheesy. Apart from that, this was an excellent read. Adam Kay kept a diary about his experiences as a junior doctor, everything from his early days to becoming ...

I came across Adam Kay when I went to see him perform his music and actually read extracts from what is now his book. I was struck at the time of the yo-yo of hilarity and heartbreak, joy and utter dejection in his narrative and the book does incredible justice to it. I am not one to get outwardly emotional when reading, but this book really shows you the hell that our wonderful NHS staff do to keep us running. You really share in Adam's high poi...

บันทึกไดอารีเลาเรืองราวชีวิตประจำวันในชวงทีเรียนอยูของอดีตหมอทีเคยเรียนสูตินรีเวช แลวลาออกตอนปีสุดทายกอนจบมีทังเรืองสุข ทุกข เศรา เซง ใตสะดือหนอยๆ เนืองจา...

"Such an inspirational view of working in the NHS. The humour throughout gave it a lighthearted feel but it also very cleverly touched on a number of concerning issues. Very informative regarding medical vocabulary and procedures which makes this book extremely accessible to the general public! Would hugely recommend!"The book follows Kay on his medical journey as a Junior Doctor across different placements. It allow a very transparent view of re...

This was funny, and sad, and shocking. It's not going to be in my top books of the year - it's not that kind of book. But it wasn't trying to be great literature - it was trying to be funny, sad, and shocking. It was good to hear Kay read his own words, but I could have done without the extra bits at the end of the audio book (although the open letter to the health secretary was fine). But I didn't really want to hear how hard it was for Kay to b...