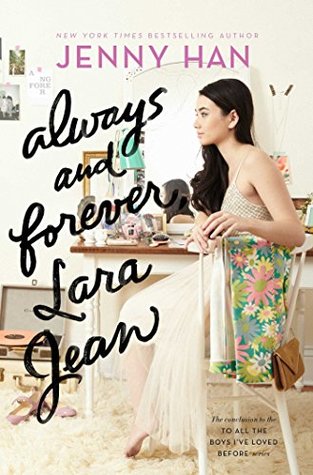 Lara Jean is having the best senior year. And there's still so much to look forward to: a class trip to New York City, prom with her boyfriend Peter, Beach Week after graduation, and her dad's wedding to Ms. Rothschild. Then she'll be off to college with Peter, at a school close enough for her to come home and bake chocolate chip cookies on the weekends.Life couldn't be more perfect!At least, that's what Lara Jean thinks…until she get...
---
Details Always and Forever, Lara Jean (To All the Boys I've Loved Before, #3)
Title
Always and Forever, Lara Jean (To All the Boys I've Loved Before, #3)
ISBN

9781481430487

Author

Jenny Han

Release Date
May 2nd, 2017
Publisher

Simon Schuster Books for Young Readers

Language

English

Genre

Young Adult

,

Contemporary

,

Romance

Rating
Reviews Always and Forever, Lara Jean (To All the Boys I've Loved Before, #3)
hands down my favorite jenny han book EVER. this was the perfect conclusion and it filled me with joy and warmth and nostalgia. i'm so in love with this book.(view spoiler)[~05/2016~50% of me is excited bc more lara jean and peter50% of me is dreading john. (yea i'm not a fan) (hide spoiler)]

4.5 starsI JUST LOVE LARA JEAN AND PETER SO MUCH. I'M CRYING BUT I'M FINE I SWEAR.

❝One day all of this will be proof, proof that we were here, proof that we loved each other. It's the guarantee that no matter what happens to us in the future, this time was ours.❞ After delaying my reading for as long as I possibly could when it comes to Jenny's books, I am finally bringing Lara Jean's story to a close. For sure this time lol. And I must say, my heart truly aches. Peter Kavinsky, Lara Jean, the Song/Covey family, and jus...

4.5 Stars! Really enjoyed this conclusion! Definitely an improvement from book 2 in my opinion.I believe Always and Forever, Lara Jean is the most mature and well-developed of the TATBILB series. It successfully tackles real-teen issues while remaining entertaining and loveable.As always, my favorite bits of these books are the family dynamics. In addition to the ever-wonderful sister dynamics, I enjoyed a fresh bit of conflict between such a clo...

Video review: to come!Video review book #1: https://youtu.be/WG3FNuRV-x8Video review book #2: https://youtu.be/jksUoL0a8eAInitially I was not thrilled that this duology had been extended into a trilogy but after reading it, I actually think this being the conclusion is appropriate. It's a nice bookend to Lara Jean's story. I will be doing a full video review very soon, so stay tuned for that for more thoughts!IMO this was the best book of the 3. ...

What I feel like before, during, and after reading this book:Always and Forever, Lara Jean is a marvelous conclusion to this trilogy. I'm not convinced Lara Jean and Peter K.'s story ends in a duology. When Jenny Han announced there will be a third and final book, I'm so delighted because my prayer to book gods for a one last hurrah has been answered and my waiting game is WORTH IT! Another bet is on for whose ship is going to sail and guys, I'm ...

"Never say no when you really want to say yes."To All the Boys I've Loved Before is a very light and simple trilogy. I don't think I really needed to read it - I don't think I would have missed out on anything - but it was fun anyway. And sometimes a lighthearted and gentle read is all you really need.Compared to the other books in the series, Always and Forever, Lara Jean is my least favourite one. First of all because it is missing a plot. Here...

2.25/5 stars Don't be the girl who goes to college with a boyfriend. I must have read an entirely different series than everyone else. I must have. It's the only reasonable explanation.I always see reviews stating that these books are so cute and relatable? They leave me befuddled because I find them to be neither. Cute? No. Relatable? No. Annoying? Yes. Unnecessary? Yes. Me, when this book was over: Why did I even pick this up? Curse you...

Jenny Han your writing is creepily brilliant, I know these books will stick with me. All three of them feel evergreen, they will last in my heart forever. I had the best time reading this trilogy and as always am inevitably sad to have seen this book end.I understand Lara Jean's concept of writing the letters. I don't think they remove her feelings for the boys but sorts her feelings out. I think all of do this in some way or another, the bes...

Post-reading notes (spoilers ahead but they're marked so you'll be fine) The goodies • Peter K. will win every "Boyfriend of the Year" award out there, hands down. • the Hamilton references warm my whole being to another level• Harry Potter references too melike• grumpy Peter K. is iconic• ooh lala rawr• I like to see that side of him more often tbh• authentic familial drama• hilariousness on literal point• I even lost count of ...

No puedo con este libro, fue demasiaaado adorable ❤. No puedo con este libro, fue demasiaaado adorable ❤️.

I really do love this trilogy a lot! It's just so warm and lovely. This book is a complete Hufflepuff (also shout out to Lara Jean saying on page she was a 'Puff because yes. Yes, she is.) Buuut I didn't love it as much as the first one (or the second really) and I think this is because the only conflict was Lara Jean/Peter doing the "will they won't they" stay together. Which has been the conflict in EVERY book. So IDK?! I was just getting so st...

I can't even tell you how much I wanted to love this book.I reread To All the Boys I Loved Before in May of last year, and not liking it was the equivalent of when you bake cookies but something went wrong with the dough and they all run into one giant flat liquid-looking Thing with really unattractive chocolate chip lumps.In a word, DEVASTATING.I reallyreallyreally didn't want to recreate that cookie-disaster level of sadness. Which is defin...

I know Jenny Han will toy with my emotions but I don't care because LJ+PK = <3

4 Stars! sigh! Happy tears ❤❤❤I absolutely adored the conclusion to Lara Jean and Peter K's love story! The end had me smiling huge with tears rolling down my cheeks. Love this trilogy so much! Highly recommended for YA lovers. It all started with a love letter.

"I guess that's part of growing up, too - saying goodbye to the things you used to love" GAH THE FEELS IN THIS BOOK ARE OVERWHELMING Lara Jean knows she loves Peter but when their future plans go awry and outside pressures seep in, will they be able to make it through? Or would it be best if they called it quits?I was going to give this book 4.5/stars but decided on 5 because of how it made me think of it and feel days after finishing reading."I ...

This series was so cute. As the last book it wrapped up everyone's story quite nicely.

5 Stars! "Is this how it goes? You fall in love, and nothing seems truly scary anymore, and life is one big possibility?" I CANNOT CONTAIN MY FEELS!*swoons uncontrollablyThis conclusion of To All the Boys I've Loved Before trilogy was truly superb. It's THE PERFECT ending that I've been looking for. I hated Peter Kavinsky in P.S. I Still Love You but this book took all my rage away. Why? Because Jenny Han redeemed his character and it was a...

When I read the first two books everyone always said "wow the main character is so immature and annoying to read about" and I never thought much of it. Two year later I am a completely different human than the one who had read the first two and… wow. It was pretty hard to take the main character seriously. I found myself rolling my eyes and even laughing at some of the things she said and did (not in a good way). This book wasn't my favorite an...

I never imagined falling for a too handsome, too popular jock but Peter is just too adorable to resist. Gaaaah! adsfghjklmnopqwertqwerty! He's basically the reason why I liked the conclusion to this trilogy so much. All of my favorite moments in this finale involve him:1. Learning from Kitty how to braid *just adorable*2. Using every chance he gets to practice braiding Lara Jean's hair3. His bachelor's party for Lara Jean's Dad4. The way ...

such a perfect ending to one of my favorite series of all time! i laughed and cried throughout the whole book.