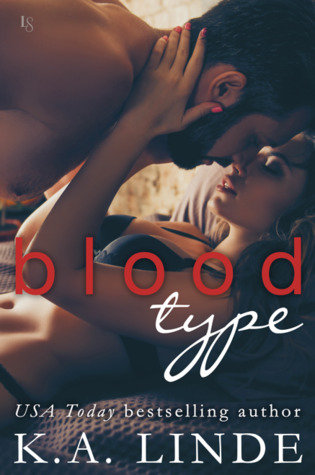 A startling new vision of paranormal romance: When a human ventures into the world of vampires—a decadent milieu of blood-bonds and betrayal—she discovers that not all is what it seems.For Reyna Carpenter, giving up her body isn't a choice. It's survival.In a civilization laid waste by poverty and desperation, Reyna accepts a high-paying position with the wealthy and hungry vampire elite. Her new job is as the live-in blood escort for the...
---
Details Blood Type (Blood Type, #1)
Reviews Blood Type (Blood Type, #1)
2 StarsNope.This didn't do it for me.The world building was good, but could have been spectacular.But mostly, I didn't just like how Beckham treated Reyna most of the time.(view spoiler)[I don't give a shit what the "twist" was, twice he left her behind and left her vulnerable to Rowland, once even RIGHT AFTER Rowland had just attacked her. Instead of taking care of Reyna, he went in to save another woman and then left with that woman, ...

5 stars!!!It's been days since I've finished this book and I can't stop thinking about it. Blood Type is one of those books that will consume you. It's completely addicting, fast paced, and after finishing all I can think is I WANT MORE and I want it NOW! Reyna Carpenter lives in a world different than ours. In her world, vampires rule and humans are living in poverty, barley making ends to meet. To survive, Reyna decides to become a bloo...

MY REVIEW can also be found on my blog: KITTY KATS CRAZY ABOUT BOOKS 'BLOOD TYPE': Is the first book in K.A. Linde's paranormal romance 'Blood Type' series. In this we meet Reyna Carpenter & Beckham. Told entirely from our heroine Reyna's POV..In a world where vampires are rich and affluent and humans are poor. But not is as all at it seems in Beckham's world..A man shrouded in many layers, it's not until you reach the end that all...

★4.5★ "This wasn't what she had expected." Blood Type is the first book in the Blood Type Series. A paranormal romance set in a futuristic world, K.A. Linde has crafted a story full of complex characters, passion, and romance. In a world where vampires rule, Reyna Carpenter has decided to make a financial arrangement with a vampire. She agrees to live with him and agrees that he can drink her blood. In exchange, she will have all the money in...

Live Amazon https://www.amazon.com/Blood-Type-Boo...❤5 stars❤It was a long time since I read a book with vampires and I loved Blood Type so much!The story was refreshing,the plot brilliant and the romance addictive!I enjoyed every minute of it and I need more!! I was intrigued with the world K.A. Linde create! This is a world where vampires rule and they are rich and people live with poverty!They need the vampires because they provide them jo...

UMM YOU GUYS....THIS WAS SO FREAKING GOOD!!! I literally have no words for how great this book was besides that YOU NEED TO READ IT!

BLOOD TYPE takes place in a dystopian world of stark class divisions, where rich vampires exist at the top of society and poor people waste their lives in backbreaking jobs. Vampires used to run wild in murderous rampages, but that was before people discovered that if a vampire drinks from someone whose blood type matches theirs, they become more or less civilized. A company called Visage basically controls everything, employing these vampires so...

A long, long time ago, KA Linde asked me to read Blood Type. And I had no idea what I was in for. At that time, I wasn't a very big PNR reader, but I took a chance and fell head over heels for Becks. It's now three <--yeah, THREE years later and she sent me the books (this time I get all three because I've threatened her life), and I'm in a PNR lovers heaven. I started from the beginning again and was once again thrust into K.A. Linde's world of ...

Blood Type is a great PNR about vampires and humans being matched with the same blood type. Reyna is being matched with the mysterious and brooding Beckham. She feels guilty that her brothers work and she doesn't feel that she participates in any way, so she signs up to work for Visage which is the company who oversees the donor program. The story starts out strong and I'm immediately intrigued by Beckham. He and Reyna's chemistry is great ...

4.5 "OMG. LOVE." Stars!Calling all PNR lovers, holy vamps! DO I HAVE A NEW ADDICTION for you. K.A. Linde has sunk her teeth into the world of vampires with a deliciously sensual and wicked new series. The first book, Blood Type, kept me on my toes, consuming me completely. It has everything you want in a vampire romance. From sizzling chemistry, to a powerful hero, to a series of gasp worthy twists and turns, to a wicked ending which leaves y...

This was good! The ending is killer (hehe). Note that this is NOT a companion series - it's a continuous series so don't expect the ending to wrap up nicely (it doesn't)! There are two more books to follow! Moar Beckham and Reyna. ;)***Review posted on The Eater of Books! blog***Blood Type by K.A. LindeBook One of the Blood Type seriesPublisher: LovesweptPublication Date: April 24, 2018Rating: 4 starsSource: eARC from NetGalleySummary (from Goodr...

This review can also be found at Carole's Random Life in Books.I really had a good time with this book. It is no secret that I love a good vampire story so this book got my attention right away. I thought that this vampire world sounded just different enough to be really interesting and I knew that I would have to make reading it a priority. I was pulled into the story right away and found myself trying to read every moment that I could. I found ...

★4.5 Stars★ "Everyone is corrupt. Everyone is broken.""I'm not," she whispered."Oh Little One, this world will kill the goodness left within your beating heart.""But it will not break me.""No," he agreed. He leaned his head into her hair and drew a deep breath. "I will do that." We are paranormal readers at heart, it's always been one of our favourite genres. If you're like us in that respect then you'll know ...

4 Please Bite Me StarsWhen I realized K.A. Linde was going to write a paranormal book I was all over that. Nothing excites me more than a new paranormal book. I love serial Vampire books. Event though this is a three book series, after reading Blood Type, I can totally read tons more books. I feel like the Vampire world K.A. Linde creates is limitless.The thing I like most about Blood Type is the type of world the characters live in. The Vampires...

Beckham now consumes my thoughts!! GAH! I love him so much. Blood Type is thrilling, sexy, and completely addictive. I honestly had no idea what I was getting into. I went in blind and then absolutely DEVOURED this book. I seriously couldn't put it down. It had all the angst and drama I've come to expect and adore from K.A. Linde, but with a deadlier and more suspenseful twist. I CANNOT WAIT for the next book. I'm looking forward to sinking...

It's been ages since I've read a true paranormal novel. I've been in a bit of a reading rut, so it was the perfect time to shake things up a bit. When I read the synopsis for Blood Type I knew I couldn't pass it up. It's a paranormal romantic suspense, and while vampire stories are nothing new, the premise behind vampires and humans co-existing is really creative.The story is enthralling and I never stopping being intrigued by the intim...

I don't do paranormal. The only paranormal romances I ever read were part of the Twilight series 11 years ago. I don't do paranormal. Vampires (except Edward), shape shifters, wolves, and more aren't my thing. I don't do paranormal. I didn't do paranormal until now. Until K.A. Linde's BLOOD TYPE. GAH! With over a decade since my last and only paranormal, I had no idea what to expect. Nothing. So I picked up Blood Type, challenging mys...

5+++++ Stars OMG!! Now is this a paranormal romance that everyone needs to read!!I have REALLY high standards when it comes to paranormal romances, especially when vampires are involved. I was definitely a bit leery going into this because of the standards I have. K.A. smashed those standards for me. The world she has created is so unique and unlike anything I have read before.Blood Type is set in a world where vampires and humans co-exist toget...

4 stars. I just started getting into the paranormal genre again and I've been addicted to it ever since and this book was the reason why. IT WAS SO FREAKING GOOD AND I NEED MORE.The world that Kyla was able to create with the humans and vampires was nothing short of phenomenal. I loved, loved everything about it. I absolutely adored Reyna as well and how strong and independent she was and what she stood for. I sort of had a love/hate relationship...

Reread 7/8/18 to remind myself what's going on before reading the newest installment.Third person, Heroine's POV, Book 1 of Blood Type Series.Release date: April 24th, 2018YEE! A new great PNR. This time vampires, vampires, vampires. I'm ALL about it. Tie in a broody, asshole of a hero who has a big heart underneath? I'm sold. Told from our heroine Reyna's POV, we're thrust into a dystopian world in which people not only know about vampires, but ...

This is some kind of paranormal dystopia, where vampires and humans live alongside each other, most of the people are poor and are basically trying to survive all the time. Our heroine can't work – no one will have her without a university degree as she claims – while her brothers pulling double shifts to provide for her and themselves. So she goes to the only place she apparently can get work – becoming a blood escort for rich vampires. ...

★4.5 Stars★ "Everyone is corrupt. Everyone is broken.""I'm not," she whispered."Oh Little One, this world will kill the goodness left within your beating heart.""But it will not break me.""No," he agreed. He leaned his head into her hair and drew a deep breath. "I will do that." We are paranormal readers at heart, it's always been one of our favourite genres. If you're like us in that respect then you'll know ...

Blood Type by K.A. Linde is book One in the Blood Type Series. This is the story of Reyna Carpenter and Beckham Anderson. In this book the Vampires are the top of the people chain and humans are more of the poor side of town. Reyna is a human who wants to help her poor family and goes forward to become a paid blood escort. Beckham is the VP of Visage and his attraction to Reyna is quick but not all is easy with them. This book does end with a cli...

5 "Little One" starsWOW! Blood Type is an awesome start to the new Blood Type series by K.A. Linde. A unique take on vampires and a paranormal romance, this book sets the scene for action, mystery, excitement, romance, and steam, and I was hooked from the start!Blood Type is set in a world where humans and vampires live among one another. In the past, vampires would feed on anyone. They were ruthless and savage and every human was in extrem...

3-3.5 stars! Blood Type has some great potential to become a GREAT series. It started off strong, but it did feel a little predictable and overdone towards the last half. But I am intrigued to learn more about this new world and the characters KA Linde has created.Review to come!Thanks to the publisher for generously providing me an ARC to review.

Im completely and utterly obsessed with this book. never been the one to love paranormal romance but this had me hooked.

Anyone who knows me knows that I absolutely love paranormal romance. There is something about the world building and the alpha male hero and the sassy woman who brings him to his knees. Rayna and Beckham were great. I loved their intense sexual chemistry and fiery banter. I could not get enough!When poverty stricken Reyna Carpenter decides to make a better life for herself and her two brothers by becoming a permanent employee of Visage and a perm...