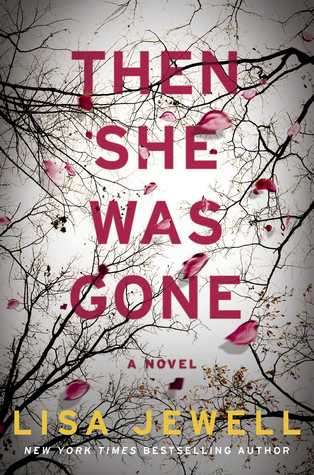 THENShe was fifteen, her mother's golden girl. She had her whole life ahead of her. And then, in the blink of an eye, Ellie was gone. NOW It's been ten years since Ellie disappeared, but Laurel has never given up hope of finding her daughter.And then one day a charming and charismatic stranger called Floyd walks into a café and sweeps Laurel off her feet. Before too long she's staying the night at this house and being introduced to his nine ...
---
Details Then She Was Gone
Reviews Then She Was Gone
Apologies for republishing this, but apparently some haters thought it would be funny to report my review and get it taken down because they have nothing better to do. 4.5 STARS"If she could unwind the timeline, untwist it and roll it back the other way like a ball of wool, she'd see the knots in the yarn, the warning signs. Looking at it backward it was obvious all along. But back then, when she knew nothing about anything, she had not seen it c...

This was a fairly average experience for me. It's a very quick read - I read it in a single day - and it goes down smoothly and easily, but it is so easy to predict everything that will happen. I was always several chapters ahead of the characters and it sapped a lot of tension out of the story.I can see why, with a better plot, Jewell is a great writer. The relationships and characters were fleshed out and interesting. Laurel's pain over her m...

Edgy, Dark and AddictiveThis turned out to be quite a stunner. I've read lots of psychological thrillers and this one caught me off guard. Much more than your typical missing daughter plot. Scattered with hints of some shocking revelations to come.This is my fourth Lisa Jewell novel and I'm a huge fan. I love her writing style and how she keeps me totally absorbed in the story line. The more I read, the more invested I became and started to c...

Then She Was Gone by Lisa Jewell is a 2018 Atria Books publication. Well, this was certainly different!Missing persons tropes are common in mysteries and thrillers, and the theme has been written and explored in many predictable ways, but also in many clever, even shocking ways. But, no matter how it is presented, it is a scenario that never fails to draw me in. But, I must say, this novel puts an entirely new and fresh spin on the missing person...

I read a Lisa Jewell novel last year and connected immediately with her writing style, tone, and voice. When Then She Was Gone showed up on NetGalley last month, I immediately requested it and added it to my reading queue for April. I really find myself enamored with Jewell's characters, plots, and settings, so much that I've added ten of her other books to my TBR and hope to read a few more later this year.Domestic drama is the best sub-genre to...

4.5 starsEllie Mack was 15 years old when she went missing. She was the youngest of three children who left the house one day to go to the library and never returned. Her Mother, Laurel Mack, fell apart after her daughter's disappearance, as most parents would. Her daughter's disappearance forever altered her life. Her marriage fell apart, her other daughter, Hanna became distant and withdrawn from her Mother,her son moved away. Throughout it all...

Gripping psychological thriller about the disappearance of 15-year-old Ellie Mack. Then She was Gone is not about what happened to Ellie, it's more about the how and the why she disappeared, as well as the after-effects of her disappearance on her family. One morning, Ellie Mack heads to the library. At 10:43 am, she was never to be seen again. The police's investigation never turned up any clues to what happened to her, but believe she ran ...

Totally enjoyable .....As a couple of friends said - (Diane & Esil) - they were pretty sure 'what' happened to Ellie who had gone missing early in their reading — me too - but I didn't know 'why'. All I knew was that Ellie was a bright girl - an excellent student - and that her mother - Laurel had a 'special' love for her ( in ways she definitely didn't her other two children) — Much about this story felt real. While on the wa...

Ellie was fifteen eager to take her exams. Now that she had been tutored in math she was sure she would do well. On her way to the library one evening, she disappears. Her disappearance takes a huge toll on the family, a family that breaks apart as many families in this type of situations often do. Now ten years later, Laurel is willing to take a shot at having a life and love again a series of events will send her reeling. Would she finally find...

4.25 Stars (rounded down)Spellbinding and Completely Irresistible. Ellie Mack went missing 10 years ago. Her mother, Laurel has never given up hope of finding her. Ellie was fifteen years old, full of life. The world was, in fact, her oyster. No one knew what happened to Ellie. The police have never found a trace of her. My interest was piqued from the very beginning. My breath caught in my throat - nerves jangled. Now, Laurel Mack's life is ve...

Missing with a twist - this is quite a popular book genre right now. I feel like saying it has a "twist" is no longer a spoiler. It reminds me of when M. Night Shamalan first made movies and everyone was surprised by the shocking twist. Now, when you see one, you are sitting there not wondering if there will be a twist, but when. So, yes, Gone Girl-ers, this is another book for you!Now, this doesn't tend to be a favorite genre of mine. Because of...

4.5* Brilliant! I completely lost myself in this book from beginning to end!Laurel is doing her best to move on with her life. Her teenage daughter went missing years ago, triggering an avalanche of misfortune. The family splintered. Laurel and Paul divorcing. And now, their two remaining children are leaving home at the first chance they get - anxious to live their own lives, away from the oppressive tension within their home. When laurel meets ...

Another winner from Lisa Jewell!Laurel Mack's smart and beautiful teenage daughter Ellie disappeared 10 years ago. Now divorced and distant from her other two children, Laurel is attempting to move on and begins dating a handsome and kind man. Then unusual coincidences related to Laurel's new boyfriend and also to Ellie begin occurring and things start to get unsettling for Laurel. I don't want to say more because part of the excitement of ...

THEN SHE WAS GONE by LISA JEWELL is a breathtaking, thrilling, unputdownable, and suspenseful psychological thriller novel that had me totally engrossed and interested right from the very first page. I was so intrigued in finding out what happened to Ellie Mack that I was racing through those pages as fast as I could! LISA JEWELL delivers a well-written story here with flawed, believable, and compelling characters that was told in alternating poi...

This is the third Lisa Jewell thriller that I have read and she has penned another winner! After finishing this book I really had to wait a few days to sort of "SETTLE ME DOWN" as this mystery touched some very delicate feelings in me, more so than her first two books. Call me a snob but in my experience with thrillers, it has been hard to find many with the combination of great writing, past and present POV's that flow seamlessly together,...

EXCERPT: She had no one to call, no one to ask 'Have you seen Hanna? Do you know where she is?' Her life simply didn't work like that. There were no connections anywhere. Just little islands of life dotted here and there. It was possible, she thought, that Hanna had met a man, but unlikely. Hannah hadn't had a boyfriend, not one, ever. Someone once mooted the theory that Hanna felt too guilty to have a boyfriend because her little sister would ne...

This novel is creepy—in a good way. Fifteen-year-old Ellie disappears on her way to the library one day. Ultimately, since police can't find anything, they suspect she's a runaway despite the fact she had a boyfriend she loved and was looking forward to taking the exams she'd been studying hard for.When we meet up with her mother Laurel ten years later, Laurel's relationships with her other daughter, her son, and her now-ex-husband have...

4 stars! This was a spine-tingling and addictive story!This novel follows Laurel whose teenage daughter, Ellie, went missing ten years ago. Laurel has been battling her grief since the day Ellie disappeared with the hope that she may one day come home. After Ellie's disappearance, being swallowed up in her sadness and grief, Laurel's marriage falls apart and she loses her connection with her two other children.The story is narrated by various...

Then She Was Gone is a very mild title compared to the volcanic torment and angst behind the cover. Teenage daughter Ellie goes missing and blah blah blah...except that it's not so clear cut or cliched.The action takes place in multiple points of view, and it's a treat to be fed factoid after factoid to try and make sense. It's deliciously excruciating how the info builds up to shape up the final solution.Lisa Jewell is part of the latest generat...

"People try and make out there's a greater purpose, a secret meaning, that it all means something. And it doesn't."Loss is like that. There's no justifying it. There are no words of wisdom that can ever buffer the pain. It becomes a life sentence worn like the weight of a sack cloth far into eternity and beyond.Laurel Mack is a grieving mother. Period. Her beautiful daughter, Ellie, disappeared one day on her way to her weekly lesson with her mat...

This story got me out of my rut... knock on wood.A daughter, Ellie Mack, has been missing only to be found 10 years later.Her mother, Laurel, whom now has closure, is trying to move on with her life; fix the relationships that have suffered during her grieving.She meets a man, with a child, who very much reminds her of her once precious one. As the story unfolds, the perspective is told by Ellie and the mystery of her disappearance.Jewell deliver...

Over the past few years there seems to have been a huge saturation in the market of psychological mystery type thrillers. Or maybe that's just me thinking this, simply because I've bought or requested viaNetGalley, many books of this type. Then She Was Gone, is another one to add to this genre.There's nothing much I can add really, the description is easily available to read. The narrative goes back and forth between the present day and the past,...

Norma and I were lost in the dark and light earthy lush coulee with five of our Traveling Sisters reading Then She Was Gone. We all really enjoyed it and it lead to a great discussion amongst us. We all were immediately drawn into this intriguing story right from start to the rewarding and very satisfying ending that we all loved. We all agreed Lisa Jewell brilliantly creates a well-written and perfectly paced story to create a good, intriguing s...

As a big fan of Lisa Jewell, I was excited to hear about Then She Was Gone, which follows her turn to a rather darker spin she has been successfully using in her past few books. The story follows Laurel Mack, though it is really told from multiple POVs (of which I tend to be a big fan). Her teenage daughter went missing ten years ago, and when she meets a man, Floyd, whose nine-year-old daughter is the image of Laurel's missing child, Ellie, and ...

Then She Was Gone by Lisa Jewell is a psychological thriller that weaves a deliciously tangled web from the opening pages until the very end. The story is told in parts and changes the point of view between various characters along the way going between the past and the present day.Laurel Mack had the perfect family with her husband and three beautiful children until one day when her youngest daughter Ellie didn't come home. An overachiever Ell...

Whoa! This book may have started out a bit slow but like all good roller coasters of the psychological thriller variety, it sky rocketed me into a mysterious family drama that ended up giving me whiplash with as many surprising revelations it held around every twist and turn. I hope with all my heart this situation is far fetched because I couldn't cope if I thought the main jaw-drop of this book could actually happen. Then She Was Gone is a craz...

4 high starsI find that Lisa Jewell's books are always a cut above the spate of books with "Gone", "Girl" and "Lies" in their titles. For one, she can really write. And also her main characters are not breathless naive young woman, but usually middle aged women or men with recognizable emotions. I've now read four of her books, and Then She Was Gone is one of my favourites.The story focuses on the effects of the disappearance of L...

Then She Was Gone by Lisa Jewell is a psychological thriller. A young girl Ellie goes missing one day on her way to the library and her mother Laurel is frantic with worry.Ten years later Laurel who is no longer with her husband meets a man Floyd in a coffee shop and they strike up a friendship. When Laurel meets Loyd's nine year old daughter she is taken aback at the strikingly resemblance she has to her missing daughter. I really enjoyed this b...

I loved this book! I've read other books by this author and really enjoyed them so I was pretty sure going in that I'd like it. This book is about Laurel Mack, who's daughter has been missing for years but has never been able to move forward in her life. It's also about her family and what Ellie's disappearance has meant for them. When Laurel meets Floyd she begins to fall in love with him. Then she meets his daughter Poppy.This author just write...

My reviews can be seen at https://yayareadslotsofbooks.wordpres...3.5 kept me reading but very predictable stars"A wife who loses a husband is called a widow. A husband who loses a wife is called a widower. A child who loses his parents is called an orphan. There is no word for a parent who loses a child. That's how awful the loss is." (Ronald Reagan)As the above quote states there is no word for a parent who loses a child. There is no consolatio...