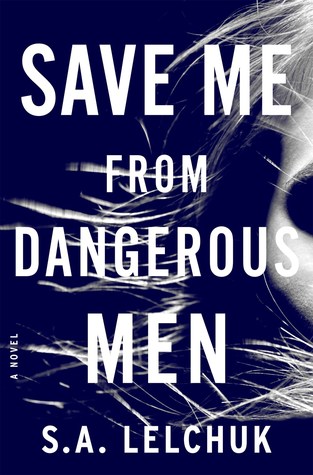 "An outstanding debut...If you're a fan of Jack Reacher or Lisbeth Salander, you are gonna love Nikki Griffin." --New York Times bestselling author Douglas Preston"Action packed and razor sharp - Jack Reacher would love Nikki Griffin." --Lee Child, #1 New York Times bestselling author of Past TenseNikki Griffin isn't your typical private investigator. In her office above her bookstore's shelves and stacks, where she luxuriates in books and the co...
---
Details Save Me from Dangerous Men (Nikki Griffin, #1)
Reviews Save Me from Dangerous Men (Nikki Griffin, #1)
I was so set to love Nikki and her double life... bookseller by day, badass PI and righter of wrongs by night, but this book was just OK for me. Sometimes it's so obvious (and not in a good way) when a male author tries to write a female character... this was definitely one of those times. All the characters needed flushed out more. I love Ethan, give me more of him. Nikki has potential, so does Jess. I just need more. I want more about their bac...

Well Nikki might be my favorite new badass! Quite the well rounded woman between her love for books, people, her brother and struggling women! This is going to be an excellent series that will have women cheering Nikki on!

Move over Jack Reacher, Nikki Griffin is on the job. Like Reacher, Nikki doesn't go looking for trouble. She owns a bookstore and loves to help customers find just the right book and loves to banter about book trivia with the groups that meet at her store. However, she has a dark past and can't just stand by and watch women be abused when she is smart enough, strong enough and fierce enough to convince the men in their lives that she is their...

What a cool book! I received an advance reading copy from the publisher. The back cover likens the protagonist to Jessica Jones and Lisbeth Salander, and it's a fair comparison. What I loved, though, is that this book was not quite as dark as either of those stories. It's got some heavy content, but enough levity to keep it moving, and it moves at a pretty good clip--I never wanted to stop! Would have read it all in one sitting if my schedule had...

Wildest ride ever! Female PI Nikki Griffin is a hardboiled, kick-ass, take-no-prisoners woman who has been compared to Jack Reacher and Lisbeth Salander. From the first page, we see her lure in an unsuspecting abuser whom she then teaches a valuable lesson after putting him in the emergency room. I knew I was going to love this novel when I realized she was a vengeance with which to be reckoned. Fortunately, she has a heart as well, and as the bo...

Yay! A really great new female character that totally kicks butt! I am hoping Nikki Griffin has the staying power to show up in many more novels. She is a great character with a very dark past who is living her best life but also dealing with that dark past in very dark ways. Condonable ways? I'm not so sure. But, entertaining ways? Definitely! I found this book to be a very compelling read and really couldn't get through it fast enough to satisf...

Nikki is tracking dangerous men and they got more than they bargained for because she's a PI who knows how to get revenge.Nikki must now break cover in tailing PI Karen as the stakes couldn't be any higher for the two ladies.Now Nikki isn't just solving a case she's become the case and is literally fighting for her life.Right the wrongs and take no prisoners this one will surely keep you in panic mode.Thank you to SA Lelchuk, the publisher, NetGa...

Nicki Griffith has a lot going for her in Lelchuk' s introduction to the character. She owns a bookstore. She enjoys literary banter. She helps women who need help. She is a bad ass. A strong, vigilante type female investigator when she's not managing her bookstore, you can't help but root for her. Many good action scenes although the plot has some holes.Copy provided by the Publisher and NetGalley

Exactly what I needed right now. A Jessica Jones type of character kicking the crap out of men who deserve it, and a twisty turny corporate espionage tale winding through it all.Nothing really new, but it's a fun ride. Already waiting for #2.

Now I will add Save Me From Dangerous Men by S.A. Lelchuk as another one of my favorite books of 2019. There are only two days left in this year by the way. This is the author's debut novel so, of course I am not familiar with his previous work. I knew from the title that clearly the protagonist was going to be dealing with some dangerous men. The thing is Nikki Griffin does not need to be saved. She can definitely hold her own. Her bread and b...

I won this here on goodreads. At first I thought it was a self-help book, and I thought - OMG - how did you know? Then I started reading it, and was taken on a surprisingly incredible ride! I read a LOT of books. This was not a quick read - you really could not skim any of it or you would miss a crucial piece to the puzzle. I enjoyed every page of this story. Often on the edge of my seat, eyes blurring because I needed to fall asleep. but also ne...

Thank you to Flatiron Books and Netgalley for an ARC in exchange for my honest thoughts.This started as a 5 star that fell a bit into the 4 star category; I'll settle for a 4.5 star final rating.There's so much I love about this book. The novel starts out with a woman who owns a bookshop and, on the side, is a private investigator--and on the side-side, helps abused women escape their partners. She does this in a very unique way. She beats the cr...

Nikki is a bookseller. But she's also a protector, of sorts. She knows there are men in the world who like to hurt the women they claim to love. So, she finds these men and teaches them how it feels to be a victim. She tries to allow those women and their children a chance to escape and be safe. Then, she takes a new case. This case is different. In this case, Nikki is not safe. Once again, there are dangerous men she must address.This is one of ...

Solid 4.5 🌟Thank you to Flatiron Books & Goodreads for the ARC. I thoroughly enjoyed this read!

Loved it! Nikki is my new favorite female lead. I hope Lelchuk brings her back in the next book.

Nikki owns a bookstore and does PI services on the side to earn extra cash. She also helps women who need protection against abusive men. Men who need to understand what it feels like when they hurt someone. When Gregg Gunn hires Nikki to follow an employee accused of corporate espionage, Nikki sees more than guilt in Karen Li's eyes, she also sees fear. And Nikki wants to find out why.With a love of books and a tough girl attitude, what reader...

I liked the tough female heroine....who offers a little protection, & a little 'lesson in how to treat or not to treat' others.... & she additionally works in/runs a bookstore! So I liked all her book/author references. The story/dilemma that she got caught up in in this 1st installment of this series......I thought, got a little convoluted, seemed to need a lot of explaining at the end......& even with all that explanation, I'm not sure I knew w...

This book was slow to start, but once I got into the character, I couldn't put it down. I hope to see more for this character, because I enjoyed her and the story line and side players. Thanks NetGalley!

So- I love the title. And the concept- used bookseller also goes after violent men that hurt women. I did finish. I put it down several times because of some things I did not like. Nikki was perfect 10 motorcycle riding gin drinking, knows every mystery writer & old movies. While set in Bay Area, seemed a bit noir cliche. In fact when she later talks about making herself fantasy to trip up certain men, I thought this writer was doing just that wi...

In Save Me from Dangerous Men, tough and independent Nikki Griffin owns The Brimstone Magpie, a used bookstore in Berkeley, where she's created a community around the books that give her comfort and reassurance. Nikki is also a private investigator. Determined to protect victims of domestic abuse, Nikki's unpaid specialty is extracting women from these relationships and ensuring the abusers know the costs of contacting the women again.Her pai...

Nikki Griffin made a winning debut as a strong woman who has a bookstore and is superior at recommending books to read. By night, she is a private investigator who sometimes goes over the line in fighting for justice. She and her brother's childhoods were cut short by a terrible act of violence against her parents. Nikki reluctantly accepts a new case that it involves corporate espionage instead of the usual spousal abuse or investigation of a tw...

An extremely accomplished first novel, and I hope to read more of Mr. Lelchuk's books. Nikki Griffin is her own creation, but it's easy to see some Lisbeth Salander in there (with a kinder, more nuanced persona) and a touch of Harry Calahan and a bit of Jack Reacher. But credit to the author for creating an interesting character and a very up-to-the-minute story set firmly in my part of the world, the East Bay. Well done!

Nikki Griffin's life has not been easy but she has been able to carve out a business she loves, a used bookstore and has a few trusted friends. But it is her side business as a PI that makes her feel like she is making a difference. Most of her cases revolve around men that are making their women miserable. Nikki's latest case is different and it just might be the end of the life she has created.Thanks to the publisher, Flatiron Books, for provid...

Good story, kept my interest the whole way. A couple of twists that I didn't see coming. I gave it 3 and a half stars only because of the dialogue- it was sometimes very stilted. I'm sure it looked good when written, but when I read, I "say" the dialogue in my head, and it just didn't always flow naturally.

I won this book in a Goodreads Giveaway.Nikki owns a bookstore, it's her passion. Except she is also a PI. She's been through some stuff and she makes sure other women don't go through the same thing. I would compare this to Girl with the dragon tattoo, But not as dark. Nikki has a Lisbeth Salander vibe. Which wasn't a bad thing at all.

A kick-ass heroine who saves those who are being abused finds herself involved in a murder. There are a bit more descriptions of brutal fights than I like to read, but Nikki does grow on you and she can definitely take care of herself (with a little help from her friends). Looks like the start of a good series.I received an advanced reader copy from the publisher.

I won my advance reading copy from Goodreads Giveaways. It started a bit slow, but the story was great after that. Nikki ownes a bookstore but never has time to read. She is always kicking butt and helping out unfortunate people, including her brother. There is alot of action in this book, it was so good that I didn't want to stop reading it. Unusual story great read.

I'm grateful for the opportunity to read this detective story with a very strong female character (Nikki) who stands up to abusive men and gets revenge. The plot supports the idea of independent women taking care of themselves. A timely topic.

I won this book from Flatiron Books. Great plot and an interesting character, Nikki Griffin. She's aP. I. and also owns a book store. Her character has shades of Jack Reacher, Bernie Rhodenbarr, and Sunny Randall.