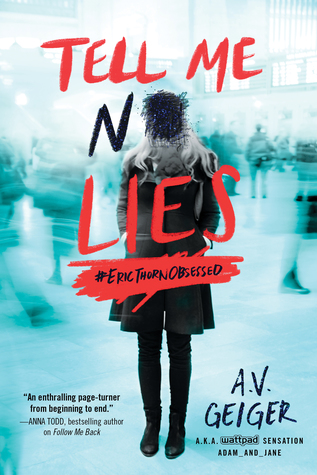 Love. Obsession. Jealousy. Murder.No one knows what happened to pop icon Eric Thorn. His Twitter account? Frozen. His cell phone? Cracked and bloody, buried in the snow. Agoraphobic fangirl Tessa Hart knows the truth, but she's finally left her #EricThornObsessed days behind. She has no intention of ever touching her Twitter app again. But Snapchat... That's safer, right?After months of living under the radar, Tessa emerges from hiding, forced to...
---
Details Tell Me No Lies (Follow Me Back #2)
Title
Tell Me No Lies (Follow Me Back #2)
ISBN

9781492648253

Author

A.V. Geiger

Release Date
Jun 5th, 2018
Publisher

Sourcebooks Fire

Language

English

Genre

Mystery

,

Young Adult

,

Thriller

Rating
Reviews Tell Me No Lies (Follow Me Back #2)
My reviews can also be seen at: https://deesradreadsandreviews.wordpr...Tell me No Lies is book two in the Follow Me Back Series by A.V. Geiger. I read Follow Me Back last year and enjoyed it. However, I hadn't realized it was going to be part of a series so I was a bit miffed at the ending cliffhanger. I felt better once I realized there was going to be another book in the series. *** If you haven't yet read book one in this series then I wo...

Love. Obsession. Jealousy. Murder.No one knows what happened to pop icon Eric Thorn. His Twitter account has been inactive since his cryptic tweet a month ago. His cell phone was found cracked, bloody, buried in the snow.Agoraphobic fangirl Tessa Hart knows the truth, but she's finally left her #EricThornObsessed days behind. She has no intention of ever touching her Twitter app again, especially not after being stalked (partly involving Twitte...

Had some clever twists but didn't care for it like I did for the first book *shrugs*

Well, this book did not disappoint. I loved the first one of the series, and this one is just as full of twists and turns that I didn't see coming. I received an e-copy of this book from the publisher, through NetGalley, in exchange for a honest review.

I read most of it. I almost finished. I couldn't bothered. I really liked the first book, but something about this one just felt off. I didn't really like how it was going from the very beginning. Meh. Whatever. I'll just pretend this doesn't exist. Update 16/01: Ooooh I like that cover.Update 27/09:oooooh there's a title. Tell me No lies. Intriguing. June 1st 2018 huh. Great. Just great. I need this. What kind of cruel human being makes ...

perfect second book. couldn't guess the identity of the met account & was real good twist on it.

Major warning for ableism, minor warning for spoiling Follow Me Back.*sighs*When I read Follow Me Back, I actually thought it was a standalone. Imagine my surprise when it turns out to be the first book in a duology! Having enjoyed the book so much, of course I'd go for Tell Me No Lies when I had the chance to read it.I rather wish I hadn't now.To give credit where it's due, Tell Me No Lies is exactly as readable as its predecessor and difficult ...

4.5 Stars! Review to come but that was unputdownable!Review:Holy crap, I just don't even know what to say right now. Tell Me No Lies was such a wild ride! It's very unputdownable and once I started, I just had to finish!.Tell Me No Lies picked up right where Follow Me Back left off which means you're thrown right into the action! It also means that you can just read the first chapter because the next thing you know it's several hours late...

Yes! I Just finished this book in one sitting as I knew I would!! I am still trying to pick my jaw off of the floor!! Was it as crazy as Follow Me Back? Maybe not, but it was suspenseful and actually kept me guessing until the end. The plot twist, woah really twisted!! What really sucked me in from Book 1 was the interrogation parts. It kept me wanting to know it all but gave explanation to things as it went on. The end was imperfectly perfect it...

Liked it but didn't fall head over heels like I did for the first book. Still, it was nice to have answers and to get a solid conclusion to this duology. Things I did love about TELL ME NO LIES were the interspersed police interviews and the mystery and suspense that they created. They kept the story moving forward and had that same fantastic spark of storytelling that the first book created. The use of social apps, on the other hand, sort of fel...

3.5 stars, rounding to 4 for Goodreads.If there's one thing I can say about this duology is that it is ADDICTIVE. The way it's written, in police transcripts, tweets, Snapchat DMs, view points of Tessa and Eric - this keeps you turning the pages. I read book one back in April on a flight and could NOT put it down. This book did the same. I started it last night and stayed up late to finish it. The format, the writing and the storyline does keep y...

TELL ME NO LIES, the sequel to FOLLOW ME BACK continues the story of Tessa, Eric and interrogation for a possible crime. In some ways, AV Geiger improves on her debut with better writing and more tension. I found myself holding my breath multiple times.In most ways, TELL ME NO LIES read like an unequal sequel with too many senseless twists, too many bad guys and puzzle pieces that fit together too conveniently.After being hacked in book 1, I woul...

I stayed up late to finish this last night and I have zero regrets. This was the story I was hoping for.#ericthornobsessed-------Full review can be found here: https://agingerlyreview.wordpress.com...**An ARC was sent by the publisher in exchange for an honest review**Y'all.Y'ALL.THIS. BOOK. It was everything I wanted and needed it to be! I was head over heels obsessed with Follow Me Back so I could hardly contain my excitement I received a c...

Actual Rating: 3.5 stars! Same Review Also Posted On My Blog: Dreamy AddictionsTell Me No Lies is one of my highly anticipated sequels of 2018. The first book Follow Me back had ended with an horrifying cliffhanger that left me quite shocked, and since then I was pretty much dying to know what really happened at the end. I had high expectations for this book, but sadly it didn't meet my expectations. To be honest, I really enjoyed it, but I was...

Tell Me No Lies is the conclusion to the Follow Me Back duology that focuses on social media, mental health, and celebrity lifestyle. Unfortunately, I didn't enjoy Tell Me No Lies as much as it's predecessor, Follow Me Back.Tell Me No Lies lacks the focus that Follow Me Back possessed with clarity. Instead, the sequel reads like a hodge podge of plot ideas that are not fully formed and fleshed out. Because of this lack of clarity in terms of ...

At the end of Book #1, we read as Tessa and Eric disappeared, all that was left was cracked cellphones and a trail of Eric's blood. What had happened that fateful night when Eric went to see Tessa one last time? Three months later, we read as Eric and Tessa have popped up in Mexico living in a caravan and enjoying life as free people. The thing is though that they are about to discover that no-one in showbusiness can ever be free unless a tragedy...

Tell Me No Lies is a fast paced read with twists and turns in every chapter. I could not put this book down.Everyone thinks that Eric Thorn is dead, and that Tessa was the one who killed him. In reality, Tessa and Eric escaped the clutches of Blair, Tessa's creepy stalker, as well as all the other crazy Eric Thorn fans by running away to Mexico. Everything is working out great for them, until Eric's celebrity friend comes back to life after fakin...

I don't really have much to say for this book, except that it was unnecessary.I feel harsh giving this a one-star, considering I loved it's precursor Follow Me Back but there is nothing redeemable about this book. I couldn't stand Tessa in this book and the plot was very lackluster. I just don't understand why this had to be a duology when the first book was perfectly fine on it's own *welp*

I have no other option but to reuse some elements from my review of Follow me Back:WHAT?!? HOW?!?!? WHY??? WHAT JUST HAPPENED???Now that that's out of the way, it'd be nice if I said something about the book XDFirst of all, I totally knew the cliff hanger from the first book would be resolved that way. It was the only thing that made sense to me, although I kinda hoped it would be more sinister XD Anyways, I'm pretty pleased with the direction th...

The last book ended in such a crazy way, I just couldn't wait to see what Geiger had in store for us in this book. I must say, Geiger delivered quite the twisted tale and delivered many surprises. Sorry if I'm vague here, but this was a thriller, and I refuse to divulge too many details.• Pro: I was finally put of my misery from that darn cliffhanger in the first book. • Pro: Things were a lot more amped up in this book. Where as I felt the r...

01. Follow Me Back ★★★★This was a good conclusion to the duology. It picks up a little after the last book left off with Eric Thorn's disappearance (about a month later - February). And the chapters are interspersed with interrogation transcripts from three months later (May 1, 2017) so we know a homicide has occurred, but we don't know who has died.One note about Dorian - He plays a small role in this book, but I feel like his storyline...

I thought this was really disappointing and far more juvenile than the first novel. A lot of what happened was simply…ridiculous. The first half of the book was BORING. This is the worst sequel I've read in a while. Hopefully there won't be another book. :/

I DNFed it. Maybe I'll try again when it's released? I just couldn't get into the story

Last year I had the amazing opportunity to read an ARC of the first half of this Duology, Follow Me Back (be sure to read my review here!) Ever since I tore through that book in a day, I've been dying to know what happens next. Did Eric really die? Did Tessa do it?I am thrilled to report that Tell Me No Lies did not let me down: it was every bit as heart pounding and fast paced as the first book. What I liked:Just like the first book, Tell Me No ...

***I was provided an eARC by Edelweiss in exchange for an honest review*** So I have been waiting for this book for about a year!! I just fell in love with the first book, Follow Me Back, and I just couldn't wait to finish the story!!We start this story back up with Tessa Hart, our MC who suffers from agoraphobia. Her and Eric Thorn, her famous pop star boyfriend, have run away to Mexico after Tessa and Eric had a close call with a stalker. This ...