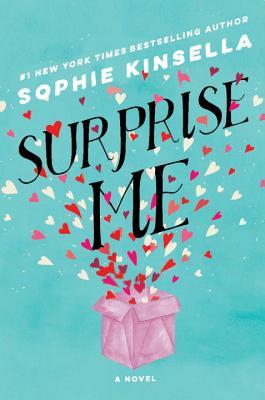 After being together for ten years, Sylvie and Dan have all the trimmings of a happy life and marriage; they have a comfortable home, fulfilling jobs, beautiful twin girls, and communicate so seamlessly, they finish each other's sentences. However, a trip to the doctor projects they will live another 68 years together and panic sets in. They never expected "until death do us part" to mean seven decades.In the name of marriage survival, they quick...
---
Reviews Surprise Me
Love is finding one person infinitely fascinating. And so... not an achievement, my dear. Rather, a privilege.Hi, long time Sophie Kinsella/Madeleine Wickam fan here. I've been reading her books for close to a decade now; they are just the right amounts of tender cheese (and that's a good thing so don't knock it) to insert between my gritty crime novels and psychological thrillers. I know many readers hate on the light and fluffy crowd, but I say...

Entertaining, but not my favorite Sophie Kinsella. I really like the premise of Surprise Me--rather than the typical Kinsella premise of a single girl trying to get her life together and in doing so ultimately finds love, we have a married couple worried that their marriage has gone stale. While the premise was fun, Surprise Me didn't quite have the magic of some of Kinsella's other books.After 10 years of marriage, Sylvie and Dan learn that ...

4.5 laugh out loud stars 😂 🌟🌟🌟🌟.5Sophie Kinsella is one of my absolute favorite authors.... i've read every book in the Shopaholic Series and absolutely adored Becky throughout.... what I love so much about her books are her fabulous female MC's and Sylvie was no exception.... strong, relatable, fun, self-deprecating, and a little out of touch with reality.... i've read so many twisty thrillers as of late and this was just th...

This is a well-done novel that starts off with a light, chick-lit tone. Sometimes you just need a book that has a humorous take on life and love. After Dan and Sylvie, who have been together for ten years since they were twenty-two, are told by their doctor they can each live to be one hundred, they have mutual breakdowns thinking about how they will possibly fill that much time together. Already, they can finish each other's sentences and they...

4 silly, but surprisingly serious, stars to Surprise Me! ⭐ ⭐ ⭐ ⭐ Sometimes I think I subsisted on Sophie Kinsella books in my 20s. I looked forward to a Becky Shopaholic book like Christmas. It's hard for me to believe I used to be quite the shopper then. I also have fond memories of reading Kinsella books at the beach or on vacation. I read The Undomestic Goddess while cruising past Sardinia! Her books are perfect for vacations because...

Well this is a surprising book. (Bad) pun very much intended.I feel like if this is your first ever Sophie Kinsella read, you should pick another one of her stories. I would point you towards her Confessions of a Shopaholic series first so you become acquainted with her humour and style.Because this book is crazy even to fans of Sophie Kinsella, so I can't begin to imagine what people who know nothing about this author will think. The concept i...

4 Surprisingly Delightful Stars!SOPHIE KINSELLA has always been one of my favourite go-to authors, so I was pretty excited when I was approved to read her latest novel, SURPRISE ME.  I have enjoyed all of her books and to me they are such a treat to read inbetween reading so many thrillers.  I like to be able to just relax and enjoy the humour within the storyline. SURPRISE ME definitely surprised me and I kind of liked the idea of Project Surp...

Listened to this which I always recommend with all of Sophie's books!I really wanted to fall in love with this book but it fell a little short for me. The first half was annoying, honestly and I had a hard time connecting with the characters. The second half was much better and I really loved it.Overall it was a fun, quick read much like all of Kinsella's other books and I did enjoy it!Solo video review coming soon!

3.5This is what I call my "cupcake diversion" read!I needed something light and humorous to entertain me and this one delivered! I loved the whole concept of spicing up a marriage with some surprises. Sylvie and Dan have adorable twin girls and are about to celebrate "ten years" together. They have a joyful marriage, but Dan has had some issues with Sylvie's father.They find out that they could potentially have 68 more blissful years together! Th...

Surprise Me is a standalone novel written by the fabulous Sophie Kinsella. As I began this book, I noticed a few separate plotlines that didn't seem to blend together very well at all and I had the initial feeling that Ms. Kinsella didn't quite know where she wanted to go with the overall story. I found it distracting and a bit confusing to be honest, but please rest assured that all these pieces fit together flawlessly later on. It does take a w...

3.5 stars My advice when you pick this book up is to view it as you would a rom-com movie. Turn off your inner critic and just have fun with it.I confess I had a slight problem with the premise: a young couple panics when their doctor tells them they will likely live to be over 100, which would mean another 68 years together. If you're happily married who wouldn't be delighted at that news??? (True story: As I'm writing this review a news reporte...

Last year I read another book by Sophie Kinsella - My Not So Perfect Life -- and was thrilled to find the perfect "palate cleanser". This year's offering was also a palate cleanser but this one ended up being just a bit too fluffy and disjointed for me. There were things I liked, but it I didn't take to the protagonist in the same way I have with some of Kinsella's other books.Sylvie is happily married to Dan. They have 5 year old twin ...

I always enjoy reading Sophie Kinsella books and was delighted to receive an advanced copy of Surprise Me. I really enjoyed this book about marriage, trust and family. I liked the characters especially Sylvie and her twin daughters. There were quite a few laugh out loud moments. A feel good book that will make you smile. I would like to thank NetGalley and Random House Publishing for my e-copy in exchange for an honest review.

I was lost in the flowery, bushy and blooming with color lush Coulee with five of my Traveling Sisters. We all settled in at different spots and times in the juicy, delicious berry bushes in the lush coulee. We were surrounded by color, charm, and quirkiness with this story and these characters and we gobbled up this story as fast as we could. At times the seriousness got a little prickly for us in the thorny bushes with our likable and loved cha...

Warm, affecting, and extremely entertaining!Surprise Me is a lighthearted journey into the lives of married couple Sylvie and Dan who have it all, beautiful girls, successful careers, and a rock-solid marriage until the suggestion of another 68 years of marriage sends them into a tailspin that makes them question their goals, dreams, and each other.The writing is smooth and effortless. The characters are quirky, comical, genuine, and lovable. And...

4 humorous but serious starsI must admit this was my first Sophie Kinsella book and I am so very glad to have stumbled upon this little gem of a book. I so enjoyed the hilarity of the first half of the book and having a British son in law, I could just see him involved in some of these escapes. The second half of the story is when things got serious. It seemed that as much as Sylvie and Dan thought they knew one another both inside and out, there...

Surprise Me by Sophie Kinsella is a nice little bit of humorous chick lit that is expected to come from this author. The book also had a rather interesting idea behind the story when a long time married couple goes for their check up and passes with flying colors with the doctor explaining just how long a life they should have together.Sylvie and Dan are just hitting their ten year anniversary from the time that they first met when they get the n...

Ehh I think this plot just wasn't a good fit for me personally. It's hard to sympathize with people who are so dang healthy that they can assume they're just guaranteed another 68 years of life to wonder WHAT WILL THEY DO. How will they not be bored?! Maybe they can speak Italian for a decade? Go to Ecuador? Oh my goodness. All of this is like... the opposite of a problem. Most of the plot was definitely rich white people problems, but the main c...

4 Surprised stars It is true that I love Sophie Kinsella's books, I have read almost all of them.Even though It was a long time since I read a book by her,you can't imagine how excited I was to start this one.I was hooked from the beginning and I couldn't put it down Surprise me.This is a story about a Sylvie and Dan who are married and have twin girls.Their marriage is really great until the moment they visit a doctor who tell them that they are...

3.5 starsWas I surprised about how much I enjoyed Sophie Kinsella's new novel Surprise Me?     Not at all.     I expected it to be an entertaining read and it absolutely was.      When it comes to  Sophie Kinsella, the only surprise for me is that I haven't joined the millions of readers who love the Shopaholic series.   I can't seem to get into them and yet when it comes to her stand alone titles I'm an avid fan.    Love. Them...

Sophie Kinsella has always been one of my go-to favourite authors. I remember the enjoyment of reading the Shopaholic series for the first time and now I have reread them countless times (along with each of her standalone novels).For each following novel that she publishes, part of me gets nervous that I won't like the next one. I am so happy to say that hasn't been the case for any of her novels and I have liked each with varying levels of enjoy...

I received this book for free through LibraryThing's Early Reviewers.I was so excited when I found out that I won this book because I absolutely love Sophie Kinsella's books. They are always so hilarious and so much fun. This book was no exception. In the beginning it did start off a bit slow. It took a while for the story and the surprises to actually start, but once they did, they really took off. Many of the surprises were so hilarious, I ...

*3.5 stars 🌟The thing about reading a Sophie Kinsella book is that you know your going to have a fun reading experience. In this book, we meet married couple Dan and Sylvie. They have just been told that they're healthy and may live a long married life. So they decide that if they are going to have 68 years together, they should have surprises for each other so their marriage doesn't get stale. The thing about surprises, though, is that yo...

*Romance week!Would you believe that this is my first book by author Sophie Kinsella?! I own a few of her Shopaholic series that I picked up at library sales but haven't gotten around to reading any yet. This is a standalone book and starts off well with lots of laughs. Sylvie and Dan Winter, both aged thirty-two, visit a new doctor for their physical. He jokingly tells them that because they are in such good health, there is a good chance they w...

Mini review: I received this e-arc via Netgalley and the publisher in exchange for an honest review.DNFDespite the not-so great synopsis I wanted to read this anyways. After all it's a Kinsella book. Unfortunately it wasn't any good. The main characters were supremely dumb. Her 20 year characters (in other books) have more sense then the husband and wife in this book. Now mind you I thought the whole thing was bogus to begin with. I had no id...

I thoroughly enjoyed this this book!Surprisinly, this is the first time I have read Sophie Kinsella's work and I was well pleased with it! It was fun and had quirky characters that I grew to love. This story goes deeper than that and it faces what is deep behind face value and trust issues one faces. This novel was full of unexpected surprises and was truly heartfelt. I am glad that I picked up this book and finished it within a few sittings!

Surprise Me was surprisingly not surprising. A bit predictable - especially in certain key areas, but still a cute, angst-filled, comedy of errors that blossoms into a story of the value of true and honest love.Sylvie and Dan are so intuned to each other, they can finish each other's sentences. It makes their marriage run like a well-oiled machine, but it also makes them, well... predictable. In an effort to liven things up a bit, Sylvie suggests...

No other author provides an escape from reality for me quite like Sophie Kinsella, I've been a fan of hers for years and picking up one of her books is always a treat for me. Her books are pure, lighthearted, entertainment and are always fun, and though I didn't like Sylvie as much as my beloved Becky Bloomwood I did enjoy her and lost myself in her story easily.This definitely had Kinsella's signature charm and wit, she has the ability to ...

I can pretty much always read something written by Sophie Kinsella. She has a way of making the world look like a better place. I thoroughly enjoyed Surprise Me even though the plot really didn't do anything for me. There are a lot of "non-problem problems". The reason it's a four star is because Sylvie was absolutely hilarious. She makes this book.