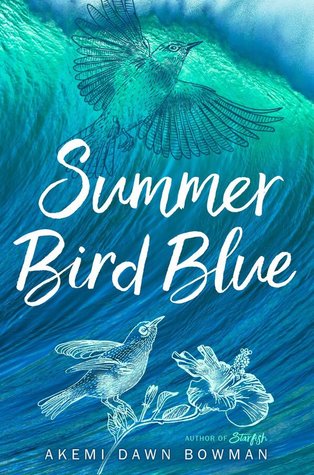 Rumi Seto spends a lot of time worrying she doesn't have the answers to everything. What to eat, where to go, whom to love. But there is one thing she is absolutely sure of—she wants to spend the rest of her life writing music with her younger sister, Lea.Then Lea dies in a car accident, and her mother sends her away to live with her aunt in Hawaii while she deals with her own grief. Now thousands of miles from home, Rumi struggles to navigat...
---
Details Summer Bird Blue
Title
Summer Bird Blue
ISBN

9781481487757

Author

Akemi Dawn Bowman

Release Date
Sep 11th, 2018
Publisher

Simon Pulse

Language

English

Genre

Contemporary

,

Young Adult

,

Lgbt

Rating
Reviews Summer Bird Blue
4.5 starsokay. I cried. and I rarely cry over any bookAkemi always writes the most beautiful, personal, meaningful, hard-hitting stories and this is just another one of them. this one in particular means a lot to me because I have a younger sister and seeing Rumi go through the loss of her sister made me so emotionalthis is truly truly beautiful and I can't wait for all of you to read it 💙💙(note: Rumi is mainly questioning throughout the ...

Wow, I am so glad to finally be posting this review! I was lucky enough to receive an ARC pretty far in advance and devoured it immediately, because I loved Starfish so much, but I gotta tell you guys, this book? It blows Starfish out of the water. This was one of the most heartbreaking, gorgeous stories I have ever read, and there is so much diversity I could honestly yell about it forever. "I don't want to hold hands, or flirt, or… kiss....

This is a crucial book on loss. Raw, real, and deeply hopeful, SUMMER BIRD BLUE follows Rumi Seto on her path to healing in idyllic Hawaii with the help of a grumpy old man and a bubbly new friend. This book has solidly secured Akemi as one of my favourite contemporary YA authors - I will read anything Akemi Dawn Bowman writes.The stand-out element of this book for me was the aro-ace representation in Rumi, the likes of which I have never seen be...

A wish is a wish after all. Summer Bird Blue is an emotional journey of anger, grief, loss and healing. After unexpectedly losing her sister and best friend Lea, Rumi Seto is angry at the world and doesn't know how to move on. Moving to Hawaii for the summer wasn't part of the plan, but she's determined to find a way to honor Lea's memory and move on at the same time, so Rumi turns to their shared love of music and discovers a power she ...

Summer Bird Blue by Akemi Dawn Bowman is an emotional story of loss, life, and music. When Rumi's sister, Lea, dies in a horrific car accident, Rumi is left to pick up the pieces of her life. Abandoned by her mother, Rumi spends her summer in Hawaii with her aunt, trying to figure out how to live without her sister. Along the way she befriends the neighbors--Kai, the boy next door, and Uncle George, an elderly man who has experienced his own sha...

I'm a f*cking mess right now I cried so much reading this and cried even harder in the last fourth oh my heart

I've finally read the book and I had so many emotions????This isn't an easy read. Rumi is angry and hurting and she lashes out a lot at people who love her. If you're not into "unlikable characters," you won't like Rumi. But this exploration of grief was really beautiful and honest - how often do we wonder why it THAT person had to die and get mad about it? And I loved the way she looked back on her relationship with her sister and the regrets we...

Of course it was amazing. Full RTC!

another masterpiece. there are still remnants of mascara tears on my face from finishing this book. i can't form any coherent thoughts right now.

♦ Video Review ♦Summer Bird Blue is an intense Contemporary novel that deals with grief in a way I've never seen before. "Because to Lea and me, music wasn't only about sounds. Music was scenery and smells and tastes and magic, too. But it doesn't feel like magic anymore – it feels like I'm being haunted." Before I get into my thoughts and feelings (there's a lot of them) first something about the representation.The main character, ...

Rumi and her sister, Lea, dreamed of a life on the road, making music together. This dream was shattered in a heartbeat, when Lea's life was lost in a car accident. Though Rumi and her mother both survived, they had stopped living. Summer Bird Blue told the story of Rumi's summer of "goodbyes", and her trying to find a way to live without Lea.• Pro: The emotional impact of this book was unreal. I am sort of crying a little right now as I write ...

RTCthe only thing I'll confide in you for now is that I cried. A lot.thanks to the publisher and edelweiss for providing me with an e-ARC

[4.5 stars] i really loved this. this has to be some of the best multi-racial rep i've seen. like eVer. not even kidding, there were about 5-6 on page mixed race characters!!!! which is a huge deal to me!! the overall diversity was fantastic. (and i have a lowkey crush on hannah now, one of the side characters. she was giving me sapphic vibes tbh)and also, this was unexpected but the aroace-rep was so damn relatable, even though i didn't previous...

Akemi Dawn Bowman's debut, Starfish, is one of the best books I have ever read. It captured anxiety and teen emotions so brilliantly so I couldn't wait to read everything and anything by her. Summer Bird Blue, her sophomore novel, was just as gorgeous. Be prepared to be emotionally eviscerated with this one. I'm not quite sure how Bowman does it, but her characters always feel real to me. She is a star at meticulously fleshing out her characters ...

Loved this. Review coming soon!

You can see my full review here!*I received an eArc of this book from the Publishers through Edelweiss in exchange of an honest review*This book is my heart... and Bowman has gutted me. The beginning scared me in the sense that we're thrown into the grief of Rumi, we don't really get to know Lea or their mother; it's just anger and hurt and pain. But as the story went on, everything is developed seamlessly. We see through flashbacks that Ru...

Bowman, Akemi Dawn. Summer Bird Blue. Simon Pulse, 2018.Rumi and her sister Lea are inseparable, but when Lea dies in a car accident and Rumi's mother sends her to Hawaii to live with an aunt while she grieves, Rumi feels betrayed and abandoned. She is angry at the world and doesn't know what to do with herself, but with the help of her family and her aunt's neighbors, she begins to work through her grief.I loved the diversity throughout this boo...

🌸🌸🌸 (3.50/5.00)I liked Summer Bird Blue a lot, but there were a few small things that bothered me. I prefer Starfish (Akemi Dawn Bowman's debut novel), though, so that's why I can give Summer Bird Blue only 3,5 🌸. Still, I recommend it highly, especially for its portrayal of grief and loss, and also of family and identity.

WOW! What a beautiful, powerful, and deeply moving novel of loss, unconditional love, forgiveness, and finding yourself. I loved this book from the beginning to the end; it really hit home as I too have lost a sibling when I was 14. The amount of raw emotion in this book is powerful and will be a story that stays with me for a very long time. This should be a book everyone reads, you will not be disappointed!

Lovely. Haunting. Heartbreaking. I basically couldn't put this book down once I started it. Akemi's beautiful writing, rich characters, and excellent storytelling captured me and didn't let me go. In a single car crash, Rumi loses the sister who is also her best friend, the future they had planned together as musicians, and the mother who can't cope with the loss of her daughter. Sent to stay with her aunt in Hawaii, Rumi's grief and resentment g...