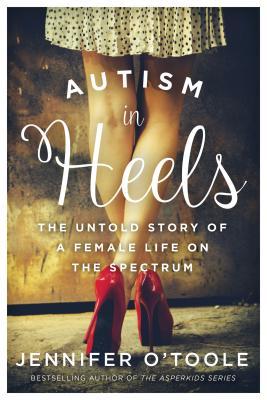 The face of autism is changing. And more often than we realize, that face is wearing lipstick. Autism in Heels , an intimate memoir, reveals the woman inside one of autism's most prominent figures, Jennifer O'Toole. At the age of thirty-five, Jennifer was diagnosed with Asperger's syndrome, and for the first time in her life, things made sense. Now, Jennifer exposes the constant struggle between carefully crafted persona and authentic existence...
---
Reviews Autism in Heels
This book was so honest and well-informed! I was a little nervous going in, I admit, because (a) I feel like the only point of heels is to utilise them as a weapon, and (b) I've read so many autism-books and been burnt a lot by negative assumptions and problematic viewpoints. But this book CELEBRATES autism. Especially in women!I also loved that it acknowledged POC and queer autistic women...and nonbinary autistics too! It was aimed specifically ...

This is an amazing book. An extraordinary look into autism in women told with fascinating anecdotes from a captivating writer. I have always enjoyed the Asperkids books but Jennifer O'Toole has really outdone herself describing this personal journey. I was riveted from the first moment. I would not get this book unless you have time to read it in one sitting because you will not be able to put it down. This is a must read not only for women on th...

(I received a free eARC from Edelweiss in exchange for an honest review.)I actually had to take a break in the middle of reading this because it struck home — not just close, but all the way. As in, I recognized very specific thoughts and behaviors that I've noticed but never considered in an ASD context, and I just felt seen and understood in a way that I never have before.The anecdotes and analogies used are well-chosen, making each point a...

I really struggled with this book. I wanted to love it, and I believe that it's a vital conversation about women on the spectrum and how to improve practices around diagnosing/supporting women on the spectrum. However, the writing was choppy and repetitive; many chapters felt like adapted speeches with little serious editing to improve flow. Additionally, the order of the chapters did not help establish a clear trajectory or push the narrative fo...

WOW! Just WOW!I first heard Jennifer speak in January of this year. She mentioned that she had a new book coming out this summer. At that point, I knew that I had to get my hands on it. Later on I discovered that the digital ARC was available on Edelweiss—YIPPEE! (Being a librarian has its perks.)As someone who is on the Spectrum myself, I found myself totally relating to Jennifer's experiences of social awkwardness, her attempts to fit in, a...

Insight into the dynamics of life "on the spectrum" is helpful to me, since my granddaughter has been diagnosed with autism. She received this diagnosis at 2, but this was after repeated efforts to determine what was going on with her. One doctor, discovering her severe social anxiety, volunteered to write a Prozac prescription - for a 2-year-old! I think that autism is rampant among females, and obviously misunderstood and frequently overlooked ...

This book sheds light on the often unrecognized differences in the world experiences of women and girls on the spectrum through one woman's journey. O'Toole's narrative weaves together her life in self-reflective stories along with the research and study information that helps explain not just her own choices but the way others perceive her. As the mother of an adult woman on the spectrum, I found her story not just inspirational and enligh...

Jennifer O'Toole's latest book is a brilliant and personal reflection of life on the autism spectrum for women and girls. Her voice cannot be denied! I wholeheartedly recommend this book to clinicians, parents, identifiers, and explorers of autism. Reading it will increase your knowledge your sensitivity, your worldview and your . It will be immediately enlightening and enormously useful.Carol Moog PhdPracticing psychologist/co-author The Autism ...

DNF at 50%Okay, so I hate that I'm the very first review for this book and am giving it a bad rating. But I just didn't care for it. Doesn't mean others won't! The beginning felt more like reading an academic article or study than a story about her life with autism. It's not told in an interesting way in order to keep my attention. It's just like this is what happened and how I found out I was autistic. Here are other facts about autism and autis...