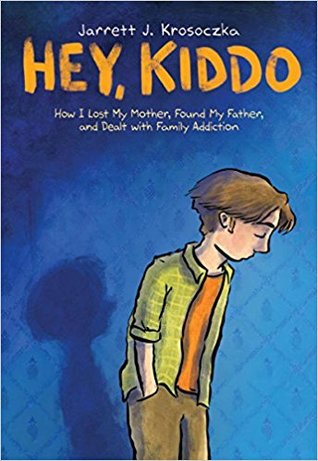 Hey, Kiddo is the graphic memoir of author-illustrator Jarrett J. Krosoczka. Raised by his colorful grandparents, who adopted him because his mother was an incarcerated heroin addict, Krosoczka didn't know his father's name until he saw his birth certificate when registering for a school ski trip. Hey, Kiddo traces Krosoczka's search for his father, his difficult interactions with his mother, his day-to-day life with his grandparents, and his pat...
---
Reviews Hey, Kiddo
I only realized I have read this author before (five times, actually) when I read the author's note and realized that he's the creator of Lunch Lady.No wonder I didn't figure it out. This is not humorous, or light, or action-packed like Lunch Lady is.Because this is a memoir—the author's. And a very honest one at that. It's never easy to share your truth with the world, because what if your words are not well-received, what if you'r...

Utterly phenomenal. Krosoczka takes his talent to a whole new and utterly personal level.

*4.5This was such an amazing way to tell a life story, the drawings were fantastic and fit so perfectly with the feel of the story. This book reminded me of a draw my life video and sucked me in totally. I don't typically read memoirs of people I don't know but I'm so glad I read this one. Definitely recommend you pick it up, but be warned this isn't a warm and fuzzy family story! It's real and it's harsh and heartbreaking, but also has silver li...

E ARC from Edelweiss PlusIn this graphic novel style memoir, Krosoczka describes the difficulties he faced growing up in the 1980s and 90s. His mother was not married and did not even list his father on his birth certificate, and struggled with addiction, mainly to heroin. After the age of three, Krosoczka was cared for by his grandparents and learned not to rely on seeing his mother, who was in and out of residential programs. His two aunts were...

A heartfelt reflection on his own life, author/illustrator Krosoczka decided after a TED talk gone viral to share his life's story in a graphic novel biography because the story makes anyone feel like their life could be understood when oftentimes there was tragic, scary, uncomfortable, or unfortunate events to happen in their life. For Krosoczka, his mother had him very young and was addicted at a very young age to drugs, notably, heroin which e...

Incredibly moving graphic novel memoir. The artwork does, as intended, look like a memory or dream sequence, and JJK's style has evolved deeply much from his earlier graphic novels. I can see this book being very helpful for teens struggling with addicted parents or family members through its honest voice.

Hey, Kiddo is a deeply moving and intimate look at how addiction can affect families. Usually you see how the addiction affects the abuser but this gives you a closer look at how it tears apart a family. Jarrett digs deep and holds nothing back. Every little devastating and disappointing moment is shared through these pages and it's heartbreaking. He also shares the goodness that has happened in his life. You don't need biological parents to ...

Wow! This book will hit you right in the feels. There was so much attention put forth into this book, every single detail. A profound, raw, important book that must be read.

I received an ARC for free from the publisher. Hey Kiddo is a graphic memoir following Jarrett, or "Ja", through his teen years being raised by his maternal grandparents because he never knew his father and, as he eventually finds out, his mother has been addicted to heroin since before he was born when she was a teen herself. Jarrett discovered art at a young age and basically used it as his lifeline. In one "panel" he tells the reader he used a...

Thank you, Jarrett, for writing an honest portrayal of your upbringing. Your honesty about having an addict for a mother. About being raided by your grandparents. I'm sending this to my nephew.

It's really hard to put into words how amazing this book is...for now all I can say is you're just going to have to read it for yourself. The story, the back matter...all of it is just phenomenal.

Emotionally raw and honest. I admire the courage of Krosoczka in sharing his story and Graphix for publishing such a daring book.

Thanks to the @kidlitexchange network for the review copy of this book- All opinions are my own.--- When I saw that this ARC was available for review, I couldn't have been more excited. As a teacher, I have noticed my students picking up graphic novels more and more, so I never turn down the chance to find new titles for my library. I finished this graphic novel in one sitting, and I couldn't wait to share my thoughts on it.Hey, Kiddo is a me...

I received an advance copy of this at ALA 2018.Hey, Kiddo is an incredibly timely comic about a addiction, family, and resilience. Drawn in an almost hazy style with purposeful use of burnt colors, the artwork makes you FEEL the story rather than reading-from-above. Jarrett is honest - at times unflatteringly so - and that honesty gives weight to the story, even if in the moment it might feel too much. If no one else takes it up, I may write a mo...

I met the author and received an ARC at BEA 2018. While I haven't read his works for young readers, I'm a huge fan of graphic novel memoirs, which is why I had to have this book. I wish I could go back and tell Jarrett how amazing this story was. It is sad and inspiring, honest and beautiful. It starts with him as a young boy and goes through to college. It's clear when he is very young and his grandfather becomes his primary caregiver that...

Thanks to @scholasticinc for the free book, which comes out 10/9/18.~*~*~*~*~*⭐⭐⭐⭐⭐/5 for this powerful #graphicnovel by @studiojjk about his mother's heroin addiction, being raised by his loving, but *interesting* and *complicated* grandparents and finding an escape through art. ~*~*~*~*~*WOW. This is one of those books I powered through to finish because it was so intense. The feelings and emotions presented here are SO RAW. This is...

I'm a Jarrett J. Kroscozka fangirl who knew about this graphic memoir's upcoming release from his social media over the past year. The images and stories shared have been intriguing, gorgeous, and heartfelt and I desperately wanted to get my hands on an ARC. Thanks to my awesome friends at the Massachusetts Library System, I had the chance to read it today.Addiction leaves huge holes in families. Having a sibling who was an addict (he died from m...

I am having a hard time describing my thoughts after reading this book. It hits so close to home for me as I was also raised mostly by grandparents and had a mother who was mostly out of my life because of her drug addiction (kudos to my dad for being awesome). I could relate to watching the "stories" and the Price is Right with my grandmother who would yell at the television and swear like a sailor (and was also Catholic). There are so many kids...

I know so many people, now adults, to whom I would have given this book when they were teens (or even younger). Because, let's be honest, there is nothing in here that the child of an addict has not seen, heard, or experienced at a young age. This is not an easy book, nor a comfortable one, but it is an important book. This is a book that screams "You are not alone" to kids who desperately need to hear it. It shows that circumstances do not defin...

With his mother in and out of rehab and his father a mystery, Jarrett's headstrong grandparents raise him and nurture the love of art that ultimately saves him. Notable comics creator Jarrett J. Krosoczka's graphic memoir reflects on his family and complicated upbringing with raw frankness and impressive attention to historical detail.

As I work in a library, we occasionally (read: rarely) get advance copies of some books. I decided to give this one a shot, mostly because it was a graphic novel, and we don't get those too often. This was great. Well written, well illustrated, overall fantastic. The author's story of living with addiction in the family, and therefore being raised by his grandparents is moving, and emotional. Totally recommended for teen readers.

I think Kristin compared this to Stitches.. although not a graphic novel it made me think of Jack Gantos autobiography Hole in My Life... as both are realistically alive with details of situations not familiar to most... A heroin addict mother.. an absent father.. but two loving grandparents and a love for art...I think I have read some of his kid books but need to find another one or two..

I received this as an ARC, I think the actual book isn't out until October. The evolution of the graphic autobiography but for both adults and men. Very touching memory of grandparents, addiction, and finding your place. More like this please.

I read this in one sitting. It is one of the best graphic novels I have ever read and so very relevant for teens. I love the message and how real this was. I look forward to reading this author's work in the future - it is candid and beautiful and gritty, just like life.

Review closer to release date. This was the title for which I was most excited when the fall galleys from Scholastic arrived. Read in one sitting. Lots of TED talk weaves that will be recognizable to those who have seen and considered this.

This story absolutely slayed me.

Moving, powerful, raw and unflinching. Hey, Kiddo is an outstanding addition to any YA collection.

😭😭😭 The book was beautiful, but that author's note, note on the art and acknowledgments killed me.

[I received an Advanced Reader Copy of this book from the publisher in exchange for an honest review. All opinions are my own.]A powerful and moving memoir. My family has loved everything Jarrett J. Krosoczka has written - Jedi Academy, Lunch Lady graphic novels, Platypus Police Squad, picture books - and this is equally fantastic. But it's definitely for an older audience. It's a mature story of family struggle and the fall out from addiction. T...