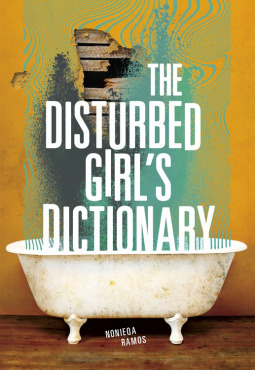 Macy's school officially classifies her as "disturbed," but Macy isn't interested in how others define her. She's got more pressing problems: her mom can't move off the couch, her dad's in prison, her brother's been kidnapped by Child Protective Services, and now her best friend isn't speaking to her. Writing in a dictionary format, Macy explains the world in her own terms—complete with gritty characters and outrageous endeavors. With an honest...
---
Details The Disturbed Girl's Dictionary
Reviews The Disturbed Girl's Dictionary
I give this book 5 out of 5 Freakin Fantastic Stars! I am over the moon about this BOOK!What attracted me to this book was the cover and the title, then I read the premise and was sold. This book meant more to me than pages in a book, I understood Macy. I was Macy.I saw many reviews on this book and so many DNF this book because of the spelling and grammatical errors. I understand the need for proper grammer but this was about Macy expressing h...

Macy Cashmere's one-of-a-kind, no-holds-barred teen memoir will blow your mind and break your heart. Her unforgettable voice is hard-hitting and unflinching, compassionate and street wise, delivered with a linguistic and structural playfulness that both dazzles the reader and draws them in deep. With Disturbed Girl's Dictionary, NoNieqa Ramos establishes herself as a literary star on the rise.

Oh my. This book. I'm still trying to find the words to describe how much I was charmed by, fell in love with, then had my heart ripped out by this EXCELLENT piece of literature. @nonieqa.ramos , I HEART Macy. She is the headstrong, imperfect, big-hearted heroine I've been waiting for. I am so grateful for the chance to have read an ebook from Edelweiss, and now sing its praises to the world.•The school Macy Cashmere attends calls her "di...

Thank you to NetGalley for this ARC in exchange for an honest review.I'm but a few chapters into this book and, already, I'm very impressed. I can already see this book hitting home with many of my students because it's rare to find a book that is willing to present us with a protagonist who has social and environmental cards stacked against her, as do many of my students.Macy Cashmere describes herself (as does everyone else) as disturbed. But, ...

I was granted the ARC by Netgally. It took me a bit to get into the rhythm and style of this very unique book, and when I did... BAM!! I was getting up in the morning before everyone else so I could read more about disturbed girl Macy. As a teacher I felt sad for her yet frustrated. Reader be aware, the content and language is mature but completely appropriate to the situation. Again, thank you Netgally for this opportunity. Meet, Macy Cashmere, ...

I received this book from NetGalley in exchange for an honest review.Swearing and spoilers to follow.If you're here for my usual snark and 'oh dear god why did I read this book,' you may just want to move along. This is not the review you're looking for. This book. Holy shit. This book. I just. I want to pass this book out to my students and go "Look! Literature isn't just written by white people. You don't need to just read books by dead, white ...

Macy's story broke my heart. I think this will be a book students will read and recommend to their friends.

This book. Wow. As a teacher who spent 11 years in a now title 1 mostly Hispanic school, I feel like I have taught a version of both Macy and Alma. This book is so raw, tragic, and real. As a teacher, it has been such a reminder that the students we teach are HUMAN and UNIQUE. And we are not just teaching them our subject. We are teaching individual CHILDREN. And their lives are not all neat and tidy. In fact, we may never know how truly messy th...

Still currently reading but just had to put in my two cents in regards to people "rating" this novel. I'm just wondering if any of these readers have been teachers in an inner city school or if any readers (who gave low ratings to this novel) have ever come in contact with children (yes, children) who behave this way? Life in an urban setting is very scary and this character has (not acclimated to) but grown up in this setting. Thus the man...

4 out of 5 stars "We like two hands of the same clock. Always connected. Sometimes in our own space, but we always meet. Nothing without each other. At least I'm nothing without her." Macy Cashmere (last name: MYOFB) is as "at-risk" youth as they come-- She's a racial minority, lives in poverty, comes from a very broken home, and is living with an emotional behavioral disorder (or 'disturbed' as she and others term it). With the cards stacked ...

Kirkus Reviews wrote: "...her voice is inimitably unique in contemporary teen literature. The heartbreaking events are almost unbearable, but the author depicts them with authenticity and empathy—even when Macy wields a machete to fix a problem." I couldn't agree more. I laughed and I cried. The Macy Cashmere character is someone I'll never forget.

Almost anything terrible that can happen will happen (even if offscreen) in this book. Kidnapping? Prostitution? Dead babies? Foster care? Shootings? Parlorless piercings? Sexual Assault? Starvation?AND MORE. A little overdramatic, but great for fans of truuuuue diary fiction like Go Ask Alice.

What just happened?!Changed it to 5 stars because I could not stop thinking about Macy during the ~4 days it took to read this and for lines like:"When God feels like I do - there are floods. There is fire. If God felt what I was feeling right now, the clock would explode. The windows would crack. The floor would split open." pg. 268"No brain is made to think what I'm thinking. No heart to feel what I'm feeling. But there's nothing left to break ...

I feel conflicted about this book and I put it down several times, but once I hit page 60 (see entry, "Bestie"), I was glad I gave it a chance. It was beautiful & intense & hard and reminded me of some parts of real life. There was such stylization, though, it made it hard for me to discern what was honest and what was to make a point. Even for a walk of life I've only tiptoed into, there were times that felt slightly pastiche. Regardless, it is ...

Macy's dictionary may not follow strict alphabetical order, but Macy isn't your normal teenage girl. She has different definitions of things, and through them she tells the story of a struggle to take care of herself after her little brother gets taken by CPS and her father goes to jail. Her best friend Alma isn't speaking to her and her other friend George is maybe even more disturbed than Macy is. Through it all Macy will handle things in her o...

The Disturbed Girl's Dictionary is as disturbing as its name implies.While, in an effort to not trivialize or pretend as if teenagers don't go through hard things, I'd timidly suggest this novel for older teens.Macy is disturbed or is she? Forced into a life of neglect, poverty, and dysfunction—it's hard to decipher "crazy," behavior from a cry for help.Macy's mom is as present as she is absent—and her father is incarcerated. Sh...

I'll be honest, Ramos' play on linguistic style & syntax can be a bit jarring & take some getting used to at first, but just like our unconventional heroine, Macy Cashmere; it's raw, gritty, & unapologetically honest. Macy is all-in & in your face whether we like it or not- and we, the readers of her dictionary manifesto are all the better for it! As the author herself has stated, "We need diverse voices that crush stereotypes like cockroaches un...

I was about three pages in when I started recommending this to so many people around me! I told a student (undergrad writing a research paper on students in HS with IEPs, experiences of children of color) I'd finish by that weekend to get them the book by the following class session but I couldn't. This book took me longer to finish. I would linger on a scene for days! The main character Macy, her friends, the adults in her life both at home and ...

Do not read this if you teach in a public school, because you already know all about girls like Macy Cashmere. It's a cruel world. Keep your imagination sharp. Chronic problem student who harasses teachers for mental exercise or staunch defender of all the weaker kids? You won't be surprised that Macy's both. But you will be fluffin' impressed at Macy's wit, warmth and ingenuity. I recommend this without reservations to all non-teaching adults....

The structure of this book is so unique, short entries, A-Z like a real dictionary, leaping forward and backward (See B for Burner, G for Gas). The character development is beautiful. And even though Macy's world is relentlessly ugly, there are glimmers of beauty and connection. Like real life.

Picture me sitting with a slack jaw upon finishing this book as I try to grapple with everything that I've just read. I had a slow start getting in to Macy's story because she references events that haven't yet happened and I was a little confused, but thing start to come together quickly. Ramos does a masterful job of leading the reader slowly into the darkness of Macy's life. We start with problems at school and her mother's many guests and Mac...

This book is going to stick in my mind for awhile. It provided an interesting perspective into a life of someone suffering from emotional disturbances. I also liked the dictionary motif. This made the book even more unique.I was truly shocked when Macy's friend Alma's life shatters completely and Macy scars Alma's face on purpose with her machete.My favorite character was Mrs. Black, because I aspire to be the teacher she was in Macy's li...

Macy Cashmere...I love you! With all my heart and soul. I love you because you are straight-forward. I love you because you don't know how lovable you are. I love you because you fight for what is right. I love you because of Shakesbeer. The world needs more Macy Cashmeres and you are NOT stupit. Macy, you have my heart... Mrs. Ramos - thank you for writing an incredible book. I am a ferocious and very picky reader. This story had me sucked in fr...

Move over, Holden Caulfield. You've just been left in the dust by Macy Cashmere,the newest, most extraordinary voice of adolescent rage and longing in American literature. She's a nihilist, a poet and she's writing her own dictionary. School is her bane and her refuge from a father in prison, a crackhead mom and a baby brother in foster care. She carries her abuela's machete and isn't afraid to use it. Is she trouble? You better believe it, and y...

4.5* Honestly. I can't even describe all I know is, it was one hell of a ride. And amazing!!! I haven't decided since it's now almost a week later I'm ready to explain some of my feelings towards this novel. Number one is it's was a very unique read, 5/5 stars for that. The format of it was beautiful, told in the order of a dictionary the Main characters writes in. It sounded realistic, tho I've never went through the events or had the life style...