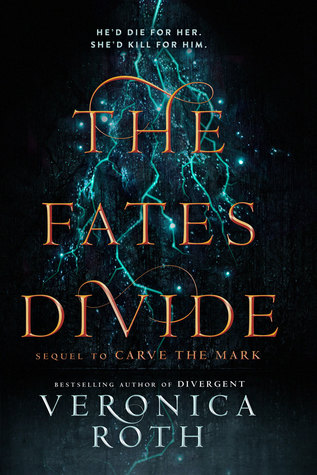 Fate brought them together. Now it will divide them.The lives of Cyra Noavek and Akos Kereseth are ruled by their fates, spoken by the oracles at their births. The fates, once determined, are inescapable.Akos is in love with Cyra, in spite of his fate: He will die in service to Cyra's family. And when Cyra's father, Lazmet Noavek—a soulless tyrant, thought to be dead—reclaims the Shotet throne, Akos believes his end is closer than ever.As...
---
Details The Fates Divide (Carve the Mark, #2)
Title
The Fates Divide (Carve the Mark, #2)
ISBN

9780062426956

Author

Veronica Roth

Release Date
Apr 10th, 2018
Publisher

Katherine Tegen Books

Language

English

Genre

Fantasy

,

Young Adult

,

Science Fiction

Rating
Reviews The Fates Divide (Carve the Mark, #2)
I got this on the strength of Divergent not the last book in this series. This was a lot better then the first book. I wanted to give it 3.5 stars but is it such an improvement on the last book I thought it deserved a round up rather then down. It is still very slow paced, and there are probably less fights in this book then there were in the last book, but the story is much better and fills in many of the holes/problems in the first book. There ...

As I was one of the few who actually liked the first book Carve the Mark I am really excited for this continuation of the story!Edit 16th April - ThoughtsI enjoyed The Fates Divide more than the first one. This was a good continuation of the story. I felt immersed into it right away - Veronica Roth didn't take long to get right to business. The characters and their relations felt more flashed out - it was like a game of chess and we saw every pie...

I actually really loved the completion of this duology! I remember being hesitant about reading the first book when it first came out because of the mixed reviews but I usually don't let that prevent me from checking out a book, and I actually did enjoy the first. But in my opinion, this second book was even better! There were so good twists and yeah someone does die in the first 20 pages, but the story just keeps you interested. I honestly pro...

"Suffer the fate, for all else is delusion." "What does Mother always say? Those who go looking for pain...''Find it every time,' I replied, completing the phrase." I am so glad Cyra&Akos are finally together!! But what about Eijeh? There's so much more to the story!!!

I was lucky enough to read The Fates Divide early. Not only is it filled with the kind of wonder and inventiveness that makes sci-fi a joy to read, it's a thoughtful, clever exploration of strength through its characters--particularly its female characters--that asks us to think differently about how we are strong and how we can be strong in the face of unimaginable odds . . . and to never, ever underestimate ourselves. On top of that, the worldb...

Am I the only one who didn't enjoy the book?Why is her writing is so hard for me to understand?I really tried to get along with the story line but unfortunately it didn't happen.

Space was not a finite container, but that didn't mean it was empty. Asteroids, stars, planets, the current stream; space debris, ships, fragmented moons, undiscovered worlds; this was a place of endless possibility and unfathomable freedom. It was not nothing, it was everything.I had some mixed feelings about the first book, but I entirely loved this one! It was so good!The inclusion of Eijeh and Cisi's perspectives really added a lot to the sto...

While the first novel was very much a world-building novel that focused on just one or two specific locations, The Fates Divide is somehow more of an introspective character piece that spans across different planets. It focuses less on the larger world and more on how the characters perceive it. The world-building in Carve the Mark was done through the characters of Cyra, Akos, and company, but the world-building in The Fates Divide is what compl...

"When it comes to life, we spin our own yarn, and where we end up is really, in fact, where we always intended to be." ----Julia GlassVeronica Roth, the international bestselling author, is back with a bang and with her new book called, The Fates Divide that marks the end of this fantastic duology named, Carve the Mark. Up in the galaxy of stars and lives, two major planets are at war, and the fates of two teenagers who also happen to be in ...

KELLY!!! I need you. You there? Ok. I'm about to have a Veronica Roth rant and I figured you'd enjoy it.I am so disappointed. More than most fans were with Allegiant. Personally, I loved Allegiant, but hey to each their own. This book, however, is a different story altogether. When I read Carve the Mark I loved it! I could not get enough of Cyra and Akos. Two star-crossed lovers if ever there were. The world was a little much. I am not going ...

Not so bad conclusion to this duology (at least I think is a 2-book series) , but it lacked more structure and plot development. Character development was the greatest thing this series did and it's minor characters but the plot suffered and it felt like the main plot for the second book (lazmet "Cyra's dad ) was barely used or given any depth , therefore the whole book suffered. The three stars rating comes from the main characters develop...

The fates divide 3.75⭐The first book was more political which is why i wasnt a fan but this book (after having the world and political details already formed) was alot better. I love the friendships and how each character has their own personality and attitude that shines through so clearly without having to directly say it but how they say it. I like that they needed to ration and fight through the days it was realistic for a dystopian. If you...

First off I need to start by saying that I like(d) the first book a lot. I rated it 4 stars. I placed it in the "ilovethissomuch" list that I use to recommend to my real-life friends. I freaked out mentally whenever I saw someone holding a Veronica Roth book in their hands, Carve The Mark or not. I know a good number of people who don't like this series at all, but I do (did), so much. So you can imagine how much it hurts for me to say that...

I felt that this series over all was very disappointing. At the end of Carve the Mark, our main duo found themselves struggling to find out where they fit after the massive events that took place. And also struggling with their feelings for one another and what that means for their fates. Now as Cyra begins to take her place as leader of the Shotet people, she must face the fact that her father may be alive and ready to start war. Meanwhile, Akos...

FIVE ⭐⭐⭐⭐⭐THIS BOOKYOU GUYS- THIS BOOKWAS ONE EMOTIONAL ROLLERCOASTER! I cannot believe how much I loved it! Akos and Cyra will forever be in my heart! Their love was intense and unbreakable. It knew no boundaries and held no judgement. They were so accepting and loving it made me want to cry! I won't spoil anything but all I'm saying is this is a MUST!!! LOVED IT! FIVE ⭐️⭐️⭐️⭐️⭐️THIS BOOKYOU GUYS- THIS BOOKWAS ON...

3,5* ten konec to celkem zachránil a bavil mě. Postavy a prostředí jsou super, stejně jako v jedničce, ale hrozně dlooooouho trvá než se to rozjede... Bohužel. Čáry života považuju za zdařilejší než jejich pokračování, ALE nebyla to žádná tragédie, spíš lehké zklamání. Napsané je to poutavě, čtivě a Veronica Roth si umí hrát se zdánlivě nepodstatnými detaily.

No spoilers in this review of The Fates Divide. I give it 3 stars. Unlike many readers, I enjoyed Carve the Mark, the first book in this series. Even though the subject matter was much different than Roth's Divergent series, I saw similarities as far as how both series progressed. They started off with a bang—a promising story with some mysteries about which I was dying to know the answers—but in the end, Roth couldn't quite deliver.This ...

what a brilliant series.i know, i know. i'm in the minority group who actually thinks this duology was utterly amazing. but i don't care, i really do.this is a story about origin, resilience, hope, strength, identity, family. it made me think a lot about xenophobia and preconceptions we gather along in life."But right now I'm standing among people who lost something. Friends, family. (...) How can I think that these people are any differe...

3.5 stelle Un bel continua e finale, l'ho divorato in due giorni! Non posso parlare molto della trama, ma la storia riprende più o meno nel momento in cui si interrompe il volume precedente. Mi è piaciuto come le cose si sono evolute e concluse, anche se ho sentito come se qualche questione non fosse stata spiegata al meglio e alcune domande lasciate senza risposta.I personaggi sono stati la mia parte preferita, perché mi sono piaciuti moltiss...

3.5 ster. Op sommige momenten kon het verhaal mij niet bekoren, terwijl sommige stukken juist fantastisch waren. Recensie lees je hier: https://nerdygeekyfanboy.com/recensie...

This is a strong 3.5 stars. I just can't justify bumping it to a 4. It was a bit too slow in my opinion, and I don't feel like there was enough development to this world for my tastes. A bit too much going on and none of it detailed much. I think a few less tensions and those in here more detailed would have brought this book to a higher rating.

Though I gave them the same rating, I preferred this book to the first one. I was expecting more from the climax it wasn't as intense as I expected, but still was good.I really liked all of the characters, I ship Akos & Cyra so much.Akos makes really bad life decisions for the majority of this novel TBH.Pacing was good.Ending was beautiful and didn't murder me the way I expected it to.But really Akos, get it together!

El Destino los hizo conocer. Y ahora los va a dividir. Uno no puede oponerse a su propio destino. Sería tonto, además de inútil, porque no puedes ir contra algo inevitable. Akos Kereseth y Cyra Noavek son muy conscientes de esto, y sin embargo, desde el momento en que su destino se ha hecho público, se encuentran balanceados entre la aceptación de su destino y el deseo de probar lo imposible y cambiarlo. Después de haber sido preso y de hab...