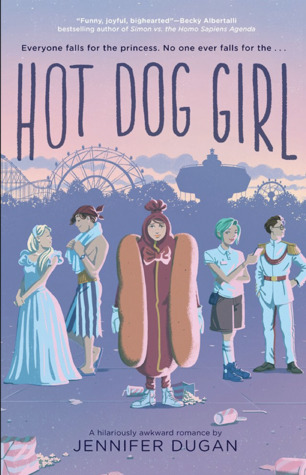 Elouise (Lou) Parker is determined to have the absolute best, most impossibly epic summer of her life. There are just a few things standing in her way: * She's landed a job at Magic Castle Playland . . . as a giant dancing hot dog. * Her crush, the dreamy Diving Pirate Nick, already has a girlfriend, who is literally the Princess of the park. But Lou's never liked anyone, guy or otherwise, this much before, and now she wants a chance at her own h...
---
Reviews Hot Dog Girl
4 starsI CALLED IT FROM THE BEGINNING JUST LETTING YOU KNOWalso I got a bit teary in the climax brb

I am in LOVE!I was incredibly lucky to get to read an early copy of Jennifer Dugan's HOT DOG GIRL, and seriously, I just finished and my cheeks hurt from smiling. Elouise, in all her hot-dog-suited glory, is a fantastically complex character, stumbling through the high hopes, confused crushes, and ill-advised schemes of what she intends to be The Best Summer Ever with a gracelessness that's utterly endearing because it's also incredibly real. Dug...

There is so much I love about HOT DOG GIRL -- I never wanted to put it down, and when I had to I couldn't wait to pick it back up. Elouise's voice jumps off the page, I want Seeley to be my best friend, and the relationship between Lou & her dad meant so much to me. HOT DOG GIRL delivers the perfect combination of humor & heart and is basically the f/f romcom of my dreams -- this one should be on everyone's 2019 TBR!!

Voicey, original, and filled with humor and heart, this is a fantastic debut. I was lucky to be an early reader on this novel. Bi girls, cute diving pirate boys, princesses, and a summer amusement park never fail to entertain. Highly recommended!

Oh gosh, will a girl in a hot dog suit grab your heart and stomp on it. This is a lovely rom-com that is light and undeniably fun, but simmering under the surface is Lou's incredible ache that comes out in her ill-timed and poorly managed hi-jinks. I was enraged by her cluelessness, filled with motherly love about the missing woman in her life, and wiping tears from my eyes when she mucks everything all up time and again because she's hiding the ...

(OMG, I just won a signed ARC on twitter. I may explode.)1. Thank you so much to Jennifer Dugan for the signed ARC! 2. This was the cutest book to involve a girl in a hot dog suit ever. 3. Everything was adorable and lovely and Nick was great and Seeley was the best and Elouise was so darn wonderful. I LOVE EVERYONE IN THIS BAR.And yes, I am 100% going to reread this very soon. 5 stars, 10/10 would recommend, heart eyes forever.

Our main character Elouise was kind of a hot mess but she is also so sweet and funny. I loved following these characters as they get sucked into her schemes. As far as the romance, it was pretty clear early on who was endgame. But the whole process of getting there was just so cute! I was smiling throughout the book. Elouise and Seely are BFF goals, Nick is adorkable, and the run-down amusement park was the perfect setting. This is such a feel-go...

This has to be one of the most disappointing books I've read this year. I've had Hot Dog Girl on my radar for months. It seems like the perfect package: cute contemporary romance, beautiful cover and a f/f relationship. Unfortunately, it's a bit of a mess.This is a debut novel, so I was a bit forgiving about the writing, but it does read as a younger book. The writing, sentence structure, and vocabulary are simplistic. You'll fly through this boo...

ARC kindly provided by the publisher in exchange for an honest review. The cheesy, loosely based on Clueless, f/f rom-com I never knew I always wanted. Review to come!

*I received a copy of this book from the publisher, this does not affect my review.*Okay, I ADORED this! To start, Elouise was a bit of a disaster, but she's also bisexual so what do we really expect from her?!?! She turns it around though. I absolutely fell in love with Seeley and Nick too. And Elouise's dad?! Omg he rivals the dad from The Way You Make Me Feel as best fictional dad, like for real! I honestly think you're better off going into t...

This book deserves 5 stars purely because it made me happy. I loved the characters and all of their dynamics and the story and everything else about this book.

This book! Funny, sweet, fun, (set in a THEME PARK, hi, the best setting ever). I dare you to read this without cracking up laughing every couple of pages. This is one of the voiciest books I've read in recent years! Lou is hilarious, and charismatic, and totally relatable. Is she manipulative? Yup! And I kind of love that about her? It's so real. Why should it only be the pure, selfless, thoughtful, wise people who get their own stories? In Hot ...

I'm very disappointed in this book.The setting, the premise, the costumes, they all had such good things going for them.On top of that, LGBTQIA+ characters are prevalent and I am HERE. FOR. IT.But, most of the plot the protagonist is a whiny, manipulative person who doesn't care for anyone else's feelings and does whatever she wants.She meddles in relationships, she says a lot of backhanded comments to her father and her best friend, and she care...

"Oh noes, I have to dress up as a hot dog all summer long.""Wow that one guy is so gorgeous.""But I'm a hot dog!""Hot guy alert.""Hot dog!""Guy"There are probably readers for this book, but I found the story to be too choppy and I didn't sympathize with the main character (or know much about her, other than HOT DOG).

What a fun, heartfelt, and hilarious debut! Jennifer Dugan's HOT DOG GIRL is a rom com, a coming-of-age story, and a friendship story all in one, full of deeply realistic teenagers navigating love, loss, and everything in between. The setting is well-drawn and the characters are achingly authentic. Teenage readers and crossover fans will relish (ha!) narrator Lou's wit and energy while also enjoying her genuine growth as a friend, daughter, and y...

E ARC from EdelweissI wanted to love this one, but it's just more high school than middle grade. It makes sense, since the main character is going into her senior year, but the cover seems more middle grade. I like the idea of a small theme park on the verge of closing, and there was some very well integrated LGBTQ+ characters (the story wasn't about their orientation, which is always good to see), but the romances were all more angsty and fraugh...

I don't think there are enough words in the english language to explain how much I love this book!! It is just pure cuteness and cupcakes and summer fun. I feel like this is the To All The Boys I've Loved Before for queer people but with a few more hot dog suits. You get to see different side of what could have been stereo typical characters, they're really fleshed out into real people. The main character, Elle, is one of my favorites, she knows ...