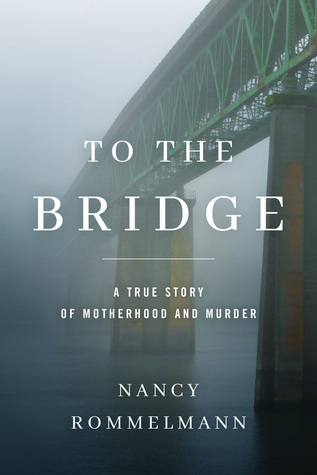 The case was closed, but for journalist Nancy Rommelmann, the mystery remained: What made a mother want to murder her own children? On May 23, 2009, Amanda Stott-Smith drove to the middle of the Sellwood Bridge in Portland, Oregon, and dropped her two children into the Willamette River. Forty minutes later, rescuers found the body of four-year-old Eldon. Miraculously, his seven-year-old sister, Trinity, was saved. As the public cried out for bloo...
---
Reviews To the Bridge
**Mild spoilers since it's a true story and the outcome is public knowledge.**Seven-year-old Trinity and her three-year-old brother Eldon's mother Amanda threw them off a ninety-foot bridge. Trinity's cries alerted near by residents who rescued her. Eldon did not survive. Amanda later plead guilty to aggravated murder and aggravated attempted murder to avoid the death penalty.Journalist Nancy Rommelmann attempts to deconstruct what caused A...

I rarely read "true crime" because so often the stories end up as cheesy Lifetime movies or Hollywood clunkers starring Harrison Ford in a moment of lèse majesté. The other problem I found in the few I sampled was the overt sensationalism from first to last, reminiscent of the National Enquirer headlines.But that was then, and now I decided to try true crime again. I admit I had no particular interest in discovering why the subject of this ...

Waste of Ink & PaperThere's not much in this book you can't find doing some Googling on the Internet. Heavy on reruns of already published information and devoid of anything new except for the author's opinions and a few quotes from the son of the murderer at the very end of the book. She pretty much glides right on past the two central issues of the story: domestic violence and related meth/drug abuse.I've read true crime books for over 30 years...

TO THE BRIDGE is stunning in its compassion and unrelenting reporting of what led Amanda Stott-Smith to drop her two young children from the Sellwood Bridge, killing her four-year-old son and seriously injuring her daughter, who miraculously survived. I noticed that author Nick Flynn blurbs TO THE BRIDGE, placing the work alongside two highly impactful books, "In Cold Blood" and "Executioner's Song." The Mailer is remarkable in its toxi...

A well-written book on an unspeakably sad crime...the events leading up to the night a mother threw her children off a bridge. This book is a thorough, evenhanded investigation into the destructive marriage and separation of a couple suffering from addiction and sociopathy, and the murder and devastation suffered by their children and families.

This was my Kindle First (or whatever they call it these days) choice for June. It's not often a true-crime book makes that list so I was delighted. I made a great choice. It's a fascinating tale and not one I'd heard of before. Many other cases that are similar were alluded to but I knew of them. (As an aside, I was pleased to see Mikal Gilmore referenced as I never see anyone mention his great book).It's rare I feel a jot of sympathy for the cr...

This was a book I got for free as part of Amazon Prime's "free book" of the month. (I think this program is called Kindle First.) These books can be hit and miss. Sometimes you get a real gem, but often the books aren't so good. Unfortunately, that was the case with this book.The book is about a case in Portland, Oregon where a mother dropped her two children off of a bridge in the middle of the night. One child survived ... the other drowned. Th...

A difficult book - that is necessaryMany true crime books have an element of adventure to them. A mobster rises in the ranks, a serial killer is hunted by a detective.To the Bridge by Nancy Rommelmann is not one of those books. There is no joy, no thrill, no happy ending.I am reminded by Koba the Dread by Martin Amis - the biography of Stalin. There is no nobility in the tale, and all the reader does is root for someone to come along and prevent ...

I would give this book a 3.5. I did find it interesting, but I felt the author went into too much details about things that had nothing to do with the story, but rather with the author's own life. Despite that, there was a lot to like about this book. I felt that she described the lives of all involved. I really liked when she explained about sociopaths. She also explored a little about how society reacts to this kind of crime differently when ...

I picked this up wanting to try to understand how any mother could want to kill her children. After reading this I am still wondering how. It's a detailed account of the life and struggles of the mother and father and provides various perspectives of the situation but the heart of the matter is never quite resolved or understood. Guess that's real life.

Riveting ReadingA psychological analysis of an incomprehensible crime. This book seeks to go beyond the superficial knee jerk reaction to find the answer to "why".

well written, well researched, well worth 4 stars.

I think the problem with true crime is often that reality just can't compare with fantasy. Stories don't come together neatly, as they do in fiction. The endings aren't what we want. There is often a sense of lingering unfulfillment, and questions that are never answered. I have read most of Amazon's First Reads true crime novels, and none have ever gripped me so much as this one. The story that was slowly revealed was profoundly disturbing, shoc...

A compassionate reappraisal of the years leading up to Amanda Stott-Smith driving to the middle of the Sellwood Bridge in Portland, Oregon, in 2009 and dropping her two children into the Willamette River. The author doesn't try to paint a villain but instead understand what has led a mother to this point in her life. This book is certainly handling difficult topics but an extremely interesting character study of both Amanda and her husband Jaso...

This book is heavy. It is dealing with the darkness of a mother killing her child(ren). It also tries to explain how she got to that level of despair. The writing is thoughtful and without too much condemnation. Rommelmann is working through it all with the reader.

Well WrittenThe author did a good job telling this story. Sometimes true crime stories can get a bit boring with transcripts and trial testimony. This book flowed nicely. Unfortunately, this is a sad story about so many messed up people. Amanda is where she deserves to be "prison". I do believe she has some form of mental illness but she knew right from wrong. Not like in the case of Yates, who is severely mentally ill. The thing that really make...

Another person who got this through Amazon's First Reads.What's good:- Occasional compelling narrative of the the toxic relationship between the couple and account of the crime and rescue.What's not so good: - Unfortunately too much. The author just places herself throughout the story. The word I is on each page, and she plants herself into every interview and every place. She's not part of the story, has no relationship to the crime, nor the par...

Disappointingly underwhelming.Sadly the structure of this book didn't work for me.We started pretty quickly with the crime revelation, then seemed to be struggling to fill in the following chapters. I found it was back and forth from friend to family member account to first person and back, quite confusing!I began skim reading before the middle (never a good sign!) and gave up completely at 60% - easier to google it! I couldn't see any inform...

This was a really well-done look at a horrible, tragic, probably preventable, almost unimaginable situation. Felt a lot like a long New Yorker piece (and that is a compliment). Before I read this book, I could not imagine killing anyone other than for reasons of defense of myself or others. After having read this book, I'm more firmly convinced than ever that there is true evil in this world of ours, and I am just thankful that it hasn't decided ...

This is a very dark look at marriage, motherhood, and murder through the case of a mother who threw her children over a bridge. A difficult read at times but also a compelling one that explores some very important issues that arose during and after the case of Amanda Stott-Smith in 2009. Although I did find some issues with the structure of the novel, they were easily overcome as I really appreciated the content and exploration of the complex iss...

If you are looking for an average true crime book that lays out the facts and nothing but the facts, do not read this book. But if on the other hand you want to know why a young mother would throw her children off a bridge in the middle of the night and leave them to drown, then pick up this book. Rommelmann lived this story for many years, and this is evident in how she tells it. With compassion yes, but also with a sharp eye that refuses to tur...

An interesting, if slightly rambling, in-depth true story about the life and history of a woman, Amanda Stott-Smith, who threw two of her children off a bridge, as well as the history of a toxic marriage, family interaction or lack thereof. What I appreciated was the journalist's desire to see beyond the easy label of a monster mother.

This is not my type of story at all but it was a kindle first read and I needed to read a book for my reading on true crime so I gave it a try. This book is short but it was not easy to get through. First of all it just made me sad that people like this exist in the world. Amanda had many problems and had an abusive husband but this in no way excuses what she did. Especially in this day an age when their is so much support and so much recognition...

I was really looking forward to this book, but really unimpressed. I felt the author routinely inserted their opinion as fact. I understand that the author was taking us through a process she went through in order to determine who might be to blame for Amanda's actions, but her back and forth blame of maybe it was Jason's fault, maybe it was Amanda's got old quickly. Especially because of the depths she was going to diagnose their relationship. A...

To the Bridge attempts to answer that we all have about mothers that kill their children. Why? How could a mother do this unfathomable act? I think the majority of us accept that the mother must be insane to do that but still questions linger. Where was the dad, her family, her friends? Could anyone have seen this coming? Could anyone have stopped this from happening?Nancy Rommelmann presents a compelling case that there was plenty of warning sig...

To The Bridge is part true-crie, part haunting psychological exploration of the question: What led Amanda Stott-Smith to throw her two young children over the Sellwood Bridge in Portland, OR in 2009?This book is thought-provoking and, despite it's dark content, a quick, compelling read. I thought at times it could have been edited differently because some of the tangents made it really hard to follow - though Rommelman does the concrete, interloc...

Way too focused on the authorAuthor spends too much time telling her story. Often speculates over doing research. Relies on popular books over scientific articles a little too much.

This was my Kindle First Reads choice for June. After recently reading "I'll Be Gone In The Dark" by Michelle McNamara, my mind was in a "true crime" mode and I thought this would be an interesting read. I don't remember hearing the news reports about Amanda Stott-Smith throwing her two children off of a bridge in Oregon. But apparently, in 2009, she did. Her 4 year-old son, Eldon, died, but her daughter, Trinity, survived. Amanda ends up pleadin...

I found this an excellent but sorrowful read. It's the story of a young woman with three children who ultimately ends up throwing two of them off a river bridge in Oregon. How did this young mother get to this point? Could she have been driven there by other issues or people in her life? Was her ex-husband a factor? How much responsibility could she alone bear?Many people on Goodreads have been critical of the slowness with which the book unfolds...