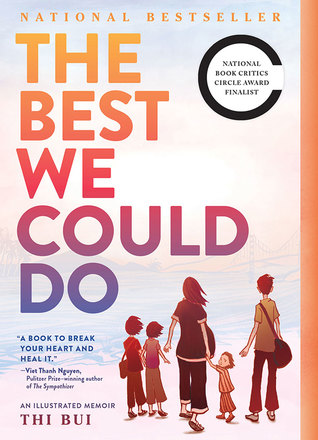 Now in paperback, revised and expanded to include an illustrated conversation between Thi Bui and Viet Thanh Nguyen, and an illustrated timeline.The Best We Could Do, the debut graphic novel memoir by Thi Bui, is an intimate look at one family's journey from their war-torn Vietnam to their new lives in America. Exploring the anguish of immigration and the lasting effects that displacement has on a child and her family, Bui documents the story of ...
---
Details The Best We Could Do
Reviews The Best We Could Do
This book is featured on Throwback Thursday @ https://readrantrockandroll.com/2018/...I picked this up from Netgalley as soon as I learned about it. I love reading graphic novels and this one piqued my interest after reading the blurb. I had already read A Different Pond with my kids and loved that one, so I had a good feeling about The Best We Could Do. This is an extremely moving graphic novel about a family's immigration from Vietnam and how...

I still remember how I felt the first time I read the graphic memoir "Can't We Talk About Something More Pleasant", by Roz Chast. I wanted the world to read it... I laughed. I cried. I laughed and cried at the same time! And by the way.... I felt it should be required reading for anyone who had aging parents! Both my parents were dead - and I still got value 'as' a mother: not wanting to leave my own daughters a mess to deal with after I die. Roz...

The Best We Could Do brings to life author Thi Bui's search for a better future while longing for a simpler past. This beautifully illustrated and emotional story explores the anguish of immigration and the lasting effects that displacement has on a child and her family.Alternating between the present, Bui's own childhood in California, and the lives of her parents amid the chaos of the Vietnam War, Bui explores the saga of her country while t...

Empathetic, honest, and emotional. A gorgeously illustrated memoir of a woman who looks to the past to understand her parents and her complicated relationship with them. In 1978, Thi Bui's parents fled South Vietnam with three young children and one on the way. The Best We Could Do tells the story of them growing up in Vietnam, raising a family in the midst of the Vietnam War, their harrowing nighttime escape by boat, and the difficulties of star...

A heartfelt, engaging, comprehensive illustrated memoir, The Best We Could Do really blew me away. I do not gravitate towards graphic novels as a format, but this book completely hooked me from the opening panels as Thi Bui embarks on her own journey of motherhood for the first time, and seeks to close the gap between herself and her parents by better understanding where she comes from and their own stories. She does incredible amounts of researc...

I read this graphic memoir in one sitting and found it affecting as a story and lovely to look at. It's a story that is familiar, the desire to understand the past of one's parents, and in becoming a parent, finding yourself in a better place to do so. Her parents divorced, but to help her understand the past, and tell the tale, they came together to help her. She did lots of secondary research in addition to talking with her parents.And since it...

3.5 starsI really liked the art and I definitely learned a lot about Vietnam's history.However it's a memoir. And, unfortunately, like with many memoirs, I often felt the author didn't dig deep enough or was reluctant to tell the whole truth (probably to, understandably, not hurt her parents). For all author's anger against her parents, she never quite articulated why she felt it. The narrative also was often unclear about certain events, especia...

Totally cried while reading this. <3 <3See me talk about this briefly in my May wrap up: https://youtu.be/ymb11Zcb248?t=23m51s

Such an important and empathetic graphic memoir about Thi Bui's journey to understand her Vietnamese family and their immigration to the United States from South Vietnam. The Best We Could Do begins with Bui's foray into motherhood and how it reminds her of her mother's story and sacrifices. To cultivate a deeper comprehension of her family's past, she interviews her parents, travels back to Vietnam, and spends tons of time learning about the his...

This was a great autobiography graphic novel. The author talked about her parents leaving war-torn Vietnam and moving to the USA. This also shared the daughter's story of growing up an immigrant and very poor.This is definitely worth a read!

Reading Women Challenge 20185. A graphic novel or memoirNot sure what I was expecting when I picked this one up to read each night before going to sleep. As someone who reads comics and graphic novels for academic research purposes, I thought that not much can surprise me, hence me naively thinking this will be a light read. Yet The Best We Could Do broke my heart in more ways than it mended it. And I am happy with that!Bui's visually stunnin...

Well done graphic novel by a woman who came to the US with her family as Vietnamese refugees after the fall of Saigon. Thi Bui reconstructs her parents' paths from their childhoods to where/who they are now, and muses on how their respective pasts have shaped her own life.Interesting and beautifully illustrated. I especially loved everything having to do with her father. Just.....for some reason, it did not resonate with me or emotionally engage ...

💭Pre-reading thoughts:This sounds like an emotional journey, involving Vietnamese history which it's something I really want to know more of.

Passada toda uma pré-adolescência a ver filmes americanos sobre o Vietname, que mostravam os bons americanos e as suas façanhas e todo o seu altruísmo heróico contra os maus, os "vietcongues", sempre prontos a matar e a fazer explodir os indefesos e os soldados ("The Deer Hunter", (1978), "Apocalypse Now" (1979), "Missing in Action" (1984), "Rambo" (1985), "Platoon" (1986), "Good Morning Vietnam" (1987), "Full Metal...

Thi Bui fled Vietnam in 1978 with her mother, father and 3 siblings when she was a young girl. Now an adult with a child of her own, she is worried she will pass on to her son the pain and sadness of her parents from a lifetime of war, abandonment, poverty and dislocation. This is a poignant and powerful story of one family's immigration told beautifully through Thi's illustrations. Having just written "beautifully", that word does not su...

I enjoyed this graphic-memoir of Thi Bui's family - their lives in Vietnam, coming to America, and how becoming a mother has made her think differently about her parents and their decisions. Sometimes the non linear nature made it hard to follow but I usually found my way.

**I received this book for free through Goodreads First Reads.**I can finally check Graphic Novel off my never-have-I-ever-read list. This was a gorgeous read. The artwork was phenomenal and it brought the story to life right before my eyes. What an amazing idea, to document your family history by using two forms of media to maximize on the personal touch. I'm racking my brain trying to think of anything that bothered me about this book and I a...

The Best We Could Do features artwork so beautiful and story so intimate that I couldn't put it down. Thi Bui takes the reader along for a journey as she explores her family history and her relationships with her parents. The story is told in a relatable manner, it's poignant and it's easy to connect to (at least it was to me).The story revolves around a Vietnamese family that escapes the war and immigrates to the US in the 70s. It depicts the st...

This ranks up with the graphic bio Persepolis: The Story of a Childhood which sets a high bar for this genre.Americans to not always recognize that each immigrant has a back story. Many are survival stories like this one. This is a quick powerful read.

I read this book in one sitting (breathless, emotionally turned inside-out) and you should too.Bui's family is different from mine in many ways, but I still experienced a sense of recognition on every page, as if her family life had been stitched together from patchwork pieces of mine, or vice versa. It's Thi Bui's truth, but I think it's a lot of other people's truth, too -- I won't use the word "universal," which I mistrust, but it has a sense ...

This was beautiful, empathetic, harrowing at times, and incredibly brave. Thi Bui, in recounting the lives of her parents and their parents throughout Vietnam's tumultuous history, presents a fresh, new voice in the realm of Vietnamese-American non-fiction. Everyone should read this.

Prachtige en aangrijpende familiekroniek over een Vietnamese bootvluchtelinge. Sterke grafiek, originele vertelstijl.

كتاب رائع، صادق، سحريوالجميل فيه انه كوميك، والاجمل من كل ما سبق انه سيرة ذاتيةيحكي الكتاب قصة ثلاثة اجيال من فيتنام عاشروا الحروب منذ الحرب العالمية الثانية مروراً بالثورة الشيوعية وتقسيم فيتنام حتى حرب امريكاخمس نجمات دون تردد

This is not just a book, this is an experience.This graphic memoir details the author's family's life, both in Vietnam itself as well as their eventual escape to the US during the war.It is a very personal piece of work, that delves not only in her family history but also explains how that history has shaped her entire family, particularly her parents, in the present.It deals with the topic of immigration, of how growing up in two cultures with v...

Thi Bui's "The Best We Could Do" made me cry thinking of my parents, and the endless sacrifices they made as immigrants raising a family in America, and everything that's going on in our country today, It has to be one of the toughest decisions my parents had to make, leaving everything behind, and moving to an unknown, foreign country. All immigrants and child of immigrants know those "ugly" teenager phases we went through, we were s...

This graphic novel-memoir was so honestly written, I could feel the author herself growing and learning in the process of both the story and the storytelling. It was very interesting to learn more about Vietnam history, especially from a specific and personal point of view, and compare it to what I have learnt about it in school and in the media. There were lots of intense emotions behind the story too, mostly coming from Thi herself, that I coul...

The Best We Could Do is a wonderful illustrated memoir that covers the author's experience as an immigrant to the U.S. from Vietnam as well as her parents' experiences of war while they were still living in Vietnam. I read this back in March 2017 and wish I had reviewed it sooner so I could be more detailed here, but I learned a lot from this book and thought it was beautiful and affecting. I read an ARC of this and some of the art was unfinished...

A lovely story of a Vietnamese family. Through their story, we also get a look at the history of the country up until shortly after the fall of Saigon when they fled the country to the US. Through her parents' stories, Bui comes to understand her own childhood growing up in America better. The artwork is lush and moving--it's hard to believe that this is her first graphic novel. Autobiography and biography proliferate on the GN shelves, but this ...

UAU! 4,5A capa de O melhor que podíamos fazer já tinha me conquistado antes mesmo de eu saber qual era a história. Nessa HQ, Thi Bui conta a história de sua família, principalmente seu relacionamento com os pais, que são imigrantes do Vietnã e foram para os EUA quando ela ainda era criança. Eles cresceram no período com a maior tensão política, violência e conflitos da história do país; Thi Bui criou uma narrativa não linear com um...