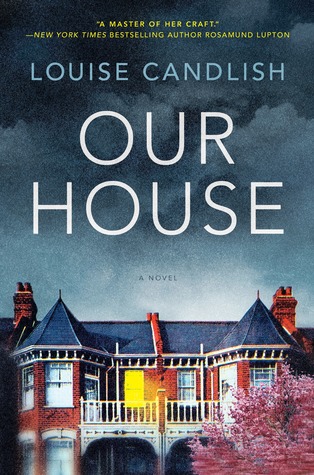 On a bright January morning in the London suburbs, a family moves into the house they've just bought in Trinity Avenue. Nothing strange about that. Except it is your house. And you didn't sell it. When Fiona Lawson comes home to find strangers moving into her house, she's sure there's been a mistake. She and her estranged husband, Bram, have a modern co-parenting arrangement: bird's nest custody, where each parent spends a few nights a wee...
---
Details Our House
Title
Our House
ISBN

9780451489111

Author

Louise Candlish

Release Date
Aug 7th, 2018
Publisher

Berkley

Language

English

Genre

Thriller

,

Mystery

,

Fiction

,

Mystery Thriller

,

Suspense

,

Contemporary

,

Psychological Thriller

,

Adult Fiction

,

Adult

,

Did Not Finish

Rating
Reviews Our House
**4.5 STARS** Fiona ( Fi ) Lawson lives in a very desirable London suburb, and she always gets a warm tingly feeling when she enters her street. However, on this particular beautiful winter's day she spots a removal van outside her house - but it can't possibly be her house, the house a few doors down has been on the market, it must be that one. As she reaches her house, the realisation that someone is moving their furniture in, their personal po...

FAB-U-LOUS!!! I absolutely LOVED "our house" by Louise Candlish - I couldn't put it down, couldn't stop thinking about it - it was truly addictive, compelling and hypnotic. It was by far the best psychological thriller I've read for quite a while and I expect it to do extremely well in the bestsellers chart. A family moves into the house they've just bought in Trinity Avenue. Nothing strange about that. Except it is your house. And you didn't...

I'm going to keep this one short and sweet, because I've found I don't have much to say that hasn't been said already. This wasn't a bad read; the cover is inviting, the premise is brilliant, and there was even a nice twist thrown in, so I did enjoy this overall. My main issue was that the middle portion of the story felt bogged down. It could just be that I was in a funk when I picked this up and needed something a little more fast paced for the...

Fiona Lawson comes home to discover that there are other people moving into her home, taken aback she confronts the people moving in. When they insist that they have bought the house and now legally own it Fiona tries to get in contact with her husband Bram. Though Bram and Fiona are separated they have been maintaining a custody arrangement that allows one of them to stay with the children in the house on different days through out the week whil...

"Property is organized robbery." (George Bernard Shaw)Fiona Lawson eyes a moving van parked in the street in front of her upscale home. Shockingly, she watches a sofa being carried into her own house with many additional pieces being transported like a strange furniture caravan. This can't be happening. She enters into her once familiar surroundings only to find strangers staring back at her. Arguing with these people serves up no results. She ma...

3.75 Stars (rounded up)Imagine walking down your street to find someone else moving into your home. The problem? You haven't put it on the market! Yeah, that has just happened to Fiona Lawson. Fiona's terrifying discovery gets even worse when she tries and fails to get a hold of her estranged husband, Bram, only to find that his phone has been shut off and that he's MIA. What on earth is going on here? Is any of this for real? Getting to th...

Man, I wanted to love this book more. I was hooked after the first chapter, and I could feel the tension jumping off the page.I thought it was a brilliant premise. Fiona pulls up to her house to find a moving van parked out front and strangers moving in! Just the thought of that is enough to make my heart race. Fiona will tell her story through a crime podcast and her husband, Bram tells his side through a typed word document. I really did enjoy ...

I had so many mixed feelings about this book and they changed as the book went on. Here's how I felt:I loved the premise, coming home to find someone else already moved into your house! Not very believable but I was good with it. Speaking with the people who are moving in and then eventually realizing it wasn't just a mix up. No spoilers here.This is at least the second book that I've read where parts were written as though they are on a po...

Our House by Louise Candlish is a novel of domestic suspense that is told in a rather creative way. The point of view in the story switches back and forth between the couple in question, Fiona and Abraham or Fi and Bram as they are more commonly known. This is done by Fi telling her side as a podcast complete with comments from the peanut gallery as I liked to refer to them or better known as the random internet viewers and then Bram's side is to...

I REALLY wanted to love this one because let's just talk about THAT cover. OH my goodness... in love with it!What a fantastic premise to this story... Fiona arrives home and finds a moving truck and strangers moving into her home?! YIKES... talk about anxiety attack 101 lol.So, unfortunately this thriller fell extremely flat for me. UGH.... man I thought I was drowning half way through towards the end... I had to skim.... and skim... I was pretty...

There is nothing that I love more than a good noir read and Our House, by Louise Candlish, is domestic noir at its finest.Fiona "Fi," arrives home from a trip to find her house is being occupied by a new couple and her kids are missing! Immediately one would think the worst – home invasion, kidnapping…. but no, this couple claims to have purchased Fi's home from Fi and her husband, Bram. After this foundation is laid, the book continues...

3.5 starsAbsolutely loved the concept for this one, a woman arrives at her house to find all of her stuff gone and a couple has moved in. The story goes back and forth between the wife who has no idea what is going on and her estranged husband who might be keeping a secret or two.While I liked the idea of the book it was not an "edge of my seat, stay up until 2 am to finish" type of read. It was definitely a solid read but I wish it could have be...

Fiona (Fi) Lawson thought the worst thing to happen to her was her husband Bram's infidelity and their subsequent separation. But that's not the worst he will do to her as she discovers when she arrives home to find strangers in the process of moving into her house, the one she and Bram bought and then lovingly renovated all the while feeling smug about the rise in property prices in their exclusive suburb. Now Bram has disappeared and Fi is unab...

It takes getting to the very end of Our House to understand its cleverness, but it is clever. Very clever. And creepy. But without any violence. Our House tells the alternating stories of Bram and Fiona. They are separated, but continue to share the house in which they parent their two sons. Until Fiona comes home one day when it is her turn to live in the house, and new owners are moving in. What follows are Bram and Fiona's alternating versio...

TWO STARSI would never (in a million years) call this book a thriller. Is there a genre that crosses chick-lit with light domestic suspense? That's the word I'm searching for here. If you enjoy a light read with a little mystery OUR HOUSE is the book for you. Also, I would point you to any of the Mary Kubica or B.A. Paris novels. But for me? I'm always looking for dark, dangerous and truly suspenseful plot lines. I love layered characters with pe...

Our house by Louise Candlish was a dark disturbing story about secrets, lies, deception and fraud. Fi and her husband Bram are separated and have joint custody of their two young boys. After a trip away Fi comes home to see people moving into her house. Fi confronts these people and has been told that they are the new owners. Fi's nightmare is just beginning as she tries to track down Bram and find out what has happen to all their belongings. Thi...

You can read this and all of my reviews at Lit·Wit·Wine·Dine.If you've been monitoring my tweets (and why wouldn't you be?) you've seen that I started fangirling over Our House the moment I started it. I don't really do the fangirl gushing thing very well or very often but I've found some difficulty in restraining myself with this book. I will do my best to maintain some level of coherency in an effort to convey to you, as best I can...

This is definite 5 stars but I need to get my thoughts together on what just happened at the end!!! Holy cow!!!!! UPDATE - This book was just the best!!!!!!!!!!!!!!!!!!!!! Everyone else at Goodreads has said what I was going to say and there really isn't anything else to add so I will leave it at that! It's unlike anything I have read before. From the beginning of the book, to the podcasts (with live tweets) and emails, to the ending. Its a great...

4.5/5 stars for this fresh, addictive suspense novel! OUR HOUSE was exactly what I hoped it would be: an inventive take on domestic suspense with creative storytelling techniques and an all-around binge-worthy plot. Loved it, and highly recommend it for readers looking for a fun "popcorn read" this summer! Find my full review here: http://crimebythebook.com/blog/2018/6...

Seriously I couldn't hardly put this book down and thank you to Penguin Random House for the ARC. Fiona Lawson returns home from a romantic weekend with her boyfriend to find people moving into her house. Once she enters and begins to discuss the situation she can hardly understand or comprehend what is happening or why.Fiona's soon to be ex, Bram is missing and along with it the mystery of the house. Fiona is certain he has been kidnapped or...

Our House was a solid 4 star book for me. A unique story that centers around Fi and her estranged husband Bram. Fi comes home one day to find people moving into her beautiful home- being told that they bought it legally for 2 million dollars. Bram is missing, leaving Fi to figure out what exactly is going on. No spoilers here but this book is chock-full of surprises, including deceit and fraud. Highly recommend to readers that enjoy mystery thril...

You haven't sold your house... So why on earth has another family moved in? Surely your soon to be ex husband with whom you share the house and co-parent your two children using a 'birds-nest' arrangement might know what is going on, if only you could get a hold of him! Where is he and where has he taken your children?This is the predicament Fiona finds herself in, as we get to read from her perspective via a podcast for The Victim, where women s...

OUR HOUSE by bestselling author, Louise Candlish, acclaimed author of eleven previous novels, including THE SWIMMING POOL and THE SUDDEN DEPARTURE OF THE FRASERS is an outstanding psychological thriller."a disturbing and addictive novel of domestic suspense where secrets kept hidden from spouses cause shocking surprises that hit home..."When Fiona Lawson comes home to find strangers moving into her house, she's sure there's been a mistake. Sh...

4.5 starsOur House is a standout in the heavily saturated genre of domestic suspense. The story was captivating and contained some fun, unexpected twists and turns. The story starts off strong and doesn't slow down until the very last page. The ending deserves a special mention – it was fabulous and bumped my rating up to 4.5 stars.My biggest quibble with this genre is that to craft a story that works most of the characters involved are highl...

This was a CLEVER novel of domestic suspense!! Bram has cheated on Fiona. AGAIN. She cannot forgive him a second time, but she does want stability for her two young sons, so she proposes a bird's nest custody agreement, where the boys stay in the family home, while Fiona and Bram, take turns living there with them. It seems to be working until Fiona arrives at the home one day, and sees another family moving in. How could this be happening? And...

I'm a big fan of Louise Candlish! Her intricately detailed and well written family dramas are always breathtakingly dark and full of relatable domestic dilemmas. As soon as I read the blurb for this one I knew that I HAD TO READ IT! It's such a fascinating and intriguing idea for a novel that one day you come home to find someone new moving into your house but you don't know them and you certainly haven't sold it to them!Our House has one...

I had high expectations for this novel from the start and was hoping it would live up to them... and I needn't have worried because I hugely enjoyed this novel!Our House is actually less 'thriller' than I thought it would be, but this wasn't a negative; it concentrated more on excellent character development and interactions, plus it added in some great twists to keep things interesting! There wasn't actually a huge amount of mystery about the pl...

4.5 StarsFiona Lawson has found her husband, Bram, cheating ... again. With two small children in the home who idolize their Daddy, she and Bram come up with a way to separate without upsetting the kids. The kids will stay in their beautiful home ... Fiona will live there during the week and Bram will live there on the weekends.She goes to the house to take over the care of the kids and as she draws nearer, she sees a large moving van. Oh, she th...

Fantastic story of betrayal and suspense! The was a solid 5 ⭐book for me until the ending. Now the ending wasn't bad, just very inconclusive! I realize some readers enjoy contemplating and then completing the story line themselves and that's fine. But I was really invested in these characters and needed to know for certain the outcome. Of course any book that invokes such strong feelings is a winner!I strongly recommend Our House to all mys...

I adore the way Louise Candlish writes. She plots superbly with beautifully done twists of character and events and is one of the Queen's of domestic noir as far as I am concerned.Our House was slightly less of a hit for me than her previous novels have been hence the slightly lower personal rating but that shouldn't detract from the pure talent at work her - it is a comparative thing really - I just lost the usual believable edge that I normally...