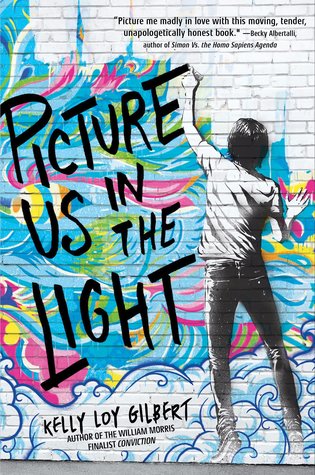 Danny Cheng has always known his parents have secrets. But when he discovers a taped-up box in his father's closet filled with old letters and a file on a powerful Silicon Valley family, he realizes there's much more to his family's past than he ever imagined.Danny has been an artist for as long as he can remember and it seems his path is set, with a scholarship to RISD and his family's blessing to pursue the career he's always dreamed of. Still,...
---
Details Picture Us in the Light
Title
Picture Us in the Light
ISBN

9781484726020

Author

Kelly Loy Gilbert

Release Date
Apr 10th, 2018
Publisher

Disney-Hyperion

Language

English

Genre

Young Adult

,

Contemporary

,

Lgbt

,

Fiction

Rating
Reviews Picture Us in the Light
I'm between 3.5 and 4 stars, rounded up because I'm a big softie.Boy, there is a lot going on in this book! There was a period of time where I really wasn't sure what Kelly Loy Gilbert wanted the crux of the story to be, but in the end, this was a lovely, emotional book about the complexity of our relationships with family and friends, the destructive nature of secrets, and how self-acceptance can set your demons to rest.Danny Cheng has dreamed o...

This beautifully written- sensitive - Young Adult novel - exploring very real confusing & painful themes - takes place right here in Silicon Valley- in the heart of the SF Bay Area. Daniel, a high school student -talented artist was just accepted to his dream Art College on the other side of the country... so ready to bolt Cupertino- leave his SAT-studying-AP-4.8 GPA- Asian community. He's one of these top students - Welcome to Cupertino!!! ......

Thanks to NetGalley for an advanced ebook in exchange for an honest review 2 eyebrow raising stars This is a real tough one because the content of the story tackles serious issues, such as, suicide, sexuality, and the pressure on young people to live up to their parent's expectations (especially when, like Danny, you are the only child of immigrants) something which I believe many people-young and old could certainly connect with but I felt it a...

He looks unruffled. Why did it feel like a lightning bolt to me, then?If I had to describe this book in one word, it would be this: disconnected. It's well-written, with thoughtful characters, but it pulls you all over the place. At one point I thought it was exploring the grief of losing a friend, and then it was the grief of losing a family member, and then it was exploring the struggles of moving away from home and friends, dealing with figh...

This book exceeded every expectation that I had for it.To set the scene; I was at the bookstore about to buy a different book, when my friend picked up this one. She read the blurb and thought that it sounded interesting, and since our Queen Becky Albertalli endorsed it, she figured that I should give it a shot. I was hesitant, as I'd never heard of this book and wanted to read another one more. My friend persisted, and wore me down by saying "re...

If I were to describe Picture Us in the Light in one word it might be "complex." Or maybe "squishy." "Beautiful." Human.I have a bad (?) habit of not fully reading synopsis before picking up a book. Really, I don't need to when it comes to Kelly and her books. Conviction is easily one of the books you'll ever read so there was exactly zero chance I wouldn't love this.I sit here, a week after finishing, unable to read anything el...

Picture Us in the Light by Kelly Loy Gilbert is a beautiful book that tackles many tough issues. There are multiple themes throughout the story that will open your eyes and rip your heart out at the same time. The writing is compelling and beautiful making this one of my favourite reads so far this year.Full review on The Candid Cover

This is not going to appeal to every reader. I already know that for a fact. It's the kind of story that reads slower than most of my usual fare, and it's heavy - heavy in the sense that so many issues are raised in the story. But I ended up being unable to tear myself away from the story, and watching it unfold was excruciating but also compelling.

PICTURE US IN THE LIGHT, like THUNDERHEAD, is a book I will shoving down everyone's throats for the rest of the year my life. I was initially drawn in by the beautiful cover and then I was captivated from the first page and finished in my usual fashion: crying uncontrollably into my teddy bear and pillow.So, #sorrynotsorry for name-dropping this book up the wazoo…because I will not rest until everyone has read this beautiful book and we can a...

Actual rating: 3.5 stars rated down.--What I LikedThe mystery. Sure, the synopsis gives a hint at a bit of a mystery that is contained within this novel, however, I didn't think it would play such a huge part in this story. I think that this mystery was one of the main reasons I felt the need to continue reading, even when the story started to drag a little (which I'll talk more about a little later). I wanted to know the secrets that Danny's par...

Picture Us in the Light by Kelly Loy Gilbert is out today!!! For fans of YA contemporary fiction this is absolutely a must-read. This is easily one of the best books I've read this year and one that I will happily be foisting upon everyone I know.When it comes to contemporary fiction, I love both the super swoony romantic contemporaries and the gorgeously written, emotionally evocative ones. Picture Us in the Light certainly falls into the latter...

Starting this one tonight for a blog tour I will be participating in on May 7th, I've heard such wonderful things about this book that's been flying under the radar. I LIVE for those stories about family, friendships, futures, and the complexities of love. Our POC main character is Gay and is struggling with telling his best friend he has feelings for him. I'm hoping Danny Cheng is my new fave MC...The Blog tour has kicked off to a start over at ...

(Disclaimer: I received this free book from Netgalley. This has not impacted my review which is unbiased and honest.)This book has taken all words away from me. I finished it sobbing and days later I don't think I can even do justice to the beauty of this book. After this book I needed the biggest of all hugs. Picture Us in the Light is wonderful. It has skyrocketed into my top contemporaries. It tackles hard topics: suicide, adoption, family, im...

This review and many more can be found on my blog: Feed Your Fiction AddictionThis is one of those books that I'll be thinking about for a long time. There was just so much substance to it, and it addressed several important topics from unique perspectives.The problem is, this is a tough book to review without spoiling things, so I'm going to be very general in my review. Trust me when I say you should just read it for yourself!What Fed My Addic...

I'm going to tell you one thing, the blurb is a brief explanation of the story, it is what happens, but the story itself is the unravelling, the why, what, when, who, where and how. When the questions were answered for me, I couldn't help but feel a deep sense of pain and loss. no matter how the story ends, it will forever be bittersweet.This book is amazing because the majority of the characters are of Asian descent. Bonus points for me (I a...

Picture Us in the LightKelly Loy GilbertRating: 3/5Note: Special thanks to Hachette Book Group for providing an ARC for review.Buddy read with Lola ReviewerThis sounded to me like a complicated LGBTQ love story and for once, I was ready for it. The summary made it seem like there'd be a lot of lovesick, forlorn and almost tragic pining our protagonist would have to go through because his crush is "in love" with a girl, who also happens to be one ...

I don't think I've read a contemporary that's so gripping and Real and nuanced and devastating yet healing in a whileCW/TWs: depression, suicide, panic attacks, adoption, human trafficking

Maybe the most perfect book ever. Just saying.

First half of the book 2 Stars. Very slow to start but interesting story overall. I definitely haven't read a story like this before about something real that is happening in China and the USA. It was interesting to see that side of it.Second half 3.5 stars. I dunno. Some parts were good but I also skipped a lot of the first half.

RTC!!!❤💕💕🔥🔥🔥🔥 RTC!!!❤️💕💕🔥🔥🔥🔥

Received advanced reader copy from publisher via Baker & Taylor book supplierDanny is a talented artist who has just been accepted to Rhode Island School of Design (RISD). His senior year should be lots of fun. Yet, as the one-year anniversary of a tragedy that shook his group of friends to the core approaches, Danny begins to uncover some secrets about his family that throws that part of his life in upheaval as well. Sometimes you must face the ...

This book is weirdly stunning? The second half just about killed me and left me wanted to re-read the whole back. It deals with so many important issues and there's so much diversity and ugh. It's just excellent. Annnnd you may be wondering why it's not a 5 star book. Simply put, the first 150 pages were slow and boring. They did a good job setting up all the characters, but it took so long to get going that not even the pretty prose could distra...

My first contemporary, and I am very pleased with it! I don't usually read contemporary, but my English teacher got an advanced copy of Picture Us In The Light and when I saw it, I was immediately drawn to it (mainly because of the gorgeous cover, but also because of the synopsis on the back). I really enjoyed this book with its diverse set of characters and heart-wrenching story line. It had me laughing, and it had me crying. Picture Us In The L...

Omg. This book deserves more than 5 stars. And I'm not just saying that. I truly mean it. This book captured my attention and held onto it throughout every word. I think I read this book at the perfect time given the current state of affairs in the states with DACA and illegal immigrants and families being torn apart. This book gave me the inside picture. It made me cry, it moved me, and it really changed the way I viewed things. It's about t...

I was so excited to read this book after reading a preview of the first few chapters. The preview had left me intrigued about Danny's parents and the secrets they held onto as if their lives depended on the truth never getting out.Gilbert did an excellent job at pacing this story and winding the mystery surrounding Danny's family into the changes and challenges he was facing with the end of his senior year fast approaching. Her easy flowing and c...