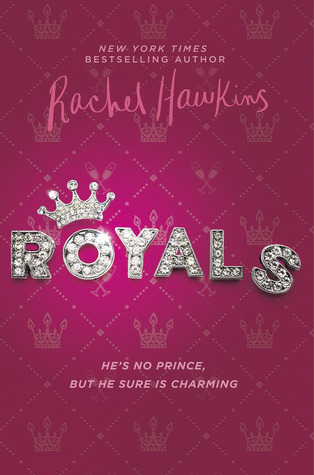 Meet Daisy Winters. She's an offbeat sixteen-year-old Floridian with mermaid-red hair; a part time job at a bootleg Walmart, and a perfect older sister who's nearly engaged to the Crown Prince of Scotland. Daisy has no desire to live in the spotlight, but relentless tabloid attention forces her to join Ellie at the relative seclusion of the castle across the pond. While the dashing young Miles has been appointed to teach Daisy the ropes of be...
---
Details Royals (Royals, #1)
Title
Royals (Royals, #1)
ISBN

9781524738235

Author

Rachel Hawkins

Release Date
May 1st, 2018
Publisher

G.P. Putnam's Sons Books for Young Readers

Language

English

Genre

Young Adult

,

Contemporary

,

Romance

Rating
Reviews Royals (Royals, #1)
4.5*ADORABLE and so, so fun!!!

Okay, listen. I didn't pick up this book expecting anything deep. I wasn't looking for some kind of, like, Paradise Lost redux or the tearful beauty of The Hate U Give or anything as nuanced and beautifully researched as The Passion of Dolssa. I picked up this book purely because I was curious: it's the first book I've seen in a very long time that's set in Scotland but written by an American author, and it's not historical. It's also not about p...

3.5 stars. Magic school, paranormal, princess story… Rachel Hawkins will write about anything and everything that comes to her mind and I love that about her. Princess stories are my thing. I don't care if they are unrealistic, as long as they make me want to become the heroine of the book and live this fantasy myself.And boy do I want to be in Daisy's shoes right now. It's not as though she is on her way to become a princess (her sister ...

Release date: May 1, 20182.5 stars. Ok so first of all, I really do like this author's other books and would normally be ALL over a book where a girl becomes famous because her sister gets engaged to a prince. I got up at a ridiculous hour and skipped school to watch the royal wedding and I absolutely love those ridiculously cheesy royal Hallmark movies. I really wasn't looking for anything serious here and just wanted a fluffy, fun read! Buuuuut...

How come most US authors never bother to learn about the countries they're writing about? This devil-may-care attitude is so fucking exhausting and I know for a fact that most US readers couldn't care less but... aren't you tired of being fed the bare minimum? Especially when the main conflict itself [medical bills] doesn't make any kind of sense in a Scotland context. Way to transfer a US issue into another country and thoroughly failing? In the...

This was a lot of fun! A little angstier than I usually enjoy but it was mega charming and I CANNOT WAIT FOR THE NEXT BOOK BC QUEER ROYAL LADIES HAVE MERCY

Thoughts while reading: 1. The premise just makes me want to watch 'Made of Honour' 2. It's been two hours and all I've done is watch 'Made of Honour'3. Daisy is making this all about her and that's selfish as heck.4. Should I pick up the Princess Diaries again?5. When's the 'Outlander' reference coming?6. *two pages later* Whoop, there it is. 7. Miles is 100% the love interest.8. Why are we pretending Seb is a love interest?9. I need a Princess ...

3 stars!!! ARC provided by the publisher via Edelweiss in exchange for an honest review Arc #2Well I thought this book was going to be difficult difficult lemon difficult but alas! It turned out to be easy peasy lemon squeezy (thank god for that)!I kind of struggled to like it in the first six chapters because I was annoyed with Daisy's relationship with her family but after that chapter I surprisingly enjoyed this book. It was a cliche young adu...

This was a cute, light read about Daisy, a teen from Florida, whose sister is engaged to a prince from Scotland. Daisy and her family travel to Scotland in advance of the wedding and drama with the paparazzi ensues, along with drama with the royal family as they attempt a cover-up. This was a fast read, had all the usual "American tourist in Scotland" tropes, and I enjoyed the characters. Please excuse typos/name misspellings. Entered on scre...

Sometimes you need a good fluffy contemporary to balance out the heavier books you read, and Royals by Rachel Hawkins fits that bill perfectly. It also comes at the perfect time just before Prince Harry marries Meghan Markle in May 2018.The book draws definitely inspiration from Prince William and Prince Harry. In the book, Daisy's sister met the prince at university just like Will and Kate and her sister is an American just like Meghan. But in t...

THIS REVIEW FOR ROYALS BY RACHEL HAWKINS WAS ORIGINALLY POSTED HEREI am trash for a royalty story, especially with the Royal Wedding approaching (when this review is posted the wedding will have already happened). I am an absolute nut about royalty, I don't know why. Well, I do, but it's literally just because my family has raised me this way. So, when I saw this book called Royals floating around on Goodreads I knew I had to pick it up. I'...

At long last, we have an heir to the Princess Diaries throne! Rachel Hawkins (whose Twitter feed, might I add, is sheer delight) has given us a modern day story about the ups and downs of being a teen . . . and what happens when those ups and downs clash with royal protocol! I shan't say any more, but if you love the Princess Diaries and/or are obsessed with the British royals (check and check for me!), this is your book.

If you are having 'Royal Withdrawal' after the most recent Royal Wedding, look no further, this book is just what the doctor has ordered as a cure.I really, really, really enjoyed this novel. It was cute, it was funny, it was sarcastic, and it was equal parts relatable and not relatable. I honestly sped through these pages and could. not. get. enough. Seriously, I wanted the sequel in my hot little hands like...yesterday. Ms. Hawkins, in the nice...

I honestly loved this book. It was a quick, easy read and that's all I was looking for. Granted, some things made me scratch my head, like the healthcare bit. You could tell it was written by an American. I'm Canadian, and it baffles me every day how much people have to pay for things in the States. I was looking up the other day how much it costs to give birth in Ontario, and from everything I've read and the people I've talked to, your biggest ...

I wanted silly fun, and was rewarded with silly fun. Warning: you will not enjoy this book unless you fully give yourself up to the silly fun of it all, ignore the selfishness of the MC, and ignore the ridiculousness of a 'Scottish monarchy'.The last 100 pages really stood out for me, and it took until there, I think, to really get into the groove. The opening is pretty episodic, and the writing can be repetitive, but the end? Oh! There's finally...

the royal family doesn't deserve rights but this book doesRep: wlw and mlm side characters

Super fast and light. A great summer read or something by the pool side to get your mind off things and just enjoy the day. Everything was solid, though not a ton of depth to make you stop and gasp. It was hilarious and if your a fan of Scotland but know absolutely anything about the UK you'll love it. If you are are acquainted with the Uk you might be completely put off by the cultural rewrite?!?! Like def not accurate And that can be super of...

This is one of those books that you lovingly roll your eyes and groan over but can't deny that you stayed up until 4am reading.It was...interesting, reading this as a British person. The idea of a modern-day Scottish monarchy would ordinarily open up an entire can of worms of intricate, tangled alternate history, but let's be real, nobody picked up this book expecting that. So we let the whole Scottish-monarchy-thing slide. Even then, it's very o...

It's sort of ridiculous how enamoured I am with this book but BOY AM I IN LOVE WITH IT. there's like one scene I absolutely hated which I'll write about in my review that none of y'all will see until like March of 2018 or some shit, but yeah. Hence the 4 stars. But this was so cute! So fun! I love Royal romances man.

It was cute, but I really wish the romance had been developed a bit more. \_(ツ)_/ It was cute, but I really wish the romance had been developed a bit more. ¯\_(ツ)_/¯

Well, this was cute. And not much else.I enjoy Hawkin's writing style. It's fun and sweet, and really entertaining. It was the reason that I loved Rebel Belle all those years ago. But, this was no Rebel Belle. The story, as expected, follows usual YA romance fashion. The story was pretty straightforward: small town girl, thrown into a big city, this time with the added bonus of being thrown into a royal family. You know, the usual. Sadly, p...

This was a guilty pleasure read, especially with the royal wedding just happening, I was really in a ROYAL mood.If you're looking for a quick and cutesy read, you've found it!This story is about Daisy, an innocent teen from Florida who just happens to have a sister that gets engaged to the Prince of Scotland and heir to the throne. Daisy lives a pretty normal life but that all gets uprooted when some tabloids start spewing gossip about her which ...

Such a fun read!The initial build up was a little on the slower side but 20% in, I was game!I'm surprised by how much I enjoyed reading this book... Filled with witty, sarcastic comebacks, weird kinda geeky moments... A super fun, hilarious book. Loved it!

Royals by Rachel Hawkins was high on my list of books to read this month, and I was really excited to finally start it. Most of the books on my TBR for this month are about royals and weddings, and that is mostly because of the Royal Wedding that is taking place in a few weeks, which I'm pretty excited about. (How often do you get to see a Royal Wedding?) So, in anticipation of the big event, I'm binge reading all the books on royals and weddings...

I was so looking forward to this read because Hawkins' voice via her lady protagonists is totally my jam and her books are always a good time.. and in the end ROYALS was everything I wanted it to be. Aren't royals supposed to be all closed off and dead inside? Isn't emotion embarrassingly common? Why do I now have to join a three-way hug with my sister and her fiancé?A different take on the royalty trope, we have Daisy who is younger sister to E...

3.5 StarsThis was so much adorably fluffy goodness. And of course there is excellent humor and flirty banter as you would expect from a Rachel Hawkins book. We follow Daisy Winters as her life changes thanks to her sister, Ellie's royal engagement to Prince Alex. I really liked Daisy, she's hilarious and doesn't really have a filter. Which makes for a lot of entertainment in a buttoned-up environment. I loved meeting all the royal family me...