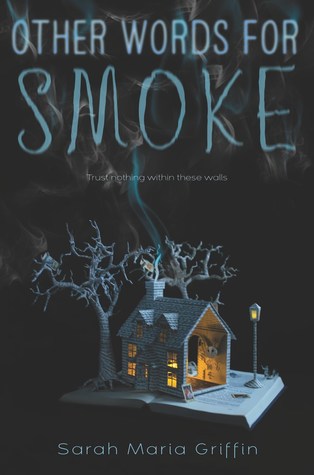 When the house at the end of the lane burned down, none of the townspeople knew what happened. A tragedy, they called it. Poor Rita Frost and her ward, Bevan, lost to the flames. Only Mae and Rossa, Rita's niece and nephew, know what happened that fateful summer.Only they know about the owl in the wall, the uncanny cat, the dark powers that devour love and fear. Only they know about the trials of loving someone who longs for power, for freedom,...
---
Details Other Words for Smoke
Title
Other Words for Smoke
ISBN

9780062408938

Author

Sarah Maria Griffin

Release Date
Mar 12th, 2019
Publisher

Greenwillow Books

Language

English

Genre

Fantasy

,

Young Adult

,

Paranormal

,

Horror

Rating
Reviews Other Words for Smoke
Yet another mindblowing novel from one of Ireland's most promising voices. Sarah really outdoes herself in this one. I'd loved her previous work and was highly anticipating this novel, so my expectations were set high from the get-go, yet it felt like they were somehow exceeded despite that. At the core of it all, this is a novel about power, love, fear and the marks our actions leave onto the world, all interwoven with complex threads of family ...

An interesting tale filled with magic, betrayal and the lengths people will go to get what they want. "Other Words for Smoke" creates a twisted fairy tale like story when a set of twins are sent to live with their Aunt for the summer and upon their arrival they find that things are not quite what they seem with a game in progress between two forces with everyone who crosses the threshold becoming the unwilling participants. This book creates ...

(Gifted) Blog Post: https://museofnyxmares.wordpress.com/...Instagram: https://www.instagram.com/museofnyxma...*I was provided with a copy by the publisher in exchange for my honest opinion.This was without a doubt one of the most unique books that I've ever read. There are just certain special books that manage to create an atmosphere when they are read, that surround you and submerge you deeper into the story, and this was definitely one of t...

I started this book with absolutely no idea what it was about. And that, I think, is the very best way. I'm not going to give you a brief outline because that would mean you go into it with expectations, just trust me when I say that the writing is strong and lyrical, the story rich and diverse and enchanting.It had a very Gaiman-esque feel to me with layers of magical realism pulsing through the narrative. I loved all of the characters, which is...

"It won't. It'll get huge, for a while. It'll walk around your veins and your stomach. You might even feel it in your rib cage, or your heart, like the songs say. But eventually it'll get smaller and smaller and will run out of steam, until it's a tiny thing that you barely remember. It'll get replaced by other loves." I came close to DNFing at least 40 times whilst reading this book. Don't get me wrong, Other Words for Smoke is beautifully writ...

"A girl handing it all over to the beasts. Maybe she wanted freedom, too, or maybe something else, something bigger. She was a house for the monsters, herself."Because of the prose in this story, which is beautiful and heavily florid, this story can sometime seem like it drags. But because if the prose, it also has a sense of the liminal: it transgresses the border between reality, and magic.This is a really beautiful story, and sometimes I l...

Three and a half stars for this inventive take on practicing witches. For fans of Alice Hoffman who can handle writing that's a little more grit and a little less whimsical, Other Words For Smoke presents a coming of age tale that makes you question everyone's motives. While the story follows our protagonists for a few years, a lot of the character development is left to the reader's imagination. Despite this, the creative mysterious elemen...

Friends. Ladies. Gals and pals. Do you like reading stories about sapphic girls? Can I interest you in some lightly-drawn but still absolutely heartrending allegories about the history of women's rights (or previous lack thereof) in Ireland? How about some WITCHCRAFT, and the most deliciously spooky vibes of any book I've read in months, if not years? THEN DO I HAVE A REC FOR YOU!!!Other Words For Smoke begins at the end, with the prologue taking...

Thank you so much to Titan Books for sending me a free copy of this book to review. This does not affect my opinion of the book or the content of my review. I've just this minute finished reading this book and I'm at a loss for how to review it but I'm going to give it a go. At the heart of this book is a story about love, obsession, manipulation, fear and betrayal.This books follows Mae and her twin brother Rossa over two summers who go and stay...

We've been blessed with another fantastic book by Sarah Maria Griffin! There is honestly so much to love about this book. I could rave on and on about it for a long time. It's so atmospheric and has such a strong voice. The characters are so palpably real. Even though the book is about a haunted house and magic and witches, the bits that shine the strongest are how real the characters are. You can really feel their fears, anxieties, desires, leap...

At its core, this book is a story of love and fear, magic and betrayal. When twins Mae and Rossa spend a summer at their great aunt Rita's, they unknowingly become pawns in a game being played by two powerful forces. I found Other Words For Smoke a strange yet totally compelling read. I was hooked from the beginning and barely put it down. The haunted house aspect gave it a chilling air that kept you captivated throughout and the characters wer...

I can think of books to compare this to, but seriously this amazing work of YA wordsmithing is unique. Part Haunted House, part coming of age, the tale goes from 14 year old twins coping with the slow falling apart of their parents marriage to the menace of a house possessed by ancient powers in the blink of an eye. Every character is carrying some kind of heartache, from needing to belong, to first love (or crush or lust), of their previously st...

I received an ARC from the publisher in exchange for an honest review. Thank you kindly to Titan Books for my proof.I absolutely adore witchy books. Some of my favourites include Toil & Trouble edited by Tess Sharpe and Jessica Spotswood, Wild Beauty by the talented Anna-Marie McLemore, The Spellbook of Lost & Found (also Irish YA lit) by Moïra Fowley-Doyle, and the Wicked Deep by Shea Earnshaw. Other Words For Smoke has cemented itself amongst ...

I received this book from Titan Press in exchange for an honest review.Mae and Rossa are staying with their Great-Aunt Rita and her teenage ward Bevan for a whole summer, and neither of them know what to expect - until they get there and realise that Rita and Bevan are witches and a talking cat lives in the house as well as an evil entity called Sweet James who takes the form of a terrifying owl.This is a really interesting tale with subtle magic...

I'm not sure where to start with this review, it has been days since I finished reading this book and I've yet to pick up another. I'm generally what I would consider to be quite a slow reader but I read this in about a day and a half, every time I put it down it beckoned me back. This is also the first book not written by a Japanese author that gave me the same magical and thought-provoking feelings as reading Japanese authors does, I was ...

This is a hard book to review, because while I liked and enjoyed it, I can't really go into depth about what it's about because honestly I don't really understand.This is what I know:- Two kids go to stay with a relative - There is an evil owl in the wall who feeds off hate; he is called Sweet James and he's not sweet in the slightest- There's a magical talking cat - Witchcraft and witcheryThe POVs in this book were a little confusing f...

Although I really enjoyed the characters in this, I found that the world was too bitty. We only got small fragments and I didn't really feel immersed in it - just confused by the small sections that were chosen. Still great plot building throughout and well written.

This is even better than Sarah Maria Griffin's debut Spare and Found Parts. I thoroughly enjoyed it from the outset, couldn't put it down and so finished it in one evening. It's one to be devoured and one that you want to read again the minute you put it down. A rare gem. I think you'd like it if you like witchcraft, worlds that don't behave as they should and stories that are told artfully, not all in date order. I enjoyed the different narrator...

"A summer is a bright wound that splits the year open like a hinge and leaves you exposed for who you really are, in the heat and pause and stretch of it. A summer is an agreement whereby something happens between people, between us. Something changes, something comes alive, only to die by winter. You will know it when it comes, you will be sure of it when it is gone."Part magic realism, part coming of age story, part horror story. It deals w...

"James. What an ordinary name for a terrible thing.."Other Words For Smoke by Sarah Maria Griffin is about Mae and her brother Rossa who spent two of the strangest summers of their lives with their great-aunt Rita. Nothing in her house was as it seemed: a cat who was more than a cat, and a dark power called Sweet James that lurked behind the wallpaper, enthralling Rita's ward, Bevan, with whispers of magic and escape. In the summer heat, Mae ...

This is not my usual genre, but I really enjoyed this book for its creativity. Griffin comes up with fantastical elements that seem random and bizarre at first, but all work together in building a world adjacent to our world. The sentences are even lovelier than her last book! I loved how the strands of the novel came together to reinforce Ireland's history of containment of women and their sexuality, and its consequences. And, this may be becaus...

Gripping, haunting, enchanting prose. I was totally taken in by this tale - fans of Helen Oyeyemi would love it. This is the only novel I've ever read that infused the use of Tarot in a way that really landed, and made sense from a practitioner's perspective. Highly recommend, especially for the witchy readers among us!

Thank you to Titan Books for sending me a free copy of this book for review and including me in the blog tour on Instagram!I absolutely flew through this book! It only took me a couple of sittings to finish it because I just couldn't put it down. The story was beautifully weird and wonderful, and like nothing I'd ever read before. Magical realism always captivates me and leaves me wanting more. I loved reading about witches, yet the setting also ...

An amazing novel that mixes coming of age, magic and Ireland's social history and attitudes to women. Strongly recommended Full review - https://www.runalongtheshelves.net/bl...

Beautiful. Terrifying. https://blogendorff.com/2019/04/18/bo...