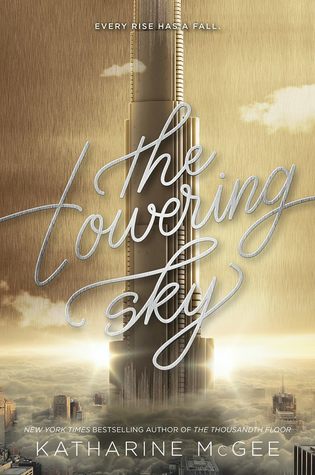 Welcome back to New York, 2119. A skyscraper city, fueled by impossible dreams, where the lives of five teenagers have become intertwined in ways that no one could have imagined.Leda just wants to move on from what happened in Dubai. Until a new investigation forces her to seek help—from the person she's spent all year trying to forget.Rylin is back in her old life, reunited with an old flame. But when she starts seeing Cord again, she finds ...
---
Details The Towering Sky (The Thousandth Floor, #3)
Title
The Towering Sky (The Thousandth Floor, #3)
ISBN

9780062418678

Author

Katharine McGee

Release Date
Aug 28th, 2018
Publisher

HarperCollins

Language

English

Genre

Young Adult

,

Science Fiction

,

Dystopia

Rating
Reviews The Towering Sky (The Thousandth Floor, #3)
This was a fun trilogy. Not super deep or anything, but the perfect bit of escape reading. I might also say that it is a bit of guilty pleasure in that it is obviously not written with my demographic in mind, but I still enjoyed it immensely. I recommended this series to my wife after the first book, and she ended up finishing it before I did. Every time I started "squealing" with each gossipy reveal or cheesy hookup, I am pretty sure she was...

I LOVED THIS SERIES SO MUCH WHAT A GREAT CONCLUSION👏🏼👏🏼👏🏼

Gonna miss this drama filled worldMini Review:This was a great conclusion to an awesome trilogy. This last book was a little slow in the middle and the ending was more predictable than the first two, but I still really loved the world and all the technology. The drama filled plot was highly entertaining. The writing was also very easy to get immersed in. It almost felt like a real place with real characters. The main characters were all flawed wi...

I received a copy of this book in exchange for an honest review. The Towering Sky is the third and final instalment of futuristic teen series 'The Thousandth Floor'. Following in the same vein as the previous books, we see our privileged and beautiful narrators as they navigate the fall out of various secrets finally coming to light, mixed in with a little teen angst and drama.This instalment is really all about Avery and her relationship wit...

Me siento rara al terminar esta trilogía no logro entender que ya no tendré más de estos personajes... sin duda los extrañare a todos. Creo que fue el libro más profundo de los 3, donde más se tuvo desarrollo... Todos tuvieron el final que merecían? SI. Fue el final esperado? MMMM... cambiaría algunas cosas... pero creo que fue una gran final.Cielo Infinito es la tercera y última entrega de la serie futurista 'El Piso Mil'. Siguiendo la ...

I was satisfied with the ending, it was perfect. But I can't justify giving this book 5 stars because the book was pretty stretched out, repetitive and boring from the 20% mark to the 75% mark. I also feel like this was an opportunity to develop Brice to the fullest extent, but that opportunity wasn't used. All I know is that he is sometimes a creep and sometimes a knight in shining armour. I really loved this trilogy, and will definitely be ...

The third and final book in The Thousandth Floor trilogy by Katharine McGee. The characters (Leda, Rylin, Calliope, Watt, and Avery) are all back with an exciting conclusion to the series. Leda is the most intriguing and complex character in the book. Rylin is my favorite character, but Cord, her boyfriend, is kind of lame. Calliope still seems pointless. Watt is still too smart for his own good. Avery has major drama, and, really, deserves bette...

Reseña completa: http://elcaosliterario.blogspot.com/2...Dos años después de leer "Vértigo", llegó el momento de despedirme de esta trilogía con la lectura de "Cielo infinito", un libro que ha estado a la altura de los dos anteriores y con un final que me ha dejado bastante satisfecho.Una vez más solo puedo destacar la increíble pluma de Katharine McGee y felicitar a Raúl García Campos por el excelente trabajo que ha hecho como traducto...

I expected a lot more from this book but it did not deliver.I really enjoyed the first two books but certainly not this one. The story in this one could have ended a lot earlier but it was stretched and dragged out instead. It felt like the characters were forced to separate in the first half of the book and then brought back together. We knew their lives were intertwined to begin with so why force them to ignore that part? Don't get me wrong I...

WOW! I didn't expect that kind of ending but at the same time I'm happy it happened?? So in this final installment, I think it's the last? Dunno but it's bitterswet!, well you see the gang. Not everyone knows of the death that happened at the end in book 2. However, the police are trying to figure out who did it. I had my theories and I was so happy that my #1 suspect was it! I mean, I was still shocked and shit but really happy because m...

Actual rating 3.5/5 stars. This is the third and final instalment in The Thousandth Floor trilogy.Set in the futuristic thousand-floor skyscraper that dominates the Manhattan skyline, this follows all of the drama that comes with the territory of being one of the building's wealthy 'highliers'. The multiple perspectives means an array of stories are continually revolving around the central plot-line and they all converge in a drama-filled and exp...

5 Towering Stars!! . "Some secrets are better buried." Clapping and crying.... sad that its over!!! What a fantastic ending to this amazing addictive series. I loved this series so hard!! I don't think I could have asked for a better conclusion. I think McGee did a phenomenal job tying up all the loose ends in this finale. She kept her characters and story line just as fast paced and addictive as the first two. I will miss this world so much...

this series is amazing i'm so sad it's over

Me ha gustado aunque muchos de los capítulos de Calliope se me han hecho un poco cuesta arriba. Buena resolución final para esta trilogía.

I finally finished a book!! And it was excellent!

This book was so good! I definitely enjoyed it a lot more than the previous two books in the trilogy. I don't know why, because there was definitely as much drama as before, but I think because the story was finally coming together. Also, this ending, definitely didn't see that one coming, but I'm totally content with it!

Uggggghhhhhhhhh.Listen. NOTHING happens in this book until, let's say, 75% in. Truly. There's a lot of recapping - which, tbh, was helpful because some stuff/people I forgot - and a hell of a lot of thinking. In the second book I had started to like some of the characters and some I still liked but others... nah. Here's some specific and/or vague thoughts on each section:Leda: Despite obviously not Loving her in the first book I warmed up to her ...

EDIT: ok so i just finished it and it wasn't good lmaoWHAT NEEDS TO HAPPEN:-Leda and Watt need to have happily ever after -Atlas needs to fall from the tower in Dubai- Avery and Cord need to be together SHE DESERVES BETTER THAN ATLAS-Anddd Rylin deserves to be happy but uhh not with Cord-Calliope needs to choke and die xoxo I'm so excited for this one

Star Rating: 4.5 StarsWell.. I didn't see that coming.I f'ing love this series. I don't watch reality TV so this book is basically my bad TV. I know its rotting my brain, but I'm addicted to it.

Dit was alles wat ik me wensen kon voor dit laatste deel van de trilogie! Samen gelezen met Shannon, Suus en Odette in een hele fijne Buddyread waar we oneindig hebben gespeculeerd en gegild om alle scenes! Dit boek heeft het allemaal. Onverwachte wendingen, spanning, drama, romantiek. Perfecte afsluiter van deze heerlijke serie!

Absoluut 5 sterren waard!! Wat een ge wel dig en spannend laatste deel zeg. Ben je helemaal nog niet bekend met deze trilogie.. ga dan snel deel 1 lezen! Duizendhoog. Omg love iT So much! Zou leuk zijn als hier een serie of film van komt 😍

Okay a few things. First, this book assumes that I care about Leda way more than I actually do. This book did not convince me that Leda is a sympathetic character. She in a drug induced state killed her half-sister and then blackmailed a bunch of people to keep it. She is the worst and she should have gone to jail for it.Second, Avery. Oh boy, Avery. First, I really liked Max. He is so cute and deserved better. I hate that he was just thrown away...

A good final book but not that good to be rated with 5 stars. This book's biggest problems were repetition and lack of drama, the main reason I read this trilogy. It had some good character development but some other characters were not given enough time for the reader to learn about them and discover some depth in them. What actually saved this book was the ending. This was Avery's book. She really shined in this one and showed us her true worth...

Read the full review also on my blog Let's Geek here: https://lets-geek.blogspot.com/2018/1...The Towering Sky is the final novel in The Thousandth Floor Series and a glorious conclusion to the unique romance sci fi series. Total Rating: 9.2/10Originality: 9/10Language: 10/10Atmosphere: 10/10Characters: 9/10World building: 9/10Fun: 9/10Predictability: 9/10Believable: 9/10Relevancy: 9/10Cover: 9/10Genre: SciFi, RomanceFor You if you like: Gossip G...

4.75🌟¿Cómo puede parecerme un libro lineal y encantarme a la vez? Es el libro que más me ha gustado de la trilogía. Todos los personajes me han encantando, sobre todo Watt (nuevo crush literario aquí). Sus dos últimas decisiones han sido de lo mejor y creo que hace que Leda quiera y sea mejor persona. Rylin me ha encantado desde la primera página del primer libro, a Caliope hasta el final de este no la he soportado, es decir, hasta que ...

Heerlijk plot weer en een tof futuristisch aspect

rounding up my rating because even thought nothing really happens in this installment, im still walking away from this book (and series) with a generally positive opinion. to me, there really wasnt a plot. this was essentially a wrap of everything that happened in the first two books. no new events, no new characters. just tying together loose ends and creating a conclusion. how that managed to be 450 pages worth, i will never know. but i never r...

No sabía por donde iban a ir los tiros ya que el final del segundo libro me descolocó y no sabía por donde iba a seguir la trama. Y la verdad es que me ha parecido todo un acierto. Giros argumentales pero todo de forma coherente y una trama adictiva. Además de un buen final.