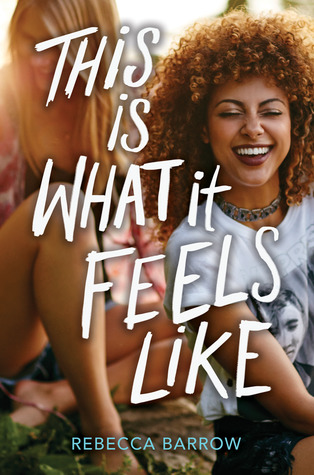 It doesn't matter what the prize for the Sun City Originals contest is this year.Who cares that's it's fifteen grand? Who cares about a gig opening for one of the greatest bands to ever play this town?Not Dia, that's for sure. Because Dia knows that without a band, she hasn't got a shot at winning Sun City. Because ever since Hanna's drinking took over her life, Dia and Jules haven't been in it. And ever since Hanna left — well, t...
---
Details This Is What It Feels Like
Title
This Is What It Feels Like
ISBN

9780062494245

Author

Rebecca Barrow

Release Date
Nov 6th, 2018
Publisher

HarperTeen

Genre

Contemporary

,

Young Adult

,

Lgbt

Rating
Reviews This Is What It Feels Like
Now Available I won this book in a Goodreads Giveaway. Special thanks to Harper Collins Publishing & Rececca Barrow. "This is what it feels like to be alive" Rebecca Barrow is Black Girl Magic and her book This Is What It Feels Like a fantastic read. I almost didn't even enter the giveaway for this book because it didn't sound like something that would interest me. A book about 3 teenage girls in a Rock Group entering a Rock Contest. I don't list...

4.25 starsThis Is What It Feels Like is a story about recovery. I have read many stories about mentally ill main characters and characters going through trauma, but I know very few stories that talk about what happens afterward. What happens when you're not an addict anymore, what happens when you finally get out of a toxic situation.Not only this is a story about recovery, it's a story about recovery in which the romance, while present, is not t...

IF Y'ALL SLEEP ON THIS I'M CANCELLING YOU BECAUSE REBECCA BARROW WRITES PERFECT BOOKS

♦ Video Review ♦This Is What It Feels Like is a really wonderful YA Contemporary, that has so many topics and issues packed into it.At the centre of the story are three girls, Hanna, Jules and Dia. The three were in a band for a long time but then two years before this story starts, a lot of things happened in their lives and they stopped making music together. The friendship between the three of them took a toll as well, although Jules and...

I had absolutely no interest in this and could not focus, which is a shame because it has the potential to be at least a 4 star read for me, but my enjoyment was maybe a 2. This is probably one of the elusive DNF books that I'll consider picking up again sometime in the future because I desperately want to like this but I don't know if the timing was off or I'm just in a rut of perpetual 2 star and under books. This is a case of it's not ...

This was such a fantastic read. I loved the focus on friendship, loved the characters and their growth thorough the book, the romantic relationships were adorable, too. Definitely recommend it!!Full review coming soon :)A million thanks to my incredible bookish fairy Laura for sending me her ARC of this book <3My Blog - Drizzle & Hurricane Books - Twitter - Bloglovin'

I loved this so so so so so much

My full review can be found on the Epilie Aspie Chick blog! Thank you to HarperCollins Publishing for providing the ARC in exchange for an honest review. Musical fame can be a real double edged sword - just look at the news. As soon as you gain popularity, it gets far too easy to become trapped into the pitfalls of alcoholism, drug addiction, and a far too inflated ago. Its this type of problem that causes our three leads Hanna, Dia, and Jules t...

This is such a fun read! Each of the main characters is incredibly well-drawn--the author was able to capture the unique personalities and struggles of each girl so well. I liked the romances in this book, but the best thing was how the friendships are the most important relationships here -- the romances are really more side plots. Not enough YA does this. I also love how Rebecca is able to take complex, heavy stuff -- death, addiction, heartbre...

To everyone sitting in their bedrooms in the 2am stillness,listening to that song that makes your heart ache.That is a good dedication.I liked this. In that way where you know you're reading a good story, but it'll never be a story/book that you completely love. It was fine, but it's not necessarily something I would recommend in a "you MUST read this now!" kind of way.I did love how the focus of the story was not on all of the bullshit the three...

Rating: 4.5 StarsThree life changing events caused their friendship to crumble, but when the opportunity of a lifetime presents itself, will Dia, Jules, and Hanna be able to overcome their past in order to forge their future?• Pro: The characters in this book were dealing with a lot of life issues. Some were small and some were LARGE, but watching them navigate these rough patches, and seeing them learn and grow was so gratifying for me. • Pr...

It's not overstating things to say that I'm obsessed with this book. Rebecca Barrow's sophomore offering has more of what we all loved about You Don't Know Me but I Know You (intense female friendships! familial Realness! queer girls of color!), dialed up with creative heartbreak, resilient dreams, and rainbow-haired swooniness. If you love girl bands, this book is for you. If you can't resist resourceful, even-keeled Mom Friends finally getting ...

This is a story of three young women who used to be inseparable. Dia, a young mother; Jules, a punk lesbian; and Hanna, ex-alcoholic, now clean. Fate (and a $15,000 prize) bring them back together, reigniting their all-girl rock band in a whole new chapter of their lives, drawing them back together. Barrow invents incredible, real lives that anyone can connect with immediately. How beautiful she makes every seemingly ordinary life. I implore any ...

This review was first published on my blog In Between Book Pages. ARC was provided by the publisher through Edelweiss.Three young women – former friends and bandmates – must put aside their difference to join a band showdown. Author Rebecca Barrow tells a story about forgiveness, rekindled friendships and of young women coming into their own in her sophomore offering, This is What it Feels Like.This is What it Feels Like was one of the first ...

I think it's pretty much common knowledge that multiple perspective novels will get me every time. But combine that with three former best friends, memories, struggles with teen motherhood and addiction? And you've got me hooked. This is the kind of book where you immediately finish it and look up everything else the author, Barrow, has ever written. There's just such a fantastic progression of story, compelling characters, and diversity that mak...

Excellent in every possible way.

Disclaimer: I received a free copy via Edelweiss for review purposes.I love friendship orientated books and this was everything I wanted. Full review to come.

An intensely felt story of friendships, families, and first loves, perfect for music lovers and fans of Sarah Nicole Smetana and Nina LaCour.

A lovely story of friendship and growth. I really loved how complex each character was. Rebecca really took the time to develop their individual storylines and weave them seamlessly into the primary thread.

Like Barrow's debut, THIS IS WHAT IT FEELS LIKE continues to showcase her incredible talent for crafting complex, imperfect, and wholly compelling female characters. And the fact that she tackles developing three distinct young women and nails each one is quite the feat. I can't even say which among Dia, Jules, and Hanna was my favorite of the band girls. They each have such unique backstories and struggles, ways in which they relate and interact...

Warnings: alcohol abuseThis is What It Feels Like is a beautiful story about lasting friendship, fighting the odds, and a deep love for music. For these three girls, music is a thing they share so deeply that it is entwined in their soul, and what brings them back together after being fractured from a fallout two years ago. For each of them, coming this far has been a challenge - whether it is to raise a kid while still in school, realize what th...

The short version of how I feel about the book and my review told through emojis: 🤔🤔🤔😱😱😱💘❤💝💓😍😍😍The long version of how I feel about the book and my review told through actual words:I have nothing but good vibes right now, and I got a lot of sleep after finishing this book. I'm so happy right now, and I'm in an excellent part of my life at the moment. This book really captured how I was feeling.Hi. Diversity, ...

I'm in love with this book. Seriously. I want it to be made into a movie so I can keep pretending that Dia, Jules, and Hanna are real. The friendships, the swoon, the music...I felt like I'd gone back in time and I was a young adult again, hanging out, working, going to shows because music (that rush!) was everything in the world.Rebecca has such a great, natural writing style and I wish I could be more articulate as I gush about this story. But ...

So much HEART!Rebecca Barrow's strength lies in how she expertly draws her characters so you feel them at their marrow. Each of the girls: Dia, Jules, and Hanna were so alive on the page, their sorrows, their pains, their joys, and triumphs burns on the page so they feel like yours.This story of friendship between girls who lost and found each other again is one that is so needed in the YA landscape. I thoroughly enjoyed the romantic subplots i...

7/20Good concept, but everything felt unnatural. The prose and plot often felt forced, and characters seemed like they were just there to further other people's plots. (Why exactly did Elliot need a perspective?) Both of the romantic interests had very little personality, and I felt no chemistry and saw no reason to care about either of the relationships. I did find myself getting invested in the characters, but I felt like the band didn't strugg...