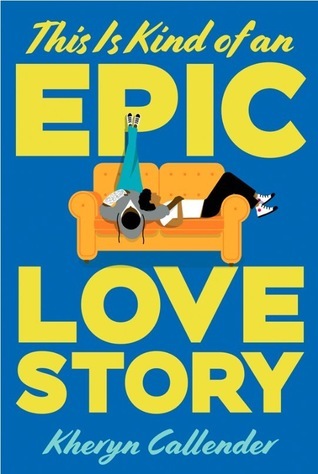 A fresh, charming rom-com perfect for fans of Simon vs. the Homo Sapiens Agenda and Boy Meets Boy about Nathan Bird, who has sworn off happy endings but is sorely tested when his former best friend, Ollie, moves back to town.Nathan Bird doesn't believe in happy endings.Although he's the ultimate film buff and an aspiring screenwriter, Nate's seen the demise of too many relationships to believe that happy endings exist in real life.Playing i...
---
Details This Is Kind of an Epic Love Story
Title
This Is Kind of an Epic Love Story
ISBN

9780062820242

Author

Kheryn Callender

Release Date
Oct 30th, 2018
Publisher

Balzer + Bray

Language

English

Genre

Lgbt

,

Contemporary

,

Young Adult

,

Romance

Rating
Reviews This Is Kind of an Epic Love Story
Official blurb: This is Kind of an Epic Love Story is a bighearted rom-com that belongs on the big screen. This hilarious and breathless love story of two boys on the path to their happy ending beyond lives up to its title.SUPPORT THIS BOOK!!!!

When I saw this book pop up on my feed a couple weeks ago, I was instantly intrigued. Friends-to-lovers? Diverse characters and representation? An epic love story? Sign me up for that please. It's safe to say that I was thrilled when I came across this book on Edelweiss and was approved for the ARC.This definitely seemed like it had tons of potential, but unfortunately, I was left slightly disappointed. The concept sounded much better than it en...

Want to see more bookish things from me? Check out my Youtube channel: https://www.youtube.com/channel/UCfer...*I received this copy in exchange for my honest review!*3.5/5 Stars After his best friend, now ex-girlfriend Flo breaks up with him, 16-year old Nathan shies away from relationships in order to avoid further heartbreak. His childhood best friend Oliver James Hernandez, who he hasn't seen in 5 years, moves back to his old house across the...

Okay so let's break this down because I have some things to say. I really liked the idea of this book. I did. But I think that's where I draw the line. I liked that this book was very diverse, I mean it had a black bisexual MC with a deaf love interest! But I feel like the characters were very flat. They really didn't have back stories, and they didn't have much going on for them. They just didn't wow me and make me love them. The story...

This was so sweet, adorable, precious, and cute. I was so invested in Nate, and was rooting for him and Oliver James. Full review to follow. *ARC provided in exchange for an honest review. BLOG | INSTAGRAM |TWITTER | BLOGLOVIN | FRIEND ME ON GOODREADS

3.5*Super cute. Super diverse. A ton of queer rep. Deaf rep.Nate was loveable and frustrating all rolled into a ball. He kind of lets his friends walk all over him because he's afraid of hurting anyone's feelings(Flo can piss right the hell off. She fully takes advantage of him and his love for her the whole fucking book). He's also scared of heartbreak, so you know that can make him kind of an asshole towards Ollie. Ollie who is adorable Like I ...

This was really really cuttte!!!!!1. Our MC is black and bi and his love interest is deaf and this is A DIVERSE READ AND I LOVED THE SWEET DIVERSITY. So much good stuff????2. The MC takes time to learn ASL so he can talk to his boyyyy and this was beautiful 💕3. The friendships are given as much attention as the love story, particularly the MC's friendship with his ex, who is his best friend4. The love story is best friends to lovers, w his c...

I'm kind of conflicted by the recent influx of queer YA books, because while it's amazing that these stories are becoming normalized, sometimes you get one like this which is just fine as a story but feels like it wouldn't be substantive enough to be published if it wasn't about two boys. I hate to be this critical but when you read as many YA books as I do you start to need more.

I thought this was really cute!! Definitely fits in with the comparisons for fans of Becky Albertalli.

I'm not really a fan of book titles like this one, the ones that promise you AMAZINGNESS within the book's pages. I also find this one impossible to remember. (THIS IS AN EPIC KIND OF LOVE STORY, THIS IS AN EPIC LOVE STORY KIND OF) Actually, This Is an Epic Love Story Kind Of probably would have worked better for me personally.See, the issue is that, if you say EPIC LOVE STORY, I expect an epic love story. I'm expecting Logan and Veronica epic. F...

This book was super cute. It had its problems (side characters mostly) but overall, adorbs.(You can tell it's a quick, fun read considering I had time to devour it during SDCC)

Think Dawson's Creek but gayer, and without the nostalgia that makes it enjoyable.

This book is so awesome. More coherent notes to come... might bump up to 5..

This book was adorable...I know that I will have more to say on this book later, but for now my thoughts are all over the place. Loved this story, loved the characters!! Longer RTC!Thanks to HarperCollins for the ARC!

I really liked the idea of this book, but it never really landed for me. There didn't really seem to be any real tension in this book. It was just a little too perfect. Everyone got what they wanted in the end, Oliver forgave Nate, Ashley and Gideon ended up together, Nate and Flo stayed friends and Nate's mom let him go to the writing program and learned how to let go. I can get that maybe it was meant to be modeled after HEA movies, since that ...

I don't think I've ever read a book that actually describes what signs are being used so that was a really nice bonus. This has so many feels.

I was lucky enough to receive an ARC from HarperCollins. This has in no way influenced my review.This book seemed to be right up my alley. A contemporary novel featuring two queer boys of color? Sounds great! Yet I found myself reading this only for the sake of reading... not because I genuinely wanted to find out what happened next. The story and writing felt really repetitive to me after a while and the writing style felt a bit juvenile. This w...

⭐⭐⭐⭐⭐i won a arc of this book at bookcon this year and im so excited to be able to write this spoiler free (i think lol) review[I don't really know what's worse: living without love so that you don't get hurt, or getting hurt repeatedly in an attempt to find it.]THIS IS AN EPIC KIND OF LOVE STORY was amazing. it encapsulates everything from friendships to family, academia and messiness and complexities that come with feelings and ...

I'm not sure how Balzer + Bray operates, but what ever they're doing over there I hope it continues for eternity. I've never had a publisher release so many of my favorite books, but they've done it again with This is Kind of an Epic Love story.The plot goes like this: Nate is just getting out of a relationship with his best friend Florance. The two are trying to find the middle of friendship and ex-partners which becomes extremely sticky once yo...

This was fun, but frustratingly boring. It was a quick, light read, and I appreciated the diverse teen cast. I also loved that this was a story about a bi boy (not super common in YA!), and the ways that queerness was such a natural part of his group of friends. My favorite thing about the novel were the bits were Nate was struggling with his feelings for more than one person--that felt very authentic. I liked that he was messy and wasn't always ...

This was such a fun, enjoyable, and memorable read, one that will no doubt make it to my top 5 reads of 2018. I read it in less than 2 days and I absolutely adored the story, the writing style, the pacing, the overall plot, and obviously, I have nothing negative to say about this book. Full review to come, but for now, here's a short blurb:"Kheryn Callender's YA debut novel, This Is Kind of an Epic Love Story, is a novel about accepting oneself, ...

This is the kind of contemporary book I always know I'm going to love. Cynical grump meets sunny Labrador of a person and they FALL IN LOVE. But this has the added element of the two of them having been best friends when they were younger, then one of them moving away and all sorts of complicated stuff between them. I loved Bird and Oliver James, they are so sweet. But I mostly loved how messy every relationship was in this book. Nate did not hav...

I received this book for free from the publisher in exchange for an honest review. I enjoyed the amount of diversity the author attempted to put into the book but I felt as though the characters fell a bit short some times. I loved the character of Oliver James, but I felt as though he deserved better than the main character, Bird, who was constantly sabotaging their relationship. Callender made it clear why, but I often felt like they could have...

I honestly and truly loved this book. Although at times I wanted to strangle Nate, he is one of the most relatable characters I have ever read. There were times when I found myself crying in frustration because I feel the same way he feels about happiness, heartbreak, and happy endings. I read Callender's other book, Hurricane Child, and he became an instant favorite author, so I knew I had to read this one. After reading it, I honestly feel like...

What I love about this rom-com is that not one part of it was about coming out or even tries to put on any labels for the characters' sexualities. It's the queerest thing ever. And it feels like a love letter to QPOC, whose love stories rarely get told in a happy rom-com manner. While I related a lot to Nate's pessimism when it came to relationships and I could see where he was coming from, I still got weary of it at one point and was extremely g...