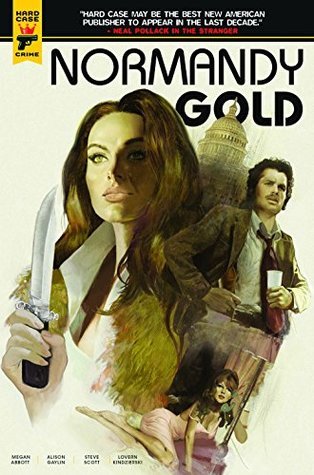 Sex, violence and corruption collide in this gritty vigilante thriller set in 1970s Washington DC. When her younger sister is found at the center of a brutal murder investigation, tough-as-nails Sheriff Normandy Gold is forced to dive headfirst into the seedy world of 1970s prostitution and soon discovers a twisted conspiracy leading right to the White House.
---
Reviews Normandy Gold
Normandy Gold is a small town sheriff who is thrust into the violent underbelly of crime in 1970's Washington DC following an ill-fated telephone call from her younger sister. The call, strange in itself, given Normandy and Lila hadn't spoken in while, gets a whole lot stranger when Normandy overhears her sister become involved in a violent confrontation with a man. The only clue echoing on the ghostly end of the line; the name Sel. The dead sile...

Very good for what it was. Almost a revenge noir comic in the vein of 70s cinema. Raunchy and filled with sex and violence. Just like the movies. And the storyline was interesting too. I enjoyed it. I'm a fan of Megan Abbott and have found her novels with teenage protagonist really good, perhaps I need to delve into more of her hardcore crime.

Megan Abbott and Alison Gaylin team-up for the Hard Case Crime series' first graphic novel, Normandy Gold. A love-letter to 70's thrillers, this six-issue miniseries reads just like you'd expect -- hard hitting, hard drinking, and completely over the top. In short, it's a blast...if you're in the right frame of mind for it. When her stripper sister goes missing, Normandy Gold heads to D.C. to find out what really happened. What she finds is a vor...

70's fashion... not really a fan. The lingerie is hot, though, and also the gratuitous nudity. Yes, there is plenty of nudity in this comic. Also sexism. And the main character carries a huge Rambo knife that is definitely not regulation. What's not to like? The story is a spy thriller with a dubious and somewhat unsatisfying ending.Normandy's sister Lila, short for Delilah, disappears after servicing a client. She worked at a high-class brothel ...

Normandy Gold By Megan Abbott & Alison GaylinArtwork by Steve Scott & Rodney Ramos 2018Titan Comics/ Hard Case Crime Comic1970s, Washington D.C.Sheriff Normandy Gold is seeking vengeance for the brutal murder of her sister, Lila. She learns Lila was a prostitute, working for Felicia Vane whose biggest customers are in politics.....Gold finds herself in the middle of a 1970s prostitution ring that can be followed all the way to the White House.The...

There's a saying about being at a significant disadvantage: "He/she brought a knife to a gun fight." Well, Normandy actually does bring a knife to a gunfight, and proceeds to slaughter anyone she chooses, gun-toting or not. Here's her justification for being judge, jury and executioner of her foes:"Creatures, you must respect them. Slaughter them without pain for they mean no harm. Humans, though—we're all living on borrowed time. And...

Kind of disappointing. The story was a cliche-filled mix of any number of 1970s political potboilers, coupled with Watergate-conspiracy paranoia and a healthy helping of sex and gore. I didn't buy it, from the first page to the last. This is the second Hard Case Crime graphic novel I've read that falls far short of worthwhile.

I expected more out of a Megan Abbott book even if itwas a graphic novel. This one seems a bit un-tidy wherethings move along but sometimes things are"skipped" in my mind. Kind of a mish-mosh.Not recommended.

This graphic novel (or collection of five comic books) tells a hard boiled story set in the 1970s of a striking female sheriff who comes to Washington DC to investigate/avenge the murder of her estranged little sister who got caught up in a high class escort ring with ties that go the very top of the political system. The plot is interesting enough to sustain the work but increasingly absurd as the conspiracies go increasingly high up the chain. ...

Normandy Gold is a small-town sheriff who goes to Washington DC to find her missing sister. At first, this seems like it would be a 'fish out of water' tale, but Normandy Gold shows from the outset how shrewd and resourceful she can be, and how far she is willing to go to find the truth. One of the more interesting twists is how quickly she decides to go undercover as a high-class prostitute.I loved the artwork, especially the covers. There is an...

Well, they nailed the aesthetic they were going for. This book feels like a novelization of a 70's political thriller merged with a sexploitation film. Normandy is our lead character, a terse woman out for revenge on the people who killed her sister, and stopping at nothing to find them. She uses her body without hesitation (and this book is definitely NSFW), and when the time comes for violence, she doesn't shy away from that either. It's brutal...

This book has motivated me to write a review. I'll try not to spoil, but frankly, the take home message is that I recommend it to any adult that has even a modicum of interest in it.This came across my desk for consideration via Sci Fi Entertainment mag, which had a review. Man, I'm always glad I subscribe to that (yes, physical print!)! I'd never heard of the character previously and frankly, I'm sort of relieved that there aren't any more Norma...

Good Megan Abbot crime storyMy first digital graphic novel. I really enjoy Megan Abbot's earlier crime books. It was nice to see her get back into the crime scene rather than the more psychologically oriented stuff that she has been writing recently. I thought that Normandy Gold was a good story and I enjoyed the subject matter - the corrupt underbelly of politics. I also thought that this graphicMove has influenced of Mickey Spillane, whose work...

Has more nudity than any graphic novel I've read, and, excepting Locke & Key, more blood 'n' guts. I say that just to indicate that Normandy Gold really aims to capture the sleaze and the seediness of 70s exploitation films, but also the creeping paranoia and the damaged characters of its political thrillers-- and it succeeds on both counts. The artwork is cinematic, and Abbott-- one of the very best purveyors of taut, tense, pulpy thrillers-- co...

I can tell that Megan Abbott and everyone else involved in this project had a great time developing and creating this book, essentially writing a 1970s era revenge film with a badass female lead. I really love Abbott's work, but even though she (and the team with the book) hit all their goals, something doesn't work for me. Maybe I am just getting tired of the necessary step to kick-start the revenge thriller: the ritual of spilling the blood of ...

A surprisingly twisty and enjoyable riff on 70s noir. Sheriff Normandy Gold takes on prostitution in DC after her younger sister is brutally murdered by a corrupt politician. You keep thinking Normandy's cracked the case, but there's always a bigger fish to fry. The potboiler plotting is absurd to the extreme, but it's not terribly hard to lean in to. The high level of internal dialogue feels true to noir, but drags on the pacing. My largest comp...

Megan Abbott's early books remind me of classic noir tales from the 1940s and 50s like The Big Sleep and The Maltese Falcon, only told through the eyes of women. Her books, both those set in contemporary times and those set in decades past, are full of female rage, ambition, and competition. Normandy Gold is reminiscent of her early books, only this time set in the 1970s. It's a revenge tale about a woman who carries a big knife and knows how...

I'm a big fan of Abbott's novels, so I was disappointed in this book. I don't think there's enough room for proper character development, forcing motivation and rushing plot. As a result, the main character's decision-making is hard to understand. I like the 70s setting and mood, but I felt the story itself was missing something.

As a fan of Megan Abbott's prose, I've been looking forward to this, but while the art is very good (and surprisingly graphic) I found the story rather lackluster. We don't get a strong sense of Normandy's character before things take off and then it's a bit disjointed. I didn't get the point of the 'fantasy casting' and found it distracting.

I wanted to like this more. A vengeance story dropped into 1970s with hookers and politics.

Jumps off the page like a 70's vigilante flick.

I'm torn on this. The art is incredible and the story is interesting. However it is very graphic which I normally don't mind. If you like the 70s films that they reference you'll love it.

Great grimy riff on 70s paranoid noir with a protagonist reminiscent of Brubaker's Velvet.

It's the marriage of Coogan's Bluff, Parallax Effect, The Deuce and Foxy Brown that I never knew my life was missing! Prepare to be surprised by how great this is.

Read it in the original five issues serialization.

Excellent artwork. Mostly well-written, the only thing I found slightly hard to believe was how easily and quickly Ms. Gold fit into the undercover role she played. I hope to read more.

I really like Hard Case Crime books, and the new graphic novels are just as entertaining, with this one being excellent.

Reading this is like watching a great seventies crime film, each panel a cinematic shot. Add to this a sexy and brutal protagonist, Normandy Gold is a must-read.