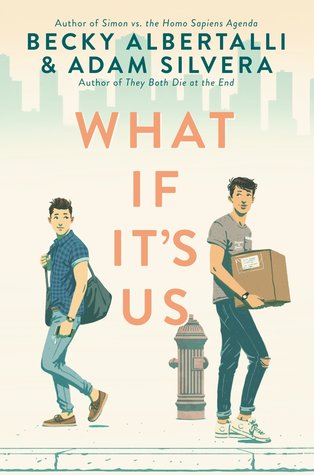 Arthur is only in New York for the summer, but if Broadway has taught him anything, it's that the universe can deliver a showstopping romance when you least expect it.Ben thinks the universe needs to mind its business. If the universe had his back, he wouldn't be on his way to the post office carrying a box of his ex-boyfriend's things.But when Arthur and Ben meet-cute at the post office, what exactly does the universe have in store for the...
---
Reviews What If It's Us
"Maybe this isn't how life works. Maybe it's all about people coming into your life for a little while and you take what they give you and use it on your next friendship or relationship. And if you're lucky, maybe some people pop back in after you thought they were gone for good."So. This was the most anticipated book of 20gayteen. And I have to say that I expected a little more from this fabulous collaboration.In fact, I do have a lot ...

never in literature history have the gays won so hard until this collab

I really loved this book! I have been waiting for this book since the moment it was announced and it truly did not disappoint!CW: cheating, homophobia, racism, panic attacksI of course enjoyed the writing style of this novel. Adam and Becky were able to perfectly co-author this contemporary, making Arthur and Ben's individual personalities present, whether they were writing their respective character's chapters or writing the other's in the...

ARC provided by HarperTeen in exchange for an honest review. "I believe in love at first sight. Fate, the universe, all of it. But not how you're thinking. I don't mean it in the our souls were split and you're my other half forever and ever sort of way. I just think you're meant to meet some people. I think the universe nudges them into your path." My dear friend, Jules, dubbed this a "queer, modern day, Sleepless in Seattle, set...

you: Avengers: Infinity War is the crossover event of the yearme: an intellectual and contemporary YA fan: knows the real crossover event of the year Adam Silvera and Becky Albertalli dropping What If It's Us "I believe in love at first sight. Fate, the universe, all of it. But not how you're thinking. I don't mean it in the our souls were split and you're my other half forever and ever sort of way. I just think you're meant to meet ...

When Becky and Adam announced that they were teaming up to write a story, I was so excited. At the time, I'd only read one book each of theirs. While I found Becky's writing lacking, I enjoyed her characters and loved what I'd read of Adam's work, so it was easy to buy into the hype. As its release date grew nearer, I attempted to read two other works by Becky (both failures) and read another book of Adam's (a massive disappointment), b...

"Hollywood will make a movie about you two. And a Netflix spin-off about your gay children." Okay, no. I'm not accepting that ending. Just nope. Otherwise, Becky and Adam pretty much created magic with this book. The word (or has it become a term now?) 'cinnamon rolls' gets thrown around quite often for your cutesy kinda characters and while granted, a lot of them exist, I think Ben and Arthur take the damn cake. They were a match made ...

"I guess that's every relationship. You start with nothing and maybe end with everything." One of the unexpected sweetest books I've read all year about failing at perfection, but finding something close anyway. What If It's Us follows two characters on a summer in New York forming a very-imperfect and very-cute relationship.✔Ben - Written by Adam Silvera. Puerto Rican and gay. Way too relatable. Thinks about prices more due to being ...

I have such mixed feelings on this it's not even funny. I liked it, but I also didn't? The writing was good, but I found that in the beginning it was hard to tell the characters apart, and then when I could it was because one was extremely annoying which I get was probably kind of the point. I felt like the relationship came out of nowhere (view spoiler)[ they didn't seem to be working which obviously was partially because of the breakup and Ben'...

2nd Read | Oct 2018Honestly this book is so adorable and makes me laugh so much and then makes me directly attempt to throw myself into the void. Which is a skill. I acknowledge this skill. I admit that firstly (1) I said "ooh I'll review this later!" and forgot everything about it of ever, so I needed to reread, and (2) I still have thoroughly dissatisfied feelings about the ending.It's like, I'm just going to find some fanfic that fixes the epi...

I still can't believe I got an ARC for this! 😱🤩. I LOVED IT. ❤Is so good! Funny, interesting, cute, realistic (too much in my mind, but oh well, life) and with friendships/families/relationship goal.The writing, I'm in love with it. Is so beautiful and the story? YESSS. This book really shows that sometimes everything happens for a reason and maybe not in the circumstances or way that we expected, but still it happens and it might not...

Yikes, okay, here we go.This book had so much potential!! And even though I only gave it 2 stars, I still think it has some quality stuff, like- lots of diversity- sex positive and CONSENT!!- DYLAN (omg Dylan was the real MVP of this book let's be real)- aaaaand to be honest that's about itHere's what I had issues with:- For the first 200 pages, i literally couldn't tell Ben and Arthur apart. Their voices sounded exactly the same to me- This book...

It's really a 3,5 tho.---- ACLARANDO:Todo el libro fue súper ligero y bonito y me hizo sonreír bastante, sólo le vi dos problemas:1- El "climax" fue algo ¿ridículo? Una exageración, muchísimo drama sacado de proporciones. O sea, creo que los personajes reaccionaron muy mal a algo que se pudo haber arreglado rápido. EN FIN.2- No me gustó nada el final. Lo entiendo y tal vez yo hubiera hecho lo mismo, pero no me gustó.TODO LO DEMÁS FUE...

why did you all make me think I was going to cry at this ending???? all this book did was intensify my own gay panic! at the disco

this book was an interesting reading experience for me because its co-written by one author i absolutely adore (silvera) and one that i strongly dislike (albertalli). and i honestly thought my love would outweigh my hate - but in reality, it just left me split right down the middle. this was a cute enough story, if youre into that over-the-top meet cute, insta-love kind of thing. its light and fluffy and basically everything you would expect from...

3.5 STARS rounded to 4Review to come once the group reading has concluded.So excited to announce that this is our #ScaredSuspenseBookClub pick for the month of November! If you would like to join in our discussions on Instagram, dates will be November 12th and 19th.

I got up super early this morning to download Becky Albertalli and Adam Silvera's new book, What If It's Us, and I have officially devoured it. All it took was reading during lunch, at every red light on the way home from work, at the chiropractor, and then after dinner this evening. One book written by two of my favorite YA authors equals ALL. THE. FEELS."I believe in love at first sight. Fate, the universe, all of it. But not how you're thinkin...

I like reading romances and being like, "OMG, I want a beautiful love story like this one. Please universe, make it happen for me." But, er, I don't think I want what Ben & Arthur have. Honestly, I can barely call what they have a love story. Very disappointed gal here.

--4.5 stars--Massive thank you to Edelweiss and Harper Collins for sending me this ARC.Can I just express how ecstatic I am at the state YA is headed this year? I've jokingly said that "20gayteen is in full swing and I am here for it" a lot, but in all seriousness, how amazing is it that YA is finally, FINALLY becoming more and more diverse with not only POC representation, but LGBTQ+ storylines being at the forefront. That's a big deal, people. ...

Despite some very solid, and most importantly, age-appropriate, narrating from Noah Galvin and Froy Gutierrez, What If It's Us by Adam Silvera and Becky Albertalli fell way short of expectations. I can sort of see why people like this love story (and yes, love story NOT ROMANCE), but I had issues.There is no plot. None. It is sort of a meandering, wandering story through the basically boring lives of two teenage boys. Lots of boring, boring stuff...

This review and other reviews can be found @ ThebookprescriptionActual Rating: 4.25 starsI don't know if we're a love story or a story about love. But I know whatever we are that it's great because we kept jumping the hoops in the first place.🌟 This book is marshmallow and unicorns, this book is so cute! This is legitimately my favorite LGBT book till this point. I read 2 books by Adam and 1 book by Becky and enjoyed all of them but I ha...

"I guess that's every relationship. You start with nothing and maybe end with everything."I LOVED-LOVED-LOVED this story so damn hard!And I absolutely HATED-HATED-HATED how it ended!!!The entire story was compelling and full of humor, which immediately hooked me and left me dying to find out what was going to happen next.BUT...The book ended with no HEA, not even an HFN.Only a "what if", where *IF* they end up living in the same city at the...

I have to admit, this was pretty cute.(A little too long though ; and way to many Harry Potter references)

4 stars! Becky Albertalli + Adam Silvera = a must read for me! What If It's Us was a highly anticipated book for me and it didn't disappoint. It had so much of Albertalli's sweetness and fun, and the feels (though tamed down) you know and love from Silvera. It's a heartwarming and beautifully written read. Ben and Arthur have the most adorable meet-cute ever. A post office in NYC. A hot dog tie. A box of stuff to be mailed to an ex. They ...

"I'm just going to live in the moment. That's the only way to see where we end up." *I received this arc from the publisher in exchange for an honest opinion* What If It's Us is a meet cute romance set in New York City about two boys who meet at a post office while one of them is trying to mail a box full of his ex-boyfriend's gifts back to him. From then on, Ben and Arthur go through a series of comings and goings to try to make things...

I started reading What If It's Us on 8/30/18 and finished it on 9/3/18. The most amazing love story to read ever! The humor is contagious. I love the two main characters: Arthur and Ben. I like Ben's friend Dylan, he's extra hilarious! I like Namrata, she always has something wild to say. Arthur and his dad has the best father-son relationship. Ben and his family are great too! I love how sweet and innocent Arthur is especially how excited ...