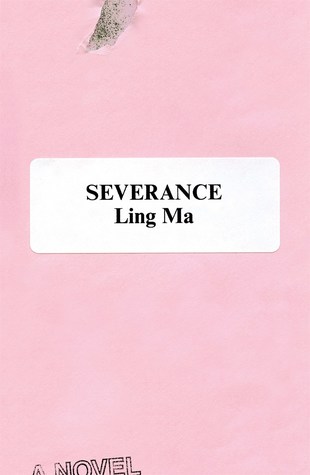 An offbeat office novel turns apocalyptic satire as a young woman transforms from orphan to worker bee to survivorCandace Chen, a millennial drone self-sequestered in a Manhattan office tower, is devoted to routine. With the recent passing of her Chinese immigrant parents, she's had her fill of uncertainty. She's content just to carry on: She goes to work, troubleshoots the teen-targeted Gemstone Bible, watches movies in a Greenpoint basement...
---
Details Severance
Title
Severance
ISBN

9780374261597

Author

Ling Ma

Release Date
Aug 14th, 2018
Publisher

Farrar, Straus and Giroux

Language

English

Genre

Fiction

,

Science Fiction

,

Dystopia

,

Cultural

,

China

,

Contemporary

,

Literary Fiction

,

New York

,

Adult

,

Novels

,

Speculative Fiction

Rating
Reviews Severance
So, when I started reading this one, I wasn't sure. I was getting shades of Station Eleven (a.k.a the book most of the world loved and I did not a.k.a. 2 Pretentious Apocalyptic Fiction). I actually stopped reading it for a bit and almost deleted it. But, I returned to it and I'm glad I did.There's an art to this one that takes a bit to kick in. The story is told both pre and post apoc – all from the POV of Candace Chen. She's a self -d...

3.5 Stars. I have conflicting feelings about this book. The beginning was exciting, then the story slowed down during the flashbacks from before the fever epidemic. The action picked up again towards the last third of the book, and the flashbacks were significantly better. The ending was unfulfilling for me, and I was left wanting more resolution. Thanks to NetGalley and the publisher for a free copy of this ebook in exchange for an unbiased revi...

This novel is difficult to categorize. I'm still not sure what to label it. I'll just call it good. Candace Chen is the narrator of this very different, slightly satirical, coming-of-age end-of-days story. A fever has overtaken NYC, indeed it is breaking out worldwide. Candace is an only child and both her mother and father are deceased. She came to the USA from China when she was six years old and eventually settled in NYC. When the Shen fev...

Personally, I loved this book--everything about it. For me, it hit all of my sweet spots. There are great scenes in a post-apocalyptic world that our society kind of slowly slid into, a trip to "the facility" where a group of survivors hope to flourish, some looming menace and small acts of violence, and (my favorite) banal scenes that walk us through how one gets through the business of living in the midst of everyone else dying. Interspersed wi...

Book Review: SeveranceAuthor: Ling MaPublisher: Farrar, Straus and GirouxPublication Date: August 14, 2018Review Date: July 6, 2018I was given a free copy of this book by NetGalley in exchange for an honest review.What an extraordinary book! It is a complex mixture of many things: a debut novel, a scary dystopian novel; it's a look at a family of Chinese immigrants, it sweeps across all of America and the whole world. The characters are deeply ...

4.5 starsAs I read the dust jacket description, I almost didn't believe one novel could be all of the things it described--dystopian fiction, social satire, bildungsroman, character study--but it is all of those things and more. A disaffected millennial hipster's account of the end of the world, Severance is at once tastefully muted and positively clamoring with richly layered depth and meaning. Whatever your expectations are, it probably isn't *...

I found this book unusually comforting and hypnotic when I started it. Like a meditation on the feelings of being an young person in NYC, set in a mysterious end-of-the-world movie. The kinds of people you meet, thinking about jobs and stability, having sex with people, how you find out about things, the sense of being alone in a world whose threads of connection dwindled mysteriously. Hilariously, as the world is ending, the narrator is compelle...

(4.5 stars) Severance by Ling Ma is a shrewd, sly, sleight-of-hand. Set in an alternate very-near past, the author gives us Candace Chen, millennial recent college graduate, adrift and alone, an only child who just buried her mother. Skipping between Candace's travels with a group of survivors of the Shen Flu global pandemic and her past leading up to that "present", Severance is a witty and propulsive coming-of-age story, workplace comedy, a...

http://wordnerdy.blogspot.com/2018/06...Oh man, I would have devoured this in one sitting had my schedule allowed. If there is any justice in this world, this book will be as successful and acclaimed as Station Eleven. Anyway, it's set in 2011, after a weird fever has turned most of the world's population into mindless automatons. Our protagonist is Candace Chen, formerly employed at a book production company as the person in charge of Bibles (an...

I got this as an advanced copy from netgalley.com. I really enjoyed it, but I do like a good dystopian future. It covers a few themes - one, the story of a young woman who immigrated to the United States and another, the story of the same young woman making the way in a world where most of the population has succumbed to some sort of fever. If you liked Station Eleven, I think you'd like this.

Definitely one of my favorite novels of 2018. Not at all what I expected, which I always enjoy. I absolutely loved the sections dealing with the characters work for a publisher-spot on-. While this book will inevitably be compared to station 11, they are two very different creatures. Both very enjoyable, but in different ways. The observations of New York winding down were incredible.

Reminiscent of Things That Happened Before the Earthquake, with Severance being more ethereal and, of course, more post-apocalyptic. Particularly enjoyed the portions that took place in Hong Kong/China. If you're looking for a Station Eleven read-alike, you may not find what you are seeking here ...

Ling Ma has improbably succeeded in blending the STATION ELEVEN-esque apocalyptic disaster novel with a darkly comic coming of age story -- all while making a powerful commentary on the state of consumer culture in our world. Ma's prose is spare and beautiful, and I love the backstory she has created for Candace and her family. SEVERANCE is a triumph and I can't wait to hand-sell it.