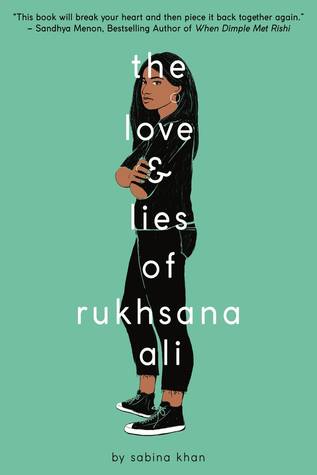 Seventeen-year-old Rukhsana Ali tries her hardest to live up to her conservative Muslim parents' expectations, but lately she's finding that harder and harder to do. She rolls her eyes instead of screaming when they blatantly favor her brother and she dresses conservatively at home, saving her crop tops and makeup for parties her parents don't know about. Luckily, only a few more months stand between her carefully monitored life in Seattle ...
---
Details The Love & Lies of Rukhsana Ali
Title
The Love & Lies of Rukhsana Ali
ISBN

9781338227017

Author

Sabina Khan

Release Date
Jan 29th, 2019
Publisher

Scholastic Press

Genre

Young Adult

,

Contemporary

,

Lgbt

Rating
Reviews The Love & Lies of Rukhsana Ali
3 1/2 stars because I can't tell how I felt about this at all. The Love and Lies of Rukhsana Ali follows Rukhsana, a gay girl who is sent to Bangladesh and put into an arranged marriage after being caught in kissing her girlfriend.So despite my three-star, there were a lot of fantastic aspects of this that I'm sure many will really enjoy!! The representation of Bengali culture is #ownvoices and feels very full-of-heart. Rukhsana's situation...

Actual rating: 4.5 stars*I received an Arc of this book in exchange of an honest review*CW: Colorism, homophobia, islamophobia, physical assault, hospital, graphic description of rape and domestic abuse, starvation, drugging, forced marriage, death of a loved one, hate crime.Full review originally posted on my blog: Word Wonders Uh. How does one start a review for a book that's ripped them open? I have procrastinated this review for a month ...

See my Quill & Quire review here!

3 stars I had a lot of high hopes for this book, and I'm really sad that it just was not my favorite read.I think the most notable positive about this book was the fantastic representation of Bengali culture (oh my gosh the food made me drool) and how Rukhsana dealt with racism. She confronts her white friends about ways they made her feel uncomfortable/unwelcome/they were not understanding and this scene was definitely one of my favorites in the...

*ARC REVIEW i don't think i have the emotional capacity to write an in-depth review for this book. this book hit incredibly close to home as a bangladeshi sapphic. i honestly spent a majority of the book crying and wishing that i could spare rukhsana from what was happening to her. at several points, i had to set the book down because my tears were staining the pages. however, this book is incredibly important and really dives in deep in regards ...

disclaimer: i received an arc in exchange for an honest review. this is no way impacted my opinions. trigger warnings: homophobia, colorism, emotional & physical abuse, hate crimes, implied rape/sexual assault (all of these are combated and not okay-ed, but they are definitely existing themes throughout the book) You have no idea how hard it is to constantly feel like you have to represent your entire culture. Sandhya Menon, the author of Whe...

I really liked this one A LOT. It reminded me and would be a good fit for fans of Written In the Stars by Aisha Saeed (it's like the LGBTQ version).

This book was by no means a bad book. In fact it kept me interested and invested throughout the entire novel and I read a good 2/3 of it in one sitting. However, I did have some issues.Please Note: This was sent to be unsolicited by Scholastic but all thoughts are my own.This will be spoiler free.This story follows Rukhsana Ali, a Bangladeshi girl, who is a lesbian and is hiding that part of her life from her family and community. One day her ver...

E ARC from Edelweiss PlusI loved this one, and the way that Rukhsana tries to make her family happy even though what they want for her is not at all what she wants! I would definitely purchase it for high school, but I find that my students aren't quite ready to worry about college just yet, and romances set in high school tend to be much more angst ridden than middle school ones. I enjoyed this, though! Lots of good descriptions of food!

~arc review~tw: homophobic parents, graphic desprcriptions of rape and abuseomfg yall are not ready for the brilliance that is the love and lies of rukhsana ali.T H E G O O D- can we just take a moment to appreciate the representation???? i can't speak for the bengali/queer rep, BUT i can say that as a muslim, i could not be happier with how the book handled muslim characters. i was SO worried that it wasn't going to have the greatest rep, but it...

Apparently, it is a truth universally acknowledged that a single Bengali girl of marrying age must be in want of a husband.content warnings: on page rape, domestic abuse, violence, homophobia, racism, death of gay characterMy god, this book was beyond depressing. Rukhsana has her life all figured out, but her super conservative parents have other ideas for her and during the course of the book we are treated to (view spoiler)[a semi exorcism, an ...

"We must be the masters of our own destinies. I did not learn that until it was too late. You have to fight to take back control of your life. Sometimes you will hurt the ones you love the most. But in the end, it will always have to be your choice." Rukhsana Ali is struggling to live up to her conservative and traditional Bengali parents' expectations. She listens to most of their rules for the most part but she harbors secrets such as Rukhsana ...

Okay, so actual rating is like, four and a half stars. Mainly because the end seemed cheap, in a way. But I very much enjoyed this book and I look forward to reading more by Sabina Khan.Also, shoutout to the team at Scholastic for handing me this at Yallfest!

content warnings: all forms of abuse against children (physical, emotional, sexual, etc.), homophobia, rape, murder, hate crime.fuck, this book hurt so bad and is so very very good.

My TakeawayI believe this young adult novel can be relevant and important to certain adolescent girls. I continuously mention I grew up with extremely religious (Pentecostal) parents. Numerous things were prohibited and taboo -- for certain being gay was (and remains) an enormous sin. According to hardcore Pentecostals, being gay will definitely earn you a place in hell. Though Rukhsana's parents are not Pentecostal, but Muslim, their beliefs are...

Wow this shit was fucking heavy...I don't know how to feel about everything I just read.Update:This book was heavy. It dealt with generational sexual abuse, homophobia, conversion therapy, cultural expectations, arranged marriages, colorism, I almost want to ask what didn't it bring up.This story followed a Bengali-Bangladeshi American teen who was a lesbian. She'd always dealt with being less than her brother, or having different expectations ...

Seventeen-year-old Rukhsana Ali's life is nearly perfect. She has great friends, good grades, and she and her very cool girlfriend are headed to Caltech in the fall. Even more exciting, Rukhsana has earned a full scholarship to study physics. There's just one problem. Her very conservative Bengali-Muslim parents.They expect her to go to nearby University of Washington and marry a Bengali young man. Rukhsana has no choice but to hide her true ...