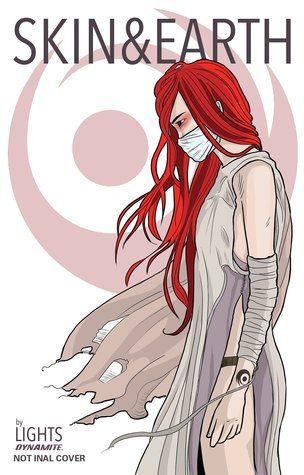 Skin & Earth is a story of a girl looking for hope in a hopeless world. Caught between romance and cults, gods and mortals, and just trying to find a good borscht, Enaia Jin is lead down a dark path by new lovers that reveal a twisted fantasy world and her own true nature. Set in a post-apocalyptic future where corporations rule, this adventurous tale of loneliness, deceit and self-discovery begins here!Written and drawn by alt-pop phenomenon Lig...
---
Reviews Skin & Earth TP
Is it really fair for one person to have this many talents? Lights is already an accomplished singer, now she's created a concept album with an accompanying comic book that she wrote, drew, and even lettered.Starts off in a dystopian future where mankind has destroyed more of the environment. The elite are determined to suck the rest of the earth dry of its resources. En is part of the lower caste. We follow her around with her summer love for th...

I received an ARC copy of this book from NetGalleySo I've never even heard of Lights but I saw this book on NetGalley and I liked the cover and it sounded interesting so I figured I would give it a shot. Now this is a special edition that has the codes printed on the page so you can listen to the concept album as you read it, but I'll admit that I didn't actually listen to the music because I think it would have distracted me during my first read...

To be honest, this emerging trend of recommended listening with chapters, is not my cup of tea at all. The graphic novel wasn't... I'm not sure what it was or wasn't. The story was okay, the artwork very detailed, but overall it lacked *something*, although I can't exactly put my finger on what it lacked.

I was provided an ARC via NetGalley in exchange for an honest review.It was pretty good at first but fast, it became messy, confused.I think it kind of went too far and lost me.Also, I didn't fell for the characters the way I thought I would.I guess my expectations were just too high.Still, I didn't hate it?

(Disclaimer: I received this free book from Netgalley. This has not impacted my review which is unbiased and honest.)Skin & Earth is an immersive experience to the core. Not only does each track of her album refer to part of the comic book, but the comic itself has QR codes within to link you to her music and bonus features. This makes reading a whole new level - one that I adored. Is there really anything Lights cannot do? There are all these go...

Thank you to NetGalley and Diamond Book Distributors for the ARC to read and review!For my first foray into reviewing a comic or graphic novel, I think this one is a great place to start! I've been a fan of Lights for a few years now, and so I was excited to come across Skin&Earth on NetGalley. I downloaded the PDF, and as soon as I started reading... well, I didn't want to stop!In fact, I flew through Skin&Earth so intensely that I only stopped ...

Making a song into a comicDoes it sounds cool....YesDoes it sounds a bad marketing....Maybe?Did I enjoy it....YES!!A dystopian slice of life comic with musical background and a little bit of magic mystery on it. Skin & Earth best part for me is the art and color; I also really like how they cut the panel on this especially the two page art. But then again the writing on this is a littlebit odd. Like the first issue had two chapters on it and thei...

I received an ARC through NetGalley in exchange for an honest review.Rating: 3.5 starsThis was a dystopia/fantasy adventure that went in a completely different direction than I expected. I really liked the worldbuilding and the mythology of the world, and the main character had some really quotable lines.It's actually pretty cool how the songs and music videos go with the graphic novel, too.

To read more reviews check out MI Book Reviews.I got an ARC of this book.I saw Lights perform when I was first starting college. I was front row, right by the speaker. She was the opening act and I ended up going out and buying her CD. I got a wild urge to listen to her again a few months back and discovered her Skin & Earth album. I was in love, then I learned it was also a graphic novel. Normally I don't go for graphic novel or other media tie ...

Overall I really liked it. First of all the worldbuilding was awesome. Even without the map at the end of issue #2 I got a really good sense of geography, but it was mostly the culture that was so well done. Even little things like pop culture (Captain Lights, Lūn), the food (Borscht-in-a-Box is brilliant) and even public transit was amazing. The class division is so real and so sad. And the visuals. Wow. Some of the panels were confusing but li...

An interesting graphic novel about a young woman who lives in a divided and dying earth. En encounters lovers and mysteries and strange worlds, and in doing so she discovers that she has the powers to put things right. She is not who she thought she was but she doesnt really know who she is. All she knows is that she somehow has powers. I thought this was an interesting graphic novel. It started off well but the second half was complicated becaus...

I have to admit I am basing my rating on the entire package, namely, the graphic novel and the music that accompanies each chapter. Having said that, I did not listen at the beginning of each chapter as suggested, I didn't want to stop reading and in my world, one pays attention to what one is reading if reading and one pays attention to what one is listening to if listening. So rather than pause my reading or, even worse, playing the music as ba...

Doesn't Break New Ground, But Well DoneThis is a concept graphic novel joined with Lights' concept album of the same name, and the package is well crafted and interesting.I can't comment in any useful way on the album except to say that I've sampled all of the tracks and they complement the novel well and, judging from comments and reviews, have been very well received by fans. The novel has a table of contents that ties each track to a chapter i...

In a near-future Earth ecologically devasted, a young redhead goes from college through a nice neighborhood and reveals that she's part of a lesser caste, to the point where she has to wear a mask so that she doesn't breathe on this society's higher-ups. A guard at the checkpoint back to the poor area, who should be more sympathetic considering he's no highborn, provides further exposition while trying to bully her.Of course she's in lo...

Here's one more tuppen'orth about this from someone who knew nothing about Lights – what she is, who she is, anything. She's certainly an artist – trying strong visuals on every page and getting it right almost every time. But is she a graphic novelist? Well, there the jury is definitely still out. In this world, where our heroine is the sole teen able to cross the divide from the world-enveloping, polluted slums, to study at the 'nice' (ie n...

Time only matters in places where it runs out. This was pretty cool. And Lights is a pretty amazing artist. (That's her name. Lights. In case you didn't get that.)But this is more an experience than a comic. First of all, the comic was a different and creative take on the dystopian world. The story pulls you along with some great art to match. But it's pretty amazing when you realize that the writer also drew and inked the book. Oh, and she...

I loved the concept of this series. En's character is so relatable. She naturally seeks hope and beauty in all things, but when she finds it, it blinds her from real truths... being her strength and weakness. I only wish for more complex character development!! Certainly Priest. Lights let us in on a different perspective of him, and killed him right after. Knowing he's so multifaceted, I wish I knew more about his other sides. It would have ...

This was such a cool concept. I had no idea when I requested it from Netgalley, that it was a graphic novel with an accompanying soundtrack. The story takes place post apocalypse, or it least it seems that way, with a smoking hot heroine named En. She is trying to make life better for people like her that aren't pink. Without spoiling this too much, there is a very cool supernatural element to it. Great cliffhanger at the end and I'm looking ...

The music coinciding with each chapter blended beautifully. Gave the book a variety of moods depending on song/chapter! My only complaint is that I couldn't read fast enough to stay with the song...so I had to replay often, which wasn't terrible, but it would have been nice if there had been music lasting the estimated amount of time it would take to read...maybe an extended edition CD made solely for the comics? ANYWAY, WHAT A HUGE PROJECT THIS ...

Post-apocalyptic worlds are nothing new to readers, but Lights gave a good couple of plot twists and crude jokes to make up for any potential lack. I didn't listen to the songs recommended at the beginning of each section because I already new them so well, and I love love loved finding the sections of lyrics in each chapter. I think it's cute, bad ass, and just a fun read.

backgroundLights is a Canadian music artist who has released four main albums (with acoustic versions of the first three as well). With her fourth album, she decided to try something different and release a concept record — one that connects to a graphic novel. What happened was Skin & Earth.She did virtually everything for the graphic novel: lettering, writing, art, coloring, etc. It's a big endeavor that, honestly, I think paid off. I've ...

My daughter is a huge Lights fan and she was been waiting for this to be released. She loved it so I picked it up. I have to say I had moments of cheese and over the top dramatic, BUT, by the end I am 100% intrigued. I am pleased with how this has unfolded and will continue with this series. The art and colors is very sensual and pleasing.

What a great concept. Combining music and story together. Great dystopian story with some supernatural elements as well. I enjoyed reading the story and listening to the accompanying music together.Advanced reading copy provided by NetGalley for an honest review.

That took a different turn than what I was expecting. Woah.

My full review can be found at anovellove.co.uk!https://anovelloveblog.wordpress.com/...

This was really cool. It's a sci-fi comic where the author also created an album that goes along with it. I thought the music went really well and added some atmosphere to the comic.

Had no idea what to expect and the final result blew me away. Would love to read more.

Just as good as the first time reading each issue. I can't wait to see what comes next.

That was a whirlwind experience.

Beautiful illustrations, dark and apocalyptic story, and an ending that left me hanging!