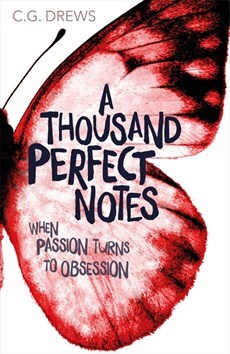 An emotionally charged story of music, abuse and, ultimately, hope.Beck hates his life. He hates his violent mother. He hates his home. Most of all, he hates the piano that his mother forces him to play hour after hour, day after day. He will never play as she did before illness ended her career and left her bitter and broken. But Beck is too scared to stand up to his mother, and tell her his true passion, which is composing his own music - becau...
---
Details A Thousand Perfect Notes
Title
A Thousand Perfect Notes
ISBN

9781408349908

Author

C.G. Drews

Release Date
Jun 7th, 2018
Publisher

Orchard Books

Language

English

Genre

Contemporary

,

Young Adult

,

Romance

Rating
Reviews A Thousand Perfect Notes
My debut is officially out in the world! (insert soft happy shimmy) I'm just so ridiculously proud to introduce you to my debut novel.♪♫♪ Blog post on how I got my agent and book deal with Hachette♪♫♪Blog post on me flailing over release day!♪♫♪ It's available at most online retailers + or ask your local bookstore to get it in!♪♫♪ Trigger Warnings: I will put them in spoiler tags, so click as you wish. (view spoiler)[ The ...

Instagram || Twitter || Facebook || Amazon || PinterestI'm honestly shocked that this has practically no negative reviews because I personally thought it was pretty awful. If reading this book has taught me anything, it's that I'm a glutton for punishment when it comes to reading over-hyped young adult novels, and I should probably change my blog name to "I hate everything you love." Will I learn my lesson? No. But at least I can admit it.A THOUS...

😭😭 I'm not crying. You're crying 😭😭Well this was beautiful! I was hoping this book would be great. But I was nowhere near prepared for all of the emotions and the love I would feel for these two characters!Cait - you are amazing & thank you for blessing us with this book. It is a DEBUT!! LIKE WHAT EVEN?!So we have Beck, a sensitive boy with music in his soul. A soul that is unfortunately being tortured and damaged by the cruel wit...

It's always disappointing when you expect or hope for a book to become one of your favourites and it doesn't. I thought I was going to love this book, but it went into the opposite direction, and it just didn't deliver for me.The aspect I appreciated the most was how abuse was looked and the psyche of the victim. I felt Beck's despair and his complete lack of belief in himself, because of what he went through. But that's pretty much all...

Okay, I didn't like this.But the thing is, it isn't a bad book. It's just not for me sadly.I like the topic and especially Joey was written very well. I also "like" that we deal with an abusive mother instead of an abusive father because that's pretty rare in literature even though it's definitely a problem in the real world! But Beck felt sorry for himself way to much for my taste. Yes, he does not have it easy but hearing him whine every page g...

"Music is nothing unless it fills your soul with colour and passion and dreams"🌟 Drews is one of the best reviewers on GR and that's why she knows what is the importance of an honest book review. Before reading this I saw many reviews mentioning that they are "biased" because they know the author, that just made me even more critical while reading this!🌟 A few pages into the book and I was so into the story, the author does not ne...

"No doubt you've painted me the monster. Well, fine. I shall be your monster. But I will also get you into the greatest concert halls in the world, get you the best tutor, make your name be known, make you a famous pianist who will want for nothing." Story ⭐⭐⭐⭐⭐When we grow up we have dreams. Dreams of being an artist, an author or a pianist. We're dreaming of being the best, the greatest, the most famous. But sometimes dreams ...

The only bad thing about this book was that it got over too quickly. Look,,MY NEW LOVE IS FINALLY HERE Buddy read with my fav flower

If you're thinking, "Oh, I bet A Thousand Perfect Notes is going to be funny because Cait's blog is funny" then HAHAHA <--- I'm sorry but that was your last laugh. Ever. I hope you enjoyed it. Because this book is 50% heartbreaking and 50% soul destroying and 50% gut wrenching and trust me the math adds up.Still, as a long-time reader of Paper Fury, I have become familiar with her unique way of writing, and it was fun to find some of th...

"If people cut him open, they'd never accuse him of being empty." Listen, do you ever finish a book and just stare up at the ceiling, smiling because you just read something so beautiful and simultaneously feeling tears roll down your cheeks because now there is a deep fissure line running through your heart and you don't know if you'll ever be okay again?this review (and an explanation for my recent absence) can be found here on starburnt readsI...

book #2 done for the booktubeathon ✔who knew this 300 paged book would crush me so thoroughly. well done. this book is so SAD and tragic and the characters are so REAL and flawed and sad and i just wanna curl up into a ball bc what do i do with these feelingsand then the ending comes and its so hopeful and i just, what an incredible debut. 4.5 stars!!full review to come maybe??~~~~~~~~~~~~~~~~~~~~~~~~~im so proud of cait for how far shes come a...

THE DRAGON QUEEN OF CAKE HAS A BOOK AND I HAVE NEVER BEEN SO EXCITED I SQUEALED AND MAY HAVE SCARED AN OLD MAN IN THE PHARMACY.UPDATE WE HAVE A COVER AND OF COURSE IT'S GORGEOUS WHY IS THIS BOOK NOT OUT YET I NEED IT IMMEDIATELY.

I AM BASICALLY SCREAMING AS I WRITE THIS REVIEW AND ALSO I AM DEAD INSIDE BECAUSE THIS BOOK KILLED ME, BUT THAT'S FINE... These things happen I guess...I just want to put in that I had to take my glasses off to read this, because the tears make them foggy and salty and then I can't keep reading. One of the ultimate struggles of having glasses. I'm so thankful that I don't need them for for reading, otherwise I don't even know how it would have be...

If you're a reader of her blog or even if you just follow her beautiful bookstagram, you'll probably know that Cait from PaperFury is hilarious. Now, after finishing her debut, I've come to the conclusion that she is STILL hilarious, but she also likes to destroy you emotionally (I should've known tbh - she does want world domination). A Thousand Perfect Notes is about a boy named Beck, whose mother forces him to play the piano hour after hour, d...

I LOVED THIS BOOK! One of the absolute best character studies I have read this year. I am going to absolutely fail in describing how awesome and quirky it is. In short, Beck's mother (the Maestro) was once an amazing pianist. Now Beck is forced to practice hours per day, and abused in between as he tries to protect his toddler sister. He meets August Bray, quirky dog-adopting girl from school and life slowly begins to change. The delight in rea...

I am intensely flapping my arms and squawking like a poor abandoned pterodactyl baby at the excitement of actually having been able to read a review copy of A Thousand Perfect Notes! (Thanks for staying with my review after that sentence.) My emotions towards Cait's book can be described roughly as such, starting from when I found out she was publishing a book at all: - oh wow! Cait is finally publishing one of her books, something I've been as...

MY HEART IS SHATTERED. I CAN'T EVEN BEGAN TO EXPLAIN HOW AMAZING THIS WAS!!!!!!!!!!!!!!!!!!

Being in the extremely privileged position of a CP to the glorious CAIT, I have in fact already read and loved this. You all will as well - trust me.

Picture this: You walk into a bookstore. You buy a book. You love the book. That book, my friends, is A Thousand Perfect Notes. What is there to love, you may ask? Well here's a list for all you doubters out there:"Other people are born for nonexistence."1. This book is so honest. Beck's mother is abusive--and I mean abusive. She does horrible things, just because she wants her son to live out the dreams she herself can no longer push throug...

This is Cait's book, and so OBVIOUSLY I've wanted to read it since I heard it was coming out (like a year ago? Wow it's been a long time). The positive reviews have been overwhelming, and I was almost nervous to read it since I tend to go against hype...but then I won it in a giveaway and decided to read it in one sitting once it arrived. I read this book in TWO HOURS, people. No joke. There is nothing easy about this book. It gets into the down ...

Review posted on my blog: www.booknerdtan.wordpress.com 'Joey dragged a chair over to the table so she can sit properly and devour the cheese platter'First and foremost (on a lighter note before things get deep) I would like to say that Joey is basically me in 5 year old form.I loved everything about this book.It was equal parts heartwarming and heartwrenching and I laughed as much as I cried.The story was written so beautifully that it is ha...

4.25*I thought I wasn't going to like this when I read the first 30 pages, but then the story and characters grew on me.The first character that grew on me a lot was Joey (Beck's little sister). Aw she's so cute. I was kind of meh on the main character Beck the whole way though because I just wanted him to rebel already. I did think he was going to fight back harder in the end. I feel like Beck didn't really have that much of a personality becaus...

This debut novel is very well done. After just a few pages I could feel myself caring for Beck and Joey and I really wanted them to get out of the horrible home situation they found themselves in. Even if it's a short book (under 300 pages) all the characters were well characterised, even Beck's mother. Needless to say I didn't like her but I appreciated that the author told us her story so that we could understand what these kids were deal...

Actual rating 3.5/5 stars.Beck's violent mother stifles his daily live and his creativity. Her imposed rules of piano coming before school, friends, and happiness leads him to feel estranged from his peers and the world at large. But when Beck meets August, he is introduced to a life lead by happiness and is given the option to approach what is missing in his own life, and figure out exactly why.It is hard to separate a book from its author and m...

You can find the full review and all the fancy and/or randomness that accompanies it at It Starts at Midnight Today, since this is a "let's flail" review, we're going to just discuss the reasons I loved this, because when you're flailing, there are probably not any negatives, right? Right. So, here are some of the reasons that if you haven't already obtained this book (and why haven't you?) you really, really should. The characters are precious ...