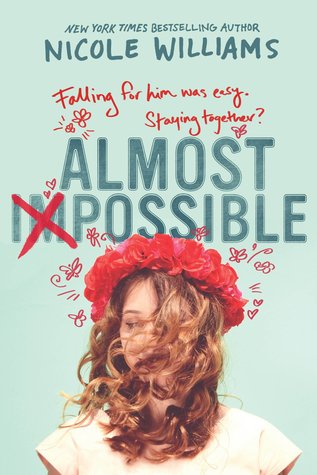 Fans of Sarah Dessen, Stephanie Perkins, and Jenny Han will delight as the fireworks spark and the secrets fly in this delicious summer romance from a New York Times and USA Today bestselling author.When Jade decided to spend the summer with her aunt in California, she thought she knew what she was getting into. But nothing could have prepared her for Quentin. Jade hasn't been in suburbia long and even she knows her annoying (and annoyingly cute)...
---
Details Almost Impossible
Title
Almost Impossible
ISBN

9780553498813

Author

Nicole Williams

Release Date
Jun 19th, 2018
Publisher

Crown Books for Young Readers

Language

English

Genre

Young Adult

,

Romance

,

Contemporary

Rating
Reviews Almost Impossible
3.5 stars!!! Jade is a teenager, but at seventeen, she's never lived the 'normal life' of a teen. Her mom is a popular musician and she's spent all her youth traveling around. She's seen a lot, but never felt rooted anywhere. She decides to spend the summer before her senior year with her aunt and have a real teenage experience. She gets a job, she makes a friend, she meets a boy…. Jade and Quentin didn't expect to hit it off the wa...

Me ha gustado mucho este libro y he disfrutado mucho de su lectura. Es una historia de amor superbonita, donde los protagonistas os enamorarán a vosotros tanto como lo harán entre ellos. A pesar de ser bastante sencilla, la manera de narrar de la autora la hace bastante especial y cautivadora, con una estratosfera veraniega preciosa. Los dos protagonistas me han parecido muy especiales. La protagonista es una chica que necesita vivir una vida n...

I've been given an ARC of this book and it has no influence on my willing and honest review.4 stars.Almost Impossible is the perfect book to read alongside the pool on a summer day. It is easy to read filled with lovable characters and under the light tones some heavy topics as shouldering responsibilities, making the right moral choices even if the road is hard are skillfully broached.This story revolves around Jade and Quentin, two people mee...

Me ha parecido muy sencilla, pero me ha encantado. Tiene mensajes muy bonitos que le han dado el toque especial a esta novela que he devorado en pocos días. Te engancha desde el principio, pues Jade, la protagonista, es un personaje con una personalidad muy clara. Me ha gustado como se han ido creando las relaciones entre los personajes, como dejaban entrever que había algo oculto, lo que ha conseguido que me intrigara, aunque debo confesar, qu...

Need a great summer romance? Pick this one up please! This was a wonderful, refreshing YA with mature characters experiencing that sweet high school romance.Jade and Quentin's interaction from the start had me captivated. Their banter was smart, witty and fun! Jade's mom is in a popular rock band and she has spent her entire life travelling around the world on tours with the band. She decides to stay with her aunt for the summer in 'suburbia' to ...

Release Date: June 19, 2018 Genre: Young Adult Romance Actual Rating: 3.5 starsAlmost Impossible is a great book for teens and young adults. Normally, I try and stay away from YA romances because they seem... Immature? But I was drawn to this one based on the cover and description. All in all, I think Nicole did a great job with this story. She made her characters believable and even added real world problems that affect (or CAN affect) any te...

I enjoyed every page of this book and I just wish it had been a little longer and perhaps a little deeper at times. Nicole Williams has always had solid YA roots and this contemporary tale with an unusual approach to a trope was pretty fantastic.Jade had a background that I really enjoyed reading about. Her entrance to California for some much-needed roots in her life was refreshing, her home with her aunt, uncle and cousins left me wanting more ...

Review can also be found on my blog.A few words to describe this book: cute, innocent, quiet, smallIn other words, the perfect summer beach read. It sorta read like a Nicholas Sparks Jr. book. lol Sparks for Teens. Somebody trademark that, quick. You know how in all of Sparks' books, it's pretty quiet and then there's that one twist that you don't see coming? Same story here. I did not see that twist coming at all.I think that the cover of this b...

1/5He perdido dos horas de mi vida con esto. He leído Fan Fics con más calidad y más elaborados.Casi imposible es una novela Young Adult de la que no me esperaba mucho y me ha dado mucho menos todavía. Se lee rápido pero a mi no me ha conseguido enganchar en ningún momento y tanto la historia como los personajes me han parecido muy mediocres. Creo que hay opciones bastante mejores dentro del género.-Wordpress: https://suenosentreletras.wor...

Este libro ha sido el broche perfecto para finalizar el año. Gracias a este libro he conocido la pluma de una nueva autora que me ha dejado con ganas de más, la historia me ha parecido tan bonita y emotiva 😍 La novela gira entorno al secreto de Quentin, a través de los protagonistas viviremos los miedos que se le presentan a esa edad y valoraremos el poder de la familia y la amistad. Si queréis leer una historia dulce, ligera y emotiva, te...

2.5 - 3 StarsI picked up this book because it looked and sounded adorable. I'm not a huge fan of realistic YA books, but I do read them from time to time and I enjoy the innocence of the read. The book starts out very cute. Jade is a hippie loving child and her mom is going on tour. Jade has traveled all over the world and she wants to spend one summer in the same home, enjoying the normal teenage dream.I liked Jade. I found her cute, quirky an...

Let me start off by first saying that in my personal opinion, a 3 star book is a good book and one that I would recommend to people. I find that people cringe when they see 3 star and think the book isn't that great. It's not that, it's more along the lines of the book was a good read, but not one that will stick with me forever.Almost Impossible is a sweet and easy read for just about anyone. There isn't any over the top drama and nothing too ho...

3,5 de 5Una historia sencilla, sin drama ni grandes complicaciones. Pero muy bonita y tierna que os va a enamorar. Los protagonistas son muy adorables, es imposible no quererlos, y especiales cada uno a su manera. Un libro que a terminar te deja con una sonrisa tonta en la cara.

Sin duda era el libro que necesitaba para salir de mi parón lector. Una historia sencilla, tierna y con unos personajes adorables. Me ha gustado mucho 😍

3.5 / 5 FangsAlmost Impossible was a great summer romance novel! This was the perfect book to pick up when I was craving a contemporary with romance, banter, feels, and some drama sprinkled in!The main character, Jade, was a very likable character. She was a very practical and level-headed girl. I related to her SO HARD when she just wanted to stay inside an read books! She was someone that didn't really take risks if she had any thought of it no...

Really cheesy and kinda annoying (!!!) at some parts, but overall it's a sweet read if you're into that kind of thingRTC!

Casi imposible ha sido un libro sencillo y de lo más tierno, me ha gustado desde el primer momento y solo ha ido a mejor, por lo que espero que se publiquen pronto más libros de la autora. Reseña: https://fiebrelectora.blogspot.com/20...

Una historia muy ligera y sencilla de leer. La he leído en un día y me ha tenido muy entretenida. Es cierto que la primera mitad, aunque me estaba gustando, no me estaba transmitiendo tanto pero de ahí hasta el final se ha convertido en una historia muy bonita que me ha ganado el corazón. Me ha dejado con muchas ganas de seguir leyendo sobre Jade y Quentin y Lily, claro. Pronto más información en la reseña del blog. http://amorporloslibros...

Sencillo y muy tierno, me ha enganchado desde el primer momento y ¡por favor! Que se publiquen más libros de la autora

well this was not at all what I expected it to be

I consider myself a lover of YA books, but I've found this category so hit or miss for me lately, that I was beginning to wonder if I'd actually finally aged out of them. With Almost Impossible it became clear to me that I just haven't been lucky enough to pick up the right ones lately. Because this book? It was almost everything I love about YA.I was completely charmed by the smart writing and the sharp, snappy banter between Quentin and Jade. I...

Casi imposible es una novela young adult que enamora por la sencillez de su historia, sus protagonistas reales y los mensajes tan enérgicos que arroja. En general, es de esos libros que no puedes parar de leer, te va conquistando poquito a poco y lo terminas enseguida porque es muy cortito. A mí me ha encantado y pienso que es uno de esos libros ideales para retomar la lectura tras un parón lector porque te deja con muy sabor de boca.Reseña: ...

Jade has spent her whole life on the road with her rock star mom. But this summer she wants the typical American high school summer. She's on a mission to figure out who she is and on the way, with the encouragement from her mom, get herself into a little trouble. That is, with the hot boy next door, Quentin.The Story-This book is the epitome of the poolside read. I mean, a quarter of it is spent with Jade working at a pool ogling a cute boy. A...

Find this review and others at Carlene Inspired.Told from the perspective of main character Jade Abbot, Almost Impossible follows the teen on her journey of normal American life discovery. Raised on the road with her famous rock star mom, Jade is desperate to experience a summer of stability, to get a glimpse at what is to come in college. What she doesn't plan on is losing the freedom she is accustomed to and discovering that maybe living in one...

3,5/5 En cuanto leí que comparaban este libro al de autoras como Kasie West o Morgan Matson, supe que no podía resistirme demasiado a él.No soy nada fan de los exagerados dramones adolescentes que tanto cuesta creer, pero sí que disfruto mucho de las historias más sencillas, en las que un chico y una chica se enamoran y hay algún que otro mensaje entre medias. Y eso es justamente lo que nos da Nicole Williams en Casi Imposible.Jade es una c...

I've been overwhelmed with emotional reads lately and needed something refreshing to cleanse my palette. I relied on one of my most beloved authors to fill the the bill, and she delivered in the best way. Almost Impossible was delightful and everything I seek in contemporary YA; lovable hero and heroine, adorable setting, strong secondary characters, and a sweet coming of age story, sprinkled with romance. "Some people have to live with what life...

5 Could Not Love it More Stars!Review by Trinette DungeeJade Abbott is seventeen years old and she's traveled the world a few times over. With a mom who's the lead singer for one of the most popular bands in the world she's grown up on the road, home schooled and living the life that any other red blooded teenager would kill for. However, all Jade wants is a chance to be a regular teenager and when she manages to convince her mom to let her...

Jade had spent her whole life on the road with her mom as she toured the world with her band. This summer, the last summer before she was due to put down roots at the college of her choice, she wanted to experience an authentic American teenage summer and stay in one place. She had a few secret plans up her sleeve, but she never planned on Quentin capturing her heart.• Pro: As a single mom, I love seeing single parent families depicted in books...