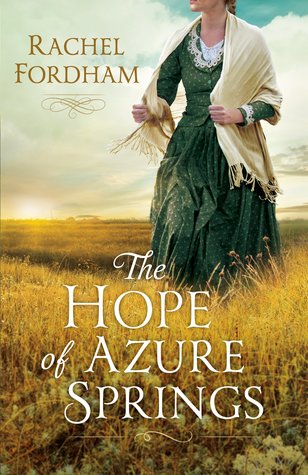 Seven years ago, orphaned and alone, Em finally arrived at a new home in Iowa after riding the orphan train. But secrets from her past haunt her, and her new life in the Western wilderness is a rough one. When her guardian is shot and killed, Em, now nineteen, finally has the chance to search for her long-lost sister, but she won't be able to do it alone.For Azure Springs Sheriff Caleb Reynolds, securing justice for the waifish and injured Em is ...
---
Details The Hope of Azure Springs
Reviews The Hope of Azure Springs
Wow! A fabulous debut from Rachel Fordham!Both the cover and the description had me hooked when I first saw this on Netgalley, and I'm so glad I decided to read it! It was so lovely to step into this simply-written small-town historical story with heart-melting characters, a sweet romance, and even gun-toting outlaws. Both Caleb and Em were unique and realistic MCs with so much depth to their characters. I loved their sweet relationship, easy ban...

I had the honor of reading this debut novel from Revell for endorsement a few months ago, and with the release coming in about two months, I thought I'd share it here! "As The Hope of Azure Springs unfolds, readers will find a well thought out and intricately put together love story about an uncommon heroine. Fans of Melissa Jagears and Jane Kirkpatrick will enjoy Rachel Fordham's books now and for years to come."~Dawn Crandall, author of...

I do enjoy a good historical romance and I'm always on the lookout for new titles and authors. The Hope of Azure Springs is Rachel Fordham's debut novel and she does a superb job of piecing together this inspiring story. It was exactly the book I needed and I loved sinking into it. Comforting, uplifting, joyful and heartwarming, The Hope of Azure Springs was a delight to read.Seven years ago Em traveled west on an orphan train. After seven ye...

The cover is gorgeous on this book and I was so excited to have a chance to read this debut author's book. The book was an emotional one, Em has had such a struggle in life. Is getting a gunshot ever a good thing? In this young woman's case it was. The back cover with the train on it plays an important part in this story. The book comes full circle in the end. The story was good but fell a little flat in my opinion. I was especially disappointed ...

About this book:"Seven years ago, orphaned and alone, Em finally arrived at a new home in Iowa after riding the orphan train. But secrets from her past haunt her, and her new life in the Western wilderness is a rough one. When her guardian is shot and killed, Em, now nineteen, finally has the chance to search for her long-lost sister, but she won't be able to do it alone. For Azure Springs Sheriff Caleb Reynolds, securing justice for the waifis...

I actually have the honor of knowing this author! We've had many a chat and she has become my favorite virtual partner in crime. Yes that was a disclaimer! I will try to go into this review with little bias, but c'mon I highly doubt that's gonna happen. It hasn't with any of my other favorite authors. 🤷The Hope of Azure Springs is what I call the "steak and potatoes" of books. It has its share of sad, depressing moments but OH the hope woven t...

With an eye-catching cover and a new author, I was so thrilled to be able to read this book. There were good reminders of getting past the struggles of the world and facing each day with a smile. Also, the light humor sprinkled throughout the pain and grief created a story that is realistic in all of our worlds.While I did enjoy this book, I did struggle with being drawn in by the main characters. Some of it was that a lot of dialogue was contriv...

Reviewed at The Power of Words: https://bit.ly/2KWngytIowa, 1881The description of The Hope of Azure Springs by debut author Rachel Fordham was appealing, so I decided to try it – and I'm so glad I did! The beginning pages quickly pulled me in, and I was immediately drawn to the heroine, Em. There's some suspense, but this is primarily a character-driven story, my favorite style to read. This is a heartwarming story of loss, love and resili...

I think every young girl needs to read this book. Wait. Every female needs to read this book. Who doesn't suffer from some sort self image issues?! This book is beautifully written and has such Biblical truth in it. It even has a fairy tale quality to it as well. The heroine, Em looks like a little girl, but she is actually twenty years old. She is tiny and malnourished and is plain. She knows she will never marry. The hero, Caleb is the handsome...

I was lucky enough to get an advance copy (ARC) of this novel. As someone who grew up watching Dr. Quinn Medicine Woman with my mom, I enjoyed reading about the Wild (Mid)West. I loved the rugged mountain man, Sully, and I loved the strong woman, Dr. Quinn. This novel is set in a somewhat similar setting (the frontier days in America), where a train is the height of the transportation options and a dollar buys a lot more than a value burger. Cale...

Author Rachel Fordham's debut novel is incredible; it will tug at your heartstrings as you're drawn into the lives of Em and Caleb. Loss through death due to the war and sickness was common but with perseverance healing can be reached. The characters come through as true to life and Fordham has me wanting to visit Azure Springs. So many unexpected happenings had me turning the pages quickly. Hope for the future kept popping up, even though th...

See full review at Joy of Reading(https://joyofreadingweb.wordpress.com...)This book deserves ALL the stars!! Rachel Fordham got me in ALL the feels with this amazing story!It has taken me a few days to clear the book euphoria in order to write this review. From the very first page, until the very last words at the end of the story, I found myself blissfully swept away on a current of words. Poignant and filled with emotion, this story is one tha...

I received this book from NetGalley in exchange for an honest review.I'm not much of a fan for historical fiction but this one was hard to put down. Em's life hasn't been a all diamonds and roses. All she's known is loneliness and pain. Having been seperated from her sister on an orphan train heading west, Em is determined to get back to Lucy. Problem is...she's not sure how she's gonna do it.Then one day she's shot and the man who took her in is...

The Hope of Azure Springs is an inspirational historical tale set in a time when loss and death were frequent occurrences in families. In the midst of hardship, a hope shines bright in the form of a young woman whose inner beauty helps her and others to overcome the difficulties life has dealt them to find a strong faith, everlasting love, and family. This is a story where beauty is revealed not by outer appearances but by the soul of a person. T...

This engrossing work of historical fiction will capture your interest from the very first page, and even after you finish the tale, it will leave you pondering the characters. Em is an unlikely hero. Sent west with her younger sister on the orphan train, they are taken by different people. Em is taken by a man who barely acknowledges her existence and who treats her exceedingly poorly. She vows someday to be reunited with her sister. Fate steps i...

Em, our main character, woke up in Azure Springs in 1881. She had been shot and had lost a lot of blood. Her hair was filthy and unkempt with years worth of dirt on her body. There was hardly any fat on her, she seemed childlike and close to death. The local Doctor determined that the bullet had missed her vital organs but she had lost a lot of blood and needed time, rest, and food to recuperate. Caleb the local sheriff who had brought her in wa...

Em was separated from her little sister Lucy during an orphan train adoption. It's been seven long years and she finally escapes the skinflint who barely cared for her. She is accustomed to scratching out a living while this man is away frequently and she lives in his dilapidated falling down barn. There is a shootout and her guardian is killed, and Em is shot and plays dead until she's rescued by the sheriff. The skin and bones feisty little...

I absolutely loved this book from the very first, you just get absorbed into the story and feel like you're right there with Em & Caleb following along. I shed several years while reading this book, it was amazing! This is a must read, I hold it right up there with the classics.

The Hope of Azure Springs by Rachel Fordham takes us back to 1881. Em Cooper has been shot and left for dead. She was lucky to be found and transported to Azure Springs, Iowa where the Howell family has taken her into their home. Sheriff Caleb Reynolds is responsible for keeping the law in Azure Springs and the surrounding area. He wants to catch whomever harmed Em and her guardian George. Em was taken in by George seven years prior when the orph...

Debut novelist, Rachel Fordham, has clearly shown in this book that she has talent. A sweet story focusing on the journey of Em who left New York as a child of 12 along with her 6 year old sister, Lucy, on a orphan train. Beautiful, adorable Lucy is quickly selected by a set of parents, but each time Em is bypassed due to her plain looks, freckled face, and forlorn demeanor. The characters is in the small town of Azure Springs were so supportive ...

Debut novel, The Hope of Azure Springs by Rachel Fordham is a breath of fresh-air. With deep emotions, the characters will draw you in ,as you feel apart of their life in Azure Springs dealing with loss, sickness and romance. Ms. Fordman did a fantastic job when it came to the research behind this book and I would have never known this was her first book. Honestly, this is a must read! The Hope of Azure Springs is a wonderful novel and a very eng...

First book I have read by Rachel Fordham but sure it won't be the last. A book you start and will just keep flipping the pages. A well written book also wonderful characters. My heart went out for the character Em. Who road the orphan train to get a family who would want to add her to their family. Her life takes a turn when her caregiver is shot to death leaving her once again alone. Now she is of age where she can do what she always wanted to i...

This is an excellent read by debut author Rachel Fordham. I thoroughly enjoyed the book from it's great characters to the suspenseful moments to the absolutely lovely ending that made me smile and shed a tear or two. The ending was perfect! It was a nice, easy read that I read in less than 24 hours and it kept me engrossed from beginning to end. It has a great message in that losing people you love doesn't mean you have nothing left to live for, ...

I'm always excited to read an author's debut, especially when it's in a favorite genre. The Hope of Azure Springs is an endearing historical romance that perhaps doesn't follow the typical plot of other historical romances. Em, who has lived in nearly deplorable conditions since she was a child, was never shown simple kindness, let alone love. After her negligent guardian is killed and Em injured, she is brought to Azure Springs, where sh...

An enjoyable read from start to finish! A western style tale set in 1880's Iowa, with a very likable heroine whose tragic backstory will instantly make readers want her to get a happy ending. A bit of action, adventure and a tender romance round out the plot with a satisfying finish. "Let them say what they would, she knew her own story and they would not steal the measure of joy she'd found." Em was a character that I grew fond of quickly and ...

3.5 starsWhen I first heard about this debut on another blog I was intrigued and instantly added it to my TBR. I was excited when I had the opportunity to receive a copy for review and shortly after it arrived in my mailbox, I dove in.I'll start by saying that I absolutely did enjoy this book and read through it rather quickly. That being said at the very outset I had a little trouble getting into the story and connecting with Em. I think a lot o...

OH MY WORD!!! This book wrecked me. I LOVE this book. Go buy this book now!!!My Actual Review:The Hope of Azure Springs is an EXCELLENT story. I 1000% loved every second of this book. I was astounded when I discovered that this is Mrs. Fordham's debut novel. WHAT?! NO WAY!!! This book is so well-written. The characters are wonderful, especially Em and Caleb, the plot is thoroughly engaging, the emotional moments in this book had me sobbing and ...

The cover is what first drew me to this book. Its so beautiful and inspiring but also somehow manages a tinge of heartache, which I think captures the story of the book so well.Em and Caleb are an unlikely pair. The handsome town sheriff who exudes strength and courage can have his pick of the prettiest girls around. Em Cooper is plain, unloved and alone in the world. Having escaped an attack and her guardian killed, she finds herself in the care...

The Hope of Azure SpringsBy Rachel FordhamWhen a young woman is found alone and shot she is brought to Azure Springs, Iowa. Her identity is unknown and why she was attacked is of utmost concern to Sheriff Caleb Reynolds. When Em wakes up Caleb is even more concerned to learn that Em wasn't the only victim of these men. And Caleb is sure that if these killers learn that Em survived they will come looking for her.For the last seven years, Em has ha...

I was excited to finally get to read, The Hope of Azure Springs. The thing I liked most about this novel is the main character Em. She is not your typical heroine found in a romance novel. Em's life has been a hard and very sad one. She is not pretty and people call her plain looking. Her body is scarred and she doesn't have an outgoing personality. What made me love this character? Em is kind, loving, honest, and just a good person. I loved the ...