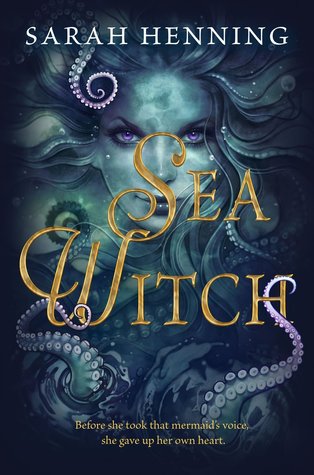 Everyone knows what happens in the end. A mermaid, a prince, a true love's kiss. But before that young siren's tale, there were three friends. One feared, one royal, and one already dead.Ever since her best friend, Anna, drowned, Evie has been an outcast in her small fishing town. A freak. A curse. A witch. A girl with an uncanny resemblance to Anna appears offshore and, though the girl denies it, Evie is convinced that her best friend actual...
---
Details Sea Witch (Sea Witch, #1)
Reviews Sea Witch (Sea Witch, #1)
The sea is a fickle witch. She is just as likely to bestow a kiss as to steal the breath from your lips. 3 1/2 stars. I gave myself a bit of a headache trying to rate this book. Parts of it were 2 stars, other parts 4/4.5, so in the end I've settled on this. But I will say one thing: this book is probably not what you are expecting. I hope it can find the right readers.It's really a question of how much patience you have. And how easily you can s...

I decided to make my own painted edges. They are not great, but I love them! I used purple to go with the purple in her eyes! Book & Poster BelowA million stars for the cover and the poster I got in one of my book boxes and got laminated! I liked the story! I didn't love it to death as I'm not a big fan of The Little Mermaid. But who cares, it was good enough for now and I'm glad plenty love it 😊Happy Reading! Mel 🖤🐺🐾

I wasn't sure about this when I first started reading it, but I'm so glad I carried on! Around the 40pg mark, I became hooked on the plot. It ended up being hard to put down. Very unique take on the classic story of The Little Mermaid. I think people are going to enjoy this one!

5 Stars!She knew that with power, the bravery to act would come.I'm just going to say I hoped and prayed this was going to be good. Ever since I read To Kill a Kingdom I was hook line and sinker for any form of a re-telling of The Little Mermaid. I say that but this is the first one I've read since then. Anyway I'm going to be frank, this is a real slow burn, but I loved that. It really builds up to what is coming. You get the back story of a spe...

You can find this review and other non-spoilery reviews @ The Book PrescriptionActual Rating: 3.5 stars"IT'S A PERFECT NIGHT FOR BURNING WITCHES."🌟 I learned to go into books without high expectations because the end result will be better whatever it is. But The little mermaid retelling? I am lying if I say that I didn't raise up the bar a bit!🌟 I recently read To kill a kingdom and that book was very good, it is getting much attent...

this was just....not good.reasons why this book did not work for me:-there was no plot up until the last 50ish pages -the characters were flat with zero development-the two male characters were completely interchangeable -the romances were the worst cases of insta love I've ever seen-when the plot finally picked up all the characters became different people out of nowhereoverall this book was just flat out boring

"Magic was barter—the right words, actions, potions for the right result." Well, that was... unexpected.Sea Witch is marketed as a villain origin story, namely the sea witch from The Little Mermaid. Being the weird kid in the murder corner, I eagerly requested on Edelweiss, thinking it'd be a dark and transgressive retelling along the lines of Marissa Meyer's Heartless or Fairest. What I got instead was a quiet, rather literary novel about ...

♦ Video Review ♦Sea Witch is one of those books that grew on me more and more with every page that I read.I started it with excitement because I love The Little Mermaid and Ursula as a villain but also some hesitation because villain origin stories can be repetitive and unoriginal. But what I got out of Sea Witch was incredibly special! "I could tell her that it's like the tang of summer wine and the sound of arrival bells as a new ship ...

I was so excited for this book and it turned out to be a major bummer. The Little Mermaid was my jam back in the day (it still is, if we're being honest), so imagine my excitement when I found out that 2018 would bring me not one, but TWO Little Mermaid retellings. Psyched isn't even the word. Unfortunately, this fell short for me in so many places. This review is definitely going to be on the shorter side because I just really don't want to reh...

I was really torn about this book. I didn't LOVE it but it kept me entertained and intrigued enough to push through until the end. It was the last hundred pages or so that really made this book great. Besides that, it probably would've been a solid 2/5 stars for me.I am a HUGE mermaid fan. I love everything and anything mermaid and The Little Mermaid is and always will be my favorite fairytale. That being said, my expectations were very high ...

Thank you Edelweiss and Katherine Tegen books for sending me a review copy of this book in exchange for an honest review. "The sea is a fickle witch. She is just as likely to bestow a kiss as to steal the breath from your lips." Urusla is possibly one of my favorite villains, and finding out that this was a Little Mermaid/Ursula retelling just got me extra excited to get my hands on this book.The start of this book seemed interesting. I'm not ...

I received a copy of this book in exchange for an honest review. The Sea Witch follows the story of Evie, a twelve year old girl drawn to the dark powers of the sea after the tragic drowning of her best friend Anna. We follow Evie on her journey from girl to young woman, wrapped up in the exploits of her two love interests, as she meets a mysterious young woman by the shore who looks just like her former best friend, and becomes determined to mak...

pre read: wait- you mean a story about my fAVORITE VILLAIN ON THIS EARTH, URSULA? someone find a pen and sign me the fuck uP (pleasepleaseplease let this be everything I'm hoping for rn)aug.19: okay, im here. we're about to read this. It sounds extremely soul crushing, so I've been delaying this read, but we're finally going to do it.post-read: wow. Someone please remind me to never read a retelling of a fairy tale if the ending ends up sad...

I really liked this! I don't read many retellings anymore, and especially not many about mermaids so I don't have much to compare this to though. It did take me a few chapters to get into - until we actually meet a mermaid. A lot of it did feel predictable, especially considering the title, but it played well with elements from the original Hans Christian Andersen tale and the Disney movie, and overall I did enjoy myself.TW: drowning/near drownin...

An origin story for The Little Mermaid's villain Ursula? Yes, please! I can't help but have a special place in my heart for Ursula because that's what I was almost named. Of course, the famous Disney movie came out in '89, and in the classic tale, the sea witch did not have a name. So the urge to name me Ursula was purely a German thing and thankfully it wasn't my name because in elementary school, kids would've had a field day with t...

RATING: 2/5e-ARC provided by Edelweiss in exchange for an honest reviewDNF-ed at 37% :(Ever since her best friend, Anna, died, Evie has been an outcast in her small fishing town. Hiding her talents, mourning her loss, drowning in her guilt. Then a girl with an uncanny resemblance to Anna appears offshore, and the two girls catch the eyes of two charming princes. Suddenly, Evie feels like she might finally have a chance at her own happily ever aft...

When I saw that this was Ursula's story before The Little Mermaid, I knew I had to request it (I also ordered a book box with it).  I love anything with mermaids and The Little Mermaid is a favorite.This book really surprised me.  I'm not sure what I really expected, but I really liked this one a lot.Evie is a poor girl with two best friends above her class.  Anna and Nik.  Nik is a prince and really shouldn't be playing with Evie, but his fa...

Wow this book, I'm trying to form more words to express my love for this book but I'm just at awe that I can't form any at the moment. I highly recommend this one. And I'll most definitely reread it soon.

Sea Witch by Sarah Henning is a young adult fantasy that is loosely based on The Little Mermaid. Being a fan of retellings and new takes on the stories I love this take on the origins of Ursula was right up my alley.Evie is the daughter of a fisherman but not just any fisherman but the fisherman for the royal family. So while Evie was not upper class herself she had grown up with the royal children and became best friends with Nik, the prince. Ni...

First I have to mention that this is the most beautiful and mesmerizing cover ever!!! I really loved this, it was just the right book at just the right time and I couldn't seem to put it down!Full review can be found on my blog, here. Blog | Bookstagram | Instagram | Twitter

Buddy Read with the loveliest Hamad.-----------------------------------------DNF @ 39%Thanks to Edelweiss and the publisher for providing an advanced reader's copy of Sea Witch by Sarah Henning. All opinions are my own and as honest as they can be."The sea is a fickle witch. She is just as likely to bestow a kiss as to steal the breath from your lips."This book is just a whole mess. I have been anticipating to read it since it was announced, and ...

What a great read! I really enjoyed this.

3.5 Stars. There were parts that were really beautifully written, but they were so good they seemed to highlight how unhappy I was with the parts that dragged on.

Borrowed a copy from my local library!I'm not going to lie, I was left feeling quite disappointed by the end of Sea witch. I absolutely love retellings and The Little Mermaid is something I grew up with as a child. But ultimately, the constant switching back and forth between the past and the present day left me confused and a lack of connection with Evie and Anna as characters. In this novel, the main character Evie is a witch but must hide her ...

OMG A VILLAIN ORIGIN STORY ABOUT URSULA!! **I received an ARC from HarperCollins Canada in exchange for honest review**First things first, Ursula is one of my fave Disney villains so I knew I needed this book in my life! This is a unique take on the little mermaid with a rich story of loss,friendship, love and of course revenge. I found the beginning a bit slow but after the first half the pace really picks up. I am a big fan of morally grey char...

"That little witch will be the death of you if you're not careful." First 2/3: 1.5 starsLast 1/3: 4 starsA very, VERY slow start to what is eventually a good book.Sea Witch was not what I was expecting. And chances are it's not what you're expecting either. The synopsis promises an Ursula retelling / origin story / mermaid tale, and it's not wrong. But at the same time it's a rich historical tale, focusing on love, friendship, secrets, the ocean,...

Everyone knows the story of the Little Mermaid.This novel tells us the tale of the Sea Witch and how she came to be. I appreciated the throwbacks to the original, but this whole plot just felt like the same story told from a different time. None of the characters really drew my interest, and it wasn't until the end that I actually was nervous about what would happen to the main characters. I wanted more of how Ursula came to inhabit her form and ...