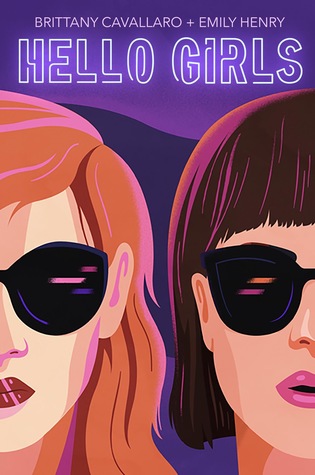 Best friends are forged by fire. For Winona Olsen and Lucille Pryce, that fire happened the night they met outside the police station—both deciding whether to turn their families in.Winona has been starving for life in the seemingly perfect home that she shares with her seemingly perfect father, celebrity weatherman Stormy Olsen. No one knows that he locks the pantry door to control her eating and leaves bruises where no one can see them.Lucill...
---
Details Hello Girls
Title
Hello Girls
Author

Brittany Cavallaro

Release Date
Aug 6th, 2019
Publisher

Katherine Tegen Books

Language

English

Genre

Contemporary

,

Young Adult

Rating
Reviews Hello Girls
Two best friends from Michigan go on a road trip of empowerment in their stolen convertible. WAS THIS NOVEL WRITTEN *JUST* FOR ME? BECAUSE I FEEL LIKE IT WAS.I went into this with high hopes. I love Emily Henry, I love the setting, I love friendship. But I guess,,,,,,,,,I was expecting something more emotionally devastating? i.e Intense feelings between these two friends. I showed up almost entirely for the friendship; sadly, though, I never felt...

I am deeply fortunate to have gotten to read this as a manuscript. HELLO GIRLS is a razor-sharp union of sidesplitting dark comedy, fierce feminism, and poignant friendship, paced like an Alfa-Romeo at full throttle, and written in gleaming, perfect, gutpunch sentences.One of the sharpest, funniest, and most perfectly written books I've ever read. This story of two best friends on the lam will have you alternating between rolling with laughter ...

This was sent to me by the publisher, in return for an honest review. Of course, all thoughts are my own. 3.5 stars.I have incredibly mixed feelings about this book.This seems to have been written for me. My favorite trope *ever* is vigilante teenage girls. I just find the entire trope so thrilling and impowering. While I loved that aspect of HELLO GIRLS, it's far from a perfect story.First off, these girls are pretty dumb. I can't go into too mu...

This was such an amazing read! Girl power to the max; it was so funny and empowering!Thank you to Katherine Tegen Books and Harper Collins for the free ARC!

THIS IS MY EVERYTHING!!!!!!

I have a confession: I'm tired of unfaltering girl-power. Obviously, it's important to empower and encourage young girls coming up in a world that we can actively make brighter for them. But despite our own beliefs and the ardent-feminist voices that have finally found a stage in this generation, there will alway be men who are larger than us, louder than us, insisting all that hard-earned self-esteem is crap, we are crap, weak and useless. S...

okay this wasn't bad. and i'm beyond grateful to have received an arc of it. but it wasn't anywhere near how i expected it to be like. my fault for having expectations but also, this book was just dull really. how lucille and winona became best friends literally happened overnight without buildup whatsoever and the book just kept telling me "these girls are the bestest of friends so you'd better believe it!" and i didn't buy it at all. like i'd h...

4.5 stars!What can you expect when besties irl – and badass authors who always deliver the best books – Brittany Cavallaro and Emily Henry go together and write book that punches toxic masculinity in the face? THE BEST. and HELLO GIRLS surely delivered that! Full of heist and female power that reflects so hard the reality women face now despite all the movements and protests we do.Coming August 2019, don't miss this one.Full review to come. ...

Not a bad place to start in 2019!One of my favorite passages:"It struck her then that the two of them were crouched between a church and a police station - two places of confession - and that, for whatever reason, they'd chosen each other instead."

This book is absolutely ferocious. Winona and Lucille are wounded, furious, and apparently all the other has. And they are everything I want in a female friendship-- protective, brave, a little selfish on their duo's behalf. I love them so much I want to howl at the moon.

The right book at the right time. Love Lucille and Winona so much.

Girl power! This book brought me all the feels when it comes to girls taking back their power. Girls (well, all people) get in situations where they feel powerless all the time. Often that's abusive situations, as is the case in this book (and unfortunate life circumstances). Seeing Winona and Lucille take their lives back, refusing to stay stuck in their life, is very empowering! The growth they experienced I also feel was done very well because...