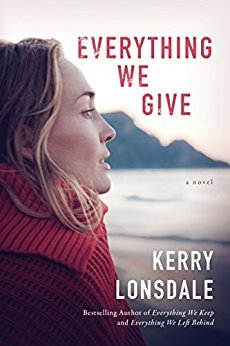 From the author of Everything We Keep comes the final novel in the Amazon Charts and Wall Street Journal bestselling Everything Series. Brimming with suspense, mystery, and romance, Everything We Give brings to a powerful close the gripping series of love, lies, and the secrets families keep. Award-winning photographer Ian Collins made only one mistake in life, but it cost his mother her freedom and destroyed their family, leaving Ian to practica...
---
Details Everything We Give (Everything #3)
Reviews Everything We Give (Everything #3)
Thanks to my readers, Ian has a story. I hope you enjoy reading EVERYTHING WE GIVE as much as I enjoyed writing.

How many of you have been waiting--like me--for the conclusion of the Everything series? Man, does Kerry Lonsdale deliver. With her signature twists and turns, nothing is a given until the last, satisfying page. I cried, I bit my nails, I lost myself in the images of wild horses galloping across rural Spain, and I became full immersed in the journey through Ian's past and present. Even better, EVERYTHING WE GIVE tied up the last threads from Aime...

3,5 stars rounded up.This was the third in the Everything series and I enjoyed it just as much as I enjoyed the first two.     Three very different yet intertwined stories, all three books have been centred around Aimee, Jamie and Ian.    Book One had been primarily from Aimee's perspective and was part mystery,  part love story.     Book Two brought us up to date with Jamie although Aimee and Ian were still in the mix.  In this thir...

4.5/5Before I get into my thoughts I want to warn you guys that if you're planning on reading this series and haven't yet, don't read any further because there will definitely be things that spoil the first two books. Everything We Keep is the first book and Everything We Left Behind is the second, Everything We Give is the third and final installment and I can highly recommend this series, it is such a blend of genres that it will appeal t...

A tough one to rate and review, Everything We Give was, quite simply, just okay. Although I will say the writing and overall story played out better than the second book in the series, Everything We Left Behind, the third book felt drawn out and stretched beyond its limits.For me, Ian never really felt fully fleshed out and his initial role in the series, as Aimee's love interest in the first book, was more evident than I would've liked. Ian seem...

Kerry Lonsdale gives everything away in this final book in the EVERYTHING trilogy, EVERYTHING WE GIVE. Questions involving an enigmatic woman, the mystery of her name and her identity, and her connection to Ian kick off what is a fast-paced and sensual story of suspense. Like EVERYTHING WE KEEP and EVERYTHING WE LEFT BEHIND, books one and two in this delectable and layered series, EVERYTHING WE GIVE is the frosting on the cake, delivering more th...

This is the long awaited story I've been wanting for two years! You'll get all the feels with this one: elation, sadness, anger, happiness, karma, the list goes on and on. This book is Ian's story and readers should definitely read the first two books in the series before diving in to this one. I don't want to spoil anything, but if you were rooting for Ian in Everything We Keep, you should most definitely read this book!

This book was such a satisfying ending to the three-book "Everything" series. My heart broke at times for Ian, but I also really enjoyed learning so much more about his backstory. I love how Lonsdale tied everything together, but didn't do it with some nice neat little bow. In the long run, each character got to tell his or her story, and by the end of the entire series, you were able to piece everything together.I loved the added elements ...

Do NOT read this review (or even the synopsis of the book), until you've read Everything We Keep and Everything We Left Behind. This novel contains major SPOILERS for its predecessors. If you're not planning to read Everything We Keep (even though you totally should because it was incredible and an instant favorite of mine in 2016), then, by all means, go ahead with this one. However, it will definitely make more sense if you read Everything We K...

Everything we Give is a hauntingly compelling love story that wraps up the lives that are torn apart, woven together, and how staying away is letting go, demanding courage, heartbreak and the joys of unconditional love. This is book #3 of the Everything trilogy and I am still swept up in the emotions this beautiful book gives, making me cry, making me sigh with contentment, and loving the way love is played out in so many forms. Ian's tragic past...

Have you read Lonesdale's Everything series? I particularly enjoyed this latest and final installment about Ian, a man whose childhood mistake cost his mother her freedom and destroyed his family. Now a successful photographer and happily married with a family of his own, Ian must decide whether to take the chance to find his mother and learn the dark secrets of his past, when doing so might cost him everything.

I loved the first two books in this trilogy and have been waiting patiently (not too patiently) for the final book. WOW - what a fantastic book. To get the absolute most enjoyment out of this book, you really need to read all three books in order.Everything we Keep was mainly Aimee's story, Everything we Left Behind was James' story and Everything we Give is Ian's story - and what a story it is! Even though Ian is a successful photographer with a...

Everything We Give is the final book in the Everything trilogy; it's bittersweet to have the series end...I feel like these characters are friends...people I truly care about.. people with whom I've shared their joys, their triumphs, their tragedies, their sadness, and, mostly, their love. This book is a fast-paced romantic suspense story, filled with emotional highs and lows, and the twists and turns of the mystery of Ian's traumatic child...

I was fortunate enough to get an advance reader's copy of this gem of a book. Once again, Kerry Lonsdale captures the reader from the start. The characters we've followed through the first two story lines develop further and we gain insight into who they are based on their history. My heart broke for Sarah and the childhood that Ian was robbed of. Kerry paints a vivid picture of the beauty of the love Ian and Aimee share that allows him to truly ...

This is the third and final installment of The Everything series and it does not disappoint! This book tells Ian's story. There is alot to learn abour Ian and his story just makes him all the more endearing. This book, as with all the others in this series, was written beautifully and sends you on an emotional roller coaster. I thank Netgalley for allowing me to read and review this book. Highly recommend!

The Everything trilogy comes to a bittersweet end with Everything We Give. In this final book, readers get to know Ian's story. Told in alternating chapters from Ian's childhood and the present, we learn of his growing up with a mother with mental illness and a father who was away too often because of his work. My heart broke for Ian as he tried so hard to help his mother. That's quite a burden for one so young and not fully understanding her ill...

I have loved all the books in this series. The characters are great. They have their flaws and they learn a lot. A bit like real life, but still fictional enough to feel like you're escaping from reality while reading about them.

The end of the Everything Trilogy is here! You will not be disappointed with this book or how she wraps up the series. I loved the characters and it's been a joy watching the characters grow and evolve. Ian's childhood was difficult. His mom dealt with mental illness and as an only child, Ian felt it was his job to take care and protect her. Unfortunalty her mental illness was more than a child could handle.Ian's journey to landing his dream phot...

If I could give this book 10 stars, I would. That is just how much I loved the conclusion of Kerry Lonsdale's Everything series.Readers (myself included) have begged Kerry for Ian's story since Book One (#TeamIan), and let me tell you, Everything We Give was worth the wait...the long agonizing wait!Ian's story is quite powerful. Kerry writes with such detail that you can feel all the emotions Ian is feeling. It will bring you to tears and make yo...

My thoughts on Everything We Give by Kerry LonsdaleWow, it is amazingly good! I loved the way the series ended. Ian and Aimee are great characters and the chemistry they have is off the charts. The ending is awesome.The writing is flawless, and I am a fan of Kerry's for life! Bravo on the different themes that are woven into this story and series.P.S. I was given this arc through Netgalley and Author. This is my honest review.

This was a fast read because I was so into it I couldn't put it down!

If I could give this book 10 stars, I would. That is just how much I loved the conclusion of Kerry Lonsdale's Everything series.Readers (myself included) have begged Kerry for Ian's story since Book One (#TeamIan), and let me tell you, Everything We Give was worth the wait...the long agonizing wait!Ian's story is quite powerful. Kerry writes with such detail that you can feel all the emotions Ian is feeling. It will bring you to tears and make yo...

Everything We Give by Kerry Lonsdale is a beautifully written finale for this wonderful series! Even though this is part of a series, it can be read as a stand-alone book without any problems. Of course, you need to start with Aimee's story in Everything We Keep! This third book in the series features Ian, Aimee's husband. The story is very emotional and heartrending in scenes from Ian's youth. I do not want to post spoilers, but I felt the autho...

*Everything We Give is the third and final installment of the Everything series. I highly urge readers to read the first two books in chronological order before reading this one, to avoid spoilers.*This book is the perfect climax and denouement to a wonderful series! We've read Aimee's story and James' story and now to tie both of those up: Ian's story.Ian's story touched me to the core. The first two books were also touching, but there was somet...

I wanted to like this book, really I did. However, I felt like reading it was like a marathon. I started out with lots of energy, ready to conquer it! Halfway through I felt exhausted and didn't know if I would make it through or if I should just duck out and pretend I never tried. By the end, I was just desperate for the finish line, gasping for breath to survive as I tried to cross it.Trilogies are sneaky.When you are a person who doesn't l...

Emotional, Insightful, and Captivating as Ian is introduced to the world in a new light seeking to understand both his past and the connections it holds for his future.This is the third in a series that is as powerful as it's dynamic and fun.Ahh yes, Ian the award winning photographer seeking to make it big with National Geographic and with the love of his life Aimee.However, Aimee is still in deep thought over James especially since his sudden d...

Loved it! My favorite of the three, although they were all quite enjoyable. Sad to see the series end, but Lonsdale gave us a finely wrapped up story which answered many questions pertaining to Ian's history and the closure between Aimee and James. I'm excited to see what Lonsdale has next up her sleeve! Well done!

I have torn through each of the books in the Everything series very quickly. I'm invested. I love the characters, I love the story line, and I especially love the way that these books shed light on situations and issues that oftentimes get swept under the rug in today's society. In the first book, I fell in love and cried with Aimee as she sought out her lost fiancé. In the second one, I got to know her fiancé, his dark past, and how he was goi...

This is a bittersweet review for me. I have been following James and Aimee, and eventually Ian, from the beginning, from book one. Everything We Give, the third and final book in Lonsdale's trilogy is…satisfying. Yes, that is the right word. It is perfectly satisfying. First I want to say that if you intend to read this book, you must first read Everything We Keep and Everything We Left Behind. It is a true trilogy in that you need to read th...

MY REVIEW OF "EVERYTHING WE GIVE" BY KERRY LONSDALE LAKE UNION PUBLISHING JULY 3, 2018"Everything We Give" by Kerry Lonsdale is a captivating, intense, and intriguing novel. This is the third of a series, but can be read alone. The Genres for this story are Fiction, Mystery, Suspense, and Romance. The story is told in the present and goes to the past only when it pertains to the characters or events.The author describes her characters as ...