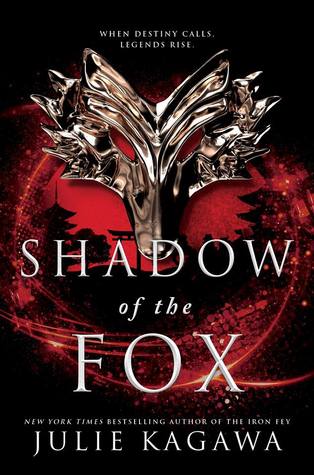 One thousand years ago, the great Kami Dragon was summoned to grant a single terrible wish—and the land of Iwagoto was plunged into an age of darkness and chaos.Now, for whoever holds the Scroll of a Thousand Prayers, a new wish will be granted. A new age is about to dawn.Raised by monks in the isolated Silent Winds temple, Yumeko has trained all her life to hide her yokai nature. Half kitsune, half human, her skill with illusion is matched onl...
---
Details Shadow of The Fox (Shadow of the Fox, #1)
Title
Shadow of The Fox (Shadow of the Fox, #1)
ISBN

9781488097225

Author

Julie Kagawa

Release Date
Oct 2nd, 2018
Publisher

Harlequin Teen

Language

English

Genre

Fantasy

,

Young Adult

,

Young Adult Fantasy

Rating
Reviews Shadow of The Fox (Shadow of the Fox, #1)
The monks at the temple would often train or meditate bare-chested, so I was used to seeing male upper bodies, but they'd all been so familiar I'd never given any of them a second thought. Kage Tatsumi was a different story. I feel sad writing this review. I absolutely loved Kagawa's The Immortal Rules trilogy and also enjoyed her The Iron King series, but after Talon and Shadow of The Fox, I think I have to admit that we're growing apart.I'm not...

(My amazing friend Courtney, at Curly Book Owl, gave this to me as a birthday gift!) 💖 "…The tiniest pebble, when dropped into a pond, will leave ripples that will grow and spread in ways we cannot comprehend." Shadow of the Fox is a bright, shining light in 2018 fantasy! Friends, I loved this from the very first chapter, and was more captivated than I have been reading any other book this year. Like, go into any bookstore, read the f...

There was so much to love about this book. The vast detailed world building, the Japanese legends and lore, the moral dilemmas that were faced...it was so fully fleshed out and enjoyable. The characters were what truly sold me though. I loved each of them so much for so many different reasons. I can't wait to read the next book because I need to know what happens to them!

This review and other non-spoilery reviews can be found @The Book PrescriptionActual Rating 3.5/3.75 stars" I was simply a weapon. A weapon did not question the intent of those who wielded it. "🌟 Reading Shadow of the fox was like watching an anime movie/ series and I always liked those.🌟 I wasn't sure if I wanted to read this or not but I really wanted to read something by the author and I am glad I did request it! The opening line w...

*I received this arc from the publisher in exchange for an honest opinion* "Once every thousand years… a wish will be granted and a new age will dawn." 4.5 stars Shadow of the Fox is an #ownvoices YA fantasy that was inspired by Japanese mythology, and essentially revolves around the search for The Scroll of a Thousand Prayers which has the power to call upon the great Kami Dragon who will grant its summoner a wish. A lot of folks are after ...

"One step at a time, little fox. The spider does not spin its web in a heartbeat, nor does the albatross fly across oceans with a few flaps of its wings. Many would consider what they do impossible, and yet, they still complete their tasks without fail, because they simply...start."This book would make an INCREDIBLE anime or animated series along the lines of Avatar The Last Airbender or something, because it seriously played out like a tv show i...

Thank you Harlequin Teen for providing me with a review copy in exchange for an honest review. "You are a weapon; attachments will only slow you down and make you question your objective. Remember, your loyalty is to the Kage, nothing else." My first ever read by Julie Kagawa, and let me tell you that I was not disappointed. I was so intrigued when I read the synopsis, and as I predicted I truly loved this book! The setting, characters and st...

"He might be young, with the face of an angel, but there was no mistaking the truth in his eyes. He was a killer." Guess what happens next. Go on, guess!Yes, my dear stranger on the Internet. They fall in love. It's a hardly a spoiler. You know it's going to happen the instant Yumeko notices Tatsumui's chiselled abs. Honestly, Kagawa's work of late is extremely predictable and derivative. Which makes me equally disappointed and annoyed becaus...

Thank you so much to Harlequin Teen for sending me a physical copy of Shadow of the Fox. Another thank you goes to NetGalley for providing me with a digital copy as well. All thoughts are my own and receiving copies of the book did not impact this.FIND MY REVIEW FOR SHADOW OF FOX ON MY BLOGShadow of the Fox by Julie Kagawa was a difficult book to get through. Fantasy novels for me are a little heavier for me to power through. I struggle to get th...

Shadow of the Fox by Julie Kagawa was probably the most surprising 5 Star Read I've had this year. 🌟🌟🌟🌟🌟The writing style was SPECTACULAR and easy to follow.I cannot emphasize enough how descriptive the creatures of the fantasy realm were written. Among the various fantasy characters we see:•Demons •Spirtits •Samurai•Dynasty Nobility •Witches•Tree Spirits•Ghosts•Dragons•KitsuneThe story is seen through three mai...

A thousand years before, a wish was granted and the land of Iwagoto suffered. Now is the time for a new age, a new wish and a new world, but that wish will only be granted to the holder of the Scroll of a Thousand Prayers. One half-kitsune raised by monks will be tasked with a part of that precious scroll and a quest to find the rest. The fate of her world will rest on her shoulders, but she will not journey alone as an unlikely group of allies j...

"It is very hard to be human, little fox. Even the humans themselves don't do a great job of it." Shadow of the Fox is the perfect fantasy novel that my little Asian heart has been craving! It reminded me of Avatar: the Last Airbender and Beyond the Boundary - two of my favorite cartoons/animes in existence! The flow of this story felt like a living, breathing anime, and I couldn't have been happier! Of course I devoured it in a few days! An...

Review copy generously provided by the publisher via NetGalley in exchange for an honest reviewShadow of the Fox was a fun ride through a lush Japanese inspired landscape and not at all what I was expecting! I loved so much of this story and found it completely entrancing. If you're looking for a thoroughly developed fantasy world, enchanting mythology and lore, morally grey characters, and a centuries old mystery to unravel ... THIS is the book ...

Shadow of the Fox has me at a loss for how to review it.It's received so much praise already - often from other reviewers who I really respect and whose book opinions or recommendations I usually agree with or find helpful - yet despite that, it largely fell flat for me. The prose and the dialogue, in particular, were the reading equivalent of listening to nails on a chalkboard.What went wrong? Am I just an alien from another planet, operating ...

Find me:Blog | Twitter | Tumblr | Instagram | SpotifyA copy was given to me via NetGalley in exchange for an honest review.This book requires a great deal of imagination and Google search.That is if you are unfamiliar with Japanese folklore. Granted, things and creatures mentioned in this book are described. There's even a glossary at the end of the book (which I found out too late). But sometimes, our imagination cannot measure up to the real th...

I do not know how I am going to do justice to the awesomeness that is SHADOW OF THE FOX - which I've just finished and my mind is officially blown. It is SO FANTASTIC I DO NOT KNOW WHERE TO START (and am resorting to yelling about how great this is all in caps, apparently). BUT IT'S THAT GOOD! As many exciting twists and turns as Game of Thrones (OMG - the most BRILLIANT surprise POV shift I have EVER SEEN) AND this exciting, cinema-ready fantasy...

Check out more reviews @ Perspective of a Writer...Raised by monks in the Silent Winds temple, Yumeko has trained all her life to hide her yokai nature. Half kitsune, half human, her skill with illusion is matched only by her penchant for mischief. Until her home is burned to the ground, her adoptive family is brutally slain and she is forced to flee for her life with the temple's greatest treasure—one part of the ancient Scroll of a Thousand...

*This review can also be found on YA Books Central & The Reader and the Chef! Huge thanks to Harlequin Teen for the ARC in exchange of my honest opinion.*Julie Kagawa NEVER disappoints. As a fan who has been following her writing since The Iron Fey series came out, I can truly say that each new work PROVES why she is one of my top favorite authors. Shadow of the Fox is the first installment in a new series full of epic Japanese folklore, humor, a...

SO THRILLED for Julie to finally publish a Japanese fantasy. Oh, and it has a super hardcore Inuyasha feel to it ;)Full review to come!

4.5 starsI so enjoyed reading this one! It was really nice and refreshing to have an entertaining fantasy with a strong plot arc and endearing characters.Shadow of the Fox was first and foremost a really engaging read. It kept me wanting to read, and it had a likeable main character that I wanted to see more of.I wanted to keep reading, and I wanted to find out next. More and more, I'm seeing books I'm not 100% invested in, but with Shadow of the...

I love Julie Kagawa books i really do . I have always enjoy her Iron Fey series but the three different perspectives of each characters can be difficult at times but either way I'm excited for book two😍❤

I received an ARC of this book in exchange for an honest review.Is all Julie Kagawa like this? Because If so, I REALLY need to read her other work. This book was hands-down, one of the most amazing YA fantasy books I've read all year.Yumeko is half-kitsune, living in an isolated shrine with the monks who found her as a child. When tragedy strikes, she sets out with a part of the scroll to summon the Dragon (I feel intense DBZ vibes here). Tatsumi...