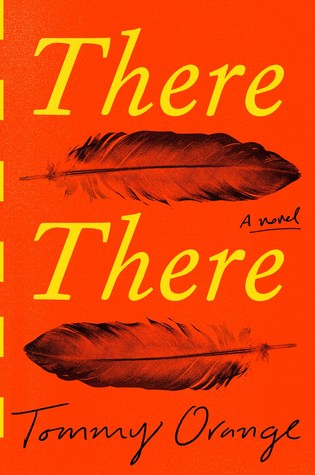 Fierce, angry, funny, heartbreaking—Tommy Orange's first novel is a wondrous and shattering portrait of an America few of us have ever seen, and it introduces a brilliant new author at the start of a major career. There There is a relentlessly paced multigenerational story about violence and recovery, memory and identity, and the beauty and despair woven into the history of a nation and its people. It tells the story of twelve characters, eac...
---
Details There There
Title
There There
ISBN

9780525520375

Author

Tommy Orange

Release Date
Jun 5th, 2018
Publisher

Knopf

Language

English

Genre

Fiction

,

Literary Fiction

,

Contemporary

,

Adult

,

Adult Fiction

,

Novels

,

Native Americans

,

Literature

,

Audiobook

,

Cultural

Rating
Reviews There There
"Don't ever let anyone tell you what being Indian means. Too many of us died to get just a little bit of us here, right now, right in this kitchen." Orange's ambitious debut captures the experience of modern "urban Indians" through constantly shifting third person perspectives, ultimately showing that Native Americans are not a monolith, not a stereotype, not united under a single identity. The author takes a number of risks, and yet they all wor...

5+++++ stars!!!!! Absolutely phenomenal!!!!!"There There" is a non-stop pace story... COULD NOT PUT THIS DOWN....The stories in here are gut wrenching *intimate* about dislocation-identify-violence -loss-hope-and power. "We have been defined by everyone else and continue to be slandered despite easy-to-look-up-Internet-facts about realities of our histories and current state as a people". The despair and beauty in Tommy Orange's debut ...

Dene Oxedene, putting his life back together after his uncle's death, wins a grant, allowing him to video stories from those attending the Oakland Pow Wow. In alternating voices we follow the lives and stories of twelve different characters, many who have fallen on hard times of one kind or another. So in a way, these are connected, though the same people appear more than once, short episodes in the lives of those who have lost touch with their c...

Tommy Orange's There There is, hands down, my favourite novel of the year thus far. If you came here looking for a scale-tipping review, look no further. In fact, imagine me clearing off any weight on the opposing side and planting my considerable heft on the side favoring your reading of this novel. If you've ever picked up a book because of my reviews, then trust me: this is one you're going to want in your hands posthaste. There There is...

How could I give this prosaic tapestry of cultural politics any fewer than 5 stars?"She told me the world was made of stories, nothing else, just stories, and stories about stories."That's exactly what There There consists of: the abridged life timelines of a diverse yet interwoven cast of characters - young and old, good and bad, but all Native American. The Big Oakland Powwow is drawing tribe members from all over, not just for the various priz...

Fantastic!If you haven't heard of Tommy Orange yet, you soon will. This is one of those books that you're simultaneously dying to finish yet don't ever want to finish. Orange paints a vivid picture in short chapters through different points of view as the story unfolds. The powwow becomes the centerpiece of the story with the dozen or so characters eventually heading toward it. The characters and their storylines drew me in and made me care, th...

Toward the end of Tommy Orange's devastating debut novel, a 4-year-old Native American boy keeps asking his grandma: "What are we? What are we?"The boy has no way of knowing, but that's a blood-soaked question that Western invaders have made Indians ask themselves for centuries. Exiled, dispersed, murdered, robbed, mocked, appropriated and erased, Native Americans have been forced to define themselves amid unrelenting assault. Their survi...

Powerful, heartbreaking, and absolutely necessary. In the age of #blacklivesmatter and #metoo, we cannot forget about the Native American population who have been criminally ignored. There There is specifically about the people considered 'Urban Indians': the generation born in the city as a result of both voluntary and involuntary relocation of their ancestors (Indian Relocation Act/Indian Termination Policy). "Plenty of us are urban now. If n...

In THERE THERE, Orange sets out his task from the beginning: he is going to write the stories of the urban Indian. These are not the stories of reservation life, they are not the stories of the old ways. These are the stories of conflict, of the search for identity, of struggle with poverty and addiction and loss, of family and community growing despite the concrete. In these connected stories of Native Americans (Orange, like many Natives uses t...

An extraordinary publicity campaign has vaulted this novel into a space where its readers will come to it with goodwill, and by reading it they will be participating in a momentary, shared cultural event--increasingly rare in the modern world--of reading the same thing at the same time; and they can experience the act of reading it with many other literary readers who care about language and story, and collectively they can bring to the novel the...

If a week ago you'd told me I'd read a novel better than Richard Powers' The Overstory this year, I'd have said I was doubtful. If you'd told me it would be a debut novel, I'd have said you were out of your mind. Nevertheless, here I am reading a book for a second time in two days and the only word I can come up with is flawless.Tommy Orange's There There lives up to every bit of the hype. It's marvelous. It's stunning. It's a...

I can't think of a novel that needed to be written more than this one. And more than that, needs to be read by everyone in the US. Because Native Americans [have] been defined by everyone else and continue to be slandered despite easy-to-look-up-on-the-internet facts about the realities of our histories and current state as a people.The story centers around a powwow that will take place in Oakland. The Native Americans that will attend have rich ...

What does it mean to be a Native American—often invisible in the U.S. tapestry? Documentary filmmaker Dene Oxendene, one of a dozen characters whom we meet in this book, gives his take about the Gertrude Stein quote about Oakland ("There is no there there.") Dene's words: "This there there. He hadn't read Gertrude Stein beyond the quote. But for Native people in this country, all over the Americas, it's been developed over, buried a...

We all came to the Big Oakland Powwow for different reasons. The messy, dangling strands of our lives got pulled into a braid - tied to the back of everything we'd been done no to get us here. We've been coming from miles. And we've been coming from years, generations, lifetimes, layered in prayer and handwoven regalia, beaded and sewn together, feathered, braided blessed and cursed. This astonishing debut novel draws its power and authen...

"People are trapped in history and history is trapped in them." —James Baldwin"The wound that was made when white people came and took what they took has never healed. An untended wound gets infected. Becomes a new kind of wound like the history of what actually happened became a new kind of history.""For Native people in this country, all over the Americas, it's been developed over, buried ancestral land, glass and concrete and wir...

Tommy Orange's debut novel is just wow. ❤I'm so blown away by it, a must read that should be on everyone's TBR list. Am already anticipating whatever he brings to the table in the future. Highly recommend. 5 ☆ Tommy Orange's debut novel is just wow. ❤️I'm so blown away by it, a must read that should be on everyone's TBR list. Am already anticipating whatever he brings to the table in the future. Highly recommend. 5 ☆

She likes Edwin. There's something about him that feels like family.There is a lot to like about There There (see e.g. Gumble Yard's reviewhttps://goodreads.com/review/show/243...) but unfortunately there is a plot to dislike.The most interesting parts of the novel are the commentary in the opening prologue and the interlude but the story of the book itself is ridiculously contrived: one character finds out that he has not just one but two childr...

I just finished "There There", by Tommy Orange and I'm so glad to have read it - though sometimes it was difficult:This book will make you sad - read it anyway.This book will make you mad - read it anyway.This book will remind you of the lies we were taught as children - read it to remember.This book will remind you not to tell those lies anymore - read it to know the truth.This book will make you smile – know hope.This book will ruin Thanksg...

'There There', Tommy Orange's first novel, heralds the advent of a fine writer. It is about urban Native Americans, mostly residing in Oakland, California. The narrative is told from the vantage points of twelve different characters, many of whose lives intersect during the novel. Mr. Orange is a member of the Cheyenne and Arapaho tribes of Oklahoma and studied at the Institute of Indian Arts. This is not an easy read. It is painful, disturbing, ...

So much sorrow as the characters author Tommy Orange created seek connection and struggle with identity...an honest and important debut! Full review to come. Follow https://booknationbyjen.wordpress.com for all reviews and recommendations.

5/5 Stars.This is one of those books where I knew in the first 10 pages that I was reading something really special. It's an incredible debut from a young Native American writer that gives voice to the experiences of "urban Indians" as they struggle to find a sense of place and identity amid a complex and traumatic history of oppression, violence, displacement and erasure.Orange introduces us to 12 multigenerational Native American characte...

Fighting against the picture already painted and giving us another picture, that of the urban Indian, because time goes on and those who survive go on to, and not all Indians live in reservations, that is not the only Indian reality. So here Orange gives us a different reality, a contemporary one of Indians living in Oakland California, city Indians. A chorus of city voices with their stories, underlined with pain and what being a working class I...

This title is almost impossible to search on Goodreads but if you found this review, I'm optimistic that you'll enjoy the book. I nearly abandoned There There halfway through so perseverance will stand you in good stead. Orange is a debut author who shows a lot of promise with this effort but although he's getting rave reviews, this fell a little short for me. I loved the construct of the Oakland powwow as a way to tell the various stories of the...

Brilliant, important and powerful, and the way Orange overlays the past onto the present-day pow wow scenes left me ugly crying.

5+ out of 5.What a novel. What a *debut* novel.A searing, heartwrenching look at the Native population, at gun violence, at the poverty epidemic and the opioid epidemic and the obesity epidemic and and and -- and how all these things affect the Native population. What's more, it's told in truly polyphonic terms: chapters swap between tenses and characters, with the kind of narration that stops you in your tracks. I loved this book and found that ...

Tommy Orange's first novel had some promise in the beginning. It looked like he had some interesting things to say and some heavy topics to discuss. He had a lot of characters to introduce and several stories to tell. He had ideas, but he wasn't able to effectively put them down on paper. There There just isn't written very well. It's pretty sloppy. It takes concepts other authors have pulled off in the past, throws them all out there tog...

Give me a sixth fucking star.

If you were fortunate enough to be born into a family whose ancestors directly benefited from genocide and/ or slavery, maybe you think the more you don't know, the more innocent you can stay, which is a good incentive to not find out, to not look too deep, to walk carefully around the sleeping tiger. Look no further than your last name. Follow it back and you might find your line paved with gold, or beset with traps.In a book about many things...