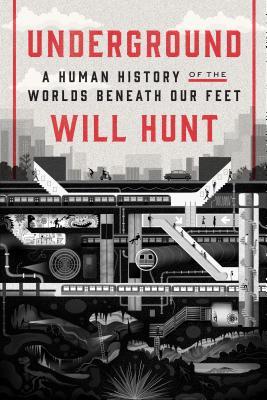 A panoramic investigation of the subterranean landscape, from sacred caves and derelict subway stations to nuclear bunkers and ancient underground cities—an exploration of the history, science, architecture, and mythology of the worlds beneath our feet.When Will Hunt was sixteen years old, he discovered an abandoned tunnel that ran beneath his house in Providence, Rhode Island. His first tunnel trips inspired a lifelong fascination with explori...
---
Details Underground
Title
Underground
Author

Will Hunt

Release Date
Jan 29th, 2019
Publisher

Spiegel & Grau

Language

English

Genre

Nonfiction

,

History

,

Travel

Rating
Reviews Underground
Very cool book about the unique world of our subterranean landscape. Whether it be subway systems, mines, catacombs, underground tunnels, etc.... This is a fascinating world tour penned by an urban explorer who documents the amazing underground world that exists and that we rarely even notice or think about. A quick read but a very fun one that I found entertaining and enlightening. Definitely pick this one up when it comes out in January of 2019...

Underground is one of the most poetic, breathtaking and ambitious books I have read in a long time. Hunt offers a delightful and unexpected journey, a fantastic expedition full of discoveries, surprising facts and wonderful anecdotes. He is a clever and tenacious explorer, who places himself as an illuminating guide through the most secretive and curious places in a world I never suspected could exist. It is a boundary-breaking tale set between p...

This non-fiction work starts off as a personal, memoir exploration of the author's preoccupation with subterranean worlds and expands into a much broader investigation, which ultimately explores the very roots of human spirituality. A unique and poetic and illuminating read.

One of the best works of non-fiction I've read in a while. Elegantly written, meticulously researched. Hunt went everywhere for this book! So many discoveries to be made about the world's caves, catacombs, mines, sewers and other holes in the ground. And it's beautifully illustrated. Recommend a hundred times over.

I requested this book thinking it would be about something entirely different and was pleasantly surprised by what i found. This book travels (literally) into many different types of underground and goes into the historical, religious, and artistic aspects of each. Very engaging writing style and well edited, i thought this book was wonderful. I received a free review copy odd this book in exchange for an honest review. All thoughts and opinions ...

This book was absolutely fantastic. Hunt is a fantastic writer, who manages to make his trips to these various places both scary and charming, and does an excellent job of conveying the importance and fascination of the history surrounding it all. I learned so many things I didn't know before, and want to spew these facts at everyone I know, which I consider a mark of greatness in nonfiction. Definitely read.Thanks Edelweiss for an e-arc! It gets...

To be fair, I wrote this book ;)

https://booksnooks.wordpress.com/2019...Beneath my feet lies a 300 million-year-old petrified rainforest– the second largest in the world. Pictures of it can be seen here. It's incredible to imagine that this snowy countryside was once a tropical rainforest and that its remains are now buried deep below where I stand today. Scientific proof of what once was. Do you ever wonder about what used to be? Do you wonder about what can't be seen.Wi...

Underground delves into a subject that most of us never think about. What is going on underground? This book explores that question in fascinating ways. Subways, tunnels, and many places we know nothing about. People live and die underground. It is its own culture. I recommend this book for everyone. It's a good idea to know what is going on underground. Thanks to NetGalley for an arc in exchange for an honest review.

This is the kind of quirky book that I love--lots of history, geography, geology, literature, psychology, religion, all tied to a single idea: underground spaces, natural and man-made, and how they've been used over the millennia. I'd never consider going caving myself--I'm way too claustrophobic--but I enjoy reading about the pleasures and all that is to be found. Hunt recounts his research into these spaces from ancient caves to disused subway ...

This book it beautifully written. It has me looking at the world around me, under me, in a whole new way.

Falls short in contentThere is so much below us - subways, water pipes, sewage, electrical wires, etc - that have helped create the society we know. Yet the book focuses on the role of the underground in folklore and religion, which was I found only somewhat interesting. The book was also memoir, but this part was also bland. Memoirs can be worked well into stories like this, for example "The Rise and Fall of the Dinosaurs," by Steve Brusatte...

"Underground" is the author's musings about mankind's relationship with underground spaces. The author explained how he got interested in underground spaces. He told about a few of his adventures underground, but he mainly focused on how mankind has related to underground spaces throughout history, usually in religious ways. He related everything to the evolutionary past, from explaining the idea that life may have first come about underground to...

Underground by Will Hunt is a free NetGalley ebook that I read in late December.Reflections on the subways, underground utilities, sewers, burial grounds, caves, tunnels, pipeline in New York, France, South Dakota, Australia, Belize, and Turkey that's dotted liberally with religious origin stories, anthropology, and verses of poetry.

Remarkable book: beautifully written, deeply researched, full of fresh and bold ideas. Bought a copy for everyone in my family!