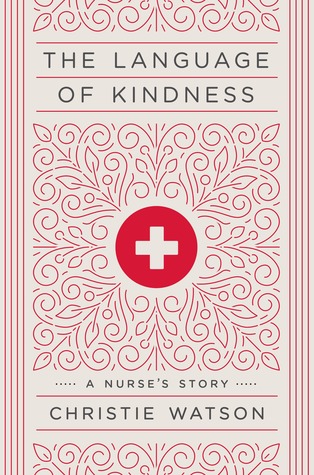 A moving, lyrical, beautifully-written portrait of a nurse and the lives she has touched Christie Watson spent twenty years as a nurse, and in this intimate, poignant, and remarkably powerful book, she opens the doors of the hospital and shares its secrets. She takes us by her side down hospital corridors to visit the wards and meet her unforgettable patients.In the neonatal unit, premature babies fight for their lives, hovering at the very edge ...
---
Details The Language of Kindness
Reviews The Language of Kindness
Book Reviewed by Nia on www.whisperingstories.comThis is a powerful and beautifully written book, a heartfelt account about the practicalities of nursing and the toll it takes on the people who have chosen the career.I enjoyed the way this book was laid out, first starting with Watson's decision to become a nurse and her training – then mapping out nursing chronologically from working in maternity, with young children, in A&E and then with en...

Christie Watson spent twenty years as a nurse, and in this intimate, poignant, and remarkably powerful book, she shares its secrets.Christie Watson worked for the NHS for twenty years. She takes us on her journey from her very first day in training, walking along the hospital corridors, telling us what she has seen and heard, and the various wards/departments she has worked on. She writes about the compassion, understanding and the genuine care n...

This advance reader copy was provided by Crown Publishing via NetGalley.This book was written by a woman who became a nurse 20 years ago in the United Kingdom under the auspices of the NHS or National Health Service. Working in the healthcare profession is about as "real" as you can get, so as a lover of non-fiction/biographies, I was immediately drawn into this very frank memoir. Nurse/author Christie Watson takes us along on her very first day ...

If the rating were only about the content of this book, it would be an easy 5 stars- Christie Watson writes about the need for compassion, understanding, and genuine care for each other. She tells of the hardships of modern nursing and the funding deficits that mean both patients and staff are being let down on multiple levels. She lets the reader into the most private of experiences, the illness or loss of a loved one, and shows how good nursing...

Based on the 20 years that Watson spent as a nurse in England's health system before leaving to write full-time, this taps into the widespread feeling that medicine is in desperate need of a good dose of compassion, and will ring true for anyone who spends time in hospitals, whether as a patient or a carer.Watson presents her book as a roughly chronological tour through the stages of nursing – from pediatrics through to elderly care and the t...

First of all, thank you to Penguin Random House and the author for sending me an ARC of this wonderful book for review!This book is authored by Christie Watson, who spent more than 20 years as a nurse in hospitals in and around London. It is a tribute to all nurses who work extremely hard and are sometimes underappreciated. They see people at their worst, and sometimes at their best when a cure is found or a new life is welcomed into the world. T...

What a truly inspirational story this is as Christie Watson literally took me by the hand and walked me through twenty years of her nursing career, sharing some of the most intimate moments where she, her patients and their families were at their most vulnerable. She made me laugh and cry with a raw honesty where she held nothing back warts and all.Going into nursing was not a calling for her but more a career that she stumbled on through circums...

Christie Watson is a nurse in the UK. This is her memoir. She shares stories about her nursing training, and about her experiences in various wards / units of the hospital. There was something about her writing style that I didn't particularly like. It's not that is an odd or unusual style, but I felt that her stories became a bit tangential at times and then would return to the main story without warning, but which point I had forgotten abou...

I have always loved books about Drs/Nurses/Hospitals, and was very excited to read this one. It is a beautiful book, a look into the daily life of a nurse. It is a fast, interesting read, some parts actually made me cry. The author was a nurse in the UK, so I found it fascinating to read the differences between the health care system there, and here in the US. Some of the stories in the book, I wish there had been a little more detail, certain pa...

From BBC Radio 4 Book of the week:In her illuminating memoir, Christie Watson gives an account of her twenty year nursing career. At the heart of her intimate portrait of hospital life are the small acts of kindness and compassion that all of us will receive when we inevitably experience illness, whether it be ourselves or our loved ones.We accompany Christie when she becomes a student nurse filled with anxiety as she cares for a teenage boy who ...

Christie Watson was a nurse for 20 years, and this book is Christie's account of her nurse training and subsequent career, and all of the fascinating experiences she encountered, people she met, and the things that she felt. As a nurse myself, I found this a really fascinating read to begin with due to the content and some of the experiences that I could relate to. However, at around the halfway mark I lost interest as the writing style was quite...

We do not need war and tragic road accidents to remind us of the horror of life. We have cancer. - Christie WatsonThis book will tug at your heartstrings. Watson's writing is refreshingly honest, poignant and thought provoking. It will give you a new perspective towards nursing.

This is a good read ...most nurses have similar stories. However she has great metaphors and reminders of the importance of what we do

This book tore me to pieces. It's a candid look at nursing which, even as a nurse myself, I had to put it down at times because the stories were too much. It reminded me that life is fragile and that kindness is so intrinsically important in nursing, as in life.

I'm not sure I can be completely fair reviewing this book - a section early on made me mad and ended up tainting it for me. I'll get to that in a minute.But first, let me say that this is a well-written account of being a nurse in England. Watson is drawn to some of the most emotional parts of the hospital - mental care, emergency, palliative care, neonatal intensive care - so expect heart-wrenching, as well as heart-warming, stories. We watch Wa...

Bawled my eyes out... repeatedly... warts-and-all nursing tales.Watson has already written (award-winning) fiction, and at the time of writing this is no longer in a nursing occupation. I have read and enjoyed the genre before - Confessions of a GP, Call the Midwife, Nee-Naw, the behind-the-scenes of the medical and emergency service worlds. It's a world I could never cope with, I know that. And reading this, I am reminded why. Watson takes us th...

a very thoughtful and sensitive memoir. watson's book weaves her own personal experiences over 20 years in nursing, while offering readers a look at the less-considered emotional connections nurses develop with their patients. watson begins her training in england at age 17, and the arc of her narrative evolves through the stages of life, which includes within the hospital/healthcare system, and the patients. watson works in paediatrics, emergenc...

3.5 stars rounded down because I'm not sure I would really recommend this to anyone who isn't a nurse.The Language of Kindness is author Christie Watson's firsthand account of her time as a nurse. During her 2o years on the job, Watson experience life and death and emergency in every ward of the hospital. The stories she shares of the joy, the hope, the tragedies, and the pain she witnessed and experienced during that time really illustrate the i...

This was a very well written and interesting look into a nurse's life. However, I struggled with it quite a bit. When I first started this book, I didn't realize it was based in the UK. There is a big difference between the healthcare system and hospitals in the UK (NHS) versus the healthcare system and hospitals in the United States, where I am. I normally don't have a problem reading books based in other countries, but this time I had a reall...

I really didn't enjoy this book and I was so hyped about it especially considering even here on goodreads all the reviews are raving about it.This book discusses what it's like being a nurse working with children, disability, mental health, neonatal, A&E...etc. It also sheds light on what nurses do in their day, their long working hours, what's expected of them, their interactions with patients and other nurses and doctor. There's a lot of insigh...

The biography section is filled with books written about doctors and I enjoy their slant on the world of medical writing. I often feel though that their stories are a little disjointed, for although they talk about the care of their patients, I always wonder at how much they get involved when they only see them for minutes each day. In this book we meet Christie Watson, a nurse with over 20 years experience in medicine working in both mental heal...

"I can only remind myself, as I get older and see more and more cancer around me, to live well and happily, to value that which makes us who we are: not material possessions, but love, kindness, hope." - Christy WatsonI wasn't sure if I wanted to start this book this week, just coming off working 3 twelves in a row and grieving one of my most heartbreaking deaths in my career as a nurse thus far. However, it turns out that Watson's writin...

I enjoy reading medical memoirs, especially because my son is in his last year of his medical residency and they give me a little insight into what he goes through working in a hospital. He is also doing a pediatrics residency right now and I especially enjoyed the author's stories of the children she took care of. The author also went into some history of medical practices, etc., which I skipped over a little bit, but I did find it interesting w...

This is the best book about nursing I have read. The author gives both the micro and macro views. We see her care for individual patients and the broad view of what makes a good nurse, the problems with the system, and the toll a difficult job takes on the author's life. The writing is very good. It was a bit slow to start but that's a minor complaint. I didn't always appreciate the philosophical sidebars but again, these did not detract mu...

In recent years, I've really enjoyed medical field memoirs that also glimpse into bigger medical issues, especially ones that attempt to define quality life, quality living, quality care. When Breath Becomes Air, Being Mortal, and Do No Harm come to mind. Christie Watson's "The Language of Kindness" now belongs in that canon. Read this book and forever hold a reverence for nurses.

Een mooi boek,over een mooi beroep. Zeer fijn geschreven .

3.7 actually. Very interesting details and emotions relating to being a nurse.

I received an uncorrected proof as a winner of a Goodreads giveaway for this book.Very interesting book. We all know what nurses do. Well, we think we do anyway. I understand a little bit better now what nurses actually do and I commend them for being able to do it. I am in the U.S. and the author is in the UK so it was also interesting to learn what it's like to be a nurse there. Reading this book is to take a walk through the mind of a compassi...