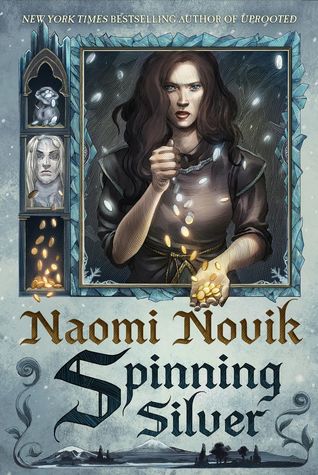 Miryem is the daughter and granddaughter of moneylenders... but her father isn't a very good one. Free to lend and reluctant to collect, he has loaned out most of his wife's dowry and left the family on the edge of poverty--until Miryem steps in. Hardening her heart against her fellow villagers' pleas, she sets out to collect what is owed--and finds herself more than up to the task. When her grandfather loans her a pouch of silver pennies, she br...
---
Reviews Spinning Silver
Because that's what the story is really about: getting out of paying your debts. There is just something about Novik's fairy tales. Something magical, atmospheric and utterly charming. I didn't like Spinning Silver quite as much as my beloved Uprooted - and I'll explain why a bit later - but it still kept me captivated from start to finish.Spinning Silver is a loose retelling of Rumpelstiltskin. I say "loose" because you will recognise certain el...

ARC provided by Dey Rey in exchange for an honest review. "Bring me the winter king, and I will make you a summer queen." Spinning Silver is one of the best books I've read all year. I loved this story with every fiber of my being. And Naomi Novik is a master at storytelling and interweaving stories together. You all know that this is a very loose reimaging of Rumpelstiltskin but I'd stay it's more of an empowering tale of three girls...

✨full review now posted on my blog!I'm giving up personhood to become the ghost of a tormented poet in love with melancholy who sits on patches of moss in the moors and recites bad poetry about how fucking amazing this book isBLOG | TWITTER | INSTAGRAM | TUMBLR

4.5 starsI'm. Just. SO. Happy.This is completely different from UPROOTED. Kind of. It's still a fairytale-like story, but it's wholly unrelated to the Dragon and Agnieszka. There are no awesome tree people. There's no wooden Kasia or royal orphans or upstart wizards. There are awesome some-other-kind-of-people who may or may not be wintery in origin. And a not-so-awesome demon. And not one, not two, but THREE new heroines, all hampered by...

This novel is pure escapism; it is enchanting, mystical and, most importantly, a fantastic piece of writing. I loved it. It's the best book I've this year so far. Go read it!I'm a critic but I found nothing to critique here. And for me that says a lot. I often find it hard just to sit back and enjoy a story without pulling it apart and dissecting all the elements of the book. It's just want happens when you're and English student. You c...

I've had Naomi Novik's work on my reading list for a long time, but this was my first time picking up anything by her. I loved the Rumpelstiltskin story as a child, so when I heard that she was writing a retelling of it, I knew I had to get my hands on a copy—and now, it made me wonder how I ever lived without the incredible worlds of magic and fantasy she crafts. I wasn't sorry they didn't like me, I wasn't sorry I had been hard to ...

I don't have much to say; just that it was totally gorgeous 💜 I'm a sucker for books with a fairytale-ish (can I even say so?) vibe to them. I honestly thought the book could have been shorter/ the pacing could have been faster but all in all a 4.5 star read. The writing sucked me right in and I loved all female characters. Such smart, cunning ladies 💜 I wish the ending could have been dragged out more. I WANTED MORE from it :pp I was prett...

A lot of these retellings of old myths and fairy tales are hit or miss with me, but I come to you today to tell you that this was not a miss. :) Indeed, nothing was amiss.The combination of several different old fairy tales and the new-norm for Russian-style fantasy hit all the right buttons for me. There was nothing simple about this tale even though we learn, slowly, that the world is not all about hard poverty and abuse and little towns and ha...

3.5 of 5 stars at The BiblioSanctum https://bibliosanctum.com/2018/07/10/...I know I'm in the minority here, but I didn't love this book. Oh, I enjoyed it well enough, because it's Naomi Novik and her prose is always excellent, and Spinning Silver was beautifully written. However, I've also had enough experience with work (especially with the Temeraire series) to know her books can be very hit or miss. Believe me, I was thrilled when she ...

UPDATE: THIS BOOK RULES!!- I WOULD PROBABLY COMMIT A MINOR FELONY TO READ THIS BOOK RIGHT NOW!!!!!!

I loved this. Reading it made me happy and by the end I was positively squealing. I enjoyed Uprooted and I loved this one, so I might actually have to read everything Naomi Novik has ever written.This is a very loose retelling of Rumpelstilzchen which incorporates parts of other fairy tales as well – so I was always going to love it. I am such a huge fan of books written in this fairy-talesque manner and if they than are set in snowy, frozen pa...

4.75 starsSpinning Silver is a standalone retelling of Rumpelstiltskin and the perfect winter book, which makes me wonder why it was published halfway through July.It's an atmospheric, slow-paced wintry story, and I loved almost all of it; what surprised me the most about it was how subversive it was.I have read a lot of fantasy books, both adult and YA, and if Spinning Silver can be in a way considered a "crossover", I can say that I had never r...

i have a lot of thoughts regarding how good this book was, but right now the only words i can string together about it are variations on:- good book, please read- now that's what a call a Fairytale Retelling™- i can't believe someone wrote not one, but two m/f hate-to-love romances that i like- i love naomi noviki'm also starting to worry that my streak of excellent luck with books lately is going to end. specifically, ending with an ensorcelle...

AH I'M SO !!!!! Trigger Warnings: antisemitism and domestic abuse I received an ARC from Denver Comic Con. The following review is based off that.NOTE: This is in the same vein as Uprooted, but the two are entirely separate. You don't see any of those characters or the world in Uprooted in Spinning Silver, and you don't need to read one in order to read the other. This book has got me so impatient for Winter. It kind of sucked having to read ...

A beautiful fairy-tale inspired fantasy with set with a Polish background (maybe Lithuanian - it's complicated, Lithuania used to be a lot bigger) with clever women caught in a supernatural battle between fire and ice.Miryem is the daughter of a Jewish money-lender in a small village in the country of Lithvas. For years her village has taken advantage of her family, but finally she takes the reins of her father's business and turns the family for...

A top fantasy of the year.Novik returns to the world of Uprooted but with a completely new story and characters. The author has a way of making every character powerful and important in their own right, and she wove 6 distinct perspectives together to weave a memorable and beautiful tale.The slow burn romance is real, my friends. It is slow, but it is WORTH IT.Don't miss this one!!

3.5 StarsThis was one of the most anticipated releases of the year for me! I really loved Novik's fairy-tale fantasy Uprooted, and was so excited when I found out Spinning Silver was being released this year. And when I saw the cover I decided I had to read it straight away! Absolutely beautiful!This Rumpelstiltskin-inspired novel starts off following Miryem, the daughter of the towns reluctant moneylender. He has loaned out too much and fails to...

This was INSANEEEELY good! It was so atmospheric, so magical--the lack of dialogue didn't bother me at all. I was just in love with this huge beast of a book!What you'll love:~ BRILLIANT writing~ kick-ass (in a brave way) female characters~ unique magic/mythical creatures~ creepy-as-heck evil dudes~ FAMILY! Cute little brothers!~ actionnnnnReview to come! Thanks SO MUCH to Pan Macmillan Australia for this.

SPINNING SILVER was easily my most anticipated read of 2018.. and the fact that this was so hard for me to get through, and that I did not love it, breaks my cold little Staryk heart. Novik blew me away, outright enchanted me, with UPROOTED and so despite the fact that this is a different world, with different characters and different challenges to overcome, I nonetheless expected to love it. "My mother had enough magic to give me three blessings...

Naomi Novik is one of my favourite writers, and Spinning Silver is my favourite book she's written to date. While Spinning Silver is a standalone novel, it complements Uprooted beautifully as a sister-novel. Both draw inspirations from folklore and fairy tales, with Spinning Silver being an empowering and poignant examination of Rumplestiltskin. The author mentioned that while Uprooted was a homage to her mother's experiences, while Spinning ...