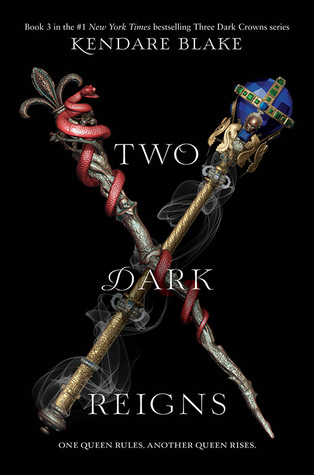 #1 New York Times bestselling author Kendare Blake returns with the highly anticipated third book in the Three Dark Crowns series!Katharine sits on the throne, Mirabella and Arsinoe are in hiding, and an unexpected renegade is about to wage a war of her own. The crown has been won, but these queens are far from done.
---
Details Two Dark Reigns (Three Dark Crowns, #3)
Title
Two Dark Reigns (Three Dark Crowns, #3)
ISBN

9780062686145

Author

Kendare Blake

Release Date
Sep 4th, 2018
Publisher

HarperTeen

Language

English

Genre

Fantasy

,

Young Adult

Rating
Reviews Two Dark Reigns (Three Dark Crowns, #3)
OMG...the madnessLike it's predecessors, I consumed this book. Just to change it up, I'll do character rankings rather than just sister rankings.Character Rankings:Katharine ≈ Arsinoe > Billy ≈ Mirabella ≈ Pietyr > Jules >>> Emilia First off, congratulations to Mirabella and Jules for stepping out of the role of my least favorite character(s). But it's not much of a surprise when Emilia Vatros is literally one of the most annoying, over-bea...

REVIEW TO COMESide Note: Do you think Kendare Blake named the books to confuse us? 01: Three Dark Crowns02: One Dark Throne03: Two Dark ReignsMakes me curious to what the fourth book is going to be called LOL- - - I don't think anyone understands how excited I am for this book. This series is the first book I see when I walk into my apartment, I literally have dreamed the story-line multiple times because I just theorize what is going to happen i...

4 starsBefore reading Two Dark Reigns, the previous two books in this series were decent. I liked them enough but I didn't love them. I liked the world the series takes place in as well as the magic and lore behind it. The character themselves were also complex and interesting given the circumstances they were in. However, I felt like there was something missing from them. I hoped that Two Dark Reigns would rectify the problems I had.And it did i...

Long live Queen Katherine and welcome a new queen into the mix of madness.

PHWOOOOOAAAARRRRR!!WARNING: This review contains spoilers for the previous two books of the series.This series honestly just keeps getting better. It's so dark and twisted now! I was not expecting such fantastically macabre things from a ya fantasy about competitive queens. So the third book opens with a mini history lesson, which was fun. I love when we get dark pasts that affect the present. That historical thread was probably one of my favouri...

Ooohh wraths.Holy friggin' killer fog.Ok, I kind of have NO WORDS.No words that will make any sense, at least. My mind is just a series of images and exclamations of surprise, dismay, and general anxiety.This book was SO worth the wait.So much is happening, in everyone's life. And there are new forces to be reckoned, which are scary and mysterious and horrifying... and overall, the story continues, just as intriguing and amazing as always. I ...

Um excuse me how dare you end it like that? Me probably gonna die here slowly while I'm waiting for the last book to come out.

Well, that was disappointing. I feel like I'm pushing at this 3 stars cause I didn't hate it but it also didn't really do much for me...(view spoiler)[I know I'm in the minority group of people who dislike Jules. I've found her kind of whiny since the beginning and I was rooting for Mirabella and Joseph to end up together, but then he got killed off hmph. This book was just way too much Jules and a lot of Arisone who I find to be boring. Her drea...

Rating: 4.5 StarsThis series just keeps getting better and better with each book. This story started strong from page one and didn't really let up any, in my opinion. Just when I thought I knew the ins and outs of this tale, Blake showed me that she still had quite a few details to add to this world and its history, and I say, bring it, Blake!Two Dark Reigns expanded on much of the legend and lore we had previously learned. Blake revealed additio...

4.5 Stars! I absolutely love this series. In this one, we meet new characters, get some insight into the lore of the island, and we also get more plot twists! This one drags at times, but I still find this series so addicting, and the way this book ended makes me SO READY FOR BOOK 4!