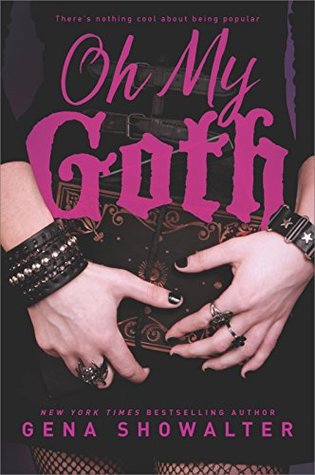 A note from Jade Leighton's journal Years ago, a tragic accident robbed me of my mother and emotions. Because I find beauty in darkness and thrive outside social norms, I've been labeled a "freak" at school. I know my continued apathy hurts my loved ones, but I'm not about to change. Nothing will ever hurt me again.Then I wake up in an alternate reality...and everything else has changed. Goth is in. I'm considered cool, and my archenemy--the form...
---
Reviews Oh My Goth
I'm so surprised that I'm writing a negative review of this book. When I first got Oh My Goth, I thought it'd be one of those books that I'd recommend to all my friends. The premise was great! I mean--here's to showing everyone is human on the inside and labels/appearances should not be the defining factor of a person or their worth. And then... Well, first off, we get this huge contradiction right at the opening. Each chapter is prefaced with a ...

I was really expecting a book that would explain what the goth subculture is really all about, but again this book turned out to be just one big stereotype. Jade, the goth main character says phrases like "Fright" (in place of cool, nobody at my high school says fright), and she "dabbles in dark arts, has blood-red curtains and incredibly bad grades - except in creative writing". Go figure! Mercedes is your generic bleach-blonde bimbo bitch out t...

Reviewed by Taylor Rector for TeensReadToo.comJade is a Goth-girl who is a total nonconformist and is a "freak" at her school. Mercedes is a "Barbie" -- blonde, super-popular, and a total conformist, who is also Jade's mortal enemy. Clarik is a new mysterious boy that has come to their high school, who Jade quickly realizes she has a crush on. The girls' principal is sick of these two girls causing problems so she decides to teach them a lesson t...

If you couldn't tell that it was going to be bad by the title or the sh*tty tagline ("Kiss my hall pass"), don't worry. It's bad from the very first word written.Jade is a self-proclaimed "nonconformist" goth girl who is picked on by everyone else (except for the three only other goth kids in the school - yeah right) because she's different. Mercedes is the most popular girl at school who's main goal is to make every loser's life a living hell. O...

Jade is so spoiled. If I had acted this way at her age, I'd have gotten my little ass kicked sky-high to Mars and back. Name choices are quirky at best. Clarick? Was that really necessary?Moral of story: all popular people are shallow and all nonconformists are deep thinkers - not.

Oh My Goth was oh my god bad. I slammed the book—twice—on the countertop while reading. I ranted to my brother how much I disliked the book. I fumed for a good 10 minutes afterwards. My 'dogma' of how MTV books could never go wrong has proven to be blasphemous with this book.When reading the summary I thought 'hey this sounds pretty good'. When I finished I nearly—gagged—myself.Jade needed a new sense of what it means to be an ind...

When I first picked this book, I was so excited to read it because I thought it would be a cute story about a girl who's goth and probably judged for it, but in the end she has this deeper side and when people discover it, she ends up being liked, right? wrong.in the story we have Jade Leigh, who is about the most stereotypical goth kid, on the face of the earth. along with her (very defined goth friends whom the author described as "cyber-goth, ...

Totally mindless teen fic. Loved it, but it could never be called "good." It was good reading for the plane, kept my mind off the fact that I was 40,000 feet off the ground. That alone earns it 2 stars rather than the 1 it probably rightly deserves. :)

I've always known Showalter's works are always from unique plots, those that are very unusual, but a book that features virtual game combined with Goths and Barbie clones? Way unusual, and very intriguing. It's a story that presents the reader how some people would want to show heir individuality even to the extent that they would bend all rules to show that they are special and that they are not one of the crowds, they stand out. That was ...

Eventhough this book was pure fluff I still really enjoyed it. A really light, easy read, with a simple plot and some likeable characters. This sends a good message to teens that it's what's on the inside that counts not the outside. My reason for removing a star was that I found in some places it contradicted itself and the whole popularity struggle got a bit annoying. Jade wants to be recognised as an individual whilst hating on the 'Barbies' b...

As much as I'd like to say that Oh My Goth would have helped me when I was younger, when I was in my "goth" phase, I don't know if I would have been ready to learn the lesson it's trying to get across. Reading it now feels like a breath of fresh air and something that I can fully appreciate and understand. I can understand Jade before she goes into the "goth world" and after and what she learned. While this book came out when I was ...

16 year old me would have loved reading this book. Hell, I still enjoyed it immensely, but I would have really loved it while in high school. It was a sweet and sad story, cheesy at times, funny sometimes, and lots of lessons to be learned from it. When I saw the title, I knew it was exactly for me and I'm glad I got approved for the galley on Edelweiss. Main character, Jade, shuts out the whole world and tries not to care about anything, because...

'The Thirteenth Floor' back in its girlish puberty.'So Friiiight'

Oh My Goth is great in the sense of sharing a message of loving who you are. The main character Jade has always opposed social norms and, because of that has many struggles at school. She is often bullied but she refuses to change herself just because other people don't like it, which is wonderful to find in a book, because our society today focuses so much on human perfection. Where the book struggles though is that it follows a lot of high scho...

An interesting read. Jade Leigh is a girl in high school who hates conformity. In one of her classes she gets kicked out and sent to the principles office. While waiting for the principle, there is a guy sitting outside the office, Clarik. She thinks he's hot. She is goth, though, so she expects him to dismiss her as insignificant. He doesn't. Then she's called into the office. She has been in trouble quite a bit, so the principle is at a bit of ...

the kind of novel all teenagers should read. Why? Because being fashionable, being popular can change in a moment, being your self will not. You will be generous, funny, obnoxious, lovely, kind, hurtful all on your own, so why homologate yourself with a dress code that proclaims to the world nothing but "I'm trying to be perfect/strange/something, anything to distinguish myself from the mass". It's not what you wear that's important. This book is...

thought it had a good plot and was great in making it relate to our world.I loved the poems the author put in on every chapter.like most of my books I'm left wanting more not becuase the book wasn't good but becuase I couldn't let go of the book.I read this book in a day.it's basicly about a girl that is always getting in problems and always stands out even when she tries her hardest not to.she sent to this world were things are so much different...

Why I read it: I loved Intertwined series by Gena Showalter and I liked Alice in Zombieland. I wanted more YA Gena Showalter since I don't care for her adult stuff. Honestly when I read Gena Showalter's work I want more Intertwined over anything else. So I pick up her YA stuff.I think this book is good for younger teens and tweens. It doesn't have any of the gritty stuff Showalter's other YA books have. It's a moral compass book. It's...

Holy crap, this was bad! This was badfanfiction bad, bad. So bad I laughed out loud throughout the whole book. So horribly, insanely bad and wrong it was badong. Terrible. Amongst the top 5 worst books I've ever read. And I read it with a teenager's mindset, I tried my best, but this is terrible even for a toddler. I had a lot of fun, though...The stereotypes, the plotless plot, the plotless plot's gaping holes... so many things just didn't make ...

it's meh. harmless, turn you're brain off for a bit, book. there's weird made up goth subcultures or mislabeled, like grave goth, eh? do you mean uh maybe romantic goth??? diva goth? Asian goth? (visual kei??) What? I don't know.. what those are.. but it's harmless and I've read it a few times. but the goth in me tells me it's poop, and I tell it to relax a bit and enjoy it so I do. still it'll never be my first pick to tell a friend goth or not ...

I remember liking this book in the beginning (aside from the main character's hypocrisy) until the alternate reality thing came up, then it just felt weird and out of place. Of course, I was in high school when I read it, so that may have something to do with it. Anyway, not what I'd call a good book.

I loved this book-it was good all the way through...but the ending. I mean it was an OK ending but it left me wanting more. I feel that it was more like a rushed ending, maybe the author had a deadline or something with the editor and wanted it over quickly? However, this is still a good book. A fast and easy read, maybe if you want to kill some time?

I've had this book for years and never read it. I don't feel like I missed much. The story was okay, a little preachy. All the characters were one dimensional and not all that likable. It was merely ok.

This is an awsome book!! If you like Sci-Fi, and goth, this is the book for you. It tells alot about judging people and about cliques. Which are SO stupid might I add. It's about a girl who can't fit in, but NOBODY is going to get her down.