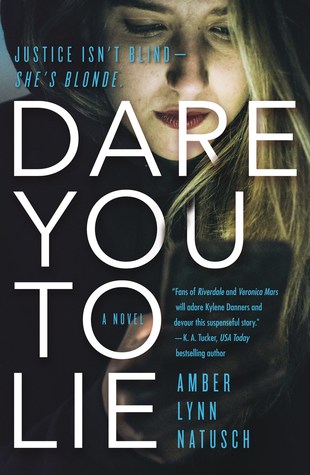 When her FBI agent father is framed for murder, Kylene is forced to move in with her grandfather, back to the small town that turned its back on her, and the boy who betrayed her.All Ky cares about is clearing her father's name, but someone won't let her forget the photo scandal that drove her away two years ago. As the threats gain momentum, Ky finds an unlikely ally in the rookie FBI agent sent to keep an eye on her.Determined to expose the...
---
Reviews Dare You to Lie
A blackout. Lies. The Six. Friends turned enemies. A miscarriage of justice. Lives ruined. Secrets dark and diabolical. Nothing's what it seems.Dust off your telephoto lens and brush up on your Muay Thai maneuvers because DARE YOU TO LIE's all-out, good-girl-turned-mad, in-your-face-suspense-thriller is a conspiracy that will taunt you at every turn to solve its mystery—and my advice: Trust no one. Kylene Danners didn't return to Jaspervi...

IF YOU ARE A FAN OF VERONICA MARS THEN YOU MUST READ THIS AMAZING THRILLER NOVEL! I loved this story and its complex story and characters! I cannot wait for the sequel!

Sassy, snarky, sarcastic characters!  This was such a fun book for me.Trigger/content warnings for sexual assault and physical abuse.Kylene's father was recently convicted of murder and her mother left.  So Ky has to move back to her home town and live with her grandpa (who I loved).  Her family left a couple years earlier after Ky had naked pictures taken at a party and leaked online.  The suspects were all football players and they were pro...

*Source* Publisher/NetGalley*Genre* Young Adult / Thriller*Rating* 3.5-4*Thoughts*Dare You to Lie, by author Amber Lynn Natusch, is the first installment in the authors Hometown Antihero series. Kylene Danner's is your protagonist for this series. Ky didn't return to her former hometown of Jasperville, Ohio searching for her happily ever after. She came back so that she could right a few wrongs that have been done to herself and to her father F...

If you like badass girls who take zero shit, plots chock full of scandal and snark, and a friendship worthy of Buffy/Willow/Xander (without the supernatural baddies), then you're going to ADORE this book. DARE YOU TO LIE is a furiously fast-paced introduction to what better become a series!

Disclaimer: I received this ARC courtesy of Tor/Forge and NetGalley. I am grateful for the opportunity to review an ARC for my readers, but this will not influence my final rating. All opinions expressed in this review are my own and based solely on the book. The copy I am reviewing is an Uncorrected Digital Galley. I don't like to DNF a book, but I'm currently at 8% in Amber Lynn Natusch's Dare You to Lie and I really want to put this book...

Check out this review and others on my blog: https://thriftybibliophile.comDare You to Lie is a mystery about a crime-fighting detective who happens to be a 17-year-old girl. When Ky's father is framed for murder, she takes it upon herself to clear his name. In the process, she also works to expose the guilty parties who posted scandalous pictures of her on the internet. Even though the town has seemingly turned against her, Ky shows remarkable ...

I love my mysteries as much as I love my romances and this one drew me in as the author K.A Tucker had mentioned on the cover two of my favorite series - Riverdale and Veronica Mars. I also have an infinity for Teen girl detective like characters. I have to admit though that the main character reminded me more of Veronica Mars and a bit like Jughead rather than the female characters of Riverdale as she had more bite and guts and didn't come off a...

review to come. I'm at a weird I wasn't really into it vs. I really wish I had the sequel in my hands phase. I don't even know.... so I need time to work out my feelings.

Dare You to Lie is ONE OF US IS LYING meets Veronica Mars with an endearingly smart-mouthed protagonist, a well-developed cast of lovable side characters, and a looming sense of danger. This was fun, tense...unputdownable!

*4.5 starsThank you to the publisher and to NetGalley for sending me a free advanced reading copy in exchange for an honest review. I loved this. It was not at all what I was expecting but in the best way possible. I didn't realize that I needed a new mystery series in my life, but guess what? I did. The plot in this book is so heavy and dense but it somehow never feels at all overwhelming. I've seen other reviewers compare it to Veronica Mars, b...

When her FBI agent father is framed for murder, Kylene is forced to move in with her grandfather, back to the small town that turned its back on her, and the boy who betrayed her.All Ky cares about is clearing her father's name, but someone won't let her forget the photo scandal that drove her away two years ago. As the threats gain momentum, Ky finds an unlikely ally in the rookie FBI agent sent to keep an eye on her.Determined to expose the...

I've seen many reviews comparing Dare You to Lie to Veronica Mars and I feel like that's an accurate comparison. This definitely reads like one of those snappy, smart, edge-of-your-seat but maybe just a little bit campy teen shows that I am convinced I will never age out of. I feel like there's no arguing that Ms. Natusch is a gifted writer. I appreciated the witty dialogue and the smart humor. I loved that this wasn't dumbed down or oversimplifi...

I received this book for free from Netgalley in return for my honest opinion.This book is pretty good. This book is part of a series, this being the first of the series.Kylene's father is an FBI agent who is framed for murder. Kylene is forced to live with her grandfather in a town that has let her down and a boy who has betrayed her. Kylene's mission in life is to try to prove that her father is innocent. She doesn't care what anyone else says, ...

3.5 StarsDare You to Lie by Amber Lynn Natusch is an intense thriller in which multiple cases are being investigated at once. I enjoyed the concept and the main character, but I had some issues with the pacing. Overall, I still had an enjoyable experience with the book, and it is perfect to curl up with this fall.Full review on The Candid Cover

Equal parts fierce and funny, Kylene Danners is the friend you wish had your back. Natusch throws the reader into a pulse-quickening quest for justice that left me whiplashed in the best possible way. I want—no, need!—to see what Kylene does next!

Any fan of Veronica Mars is going to seriously NEED this book. The impulsive, brilliant, and righteously pissed off MC Kylene Danners throws you headlong into the delightfully lurid underbelly of a small Ohio town and her sidekicks are just as vibrant and compelling. It's a hard-charging debut that's going to make your furious for the sequel. Get it.

*received copy from publisher in exchange for an honest review*WOW I absolutely adored this novel! Amber's novel was well written, full of suspense, and maturely handled tough topics - I am so impressed! The plot was very engaging, full of many twists and turns to keep readers guessing and engrossed in what might happen next. The pace was quick, and easy to read - I read most of the novel in one sitting. Kylene's character is strong, rebellious, ...

I received an ARC of Dare You to Lie through Netgalley. All thoughts are my own. Mysteries are definitely not my usual genre, but this one was so amazing. I read it slower than I do most books because I wanted to make sure I was actually understanding everything and not missing details and I'm so glad I did. Can't wait to read more from Amber Lynn Natusch in the future. Full review to come!

Adored this book. It's a fast-paced YA mystery you won't be able to put down. It's perfect for Veronica Mars fans and those who like a lot of wit in their YA.

This book is an exciting thriller with a bad-ass heroine. Kylene can't stop herself from getting in trouble, which makes for rough situations for her and great action for her readers. Fun characters, witty dialogue, and non-stop action kept me flipping pages to find out what happens. Enough gets wrapped up to make this series opener feel satisfying as a stand alone with lots of loose threads to keep the plot going. Definitely worth a read!

#DareYoutoLie #EdelweissThank you to the publisher and Edelweiss for the E-arc copy of this novel.Dare You to Lie was a thriller from beginning to end. When Kylene is forced to move back with her grandfather due to her father's murder charge. She has to re-visit the small town that almost destroyed her life once. As the plot unfolds, Ky finds that secrets and lies are everywhere in the town. She must try to navigate these while also helping clear...

Note: I received a copy of Dare You to Lie by Amber Lynn Natusch via NetGalley in exchange for an honest review.Meet Kylene. Kylene is the spit-fire daughter of an FBI agent who's been framed for murder. She knows he didn't do it, and now she's determined to clear his name. Unfortunately, that means returning to the town that she escaped two years prior; after a photo scandal that drove her away and made her lose trust in the person she onc...

Dare You to Lie (Hometown Antihero #1) by Amber Lynn Natusch5 starsM/F MysteryTriggers: Conspiracy, addiction, sexual assault, attempted murderI was given this book for an honest review by Wicked Reads.Whew! I did not really know what to expect from this book, but I loved it! Natusch really sucked me in from the start.It's fast paced with a few different back stories and directions that this book could take you on. You're pulled in different dire...