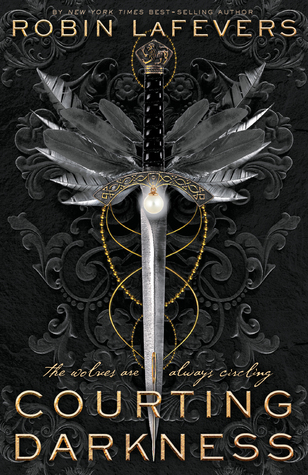 Death wasn't the end, it was only the beginning…Sybella has always been the darkest of Death's daughters, trained at the convent of Saint Mortain to serve as his justice. But she has a new mission now. In a desperate bid to keep her two youngest sisters safe from the family that nearly destroyed them all, she agrees to accompany the duchess to France, where they quickly find themselves surrounded by enemies. Their one ray of hope is Sybella...
---
Details Courting Darkness (Courting Darkness Duology, #1)
Title
Courting Darkness (Courting Darkness Duology, #1)
ISBN

9780544991194

Author

Robin LaFevers

Release Date
Feb 5th, 2019
Publisher

HMH Books for Young Readers

Language

English

Genre

Fantasy

,

Young Adult

,

Historical

,

Historical Fiction

Rating
Reviews Courting Darkness (Courting Darkness Duology, #1)
Reading this with my lovely friend, Tammie! Did I get to reread the first trilogy that I loved before this one? No! Do I care? No! 😃So I wanted to smack Genevieve there at the end but I get to the last page and chills went down my spine!! Woot!! I was so excited to read this book because I loved the first books and Sybella and Beast!! Of course now I need to do a reread but that's neither here nor there. Sybella is bad ass as well as Beast a...

Do my eyes deceive me or ARE THERE GOING TO BE MORE BOOKS?! I NEED AIR (also, a time machine)

4.5 Stars!!I have loved the His Fair Assassin trilogy since the very gruesome, action packed beginning and as the series progressed, it only seemed to get better but not only was the writing better but but as the story grew, as the characters grew, so did the very heart of the story itself. I was so sad to say goodbye to all the wonderful daughters of Death. I felt like I grew with them. Became friends with them and most of all, I cared about the...

This review was originally posted on Books of My HeartTwo Words: Assassin NunsCourting Darkness is the first book in a new duology featuring Sybella from the His Fair Assassin Series. It can be read without any prior knowledge of the previous series as Robin LaFevers brings you up to speed, but I think you miss some of the magic of the Daughters of St Mortain (God of Death) if you didn't read the original series set in this world. The story is...

Fuck man!! I love this series so much and this one did not disappoint. I am so god damn excited for the sequel. LaFevers just DELIVERS!!!!! PRE-READ [Update May 2nd 2018] omg omg omg I peed my pants I LOVE THIS COVER!!!!!!!!!!!!!!!!!!!!!!!!!! it looks so bad ass omg omg omg omgggggggggg I cannot wait I absolutelyCANNOTWAIT[Update February 2nd 2018] I just saw that this got pushed back to February 2019 which suuucks BUT ALSO WE HAVE A TITLE COURTI...

4 Stars!! 🌟🌟🌟🌟 Death wasn't the end, it was only the beginning… Before reading this- I re-read Grave Mercy and then finished off the series reading Dark Triumph and Mortal Heart. I think my favorite of the 3 was Mortal Heart, probably because it was the last in the series and everything just came together for me in that last installment. I will point out that if you have not read the first trilogy - I would not read this one until...

I am so sad that one of my most anticipated reads is only getting 3 stars.likes:✅ Sybella and Beast 💕✅ Genevieve (until that ending ::face palm::)✅ Sybella's blooming friendships, as well as her roasting the hell out of the Regent.dislikes:❎ too many bad guys (too many characters in general)❎ good guys can't catch a break❎ plot dragged out-----------------Below things are going to get spoiler-y so I am just going to hide the whole ...

I have received this ARC from Edelweiss in exchange for an honest review.Now before I dive into this review, let me say that I had no idea that this was a spin off of His Fair Assassin series. Pretty sure I only ever read the first book of that series and just never found the time to actually read the rest of it. That being said, I was still pretty much pumped to dive into this book. So freaking pumped.. but then I just kind of got disappointed.I...

I was told that I didn't need to read the previous trilogy to understand this one. That is just plainly not true. There is almost no world building in this book. The religions don't make sense. The characters supposedly have deep relationships even though they never talk to each other and when they do its mostly in reference to thing that happened in the previous trilogy. I kept feeling like this book was punishing me for not reading the precious...

I loved the His Fair Assassin trilogy. Maybe my expectations were too high for this especially since one of the main characters is Sybella. Her book was my favorite of the three. The POV switched between Sybella and Genevieve. The parts with Sybella were great despite much of the focus being on political maneuverings of the time.Unfortunately I found this book to be lacking in a few ways. There wasn't a well defined plot. The Duchess of Brittan...

I DON'T LIKE SAYING THIS... BUT I AM SLIGHTLY DISAPPOINTED✨ Popsugar Reading Challenge 2019✨ ✨✨A book that's published in 2019✨✨When I read the 'His Fair Assassin'-series I absolutely loved it! I loved the historical setting paired with fantasy settings as well as the league of female assassins raised in a convent. I mean, come on, how awesome does that sound! So when I learned that the world and the story was going to be continued in...

I was a huge fan of the His Fair Assassin trilogy, so when I learned that there was going to be a spinoff duology, well, to say that I was thrilled would be an understatement. Courting Darkness picks up after the events from Mortal Heart and features both Sybella and Beast, two of my favorite characters! Sybella and her fellow handmaidens of Death are trying to come to terms with a world that does not include the presence that has always guided t...

I have to admit that I am disappointed for this continuation of this series.Here are some of my thoughts:• So first – the unpleasant part – Gen is the worst protagonist so far out of the 4 that has been shown so far. Maybe it is a disservice to let her share this book with Sybella – but I don't think so – Sybella fucking saved this book. I find Gen's story initially interesting – and I find her initially kindhearted and smart. Lat...

When Sybella accompanies the Duchess to France, she expects trouble, but she isn't expecting a deadly trap. Surrounded by enemies both known and unknown, Sybella searches for the undercover assassins from the convent of St. Mortain who were placed in the French court years ago.Genevieve has been undercover for so many years, she no longer knows who she is or what she's supposed to be fighting for. When she discovers a hidden prisoner who may ...

You are a blade that has been brutally forged, painfully hammered, and wickedly honed. You are steel, not poison. You are deadly, not depraved. Well this was just FANTASTIC! I completely loved the His Fair Assassin trilogy and I am so glad Robin LaFevers is giving us more stories in this world. This book picks up right after Mortal Heart and follows Sybella who travels with the Duchess (soon to be Queen) to her new home at the French Court. At th...

Why Genevieve Why😭Why madame why 😭WHY MRS LaFEVERS WHY 😭😭😭Ok, now with that outburst over and out of my system --No, my mind is still blown. First off - it is absolutely imperative to read the trilogy first, it is ridiculous to think otherwise. Courting Darkness picks up mere weeks after Mortal Heart ended, and you will miss ALL of the everything without the trilogy.We now follow Sybella and Beast to France for Anne of Brittany's w...

I was sent an eARC of this novel from the publisher in exchange for my honest review. This does not change my view in any shape or form. Review also found here at Booked J. First of all, Robin LaFevers is one of my auto-buy authors and I just now realized my reviews of the His Fair Assassin books are MISSING. What?! Those were some of the first books I reviewed after my massive hiatus a few years back. Damn. Second, I'd always hoped that she'd re...

3.5 stars. Bit conflicted on this one. It set the next book up beautifully but it took almost 500 pages to do it. I love these characters though and I think the next book will be much better.

OK, so here goes.I absolutely loved the His Fair Assassins trilogy. I thought Grave Mercy was good, but not life changing, Dark Triumph was absolutely amazing and Sybella was my total hero. I bawled after this book. And I really loved Mortal Heart just for how unexpected it was. So when I saw Robin LaFevers was returning to this world, I knew I had to get my hands on Courting Darkness.We've been told that this is a standalone duology in this worl...

Courting Darkness is a spin off book from the His Fair Assassin series, it's been mentioned that you do not need to read the trilogy before starting this, but I'm going to disagree and say that you should read the trilogy first. There are things going on that you may feel lost and confused about.The book is told in dual POV that goes back and forth between Sybella and Genevieve.Courting Darkness picks up where Mortal Heart left off and we are...

His Fair Assassin trilogy is a series that got better with each book. I can't help but scream "Assassin nuns!" when people say they want to read something "different." When the author announced there would be two more books in the series, I was excited. While Courting Darkness was good, there were a variety of things I didn't care for in the book, which left me wondering if I should pretend the series is really just a trilogy.I picked...

I loved what was delivered, but be aware that even at 512 pages, you're only receiving 75% of a story. This takes you right up to the climax point and provides absolutely no resolution to anything. The last 25% of the story was hacked off, I suspect due to unnecessary length and also to create a cliff-hanger that will force readers (who aren't too frustrated) to pick up the next book. Quite frankly, I like a well-developed, well-edited, and com...